Thyssen Bornemisza Museum in Madrid is one of the most extraordinary private collections of art in the world. Second only to the royal family's collection in England.
It is the private collection of Baron Heinrich Thyssen Bornemisza, taken forward by his son Hans and daughter-in-law Carmen.
Thyssen Museum's collection of over 1500 pieces of art consists of old masters, painters of the early 1900s, and recent artists.
In this article, we explain everything you need to know before you book your Thyssen Museum ticket.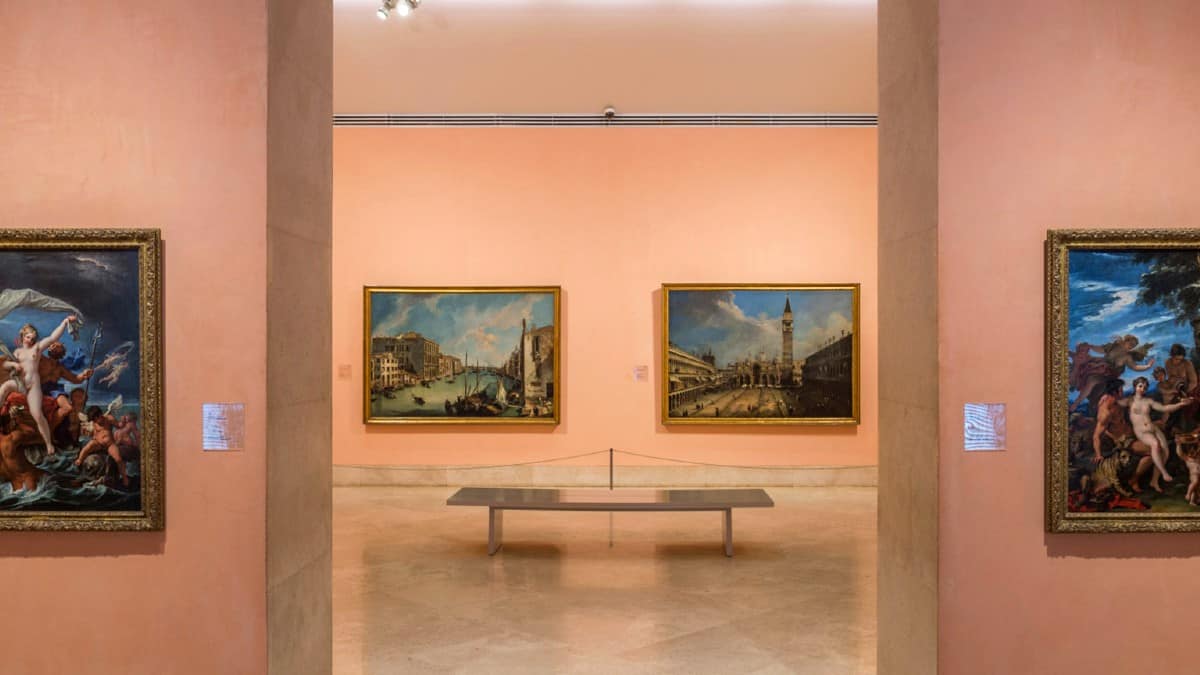 Thyssen Museum hours
From Tuesday to Sunday, the Thyssen Museum in Madrid opens at 10 am and closes at 7 pm.
The last entry is half an hour before closing.
On 24 and 31 December, the Museum closes early at 3 pm.
The art museum in Madrid is closed on 1 January, 1 May and 25 December.
Thyssen Museum free hours
Every Monday, the Thyssen Madrid Museum opens at noon, and till 4 pm, art lovers can enter it for free.
Mastercard sponsors this Monday free entry, during which the public gets to access the Permanent collection without tickets.
Ticket office timings
From Tuesday to Saturday, the Thyssen Museum ticket office is open from 10 am to 8.30 pm.
On Sundays, the counters open at 10 am and close at 6.30 pm.
The ticket office remains closed on Mondays.
---
---
Best time to visit Thyssen Bornemisza Museum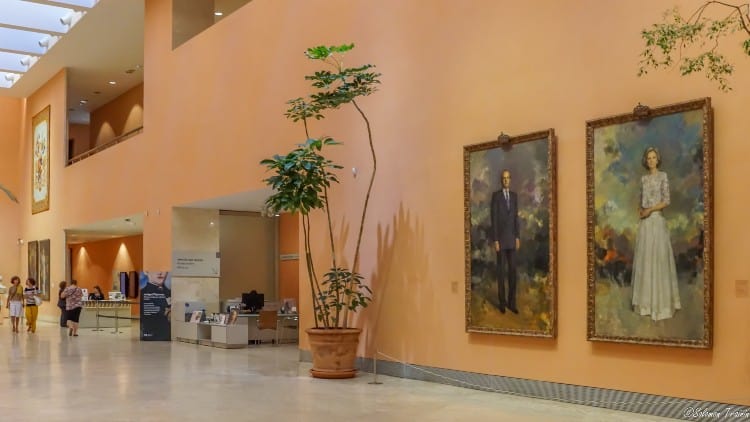 The best time to visit Thyssen Museum is as soon as they open at 10 am, on a Tuesday, Wednesday or Thursday.
Since Mondays are free entry days, they get crowded.
Fridays, Saturdays, and Sundays get the weekend crowd.
On bad weather days, Thyssen Museo gets double the number of visitors because it is an indoor attraction.
---
---
How long does Thyssen Museum take
According to the Thyssen Museum officials, it takes two and a half hours to explore their Permanent Collection.
The Museum's audio guide also lasts two and a half hours.
Tourists focusing only on the masterpieces on display are known to finish their tour in an hour.
---
---
Thyssen Museum tickets
More than a million people visit the Thyssen Museum annually, translating to about three thousand visitors a day.
This is why booking your tickets online, much in advance, is a better idea.
Booking earlier helps you save up to 20 minutes of waiting time at the ticket counters.
As soon as you make the purchase, the Thyssen-Bornemisza Museum tickets get emailed to you.
On the day of your visit, at the Museum entrance, you can show the tickets in your email and walk in. You don't need to take printouts.
There are different kinds of Thyssen Museum experiences you can book, and we list them below.
Skip the Line Thyssen Museum tickets
These are the cheapest and most popular tickets to enter Museo Nacional Thyssen-Bornemisza in Madrid.
This ticket gets you to access both the permanent and ongoing temporary collections.
For 5 Euros extra, you can book your tickets with the audio guide experience.
Ticket price (without audio guide)
Adult ticket (18 to 64 years): 13 Euros
Seniors ticket (65+ years): 9 Euros
Student ticket (valid student ID): 9 Euros
Child ticket (up to 17 years): Free entry
Ticket price (with audio guide)
Adult ticket (18 to 64 years): 18 Euros
Seniors ticket (65+ years): 14 Euros
Student ticket (valid student ID): 14 Euros
Child ticket (up to 17 years): 5 Euros
Thyssen Museum entry + lunch
Besides access to permanent and ongoing temporary collections, this ticket also gets you a sumptuous three-course meal at Thyssen Cafeteria.
A table gets booked under your name, and you can enjoy your lunch of starters, main course, and desserts between 12 and 1:45 pm.
You can either have your lunch first and then explore the Museum or vice versa.
Ticket price
Adult ticket (19 to 64 years): 28.50 Euros
Seniors ticket (65+ years): 24.50 Euros
Student ticket (valid student ID): 24.50 Euros
Jobseeker ticket (valid documentation): 15.50 Euros
Teacher ticket (valid documentation): 15.50 Euros
Disabled ticket: 15.50 Euros
Child ticket (up to 18 years): 10 Euros
Thyssen Museum guided tour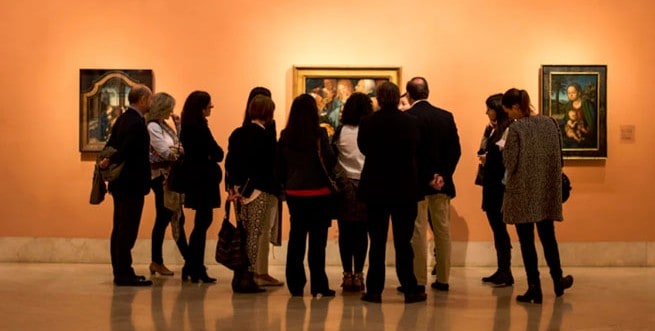 Art lovers usually prefer to visit art museums under the guidance of a local art expert.
Expert guides share in-depth knowledge, exciting stories, anecdotes, etc., about the artwork and the Museum, making the tour far more memorable.
During this guided tour, the art expert helps you locate and understand the most famous masterpieces displayed at Thyssen-Bornemisza Museum.
After the tour, you are free to hang around the Museum for as long as you want.
Tour price
Adult ticket (5+ years): 29 Euros
Infant ticket (up to 4 years): Free entry
---
---
Paseo del Arte ticket
Madrid has three of the most beautiful art Museums – Thyssen-Bornemisza National Museum, Prado Museum, and the Reina Sofía Museum making the city an art lover's paradise.
All three Museums are next to each other, forming what is known as the 'Golden Triangle of Art.'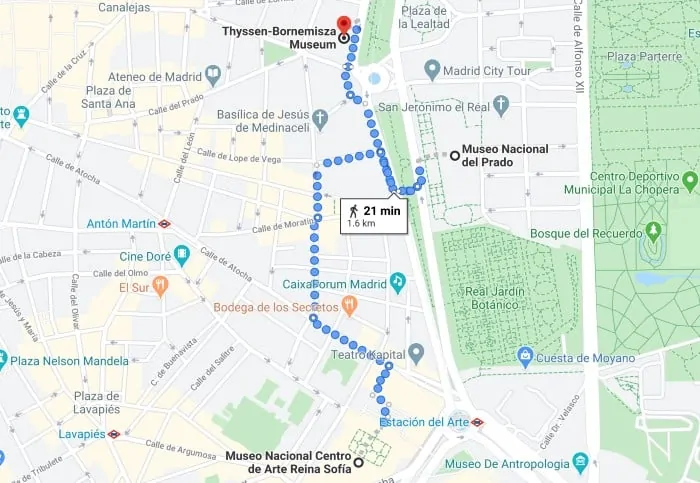 Paseo del Arte pass is one ticket for entry into all three Museums, and it is valid for one year from the date selected during your purchase.
With this pass, you save 20% on entrance tickets and skip the lines too!
Each of the museums is unique, and visitors who have used this pass have left positive reviews.
It costs around 30 Euros per person.
---
---
Thyssen Bornemisza Museum map
The Thyssen Museum may not be as massive as the Louvre Museum, but it offers its visitors a lot over a large area.
It is important not to get lost and not miss out on the masterpieces.
If you have booked a guided tour of the Thyssen Museum, you don't need its map.
But if you haven't, it is better to get familiar with the floor plan of the Thyssen Museum.
Ground floor's layout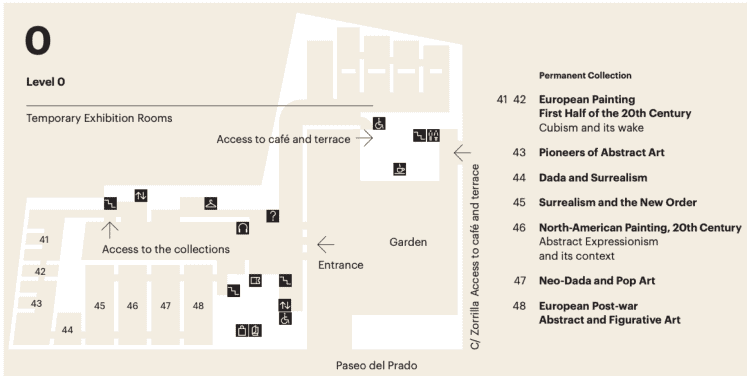 First floor's layout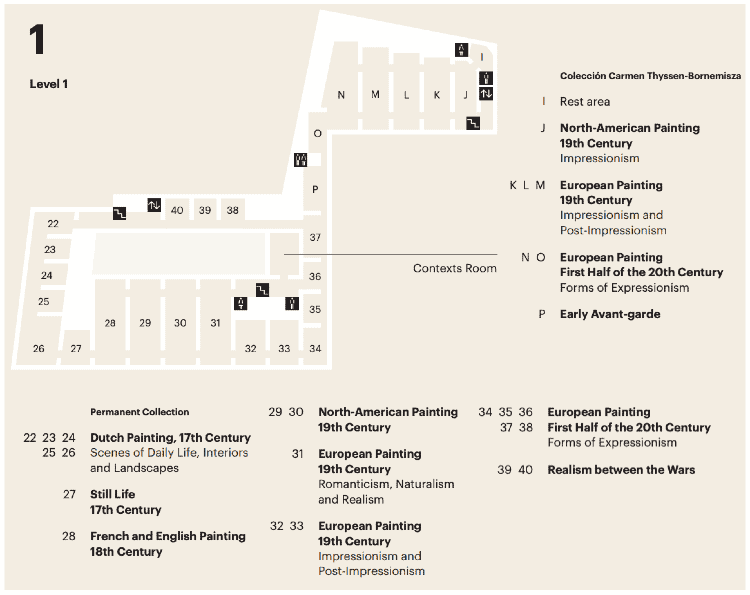 Second floor's layout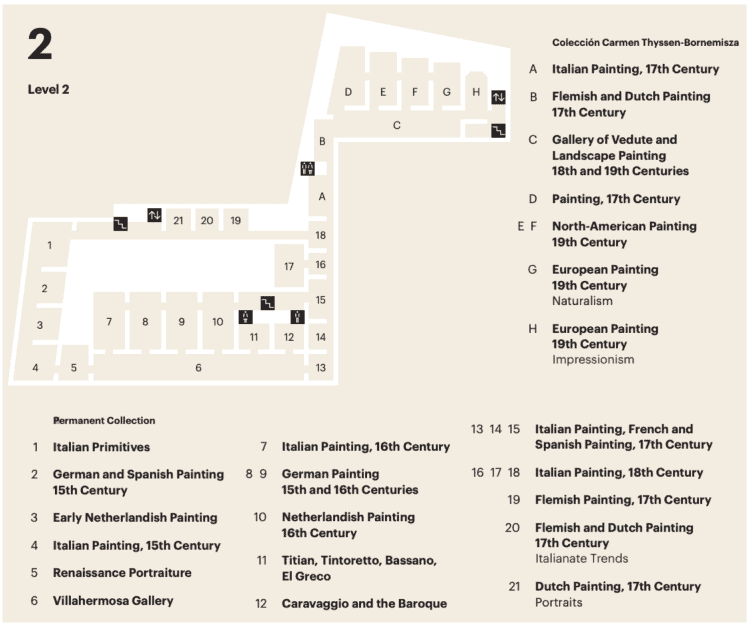 On the day of your visit, you can pick up the free map and layout plan at the Museum's entrance as well.
Besides the layout, you also get a handy guide to the masterpieces inside and where to find them.
---
---
Thyssen Bornemisza Museum artworks
While the Prado Museum and Reina Sofía Museum focus on the depth – they have many paintings of the same artists, Thyssen Bornemisza Museum offers an incredible breadth of artistic styles.
At this Museum you would find the whos who of the art world, sometimes with only a single painting. But that's the allure of Thyssen Madrid.
It represents various art movements, not to mention the personal taste of the original collectors – Baron Heinrich Thyssen Bornemisza and his family.
---
---
What to see in the Thyssen Museum
The Museum recommends visitors start with the 13th-century art on the 2nd floor and work their way down to the ground floor where 20th-century artworks are on display.
Second floor
The Museum's second-floor houses mostly 13th and 14th-century medieval art from predominantly Italian, Flemish, and German religious painters.
If you skipped the video, continue reading below to get a summary of what to expect on the topmost floor of Thyssen.
Room 5: Portrait of a Boy by Piero Della Francesca and Portrait of King Henry VIII by Holbein the Younger
Room 10: Massacre of the Innocents by Lucas Van Valckenborch
Room 11: Three masterpieces by El Greco and one each by Tintoretto and Titian
Room 12: Paintings by Caravaggio and Spaniard José de Ribera
Room 14: Two paintings by Zurbarán
Room 15: A painting by Murillo
Rooms A to H: These are the extension rooms that house Carmen Thyssen-Bornemisza's collections. Canaletto and Van Gogh's paintings are in Room C, while Room H displays artwork by Monet, Sisley, Renoir, and Pissarro.
Hint: Some visitors miss rooms 19 to 21 because to explore them requires walking back.
Room 19, 20, 21: Paintings by 17th-century Dutch and Flemish masters such as Anton van Dyck, Jan Brueghel the Elder, Rubens, and Rembrandt
First floor
Thyssen Madrid's first floor is equally impressive with paintings from across the spectrum.
The video below helps you understand what to expect while exploring the first floor.
Don't have time for the video? No problem. Here is a quick summary of the best painters to expect on the first floor of Thyssen.
Room 28: Gainsborough's painting
Room 31: Three paintings by Goya
Room 32: Van Gogh's Les Vessenots, and paintings by Gauguin and Cézanne
Room 33: Paintings by Toulouse-Lautrec and Degas
Rooms I to P: Room K has art by Pissaro and Sisley on display, and Room L has Gauguin's Mata Mua and other paintings. You will find Kandinsky, Munch, Matisse, Edward Hopper, and Juan Gris in the other extension rooms.
Ground floor
The Ground floor of Thyssen Museo is dedicated to the 20th-century, and artwork ranges from Cubism to Pop Art.
Here is a quick rundown on what to expect on the last floor before you exit the Thyssen Bornemisza Museum.
Room 41: The big three of cubism – Picasso, Georges Braque, and Madrid's local boy Juan Gris
Room 43: Kandinsky is the main attraction
Room 44: Salvador Dalí, Max Ernst, and Paul Klee dominate this room
Room 45: Dalí's Dream Caused by the Flight of a Bee Around a Pomegranate dominates the room, followed by masterpieces by Marc Chagall
Room 46: Joan Miró's Catalan Peasant with a Guitar, Jackson Pollock's Brown and Silver I, and Mark Rothko's Green on Maroon
Rooms 47: This room is dedicated to Neo-Dada and Pop Art
Room 48: The last room contains European post-war abstract and figurative art
---
---
Audio guides at Thyssen Museum
You can either book your Thyssen Museum ticket with the audio guide, or without it.
When you book it with your online tickets, an audio guide costs 5 Euros per person. At the venue, it costs 6 Euros per person.
You can use the audio guide either on your smartphone or the device offered by the museum.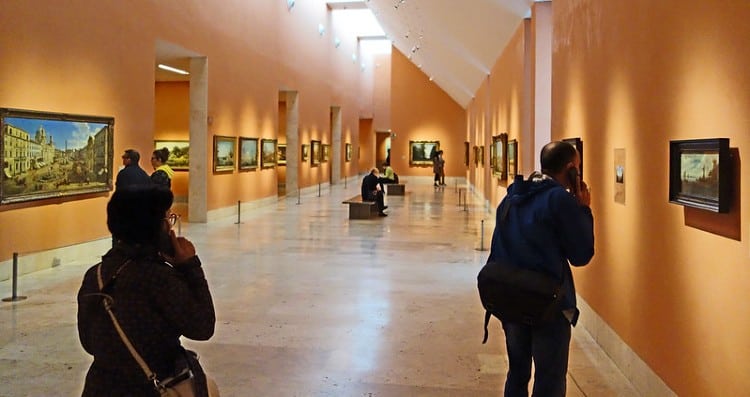 If you plan to use your smartphone, you can bring in your headphones or use the single-use headphones the museum gives free.
At the museum's Audioguides Center, you must scan the QR code and download the audio guide to your mobile.
The Thyssen Museum audio guide explains 50 works of art and is 2.5 hours long. A shortened 30-minute version is also available, which only covers the masterpieces.
It is available in Spanish, English, French, German, Italian, Portuguese, Russian, Japanese, Chinese, and Korean.
Thematic tours, which focus on specific topics, are also available.
These tours are 45-minutes long and focus on Jewellery, Fashion, The museum as a mirror of Don Quixote, Inclusive Love, Sustainability, Food, and Wine Culture.
Children's audio guide
The Thyssen Museum also offers a kid's version of the audio guide, which is best suited for children between 6 and 12 years.
It chronicles 14 works of art and is 40 minutes long.
---
---
How to reach Thyssen Museum
Address: Museo Nacional Thyssen-Bornemisza, Paseo del Prado, 8, 28014 Madrid.
Get Directions
It is best to use public transport to get to Thyssen Bornemisza Museum.
By Metro
Banco de Espana station serviced by Red Line (L2) is closest to the Thyssen Bornemisza Museum.
Banco de Espana station is 350 meters (one-fifth of a mile) from the art museum, and you can walk the distance in two minutes.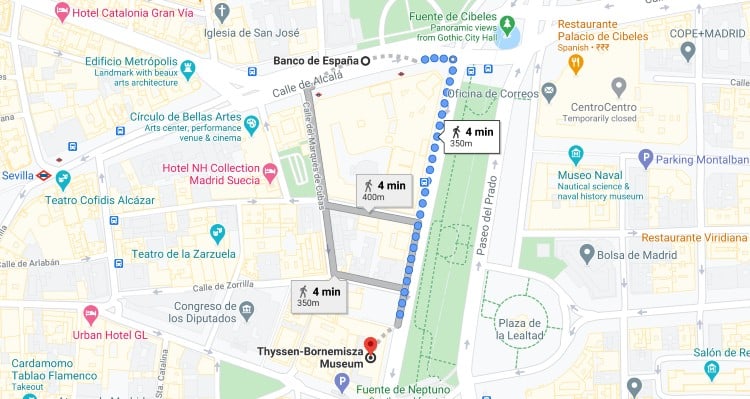 For Metro tickets, check out Madrid Metro's website.
By Train
If you are getting to the Museum from outside the Madrid city, you can take a train to either Atocha Station (also known as Estación de Madrid Atocha) or the Recoletos Station.
Atocha Station is 1.4 km (almost a mile) from the Museum, and you can walk the distance in about 20 minutes. Recoletos Station is a brisk 10 minutes walk away.
For timings and tickets, check out Renfe, the company that manages trains in Spain.
By Bus
On weekdays, buses in Madrid run from 6 am till 11.30 pm with a frequency of 4 to 15 minutes.
On weekends and public holidays, Madrid buses start at 7 am and stop at 11 pm.
To get to the Thyssen Museum, you can board bus numbers 1, 2, 5, 9, 10, 14, 15, 20, 27, 34, 37, 41, 51, 52, 53, 74, 146, 150.
Car Parking
Thyssen Museum doesn't have parking of its own.
However, you can park your car at Las Cortes parking, a 2-minute walk from the Museum.
Popular attractions in Madrid
Sources

# Museothyssen.org
# Wikipedia.org
# Tripadvisor.com
# Lonelyplanet.com

The travel specialists at TheBetterVacation.com use only high-quality sources while researching & writing their articles. We make every attempt to keep our content current, reliable and trustworthy.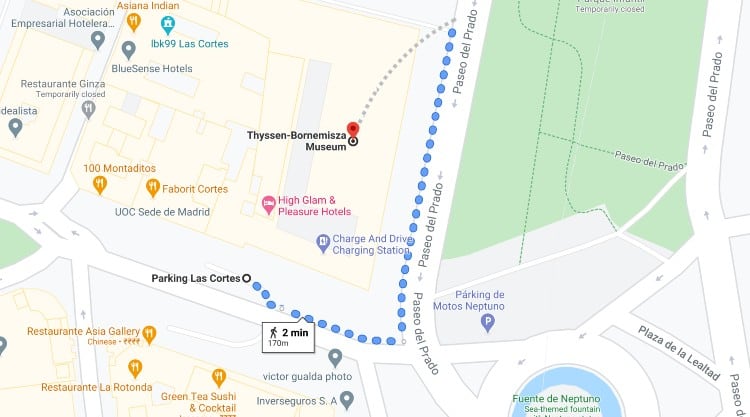 It is better to reserve your slot at Las Cortes parking.
Popular attractions in Madrid
# Royal Palace of Madrid
# Bernabeu tour
# Prado Museum
# Reina Sofia-Museum