The Peoria Zoo is a popular zoo located in Peoria, Illinois – about 165 miles from Chicago.
It is a medium-sized zoo that covers an area of approximately 14 acres and houses a diverse collection of animal species from around the world.
The zoo offers various exhibits and attractions that allow visitors to get up close and personal with the animals while learning about their natural habitats and conservation efforts.
Peoria Zoo is a popular destination for animal lovers, conservation enthusiasts, and families seeking an educational and enjoyable day out.
This article shares everything you must know before booking tickets for Peoria Zoo.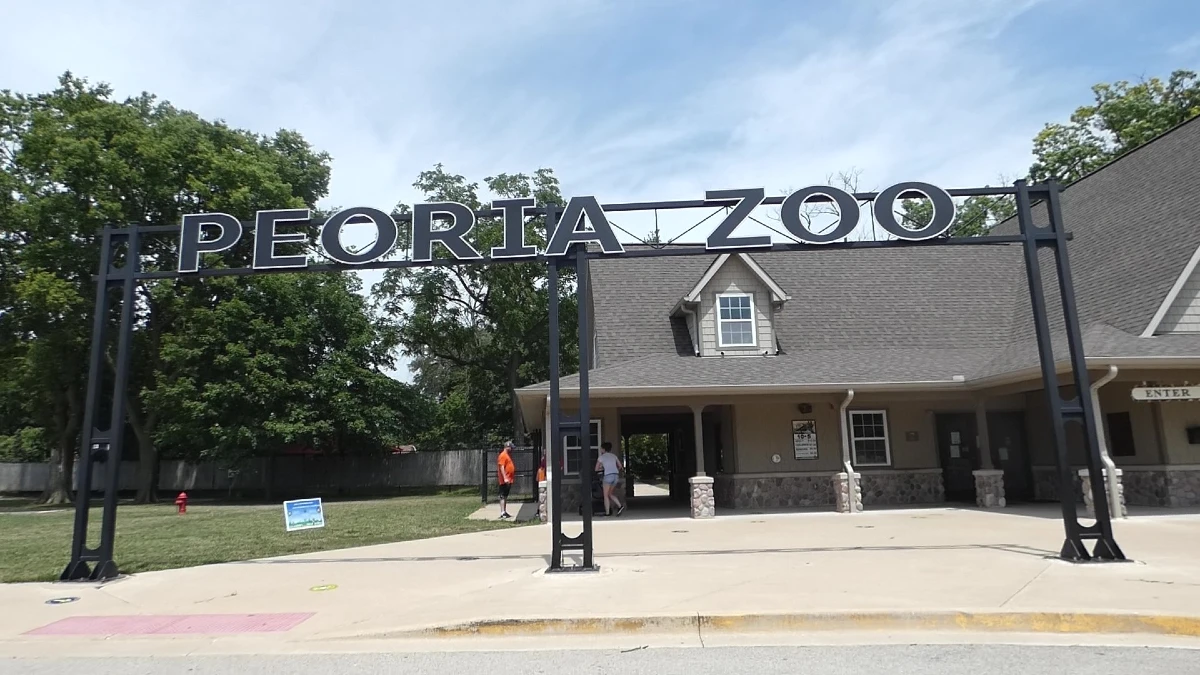 What to expect at Peoria Zoo
With more than 400 species worldwide and various interactive exhibits, the Peoria Zoo offers visitors of all ages an experience they will never forget.
Every time spent at the zoo is enjoyable, whether giving food to the goats at Petting Corner, watching the sea lions relax in their pool, or interacting with the rhinos on Hornbill Island.
It's not just mammals at the zoo, either!
You can see amphibians like the Frog, invertebrates like the Tarantula and Scorpion, and birds like the Hawk, Emu, and laughing Kookaburra.
Youngsters can interact with the gentle white rhinos up close or discover everything there is to know about the zebu.
They can see those cunning mole rats or learn what a mandrill is!
Keepers also provide special events, educational activities, and private tours during the year.
A Safari Gift Shop at the Peoria Zoo's entrance offers a wide selection of fantastic items and souvenirs.
---
---
Where to buy Peoria Zoo tickets
Peoria Zoo tickets are available online and at the zoo entrance.
We strongly advise you to purchase your tickets online because there are several benefits.
– There is an online discount, so purchasing tickets online saves money.
– You don't have to travel to the attraction and stand in line to purchase tickets, which may be exhausting.
– When you reserve in advance, you can book your tickets for the preferred date and time.
– During peak season, tickets sell out for popular attractions. Getting them online helps avoid last-minute disappointment.
How online ticket works
When you book your Peoria Zoo tickets, on the booking page, select your preferred date and the number of tickets, and buy tickets right away.
Immediately after purchase, you receive your tickets in your email.
There is no need to get printouts.
On the day of your visit, show your Peoria Zoo ticket on your smartphone at the Safari Gift Shop (near the Barton Pavilion).
Cost of Peoria Zoo tickets
The Peoria Zoo ticket is priced at US $11 for all visitors aged 13 to 64 years.
Seniors aged 65 and above and children aged two to 12 years get a discount of US $1 and pay only US $10.
Infants up to 1 year get in for free, but you must get a free ticket for them as well.
---
---
Peoria Zoo entry tickets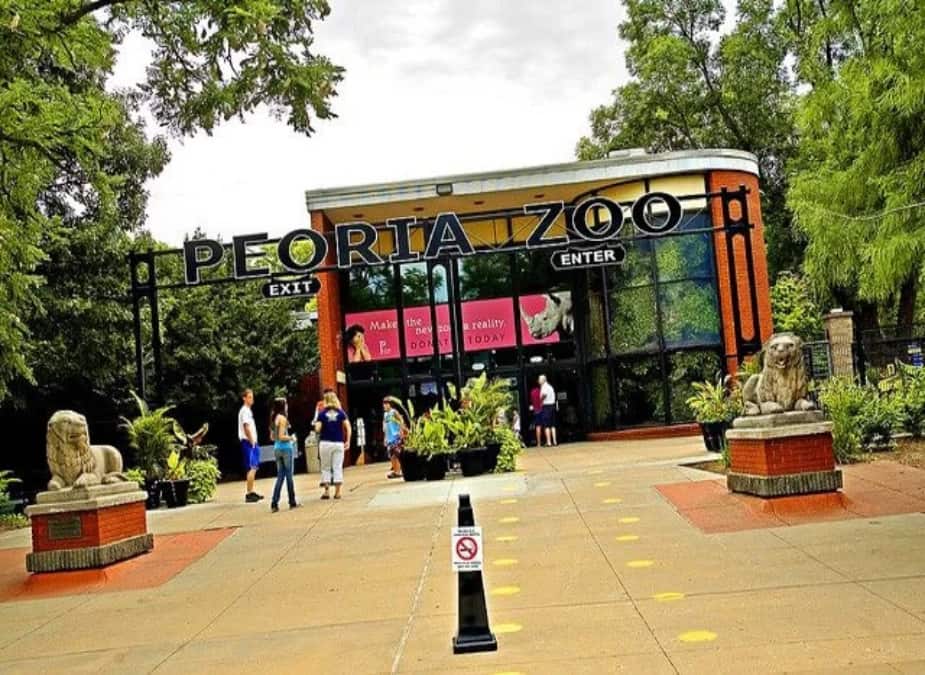 Step into the animal world and discover how they live, play and eat.
You get access to six exhibits and can view 100 different species worldwide with your Peoria Zoo entrance ticket.
With daily professional presentations arranged throughout the day, you can learn about the needs of caring for animals.
Giraffe and budgie feedings are available seasonally for an additional charge and can offer extra unique touches to your visit,
Ticket price
Adult Ticket (13 to 64 years): US $11
Senior Ticket (65+ years): US $10
Child Ticket (2 to 12 years): US $10
Infant Ticket (up to 1 year): Free
Save time & money! Buy Chicago City Pass, and visit Shedd Aquarium, Skydeck Chicago, Museum of Science and Industry, and many more famous attractions, and go on a Shoreline Sightseeing Architecture River Tour.
---
---
Peoria Zoo timings
Peoria Zoo is open daily from 10 am to 5 pm.
The last admission allowed is at 4.30 pm.
The zoo is closed on Thanksgiving, Christmas Eve, Christmas Day, New Year's Eve, and New Year's Day.
How long does Peoria Zoo take
Visitors typically see all the animal displays, unique attractions, and wildlife performances at Zoo Peoria in four hours.
You might need an extra hour if you are visiting with the kids.
Youngsters frequently stop to take photographs and eat when they are near their favorite animal cages.
Some families end up staying at the zoo all day.
If you are visiting with an adult group that is short on time, you can move more quickly and finish it in two hours.
Best time to visit Peoria Zoo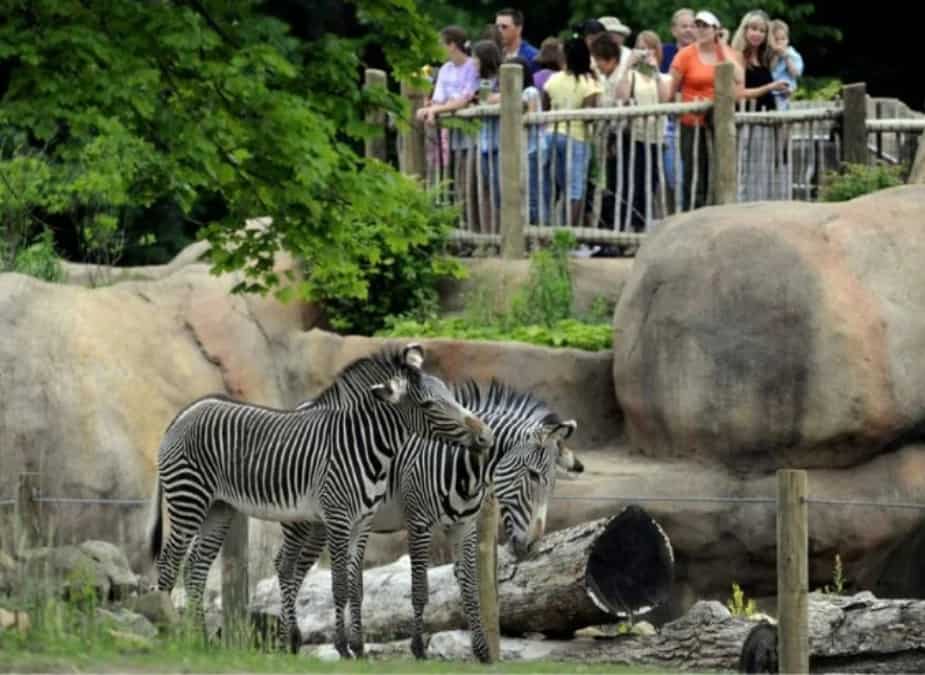 Since Peoria Zoo opens at 10 am, it is best to go as soon as possible.
The animals retreat to shady regions as the day goes on and grows hotter, making them occasionally difficult to see.
The first half of the day is when the animals are most active, and there are also fewer people and lines.
When you arrive early, you have plenty of time to explore the zoo before lunch.
Peoria Zoo often draws a sizable crowd on weekends and holidays.
To avoid crowds, schedule your visit for the week if feasible.
The fantastic time to visit the zoo is during the rainy season since animals are usually more active during this time.
How to reach Peoria Zoo
The Peoria Zoo is located in Glen Oak Park in Peoria.
Address: 2320 N Prospect Rd, Peoria, IL 61603, United States. Get Directions
You can reach Peoria Zoo by bus or car.
By Bus
The nearest bus stop is Prospect and McClure.
You can also get off at Prospect and Gift, 400 meters (0.3 miles) from the attraction.
If you fail to get down at Prospect and Gift, you can also stop at Prospect and Arcadia/Peoria Zoo/Glen Oak, which is again 400 meters (0.3 miles) from the zoo.
By Car
The easiest way to get to Peoria Zoo is by car, so turn on Google Maps and get started.
You can find several parking spaces around Peoria Zoo.
Peoria Zoo Map
A map is necessary to organize your visit to the 14-acre Peoria Zoo because it is spread out.
Finding the enclosures, sections, and facilities like restrooms, restaurants, picnic areas, locker rooms, and gift shops will be simpler.
They are useful for families who want to start watching their favorite animals instead of whatever is in the way.
You can navigate the Zoo's grounds more easily and spend less time getting lost or hunting for specific exhibits by using the map of the facility.
---
---
Peoria Zoo exhibits
Scroll down to learn more about Peoria Zoo's exhibits.
Africa Exhibit
The Peoria Zoo's African exhibit, Zambezi River Village, has a created Zambezi River surrounded by grasslands.
It has six species groupings that are all preserved in artificial natural environments.
Some of these animals are red river pigs, giraffes, lions, Colobus monkeys, and giraffes.
Asian Trail
Heading down the Asian trail reveals animals from Asia, including the Galapagos tortoise, the Muntjac deer from Taiwan, and the revered Takin, from China and the eastern Himalayas in Asia.
Australia Walk-About
Go on a walkabout between 10 am and 4.30 pm to see Australian wildlife.
Wallabies and Emu may both be accompanied when walking.
Several viewing areas outside the exhibit offer additional opportunities to watch these creatures.
To witness Australian birds, Emus, laughing Kookaburras, or Black swans, go to the Budgie Aviary.
Conservation center
At the Conservation Centre, you will find a few endangered species, such as the Chinese alligator, spotted turtle, Mexico axolotl, cardinal tetra, and firehead tetra.
Contact Barn
Children can get up close and personal with a variety of animals in this area of the zoo, like domestic donkeys, chickens, zebu, llamas, and the Nigerian dwarf goat.
They can also view Koi fish in a pond.
Tropics Exhibit
The Tropics Exhibit shows the Greater Spear-nosed Bat, various geckos and other reptiles, and frightful insects like scorpions and tarantula spiders.
Here you may also see African animals, including slender-tailed meerkats, black-handed spider monkeys, mongoose lemurs, and ring-tailed lemurs.
FAQs about Peoria Zoo
You can go through the questions mostly asked by the visitors.
Can I buy tickets for Peoria Zoo at the attraction?
You can buy tickets at the Peoria Zoo. However, online tickets are also available if you don't want to wait for longer times in queue. 
How much do the tickets for Peoria Zoo costs?
At Peoria Zoo, visitors aged 13 to 64 years pay US $11, while children aged 2 to 12 years pay US $10. Senior tourists over 65 years need to pay US $10.
How long does it take to go through the Peoria Zoo?
You will need four to five hours to walk around and see all the animals and exhibits.
Can I feed the giraffes at the Peoria Zoo?
Yes, visitors can feed the giraffes at the Peoria Zoo. But you need to buy tickets from the gift shop since giraffe feeding is not included in the online ticket. 
Is the Peoria Zoo open in the winter?
Yes, the wildlife attraction in Illinois is open to the public during winters as well. However, it remains closed on Thanksgiving, Christmas Eve, Christmas Day, New Year's Eve, and New Year's Day.
When does Peoria Zoo open?
The Peoria Zoo is open from 10 am to 5 pm every day. The last admission allowed is at 4.30 pm.
Is the Peoria Zoo wheelchair accessible?
Yes, the Peoria Zoo is wheelchair accessible.
Sources
# Peoriazoo.org
# Wikipedia.org
# Tripadvisor.com

The travel specialists at TheBetterVacation.com use only high-quality sources while researching & writing their articles. We make every attempt to keep our content current, reliable and trustworthy.
Popular attractions in Chicago