Skydeck Chicago is the highest observation platform in the USA and offers excellent views of the city and Michigan Lake.
If you plan to visit Skydeck Chicago at night, you will surely have many questions. 
Which ticket to purchase, what time to visit, what kind of views to expect, how much crowd to expect, etc.
Is visiting at night even worth it?
This article shares everything you must know before visiting Skydeck Chicago in 2023-24.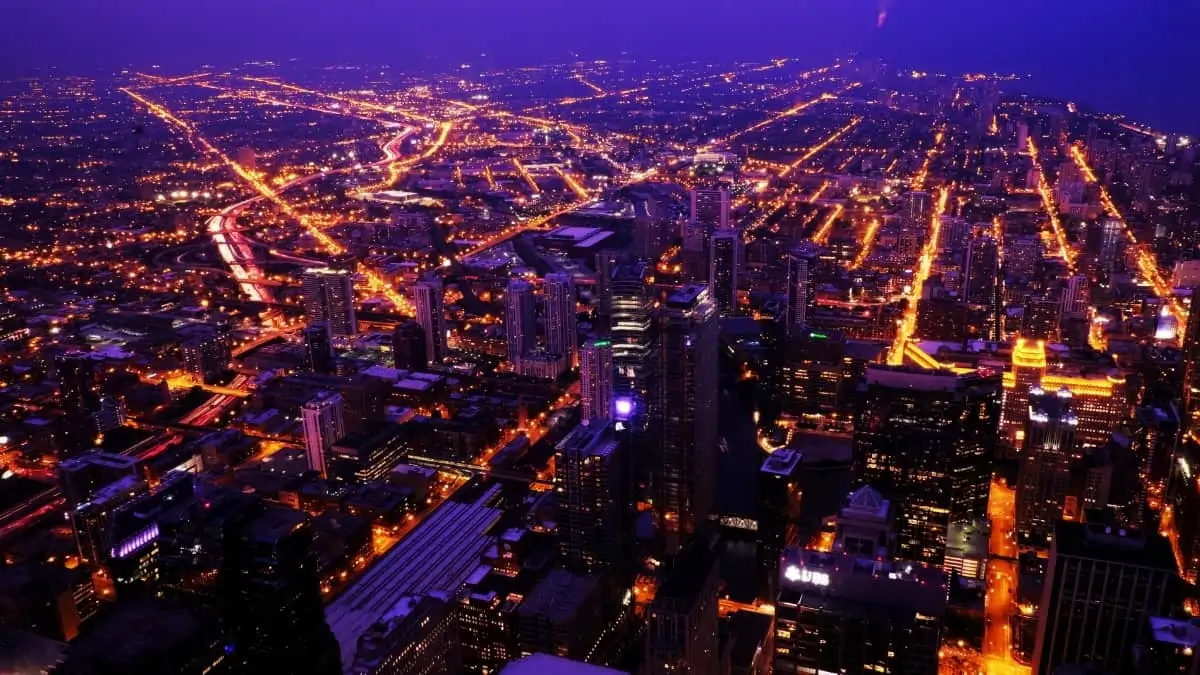 Skydeck Chicago at night or day
During the peak season of March to September, Skydeck Chicago stays open for 13 hours from Monday to Friday – it opens at 9 am and closes at 10 pm.
Skydeck Chicago stays open from 8.30 am to 10 pm on Saturday and Sunday.
During the lean tourist season of October to February, it opens at 9 am and closes at 8 pm, Monday to Friday.
You can visit anytime between 9 am to 10 pm on Saturday and Sunday.
Since tourists can visit even after dark, they wonder what would be better – visiting the Skydeck Chicago during the day or at night?
Daytime views from Skydeck Chicago
On a pleasantly clear day, you can see fantastic views up to 80 Km (50 Miles) in all directions.
Guests can see four states from the top – Illinois, Indiana, Wisconsin, and Michigan.
Nighttime views from Skydeck Chicago
Check out the video of what to expect if you reach the Skydeck's observation deck after dark.
Our recommendation
The views from Skydeck Chicago on the 103rd floor of Willis Tower are impressive throughout the day. 
Book the Skydeck Chicago tickets and reach the observation deck half an hour before sunset if you have time.
If you time it well, you will enjoy the Chicago skyline in daylight, see stunning sunset views, and catch the city's glittering buildings after dark as the lights come on.
During the day, you can see the city's layout and geography of the surrounding area in greater detail.
If you have already been to Skydeck Chicago (or 360 Chicago) once during the day, we recommend a night visit to enjoy the excitement of the city's lights.
The Standard entry tickets work well for night visits too.
Opt for a night visit if you plan to visit with your partner and impress them.
Standing on the 103rd floor of the Willis Tower, with almost nobody around, is a romantic experience.
If you want to avoid the crowd and the wait in long lines, a night visit to Chicago's most famous attraction comes highly recommended.
---
---
Skydeck Chicago night tickets
There are no specific night tickets at Willis Tower's Skydeck Chicago.
Since Skydeck Chicago tickets are timed, you can pick a time slot after dark and go up to the observation deck at night.
There are two types of experiences that Skydeck Chicago offers – 
Standard ticket
Booking a Standard Ticket online helps you skip the long lines at the ticket counter and waltz into the attraction. 
Adult ticket (12+ years): $33
Child ticket (3 to 12 years): $24
Kids under three years walk in for free.
Standard ticket + Fast Pass
The Skydeck Fast Pass gets you VIP access with express entry to Skydeck elevators.
With a Fast Pass, you will stand in the Express Line within 2-4 elevator rides from the observation deck.
However, if you plan to visit at night, we don't recommend Fast Pass for two reasons:
At night, there is no crowd, and you will reach the observation deck without waiting
At $55 per person, they cost two times more than the standard ticket
If you insist on getting the Fast Pass, we suggest you buy the Standard ticket in advance, and once you reach the attraction, pick up the Fast Pass from one of the many counters.
---
---
The Ledge at night time
Skydeck's Ledge is a glass box extending 1.3 meters (4.3 feet) away from the main walls of the Willis Tower.
When you are standing on The Ledge, you see the views from both a glass window and a glass floor, which makes it exciting.
It is popular and crowded, so visitors can only spend a limited time there. 
These time limits ensure that everybody gets a chance to experience the thrill.
Since the Chicago attraction isn't crowded at night, you can spend more time on the Ledge. 
---
---
Skydeck Chicago and 360 Chicago
If you have time and don't mind the cost, check out Skydeck Chicago and 360 Chicago. 
You can visit the Skydeck in the morning and book 360 Chicago for a night visit (they are open till late).
Still confused? Find out which is better – Skydeck Chicago or 360 Chicago.
Sources

# Theskydeck.com
# Choosechicago.com
# Tripadvisor.com
# Freetoursbyfoot.com

The travel specialists at TheBetterVacation.com use only high-quality sources while researching & writing their articles. We make every attempt to keep our content current, reliable and trustworthy.
Popular attractions in Chicago
Other observatories in USA
# Empire State Building
# One World Observatory
# Top of the Rock
# Edge at Hudson Yards