La Sagrada Familia is the most popular tourist destination in Barcelona attracting more than 3 million tourists every year. Under construction for more than 100 years, this Basilica is a designated UNESCO World heritage site.
Basilica de la Sagrada Família as it is originally called is a fantastic masterpiece by Spanish architect Antonio Gaudi. A visit to the Sagrada Familia is unforgettable during any time or season, but some times are better than others.
Many European visitors to Barcelona arrive here on Weekend breaks, and thus Friday, Saturday and Sundays tend to be crowded. If you prefer a quite visit, we suggest you book your tickets to Sagrada Familia on weekdays. Book Familia Sagrada Online Tickets now!
Sagarada Familia's timing
November to February: 9 AM to 6 PM
March: 9 AM to 7 PM
April to September: 9 AM to 8 PM
October: 9 AM to 7 PM
December 25, 26, and January 1 and 6: 9 AM to 2 PM
Be aware that the ticketing counters close half hour before the closing time.
Do your research beforehand and decide if you want to go up the towers for the top views. Find out if going up the Sagrada Familia Towers is worth it?
And if you have decided to go up the towers, which facade will it be? Do your research on which is better – Nativity facade or the Passion facade?
Still not convinced about going up the towers? Check out the views you will be missing:
Top views from the Nativity Facade Towers
Top views from the Passion Facade Towers
How much time is needed at Sagrada Familia
At Sagrada Familia, once you have entered nobody asks you to leave. Just make sure you arrive at the entry gates 15 minutes earlier than the time mentioned on your ticket. Else you won't be able to enter.
The guards at the entry gates of this Barcelona attraction are strict when it comes to timings.
Going up the towers to see the Nativity facade or the Passion facade will take up an hour of your time at Sagrada Familia. To see the insides of the Basilica you need another half hour. A total of 90 minutes is enough to get a good Sagrada Familia experience.
If you are an avid photographer, you will need three hours and more.
Book Online Skip the Line tickets for Sagrada Familia
Best time to visit Sagrada Familia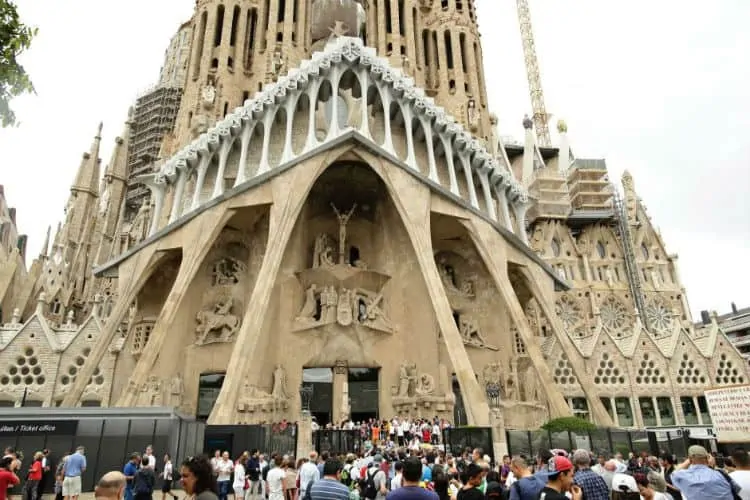 One needs to know the best time to visit Sagrada Familia for two reasons – one is to avoid the crowd and second is to capture the best photographs. Let's find out.
9 am to 12 pm – best time slot to visit Sagrada Familia
On all days Sagrada Familia is open by 9 am. Land up before the crowd starts trickling in and start by going up one of your preferred towers to see the intricate sculptures and amazing views from the top of Gaudi's masterpiece. Not sure which Sagrada Familia tower you should buy the ticket for? Read Nativity Facade vs Passion facade – which is better?
Do factor in 15 minutes for collecting the audio guide. If you reach the elevator to go up the tower before 11 am, you will find a short queue. Once you have go up the elevator and seen the amazing views from the towers, you must climb down 400 odd stairs. Since this time slot is not so crowded, the walk down the stairs happens faster.
Once the towers are checked, walk into the cathedral to admire interiors of La Sagrada Familia. With the light streaming in, this is the best time to see the stained glass windows.
3 pm to 6 pm – Second best time slot to visit Sagrada Familia
If for some reason you missed the best time slot to visit Sagrada Familia, delay your visit even further and land up at the attraction by 3 pm.
Once again start by going up the towers and enjoying the sun lit views of the city and the ocean from Sagrada Familia's towers. During this slot there is a slightly longer queue for the elevators to go up the towers. Even the climb down the stairs is a little slow because your speed is decided by the crowd walking ahead of you.
Ensure you are inside the cathedral by 5 pm for the best time to see the Basilica's interiors is between 5 pm to 6 pm. The evening light shines through the intricately stained glass, making it seem like a dream.
Once you have experienced the interiors you can attend the mass at La Sagrada Familia. The crypt opens for mass at 6 pm.
12 pm to 3 pm – Third best time slot to visit Sagrada Familia
If your stay in Barcelona is long enough, we suggest you avoid this time slot. If for some reason you can't make it to this Barceloan attraction between 9 am to 12 pm or between 3 pm to 6 pm, move your trip to the next day.
This isn't the best slot for couple of reasons. Large groups of tourists from schools, cruise liners and bus tours start arriving during this time slot. The queue at the ticketing counters are long, which then translate to long queues for the elevators as well.
With so many people photography also becomes difficult during this time slot.
Book Online Skip the Line tickets for Sagrada Familia
Best time to visit Sagrada Familia for photography
Sagrada Familia is a beautiful tourist attraction and hence photo worthy. It is so beautiful that all the times are best times for taking photographs at this Basilica. However, some times are better than the rest.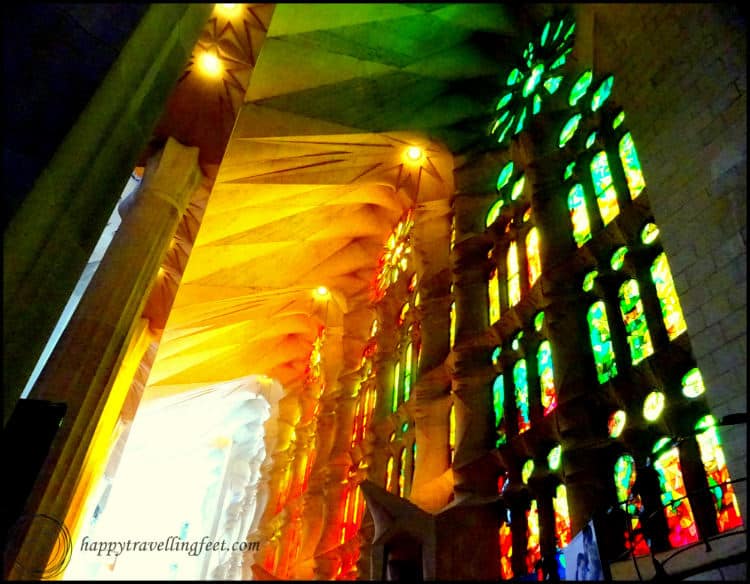 There are two slots which are great for taking photos at Sagrada Familia. Morning time of 10.30 to 11.30 when the sunlight enters the Basilica at an angle is a good. However, the evening time between 5 pm to 6 pm when the subdued rays of the sunlight stream in sheepishly is even better.
For photo shoots of the Basilica from outside, any time is a good time if you are a seasoned photographer.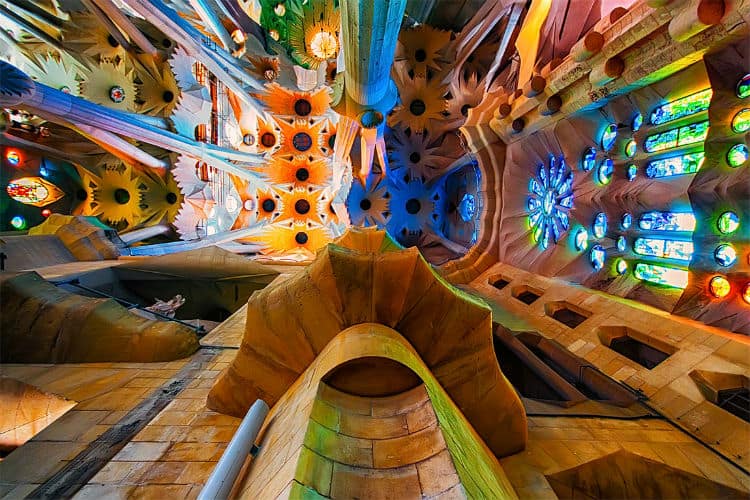 To fully exploit the colors of the light, iPhone users are known to (and we recommend it too!) change to the 'chrome' photo setting.
If you intend to go up the Nativity facade towers and take lots of photos we strongly recommend the morning slot. Morning is better because then the sun is behind you and helps take good pics. Post noon the sun is in front of you making it literally impossible to shoot good photos.
If you take your photography seriously, we will also recommend visiting Sagrada Familia in the night for clicking some amazing photos of a lit-up Basilica.
Important: Be aware that professional photo equipment is not allowed inside the Basilica. Professional shoots where the subject dresses up and holds props etc are also not allowed inside Sagrada Familia. However, if you belong to the press and want to conduct your photo shoots inside you need the go ahead of the Press Department of the Basilica.
Recommended Reading: Interesting facts about Sagrada Familia
Best time to visit Sagrada Familia at night
Antonio Gaudi wanted to attract a lot of people to his favorite masterpiece and hence made the exteriors of Sagrada Familia as ornate as possible.
One of the finest times for snapbarping Sagrada Familia is when the sun is setting and the golden glow reflects off the walls of the World wonder. Something like this: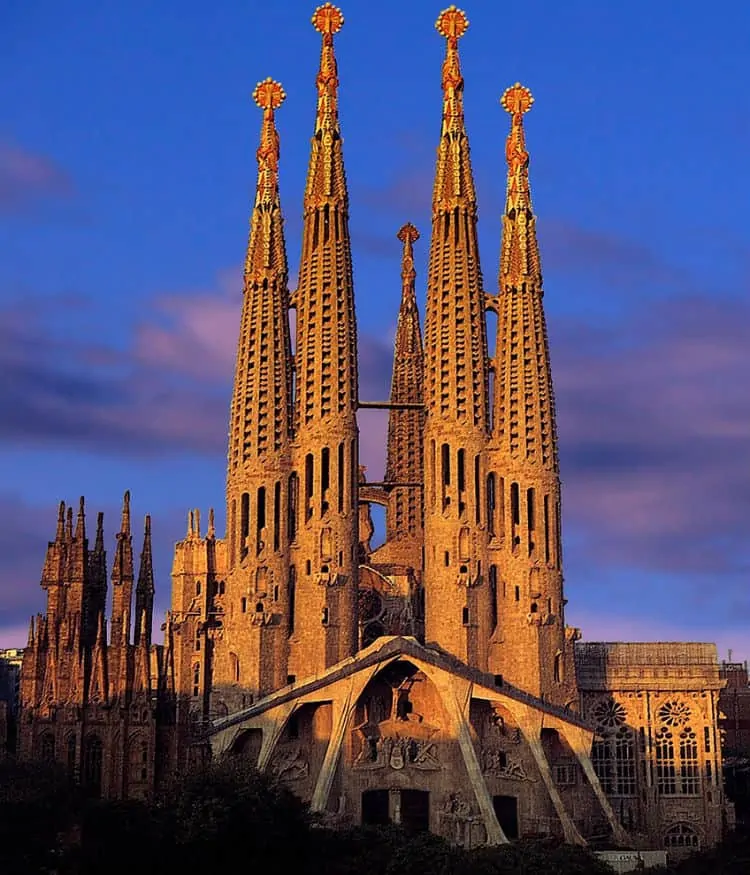 As the night falls, the church gets lit up in all its grandiosity. Once the lights go up, it is the best time to take photographs of Sagrada Familia at night. Something like this:
Any time after 7 pm is a good time to see the Basilica in its night time glory.
Note: If you are in Barcelona for a short stay, plan to visit Park Guell and Sagrada Familia on the5-minutey. Start with Park Guell in the morning and try and reach Sagrada Familia by 3 pm. A 5 minute walk from Sagrada Familia will take you to Hospital de Sant Pau – another destination with beautiful architecture.