More than six million tourists go on a canal cruise in Amsterdam every year, making it the most popular activity in the Dutch capital.
After all, it is one of the most memorable ways to experience the city's sites and attractions.
Some of the tourists prefer to make it even more special by booking an exclusive canal cruise.
In this article, we share everything you must know before booking your private Amsterdam canal cruise.
Types of private canal cruises
If you are a group of tourists looking for a unique experience, booking an exclusive boat for a tour around the canals of Amsterdam is a fantastic option.
These customized private boat tours are suitable for groups as small as two people or as large as 35 people.
All these canal cruises are led by boat captains, who have years of experience on Amsterdam's canals.
They also double up as guides sharing the city's history and trivia.
Private Canal Booze Cruise
The Booze Cruise is the perfect Amsterdam Canal Cruise for you if you want to spend some quality time with your friends or family on a luxurious private boat.
You take in the breathtaking sights of Amsterdam's canals with an open bar that includes unlimited beer, wine, and soda.
During this 90-minute canal cruise, a live guide points out the city's history and landmarks in Dutch.
Ticket price: €550 for a group of ten guests
Private Romantic Canal Cruise at Night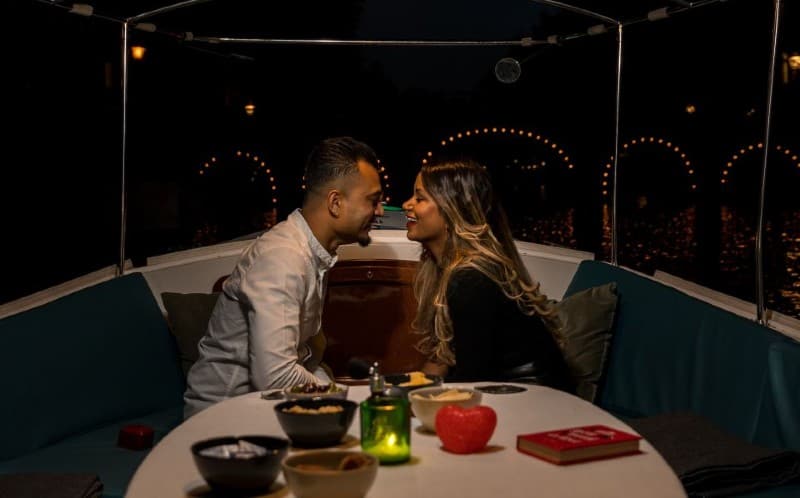 See how Amsterdam is lit up at night on this private canal cruise which is just perfect for romantic couples.
You will sail past seven of the city's most beautiful and famous bridges and learn about the 17th-century canal houses along the way.
You can snuggle up under a blanket with your lover and enjoy a warm cup of mulled wine or a refreshing glass of Prosecco.
Along the way, the captain tells you stories of the city's impressive history, culture, landmarks, and tales of legends and lovers in English.
Ticket price: €178 for two guests
Amsterdam Private Beer Boat
If you are a bunch of friends, you can get your exclusive party started even as you go on a private tour of Amsterdam's canals.
You will sit back on the comfy cushions, pick up drinks from an open bar with beer, and enjoy a 90-minute cruise around the canals of the city's Canal Belt.
This cruise is suitable for 8 to 34 people, and the crew can customize the route and the dropping spot at the end.
Ticket price: €450 for a group of up to ten guests
If you prefer something longer and a little more adventurous, check out the private Beer Bike & Beer Boat Package. You will see the hotspots of Amsterdam by both bike and boat and drink a lot of beer!
Exclusive BBQ Cruise with Live Cook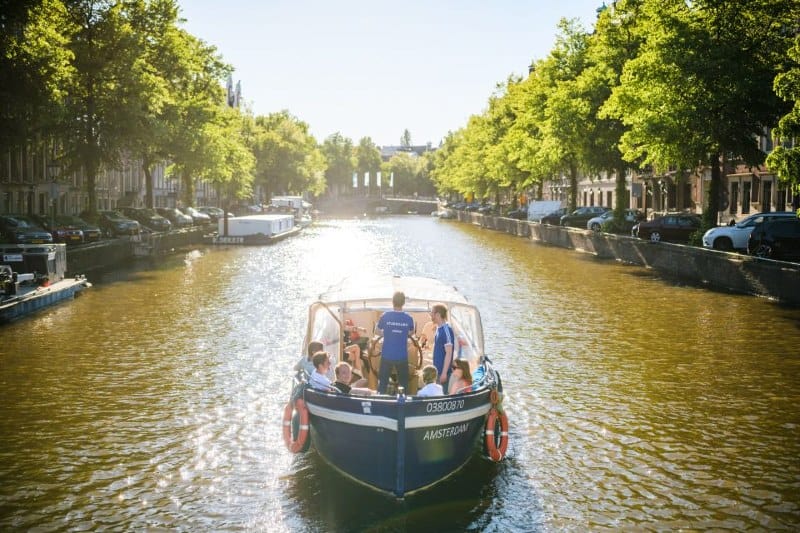 On this special Amsterdam Canal boat tour, you will enjoy a BBQ or vegetarian menu even as you cruise past the famous sights along the Herengracht, Keizersgracht, Prinsengracht, and by the Red Light district.
Unlimited beer, prosecco, and soft drinks will also be available for your gang of friends or family.
During the two hours of fun, you hear some exciting stories about the city from your skipper.
Ticket price: €750 for a group of up to ten guests
Tourists can choose from other kinds of Amsterdam Canal Cruises as well. Some of the most popular ones are – night cruises, dinner cruises, pizza cruises, cruises with unlimited drinks, luxury cruises, etc.
Special Canal Cruise with Prosecco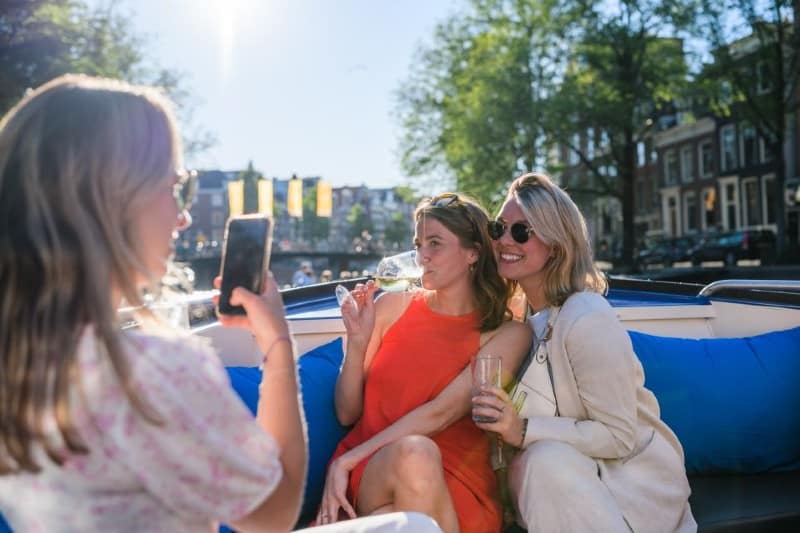 During this personal boat tour, you and your group will sip on sparkling Prosecco (sparkling white wine from Italy) even as you navigate the canals of Amsterdam.
It will be a private party of sorts, lasting 90 minutes, with a knowledgeable skipper to show you past sights such as Anne Frank's House, Rijksmuseum, etc.
This tour boat can hold up to 10 passengers, and you can request for beer as well.
Ticket price: €400 for a group of up to ten guests
Canal Cruise with Pizza for your group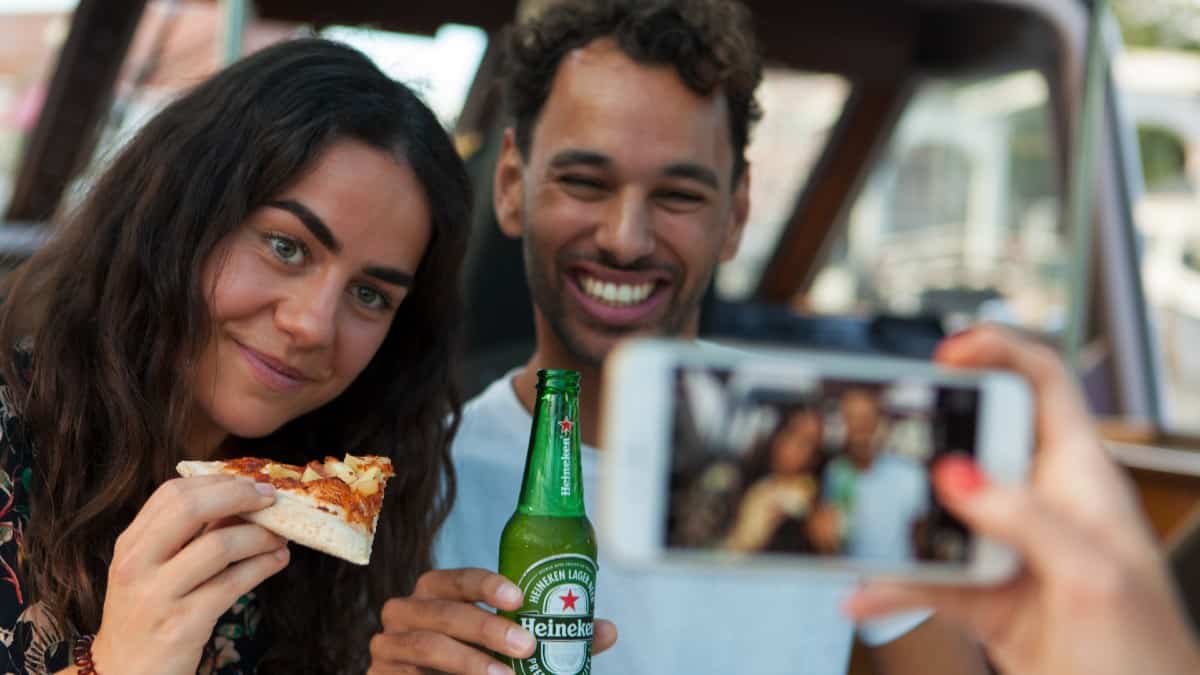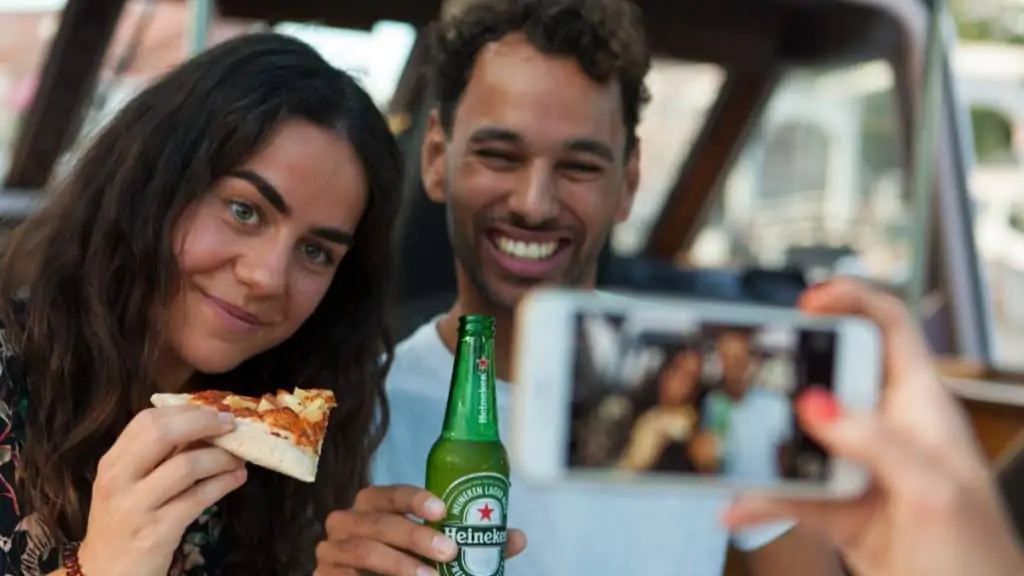 On this 90-minute private canal cruise, you will learn the history and see the hotspots of the capital city even as you munch on tasty pizza.
The pizza options are Margherita, Salami, Hawaii, Hot Pepperoni, Quattro, Formaggi, and Funghi.
The electric boat can accommodate up to 34 passengers, ideal for huge groups who want exclusive time alone.
Bad weather is not a concern because the boat is equipped with a canopy and has heaters and blankets.
Ticket price: €500 for a group of up to ten guests
If you are particular about having a Burger instead of a pizza, check out this private cruise.
Silent Disco Private Party Cruise
According to Government regulations, nobody should play music while sailing the city's canals, but this cruise offers a workaround.
If you opt for this experience, you will dance to the tunes of a silent disco enjoying an open bar on a private canal cruise.
You will hear the captain narrate stories even as you enjoy the world-famous waterways with a cold beer in hand.
Ticket price: €450 for a group of up to ten guests
Route the private boats take
The captains know the city like the back of their hand and can tell you everything about the city on request.
Usually, private canal cruises don't have a fixed cruising route, and travelers are consulted during the ride.
If you are interested in seeing the lesser-known parts of Amsterdam, the boat's captain obliges.
If you don't want to be disturbed during your special moment on the boat, you can just ask the captain to take you to a secluded area.
Sources

# privatecanalcruises.nl
# Private-boat-tours.amsterdam
# Tripadvisor.com
# Pureboats.com

The travel specialists at TheBetterVacation.com use only high-quality sources while researching & writing their articles. We make every attempt to keep our content current, reliable and trustworthy.
Popular attractions in Amsterdam
# Rijksmuseum
# Van Gogh Museum
# Anne Frank House
# Keukenhof Gardens
# ARTIS Amsterdam Zoo
# Heineken Experience
# A'dam Lookout
# Stedelijk Museum
# Amsterdam Canal Cruise
# Madame Tussauds Amsterdam
# Body Worlds Amsterdam
# Rembrandt House Museum
# Ice Bar Amsterdam
# Johan Cruyff Arena Stadium