Amsterdam is a beautiful city; after dark, it acquires a unique charm, which is better seen during a canal cruise. 
Thousands of glittering lights illuminate hundreds of bridges and canal houses, giving the city a magical twist.
No wonder Amsterdam canal cruises at night are as popular with tourists as the day cruises. 
Many types of night cruises can be overwhelming for first-time tourists. 
This article shares everything you must know before booking your Amsterdam Canal Cruise at night.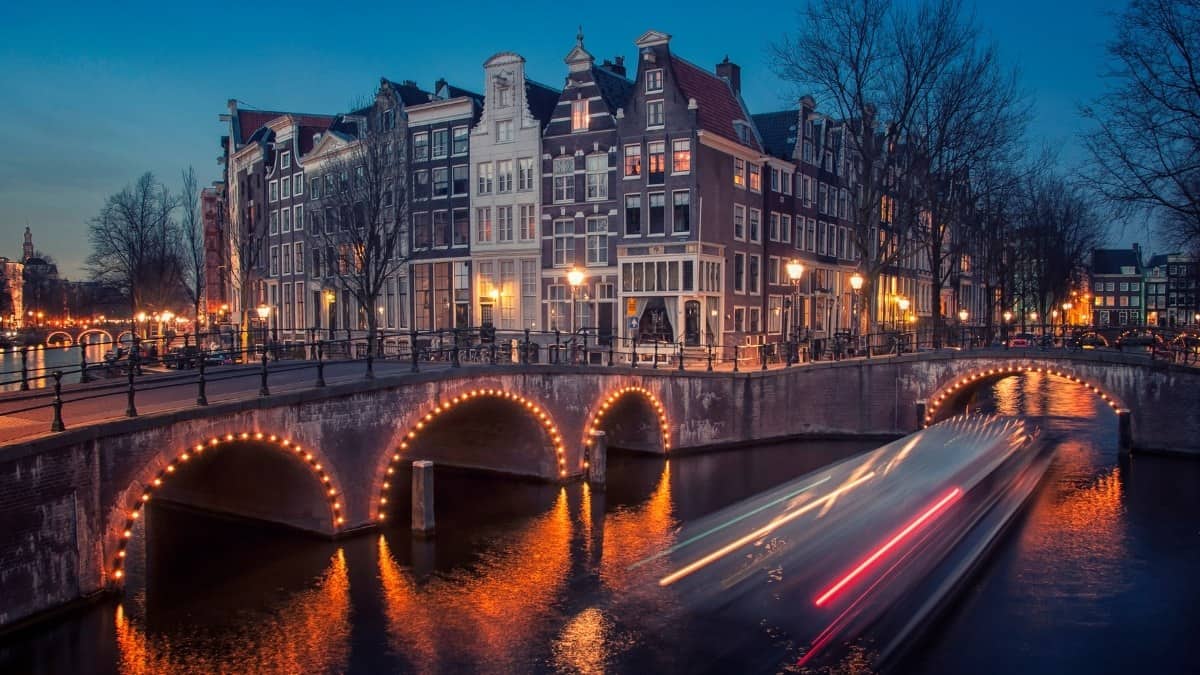 What to expect on a night cruise
Canal Cruises scheduled after dark also take you through the impressive waterways of Amsterdam, including the 17th-century Canal Belt.
You will float on your tour boat as the city comes alive with evening activity around you.
The beautiful merchant houses glimmer in the darkness and the lights glitter on the waters of the world-famous canals.
You will pass by 100s of illuminated canal bridges as your boat captain narrates the dramatic 800-year-old history of Amsterdam.
The cruises come in many flavors, some with dinner and drinks, while the others focus on sightseeing.
The boat will be different depending on which nighttime canal cruise you book. However, all are modern and comfortable.
Timing of evening cruises
Nighttime Amsterdam Canal Cruises depart every day, all year round.
Evening cruises start around 6 pm and continue till 10 pm, depending on the time of year.
Tourists with hectic daytime itineraries love evening cruises because they can sit, relax and enjoy the views.
Private Romantic Canal Cruise at Night
On this private canal tour, see how Amsterdam lights up at night, which is ideal for romantic couples.
So much so most couples vow to return soon enough.
You will pass seven of the city's most stunning and well-known bridges along the route and learn about the 17th-century canal houses.
You can cuddle up with your partner under a blanket and have a warm cup of mulled wine or a crisp glass of Prosecco.
Along the way, the captain tells you stories of the city's impressive history, culture, landmarks, and tales of legends and lovers in English.
Ticket price: €215 for two guests
Blue Boat's 90-minute Evening Canal Cruise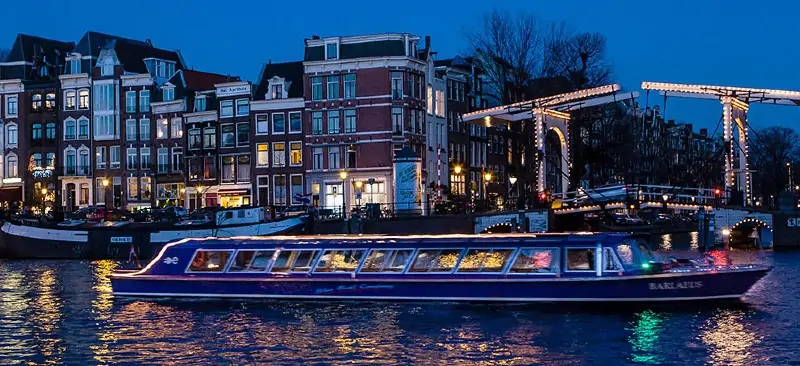 On this 90-minute evening boat tour, tourists visit Amsterdam's canals and admire the beautiful traditional merchant houses, picturesque bridges, typical houseboats, etc.
You will be cruising over some of Amsterdam's most gorgeous waterways, passing illuminated buildings, bridges, and boats that give the city its fairytale appearance.
Besides listening to the city's history, you also learn about the local hotspots, including notable restaurants and nightclubs.
The top-class Blue Boat Company offers this tour, whom you can identify from their deluxe Blue Boats.
Ticket price
Adult ticket (12+ years): €21
Child ticket (5 to 11 years): €21
Infant ticket (up to 4 years): Free entry
If you want a cheaper canal cruise after nightfall, check out this tour which comes with an audio guide.
Guided Luxury Evening Canal Cruise
This boat tour is a 1-hour evening cruise through Amsterdam, where you get some of the finest canal-side views.
During this quintessential Amsterdam experience, your skipper and hostess regale you with tales of old Amsterdam and stories about modern life in the Dutch capital.
Get a drink and a blanket and enjoy the ride as you drift along, passing famous landmarks and quaint canal houses. 
This experience happens on a luxury boat and is ideal for those that need something extra above the regular.
Ticket price
Adult ticket (13+ years): €22
Child ticket (3 to 12 years): €14
Infant ticket (up to 2 years): Free entry
Amsterdam Evening Pizza Cruise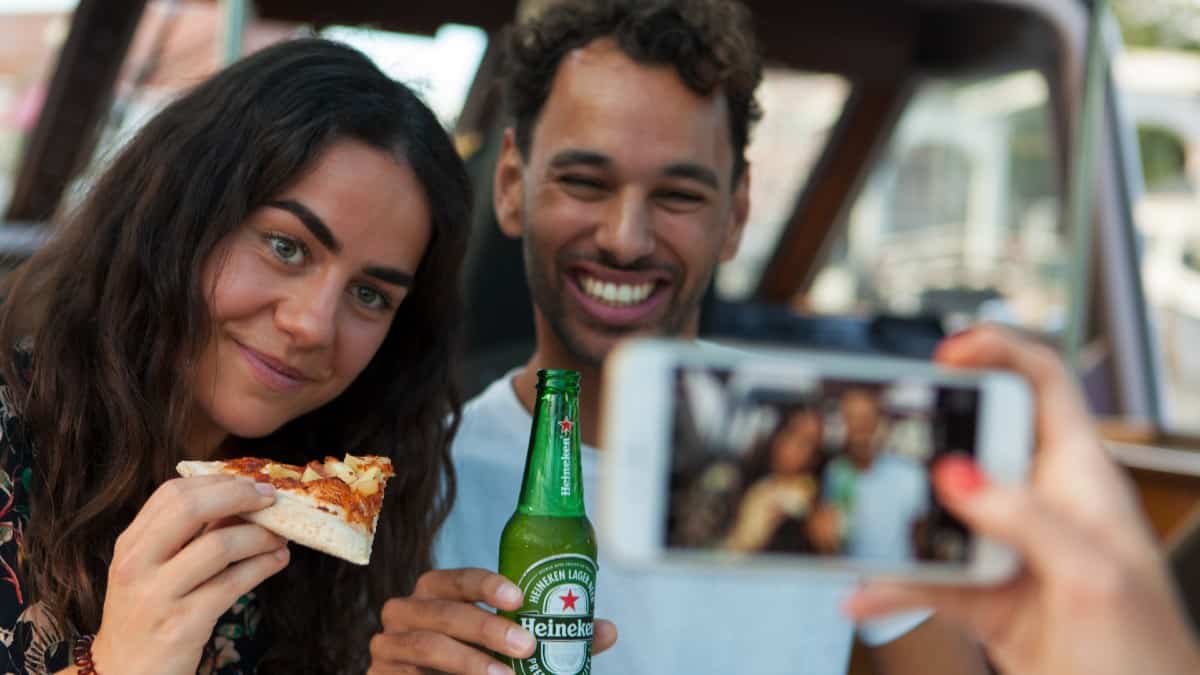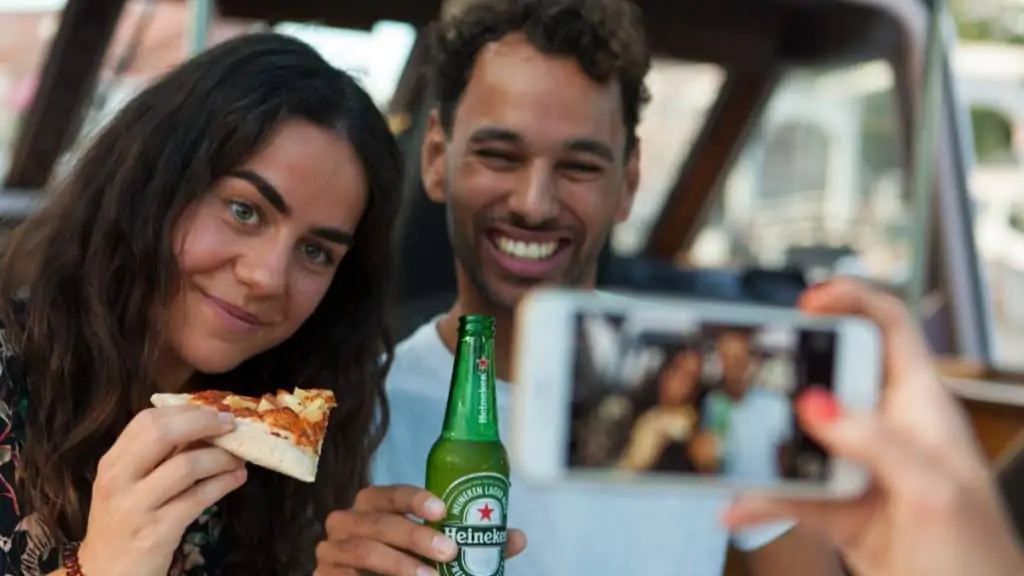 Onboard a beautiful canal boat in Amsterdam, and enjoy freshly prepared pizza while taking in the city's sights.
During this 90-minute trip, you will combine casual dining with relaxing views of the UNESCO World Heritage Canal region, a winning combination.
After boarding the boat, you will order an appetizer and a pizza from chefs from the New York Pizza Company.
Your pizza will be served fresh from the oven to the boat, along with wine, beer, and soft beverages.
Ticket price
Adult ticket (13+ years): €38
Child ticket (4 to 12 years): €18
Infant ticket (up to 3 years): Free entry
Tourists can choose from other kinds of Amsterdam Canal Cruises as well. Some of the most popular ones are – dinner cruises, pizza cruises, cruises with unlimited drinks, luxury cruises, private cruises, etc.
Evening Canal Cruise with Burgers & Hot Dogs
This Amsterdam Canal Cruise with dinner is ideal for children, families, and seniors.
With a delicious burger, hotdog, and cool drink, you take the sights of Amsterdam from the water.
Guests can customize their burgers and hotdogs with toppings such as lettuce, tomato, mayonnaise, jalapenos, and cheese.
Passengers also have unlimited access to the bar, where they can order as many drinks as they like, including Heineken beer, house wines, and soft drinks.
Ticket price
Adult ticket (12+ years): €42
Child ticket (3 to 11 years): €35
Amsterdam Nightlife & Canal Cruise Ticket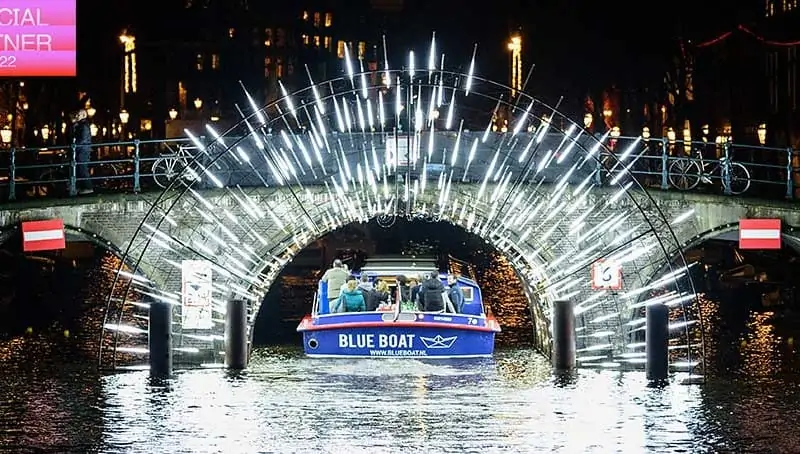 Go beyond the nighttime canal cruise in the Dutch capital to step up the game.
Youngsters prefer this combo package that gets you a 2-day ticket to Amsterdam's nightlife and a 1-hour canal cruise ticket.
You will get access to more than 20 nightclubs, special events, experiences, and extras in Amsterdam.
After seeing the vibrant city's incredible club scene, you sit in a canal boat and experience the city relaxed. 
During the 1-hour cruise, see all of Amsterdam's highlights from the perspective of the water.
Note: You must be at least 18 to participate in this activity.
Ticket price: €26 per person
Sources

# Getyourguide.com
# Viator.com
# Tripadvisor.com
# Lovers.nl

The travel specialists at TheBetterVacation.com use only high-quality sources while researching & writing their articles. We make every attempt to keep our content current, reliable and trustworthy.
Popular attractions in Amsterdam