Art, culture, scenery, food, history— no matter how you look at it, France is an epic holiday destination.
A vacation is France is a once in a lifetime experience. A life milestone that millions strive for.
Now, imagine a Golf vacation with the legendary country as its backdrop.
The stories you can narrate and the memories you can carry back home are endless.
There are numerous Golf resorts spread all over France.
These resorts offer great Golf packages for those interested in a Golf breaks in France.
If you want to travel less and spend more time on the greens, a Golf holiday package based out of Paris does the trick.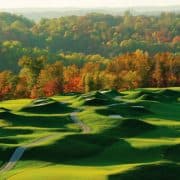 Is Golf popular in France?
Compared to other European countries like Spain and Portugal, Golf is still gaining popularity in France.
However, due credit to the French who are rapidly embracing the elite sport of Golf.
Take for example Chantilly, which has had the distinction of hosting the French Open Golf tournament for a decade.
The legacy of Golf in France owes a lot to two British architects – Harry S Colt and Tom Simpson.
Ever since they introduced the French to Golf, the popularity of the game has been steadily going in one direction— upwards.
Recommended Reading
1. Golf holidays in Spain
2. Golf holidays in Portugal
Best Golf courses in France
Les Bordes Golf course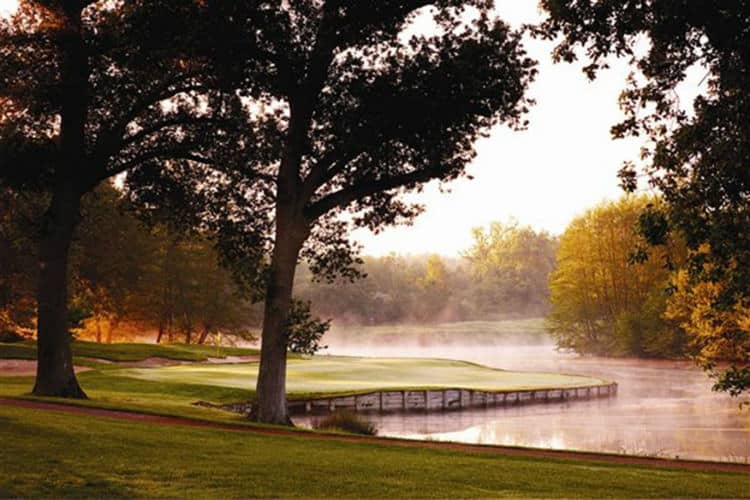 In the north-central department of Loiret lies the celebrated Les Bordes Golf course.
Hailed as the best Golf course in France and even in Europe by some Golf connoisseurs, it is situated in the Loire Valley and offers a calm, wooded setting for exciting Golf.
This Golf course was built on the hunting estate of Baron Marcel Bich, who was the owner of the Bic empire.
This 18 hole Golf course is the result of the vision of celebrated Golf architect Robert Van Hagge.
The Golf here is quite a challenge, comprising of long bunkers and water hazards.
Morfontaine Golf course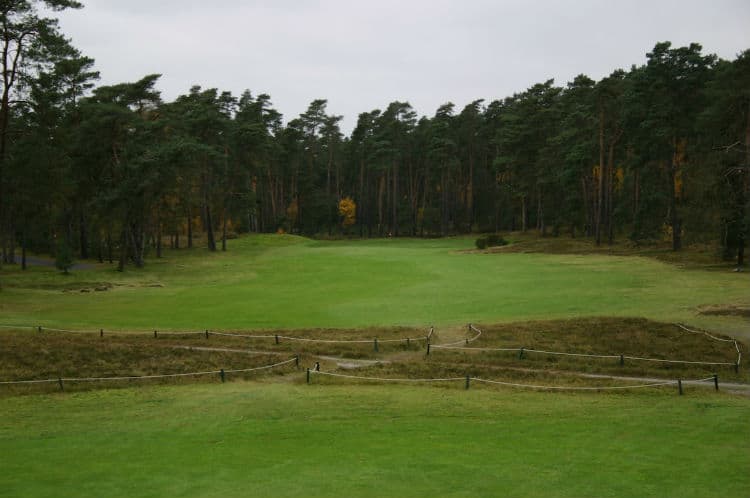 The Morfontaine Golf course was originally designed as a 9 hole course by a Duke, on what were formerly polo grounds.
Later, 18 holes were added by Tom Simpson, an under-appreciated Golf course architect.
Both the Golf courses are challenging, though amateurs need not be disappointed, as there is something for them too.
Located in the Champagne region of north-eastern France, Morfontaine is a unique and exclusive destination for Golf breaks in France.
The Albatros Golf course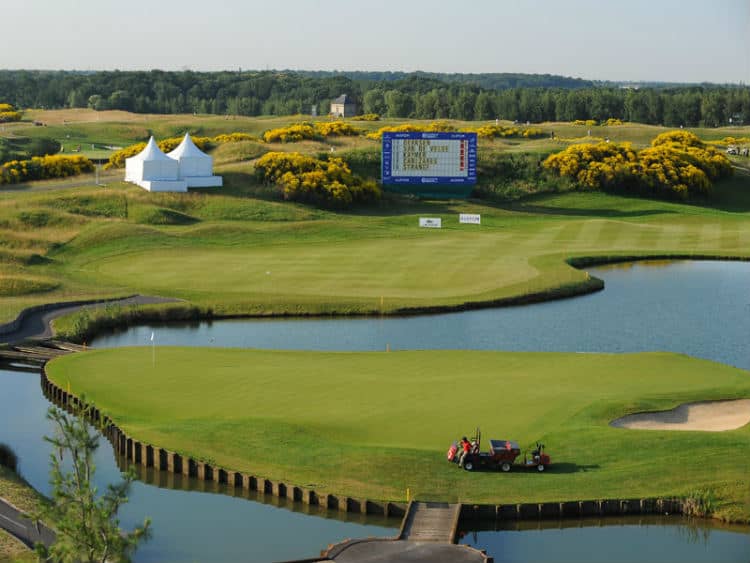 The heart of French Golf, however, beats at a Golf course closer to the capital city of Paris.
This is none other than Saint Quentin en Yvelines Golf Club, a course that bears the imprint of three Golf visionaries—Van Hagge, Hubert Chesneau, and Pierre Thevenin.
In addition to the championship course (called The Albatros Golf course), there are two other courses more suitable for the not-so-professional Golfers.
Not only is this Golf course close to Paris, it is also a public course, so you need not be invited by a member.
Chantilly Golf course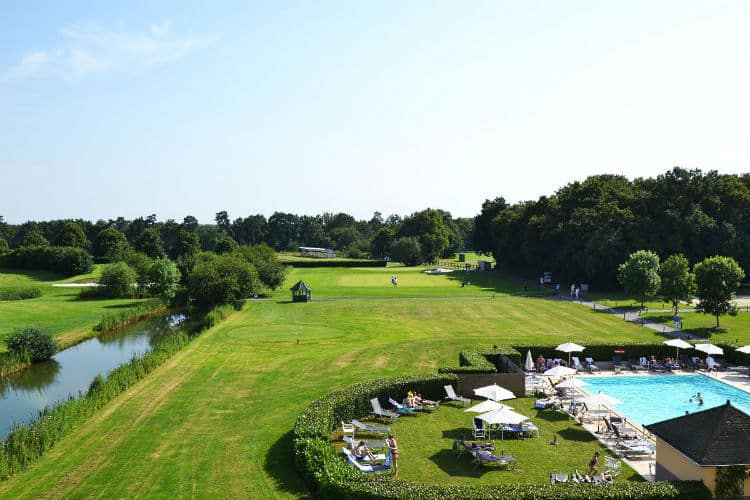 Thirty kilometers north of Paris is the famous Chantilly Golf course. More than one hundred years old, this course was also designed by Tom Simpson.
Expect fascinating views of the Chantilly forest while you negotiate garden designs and water hazards.
Recommended Reading:
Golf holidays in Germany
Golf holidays in Ireland
Best Golf resorts in France
If your Golf vacation in France includes the Chantilly Golf Club, then you must check in at the Auberge du Jeu de Paume resort.
This luxurious property has purple accents in its decor, perhaps to allude to the fact that it's as close to royalty as you can get.
It is additionally attractive for Golf breaks because it is close to five Golf courses.
On top of Chantilly, there are other courses like the Golf du Lys. Some Golf packages include green fees for these courses, accommodation, and other additional facilities.
The Golf resort best suited to playing at the Golf National is the Novotel Saint Quentin Golf National.
This plush hotel has been renovated recently, making it even more attractive.
In addition to the Golf courses at the National, it is also situated near other great Golf courses.
Golf packages offered by the hotel include Eurotunnel fares, accommodation and one round each at two Golf courses of the National.
If your Golf holiday in France is centered in the northern part of the country, look no further than the Najeti Hotel du Golf Aa Saint Omer.
This stunning Golf resort offers its guests the best of the fabled French countryside and some memorable rounds of Golf in its very own Golf course.
Having hosted European Tour events on more than one occasion, the Najeti hotel has gained prestige among the international Golfing community.
Northern France also has another gem of a Golf Resort, the Le Manoir Hotel.
The forests of Le Touquet will envelop you in green serenity as soon as you step into this luxurious property. When stepping out, you can choose from two excellent Golf courses.
Golf packages offered by the Le Manoir include one round of Golf at either of the two courses, accommodation and meals.
Best time for Golf holiday in France
The best time to plan a Golf vacation in France is in autumn or fall.
The country is at its most beautiful in this season, with crisp air and beautiful scenery providing a memorable background for your Golf break.
The months of June and September offer the best weather to stay outdoors and play Golf.
If you plan your Golf break accordingly, you can avoid rain, snow and too much heat.
However, if your Golf vacation includes Paris, be prepared to battle crowds.
Because no matter what time of year it is, Paris is always flooded with thousands of tourists.
Green fees in French Golf courses
The Chantilly Golf Club is the most popular Golf destination in France and hence charges quite a high green fee.
On an average, you can expect to pay 145 US Dollars as green fees at the Chantilly.
Having said that, every penny spent on this beautiful Golf course is more than worth it.
The Golf de Saint Germain course charges similar green fees.
The Fontainebleau Golf Club near Paris has slightly less expensive green fees – at about 130 US Dollars.
The Pines Golf course of Golf d'Hardelot and Golf du Touquet are more affordable, at around 90 US Dollars for each course.
Sources
# Yourgolftravel.com
# Golfholidaysdirect.com
# Golf-escapes.com
# Golfbreaks.com

The travel specialists at TheBetterVacation.com use only high-quality sources while researching & writing their articles. We make every attempt to keep our content current, reliable and trustworthy.
Recommended Reading
1. Golf holidays in Italy
2. Golf holidays in Florida