For most people, Portugal and sport would mean one name — Cristiano Ronaldo.
However, the largely coastal country situated in the Iberian Peninsula does not only boast of one of the best footballers of all time.
Portugal also has a thriving culture of golf. No wonder then that golf holidays in Portugal are quite popular.
Numerous resorts, hotels and golf courses offer amazing golf packages, which are a once-in-a-lifetime experience.
In this exotic golf destination, you can pack in challenging rounds of golf, explore medieval history, and soak up the sun on beautiful sandy beaches.
What more do you need on a golf holiday?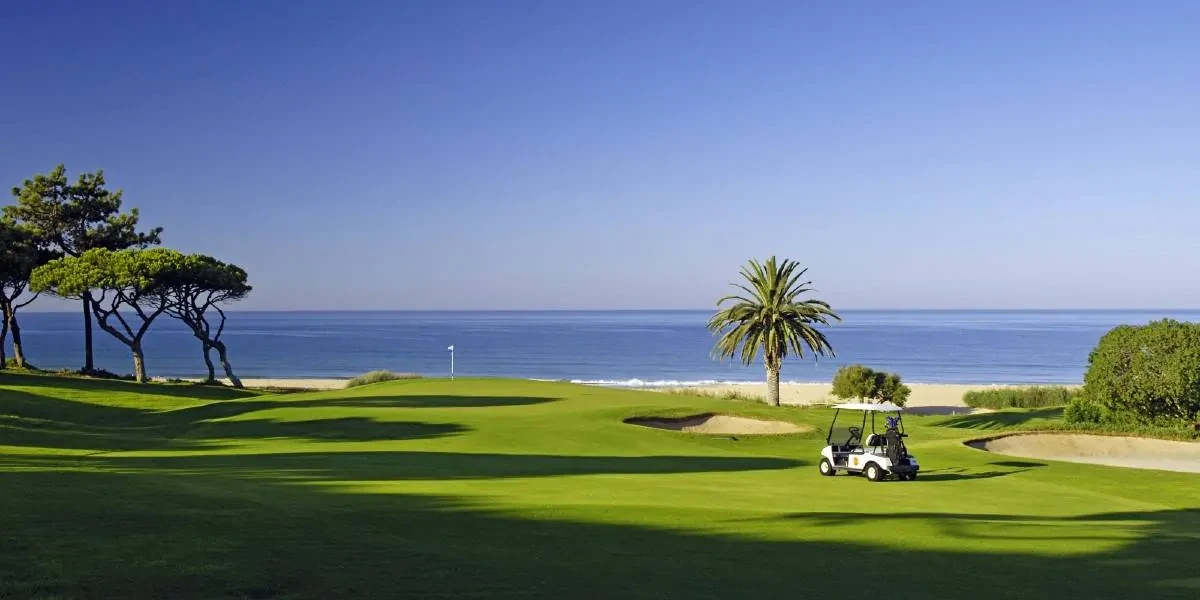 Best Golf courses in Portugal for Golf holidays
Some of the best golf courses in Portugal are concentrated in Algarve, the southern tip of the island nation.
Its coastal charms alone can make it any vacationer's dream come true. On top of that, Algarve has much to offer to the golfing tourist.
1. Victoria Golf course, Vilamoura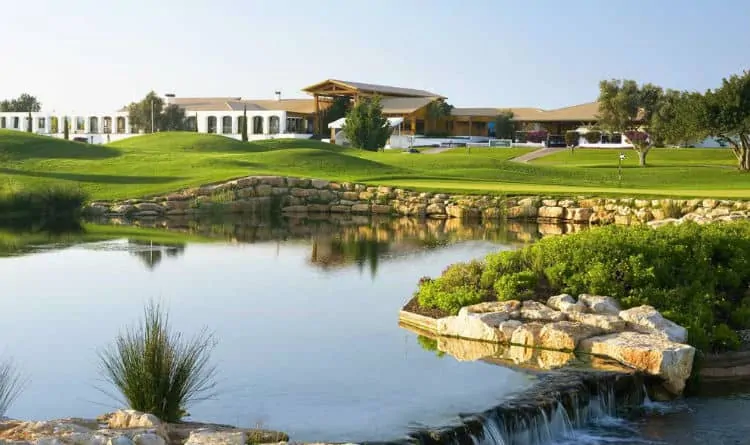 Let's start with Dom Pedro Golf managed Victoria Golf course, which hosted the Golf World Cup in 2005 and has been hosting Portugal Masters since 2007.
Hills, bunkers, water hazards—this course is a great opportunity for honing your golfing skills.
Spread over 90 hectares, this golf course is one of the most complete golf complexes in Europe.
There are many teeing options on each hole (sometimes as high as six). The undulating fairways, the water, and the challenging bunkers pose a constant threat to the not-so-careful golfer.
Dom Pedro Golf also manages four other greens – The Old Golf Course Club, Millennium Golf Course, Pinhal Golf Course and Laguna Golf Course – in Vilamoura.
Recommended Reading
1. Golf holidays in Spain
2. Golf holidays in France
2. Monte Rei Golf Club, Vila Nova de Cacela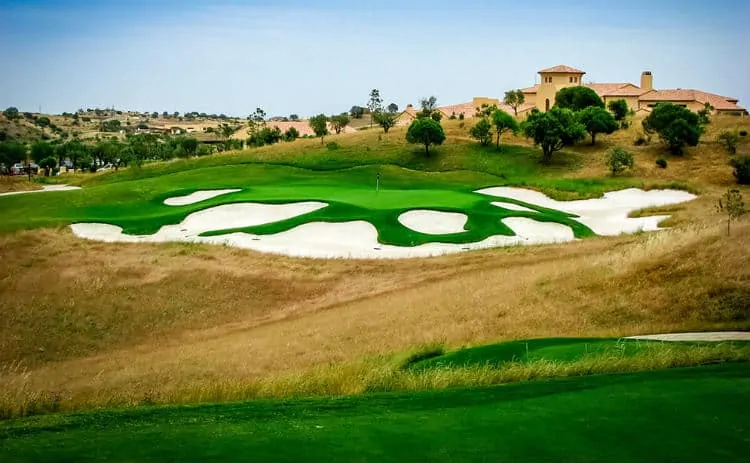 If you want to taste luxury amidst a public golf course, try out Monte Rei Golf Club.
Designed by the legendary golfer Jack Nicklaus, the Monte Rei Golf Club's main attraction is the decadent clubhouse sitting elegantly on top of a hill.
It is set in over 1,000 acres of glorious countryside in Portugal's Eastern Algarve.
If you plan your golf holiday in Portugal at Monte Rei Golf Club you can avail the beautiful villas available for short-term rentals.
They are just the perfect accommodation you may want for your family, friends of colleagues on a golf holiday.
Opt for this Golf club if you want to enjoy a world-class resort in a unique Algarvean setting.
3. North and South Golf Courses, Algarve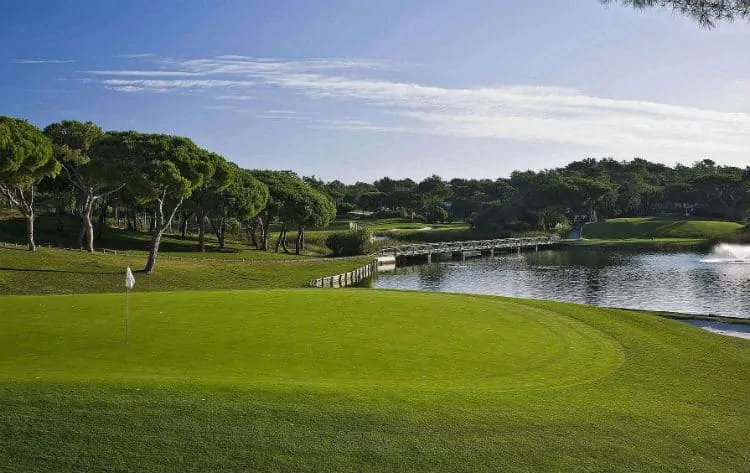 Many golfers of the European Tour have a weakness for the Quinta do Logo managed, North Golf course and South Golf Course.
If your golf is several notches above entry level, you will love these courses designed for true professionals.
No wonder then that the South Course has hosted several Portuguese Open golf championships.
Quinta do Logo also has a third golf course under its wing, called Laranjal Golf course.
If you plan your golf holiday in Portugal at Algarve Quinta do Logo's courses you can also experience world-class golf facilities such as the Paul McGinley Golf Academy and Southern Europe's only TaylorMade Performance Center.
4. Royal and Ocean Golf Courses, Algarve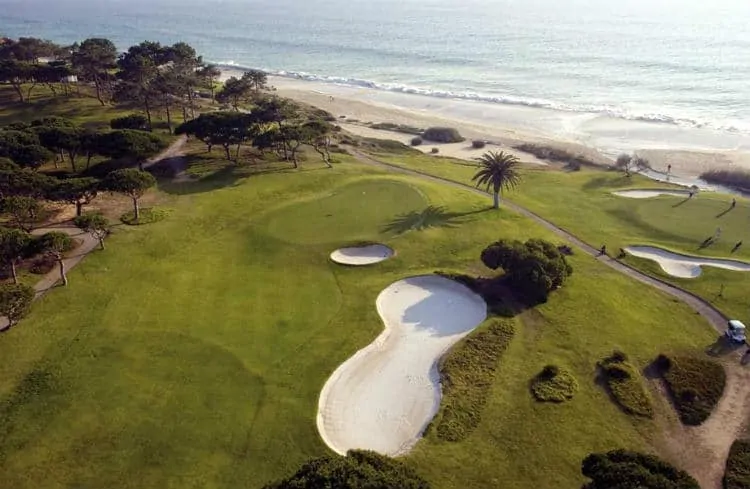 If you want your golf holiday in Portugal to have a picturesque setting, look no further than the Vale do Lobo's Royal and Ocean Golf Courses.
Golfing greens, steep cliffs, and the blue sea make for a picture postcard setting and will immediately put you in a relaxed mood.
Located in the heart of the sunny Algarve, these golf courses are along the golden coastline of Portugal's popular holiday region.
Being just 20 minutes from Faro International Airport, it is just the perfect spot for all kinds of golf vacations.
Both Royal and Ocean Courses are 18-hole championship golf courses and complemented by a renowned golf club with exceptional facilities.
5. Oitavos Dunes, Lisbon
In Lisbon, try the Oitavos Dunes. Ranked among the hundred best golf courses in the world, the Dunes will offer you a round of golf that you will remember forever.
Almost every year Oitavos Dunes golf course features in the top 100 best golf courses in the world list. Most often in the top half.
The beautiful course offers amazing views of the Atlantic ocean and an equally breathtaking backdrop of the Sintra mountains.
Best Golf Resorts in Portugal
As much of tourism in Portugal is centered around all inclusive golf packages, there is no dearth of golf resorts to choose from.
The most popular among them is the Dona Filipa Hotel in Algarve.
If you want to play at the San Lorenzo golf course, you have to stay at the Dona Filipa.
Built to international standards, it also has excellent amenities for other sports like tennis and cycling.
It is also conveniently located near many good restaurants, so you don't have to limit your meals to the hotel alone.
For a budget stay, you can choose the Pestana Viking in Algarve, which combines the charm of the beach and golfing both.
There is an indoor pool where guests can relax after a hard day's play.
If luxury is more to your taste, try the Anantara Vilamoura in Algarve. This hotel has all five-star amenities that picky travelers can demand.
The Victoria Golf Course is nearby, making it a favorite for golf breaks.
However, it is best to avoid this resort while golf championships are underway, as it can get crowded.
Lisbon too has many golf resorts to suit every budget. Around an hour's drive from the Lisbon airport, you will find the Praia D'El Marriott Golf and Beach Resort.
Grand ocean views, beautiful sunsets, a challenging golf course, this luxury resort has it all.
Travellers on golf breaks also prefer Dolce CampoReal Lisboa.
Not only does it have a challenging golf course, the hotel also provides excellent training for beginners.
Recommended Reading
1. Golf holidays in Italy
2. Golf holidays in Cyprus
Best time for Golf holiday in Portugal
The busy golfing seasons in Portugal can be divided into two.
First, the months from March to June.
This period sees weather conditions ideal for golfing.
There are many golf packages specially created to include the Easter Holidays.
The second busy season lasts for the two months of September and October.
The temperature falls slightly, making it suitable for spending a long time outdoors on the golf courses.
While the other months see some golf vacations, the month of December is the least active month of the year.
Some courses are even closed in December, to carry out maintenance work.
Golf holiday in Algarve, Portugal
Golf vacations in Portugal have become almost synonymous with Algarve.
In fact, it is the most popular tourist destination in the entire country.
Deep blue waters, breathtaking scenery, excellent seafood, charming pottery—Algrave leaves you spoiled for choice. Especially if you are on a golf tour.
There are more than thirty golf courses in Algarve, each different from the other.
From a private club-like experience to public courses, from gentle golfing to professionally challenging, from budget-friendly to luxurious—Algarve will appease each and every type of golf holiday.
Some of the courses in Algarve have been designed by golf legends like Jack Nicklaus, Nick Faldo and Arnold Palmer.
It is home to not only some of the best golf courses in Portugal, but of Europe as well.
Monte Rei is widely acclaimed as the best golf course in the country.
In addition, Algarve has enviable names like the Vilamoura Old Course, Vale do Lobo, San Lorenzo and the Quinta do Lago golf courses.
Naturally, a host of hotels and golf resorts occupy the bulk of the Algarve skyline.
Most of these offer all inclusive golf holidays for tourists to suit every budget and need.
The Dona Filipa is the grand old maid of golf resorts in Algarve.
It gives its residents exclusive rights to sample the challenges of the San Lorenzo golf course.
There are also budget hotels, serviced apartments, and villas that are rented out to golf-loving tourists.
As the economy thrives on tourism, Algarve is extremely friendly to travelers.
Green fees in Algarve and Portugal Golf course
Green fees in Algarve vary from month to month and course to course. At peak season, the fee for the greens can be around 100 Euros for two players and one buggy.
While in lean months the same golfing fee can cost you around 50 Euros.
There special holiday golf packages as well which when taken brings down the green fees considerably.
Sources

# Yourgolftravel.com
# Golf-escapes.com
# Jet2holidays.com
# Golfholidaysdirect.com

The travel specialists at TheBetterVacation.com use only high-quality sources while researching & writing their articles. We make every attempt to keep our content current, reliable and trustworthy.
Recommended Reading
1. Golf holidays in Bulgaria
2. Golf holidays in South Africa