Cyprus is the third largest island in the Mediterranean Sea. It is also the third most populated.
The country enjoys extremely pleasant weather almost all the year and has some of the finest beaches in the world.
Little wonder then that Cyprus has always enjoyed a pride of place in the imagination of beach lovers.
However, recently the island nation of Cyprus has also become a Golf destination.
Specifically, following the establishment of the internationally famous Aphrodite Hill Resort.
If you want to book a Golf holiday in Cyprus, your trip will take you to the western coastal town of Paphos.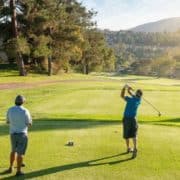 Best Golf courses in Cyprus
What is it about the Golf courses in Cyprus that makes so many tourists return to this destination, year after year?
Well, the island nation has four world-class Golf courses, to begin with.
These Golf courses will make professionals happy, and amateurs salivate with anticipation as well.
The coastal town of Paphos is the main destination for a Golf breaks in Cyprus.
Not only does the charming town offer spectacular natural beauty, but it is also a convenient base for Golf vacations, as all the main Golf courses are easily reached from here.
1. Aphrodite Hills Golf course (also known as PGA National Cyprus)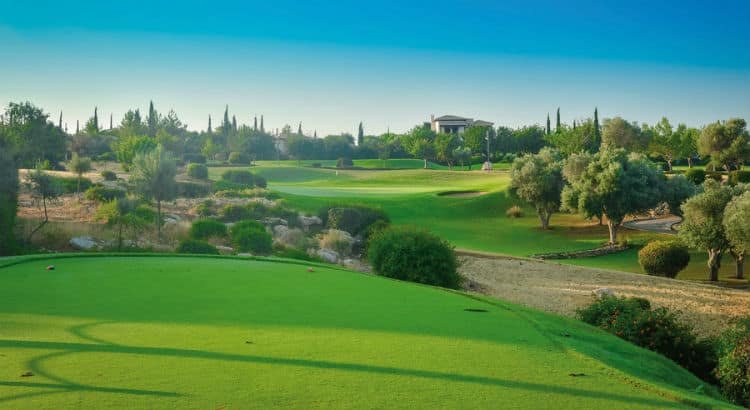 The Aphrodite Hills is the most celebrated Golf course in the island nation.
The Golf course is designed by the famous Golf architect Cabell Robinson, who has had the distinction of working with Robert Trent Jones, Senior.
This Golf course will leave you with splendid memories.
Looking out into the lovely Mediterranean Sea, the Aphrodite Hills Golf course is spread across a pair of plateaus divided by a breathtakingly beautiful ravine.
The radiant olive trees, carob trees, a huge gorge between the tees, pot bunkers, lush grass and generous greens add to the unforgettable experience.
Recommended Reading
1. Golf holidays in Turkey
2. Golf holidays in the UK
2. Elea Golf Club's course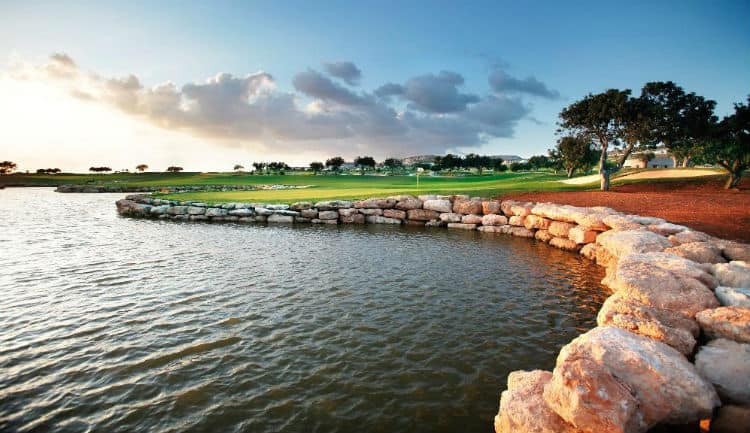 Located on the azure Mediterranean is the Elea Golf Club, a Golf course that bears the pedigree of none other than Sir Nick Faldo.
The landscape here is no less striking than the Aphrodite.
According to Faldo, the Elea Golf Club's course is designed to favor thoughtful, strategic Golf over big hitting.
The olive and carob trees are found on this Golf course as well, though its unique character is lent by the limestone outcrop all across.
There are 18 holes in the course, all quite challenging and capable of adding a different flavor to your Golf vacation in Cyprus.
3. Minthis Hills Golf Club's course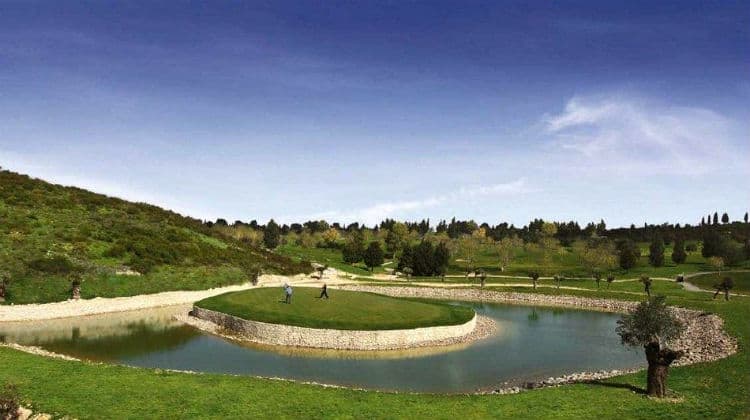 Less than half an hour's drive from Paphos lies the Minthis Hills Golf Club.
It is located 550 meters above sea level, hence a cool sea breeze will caress you even in the hottest of summers.
This hilly terrain offers challenging Golf amidst beautiful natural surroundings.
There are trees laden with fruit, there are grape vines and altogether there is amazing beauty.
4. Secret Valley Golf course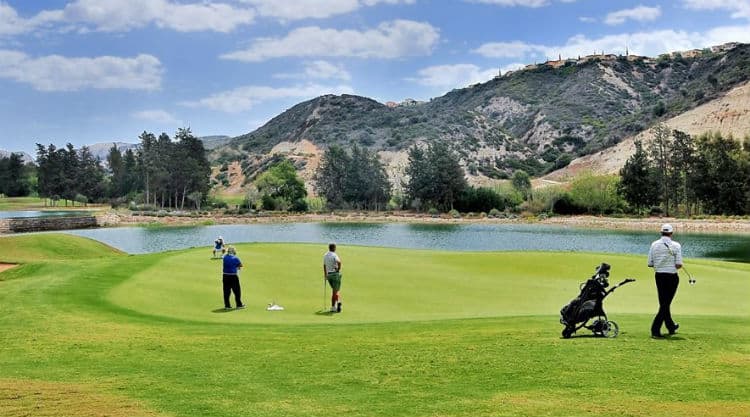 Secret Valley is an 18 hole championship standard Golf course, again quite near Paphos town.
If you include Secret Valley in your Golf break, you can expect a memorable round of Golf under the shade of old trees and interesting rock formations.
Recommended Reading
1. Golf holidays in Italy
2. Golf holidays in Bulgaria
Best Golf resorts in Cyprus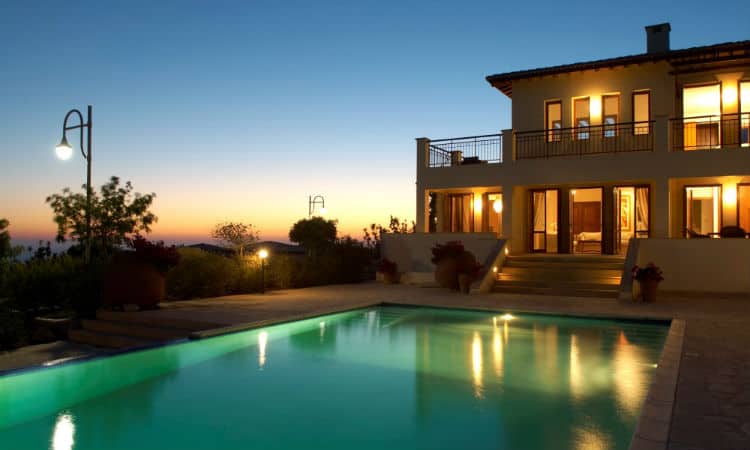 The best Golf resorts in Cyprus are built in or near the town of Paphos, to provide an easy commute to the four Golf courses.
The most popular Golf course is the Aphrodite Hills, hence the two most popular Golf resorts in Cyprus are the adjacent Aphrodite Hills Holiday Residences and the Aphrodite Hills Hotel.
Of these, the latter is the more luxurious and therefore the more expensive property.
However, both properties offer all-inclusive Golf packages that let you access the famous Aphrodite Hills Golf course.
The Aphrodite Hills Hotel is almost double as expensive as the Aphrodite Hills Holiday Residences. Both Golf resorts have discounted rates for group travelers.
Since all four Golf courses are in and around Paphos, you don't need to stay in any particular Golf resort to play in any one course.
Most resorts offer attractive Golf packages that include accommodation and a round of Golf in the four courses.
For example, Alexander the Great Beach Hotel offers a great Golf package.
You can stay at their luxurious property for seven nights and avail of one round each at all four Golf courses.
These packages start from a little over one thousand pounds and include other perks like a free bottle of wine, complimentary use of the hotel spa and sports facilities, free Golf storage, and others.
The Thanos Hotel Annabelle is another popular pick for Golf holidays in Cyprus.
It has Golf packages that include accommodation and a round of Golf at the three Golf courses except for the Aphrodite Hills.
The packages are priced at around 550 pounds per person.
Golf breaks in Cyprus are a little on the expensive side.
But if you do your research well and with plenty of time in hand, you can avail of some fantastic Golf packages including flights.
Best time for Golf holiday in Cyprus
The best thing about planning Golf breaks in Cyprus is that you don't have to limit yourself to any particular season.
The island nation enjoys an average temperature of 24 degrees almost all year, making it extremely pleasant weather wise.
You can expect balmy winds and warm sunshine as you tee off, or get a beautiful sun tan as you enjoy a round of Golf.
However, as there are only four Golf courses in Cyprus, they are sometimes kept closed for few weeks of maintenance and repair.
While planning your Golf holiday in Cypress, watch out for these maintenance time slots.
Green fees in Cyprus Golf courses
The Aphrodite Hills Golf Course and the Elea Estate Golf Course are the two premium Golf courses in Cyprus.
Predictably, these Golf courses charge a much higher green fee than the other two courses in and around Paphos.
The exact green fees depend on a Golfer's handicap and whether it's a weekday or the weekend.
However, the Aphrodite and the Elea Golf courses charge an approximate green fee from 90 Euro to 180 Euro.
There are online discounts available almost any time of the year.
The Minthis course and the Secret Valley Golf Course have green fees of around 60-65 Euro.
Sources

# Yourgolftravel.com
# Golfbreaks.com
# Golf-escapes.com
# Cyprusparadise.com

The travel specialists at TheBetterVacation.com use only high-quality sources while researching & writing their articles. We make every attempt to keep our content current, reliable and trustworthy.
Recommended Reading
1. Golf holidays in Croatia
2. Golf holidays in the USA