History, cuisine, and culture make Italy a great vacation destination, no matter what you are looking for.
Apart from regular tourists, Italy also is a fantastic option for golf holidays.
Golf holidays in Italy can include diverse options.
For example, you can choose to center your vacation in and around the vibrant and historical city of Rome and get some golf thrown in as well.
The cities of Florence and Milan are equally attractive golf holiday destinations in Italy. The two famous lakes of Italy, Garda, and Como also offer great games of golf.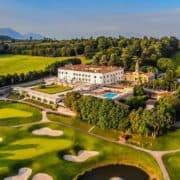 Is Golf popular in Italy?
The history of Golf in Italy is more than a century old, but it is not as popular as soccer.
It is the most popular sport in Italy, and is nourished even further by the many World Cup wins.
One of the reasons that Golf is not as popular in Italy as in UK or USA is that Italians prefer fast, lively sports.
Perhaps the Italian temperament doesn't allow for the patience needed to master and play Golf.
However, most high-end resorts cater to foreign tourists looking for a memorable golf holiday.
Tourists who prefer peace during their golf outings prefer Golf holidays in Italy.
Best Golf courses in Italy
Even though Golf is just picking up in Italy, there are more than 100,000 registered Golfers in the country.
The first Golf course in Italy was built in Florence in 1889 and was aptly named – the Florence Golf Club.
In 1933, this club was re-named as Ugolino Golf course.
Since the first course, the count of Golf courses in Italy has increased dramatically – 250 at last count.
1. Pevero Golf Course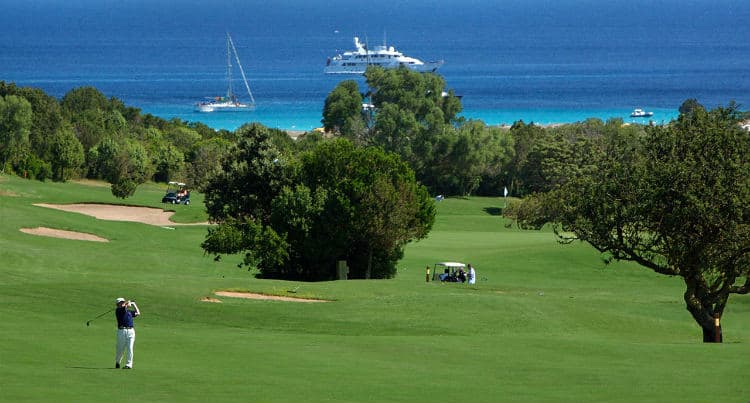 The Pevero Golf Club is perhaps one of the most beautiful golf clubs not only in Italy, but all of Europe.
Located in Sardinia, this club is home to the Pevero Golf course.
It is the handiwork of celebrated golf architect Robert Trent Jones Senior.
Nestled between two superbly beautiful bays is a valley, this Golf course has been created for the true connoisseurs.
However, do not be fooled by your beautiful surroundings and let down your guard, because the Pevero course is quite challenging.
Recommended Reading
1. Golf holidays in France
2. Golf holidays in Spain
2. Golf di Roma Acquasanta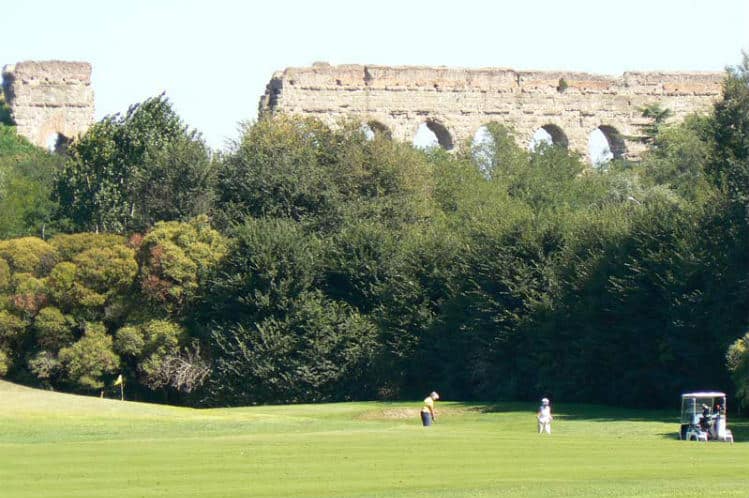 The antiquities of ancient Rome are the unique setting of the Golf di Roma Acquasanta course.
This highly rated championship course is carved on the foothills of Adirondacks.
The best feature of this golf course is that it is equally engaging for both beginners and professionals – with its varied levels of challenging golf.
3. Gardagolf Country Course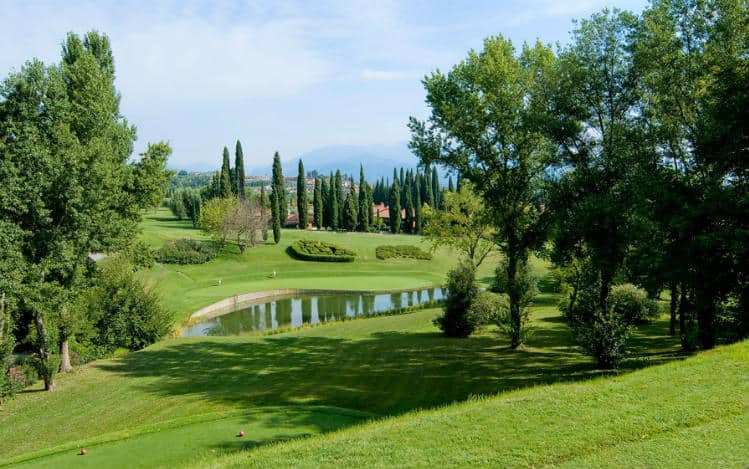 Golf professionals consider the course at Gardagolf Country Club in Lombardia as one of the most interesting golf courses made in Italy in the past decade or so.
It has a beautiful setting, with Lake Garda on one side and the castle of Soiano on the other.
Created by Donald Steel, the Gardagolf Country Golf course has hosted the Italian Open golf championship twice.
4. Villa d'Este Golf Course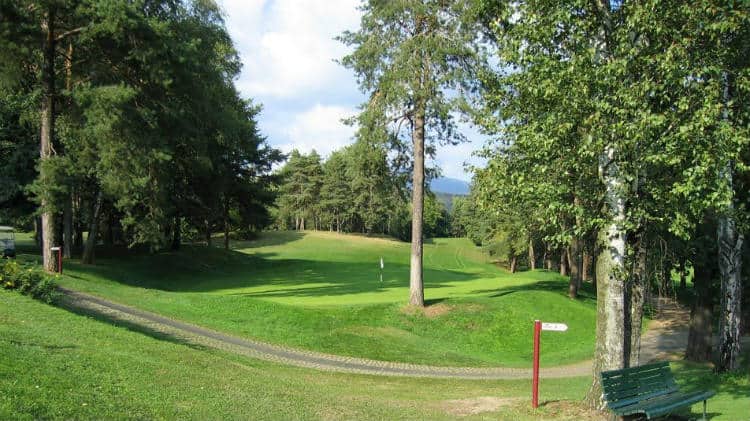 If Lake Garda has the Gargadolf, Lake Como has its own golf course as well. It is the Villa d'Este Golf Club, founded in 1926.
It is a short course, but it makes up for that with its enviable history.
In fact, the Villa d'Este is arguably the most prestigious golf club of Italy.
It has hosted royalty of many countries, including King Leopold of Belgium, King Edward of England and Costantino of Greece.
The Villa d'Este Golf course was created by Peter Gannon.
5. Castelconturbia Golf Course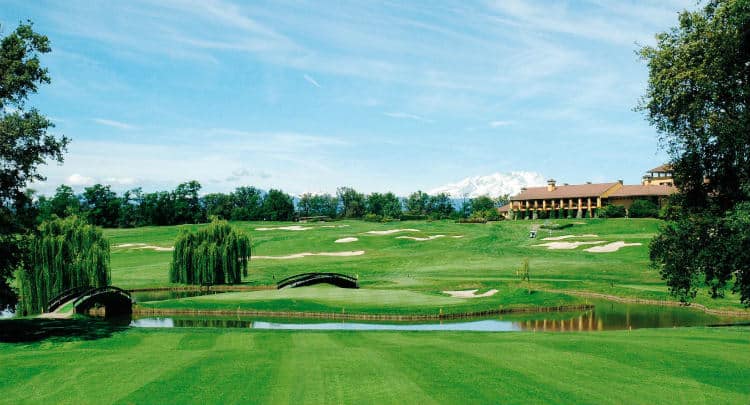 The Castelconturbia Golf Club is one of the oldest golf clubs in Italy.
It has been renovated a few times, most recently by Robert Trent Jones, Senior.
Best Golf resorts in Italy
From Lake Como to Tuscany, golf holidays in Italy will fill your soul with exceptional and varied beauty.
There are so many options and golf packages that you will be spoilt for choice.
1. Castelfalfi Golf Resort, Tuscany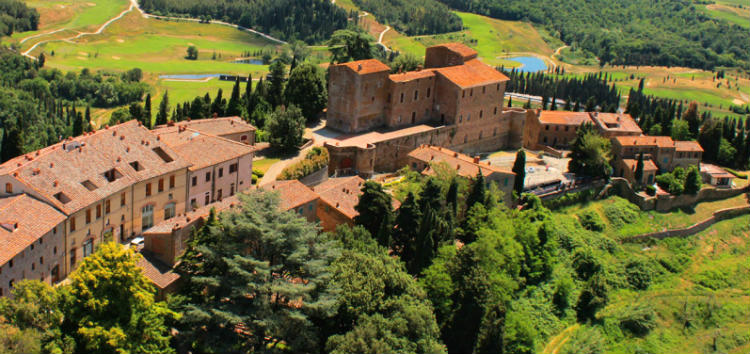 To begin with, you can try the Castelfalfi Resort in Tuscany.
This luxurious hotel has been restored to its present grandeur from its former avatar as a humble tobacco factory.
This golf resort offers attractive all inclusive golf packages, which include the following: five nights stay in a standard room, three green fees at the Castelfalfi Golf Club, a three course welcome dinner, daily breakfast buffet and free use of the fitness and wellness centre.
This standard package can be upgraded and customised according to individual needs.
Recommended Reading
1. Golf holidays in Portugal
2. Golf holidays in Croatia
2. Carpediem Roma Golf Club, Rome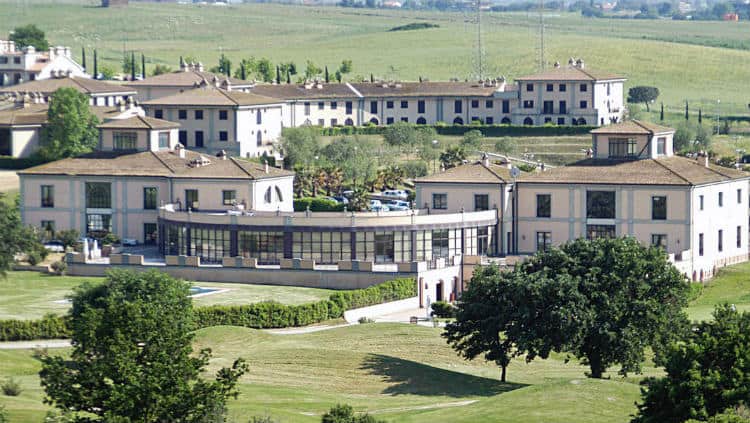 When in Rome, choose the Carpediem Roma Golf Club as the setting for an unforgettable golf vacation.
This exclusive resort houses the beautiful Marco Simone Golf and Country Club, which is set to host the prestigious Ryder Cup in 2022.
Each of its 48 suites faces the golf course, so you can soak in the essence of the game even while relaxing indoors.
The golf resort offers packages that include stay, green fees and additional facilities.
3. Terme di Galzignano Hotel Majestic, Venice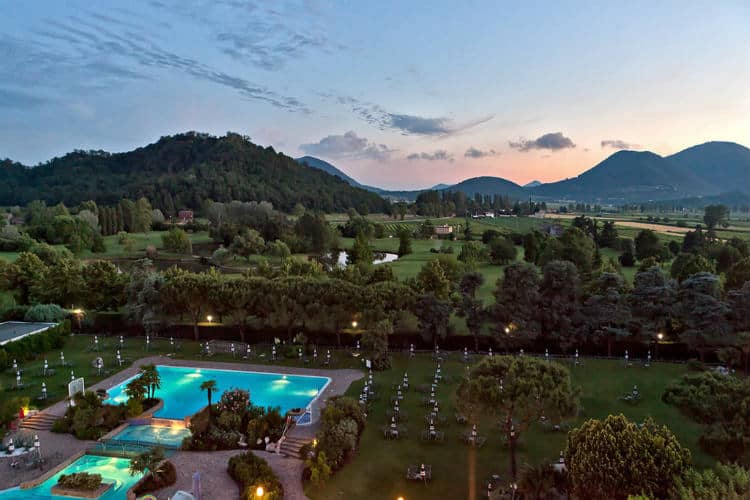 If you want your golf break to be in Venice, look no further than the Terme di Galzignano Hotel Majestic.
It offers golf packages that include two 18 holes green fees at the course of Frassanelle, Montecchia in addition to accommodation and relaxing spa facilities.
4. Maison Gardagolf Golf Resort, Lake Garda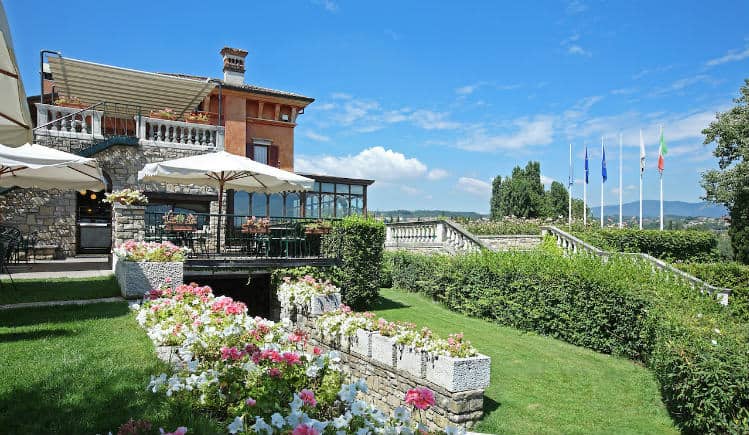 Maison Gardagolf in Lake Garda will add an intimate charm to your golf vacation in Italy.
Imagine a luxurious golf resort with only seven rooms – and now imagine what an intimate golfing experience the resort can provide.
Packages include green fees at the Gardagolf Golf Club, along with superb accommodation and scrumptious meals.
Best time for Golf holiday in Italy
Spring and Fall are undoubtedly the best times to plan your Golf holiday in Italy.
The main reason is, of course, the pleasant weather which is just perfect for an entire day spent outdoors, playing golf and soaking in the sun.
Another factor that makes these two seasons perfect for visiting Italy is that the hotel rates are more affordable than usual.
April to June and September to October are the two windows when you should plan your golf vacation in Italy.
The sun-drenched climate is not too hot, thus making it an ideal backdrop for a memorable golf holiday.
Green fees in Italian Golf courses
Green fees for Italian Golf courses start from around 60 Euro and can go up to around 160 Euro, depending on the exclusivity of the Golf course, the time of the year and whether it's a weekday or the weekend.
Green fees for the Mountain Course in Castelfalfi, for example, are 66 to 77 Euro on all days of the week.
The Villa d'Este charges higher green fees, which range from 85 to 100 Euro.
On the more exclusive golf courses, you require a handicap to be able to buy a round of golf.
Sources

# Yourgolftravel.com
# 1golf.eu
# Golf-escapes.com
# Golfholidaysdirect.com

The travel specialists at TheBetterVacation.com use only high-quality sources while researching & writing their articles. We make every attempt to keep our content current, reliable and trustworthy.
Recommended Reading
1. Golf holidays in Germany
2. Golf holidays in Thailand