If you love to play golf and are a passionate traveler a golf holiday in Germany is a must.
Germany is not only known for its rich culture, diverse heritage, the Oktoberfest and its Black Forest cake.
Germany is also an amazing golf destination.
With over 700 golf clubs, there is plenty to choose from.
A large percentage of these clubs have an above-average rating, putting them among the best golf clubs and courses in the world.
Golf tours in Germany are quite popular because of which a great selection of hotels in the country are near golf clubs.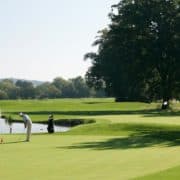 Best time for a Golf holiday in Germany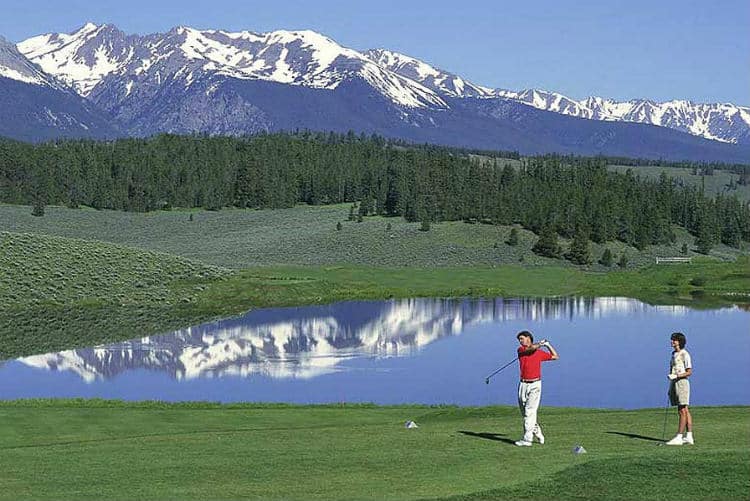 Germany has four distinct seasons, out of which Spring, Summer, and Fall are good for golf. The snow in Winter makes it impossible to play golf.
Summer is the peak travel season, which means you have to negotiate high ticket prices and hotel fares as well.
May is the best month in Germany for you to enjoy the pleasant weather.
If you plan your golf vacation in Fall, you can also take in the world-famous Oktoberfest.
However, you must plan this trip early to avoid high rates.
Many travel companies offer all-inclusive golf holidays in Germany. Be sure to check these out!
Recommended Reading
1. Golf holidays in Scotland
2. Golf holidays in Poland
Best Golf courses in Germany
Germany has more than 700 golf courses. No wonder, a golf traveler in Germany is spoilt for choice. Here is our list of the top ten Golf courses in the country.
1. Hamburger Golf Club Falkenstein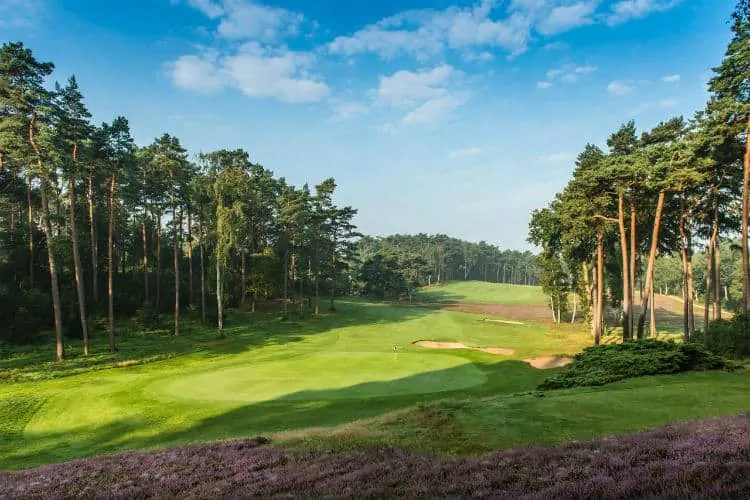 The best golf course is the Hamburger Golf-Club Falkenstein.
This course's beautiful park landscape makes it both charming and challenging.
Built in 1906, it has 18 holes and has hosted many national and international golf tournaments.
2. Golf Club Gut Larchenhof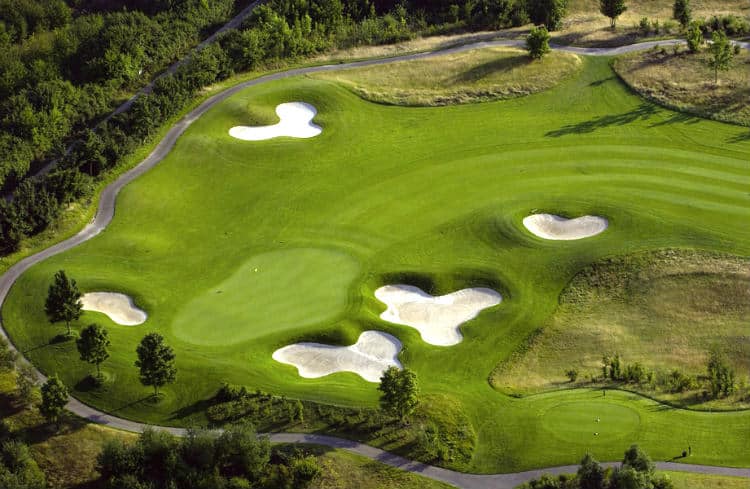 Built by the legendary American Golfer Jack Nicklaus, the Golf Club Gut Larchenhof is another premium golf resort in Germany.
This international standards Golf club is close to Cologne and Dusseldorf.
End your challenging round of golf with mouth-watering food at the luxurious clubhouse.
3. Hamburger Land-und Golf-Club Hittfeld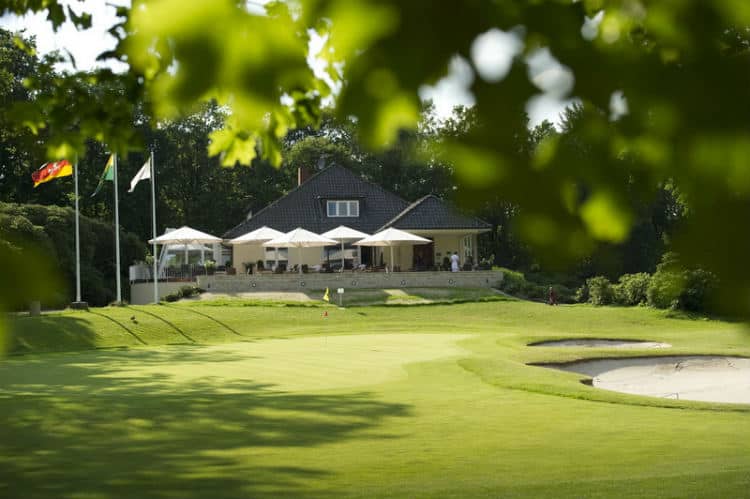 A few minutes away from Hamburg city is another golfers' delight, the Hamburger Land-und Golf-Club Hittfeld.
This privately owned golf club is far away from the bustling city, offering a peaceful setting for a relaxing game of golf.
It does not compromise on the challenge aspect either, providing 18 holes and a beautiful parkland course.
4. WINSTON Links Golf Course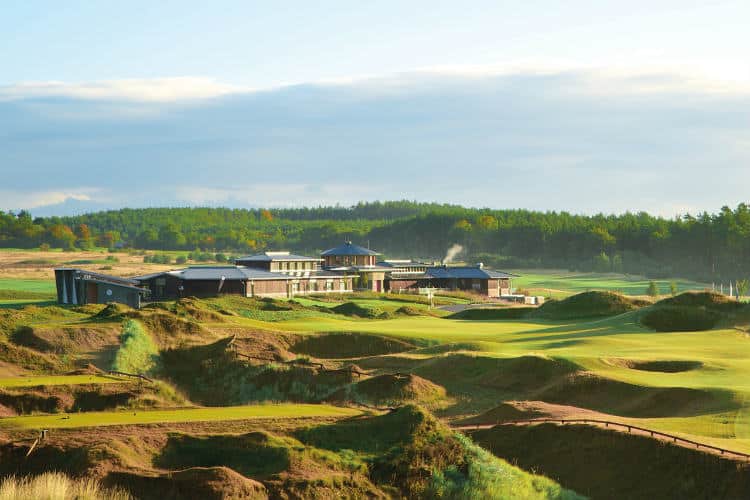 Winston Links Golf course is an amazing experience that you have to include on your golfing vacation.
Dunes and inclines have been added artificially to gently rolling lands, making it quite a challenging course.
There are lakes, rivers and forests thrown in for good measure.
Set over 202 hectares, it has one 18 hole championship course, one 18 hole links course and a 9 hole course.
What makes this course even more charming is its location.
Set in the coastal region of Mecklenburg-Western Pomerania, it is a tourist's dream come true.
No wonder Winston offers great golf packages which make the best of both!
5. Frankfurter Golf Club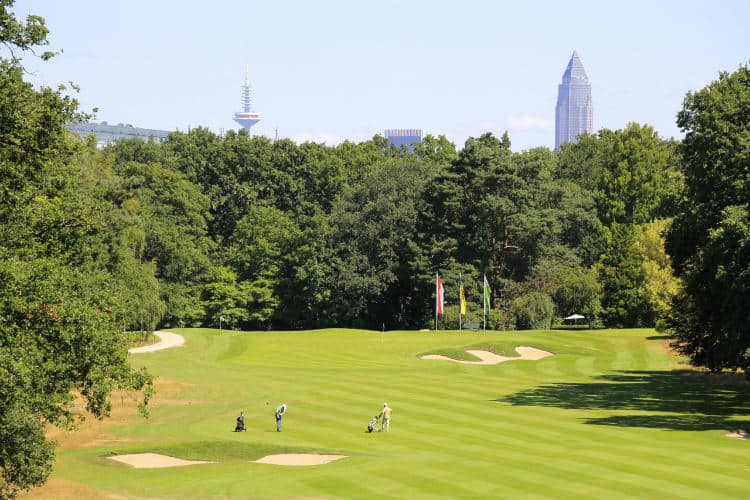 Imagine playing golf in a lush green forest, set inside city limits. Sounds great, right?
This is exactly what the Frankfurter Golf Club offers you.
Set in Frankfurt, it is one of the oldest golf clubs in Germany.
It has hosted the German Open many times, though now the English style heathland is in need of some tending.
The other top golf courses in Germany are the Budersand Sylt, The Sporting Club in Berlin, the Gut Kaden Golf and Land Club, the Golf Resort Achental and the Golfclub Munchen Eichenreid.
Of these, don't miss the Gut Kaden Club.
It is the Golf course for many professional golf tournaments.
In fact, even Tiger Woods has played this course in many tournaments.
Recommended Reading
1. Golf holidays in the UK
2. Golf holidays in France
Best Golf Resorts in Germany
Not a nation to do anything in half measures, Germany has a host of golfing hotels and resorts to satisfy even the pickiest of golf-loving traveler.
1. Gastehaus Gut Kaden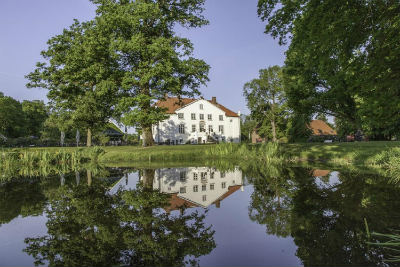 If you are in Hamburg, check into the Gastehaus Gut Kaden. A few kilometers out of the city of Hamburg, this hotel nestled in a manor amidst charming woodlands. The added attraction is the Gut Kaden golf course, which is also part of the property.
The hotel offers exciting golf packages which usually includes two nights' stay, complimentary breakfast and 18-hole green free for a couple. If you are willing to spend more, you can avail their more elaborate packages.
2. Romantik-und Wellnesshotel Deimann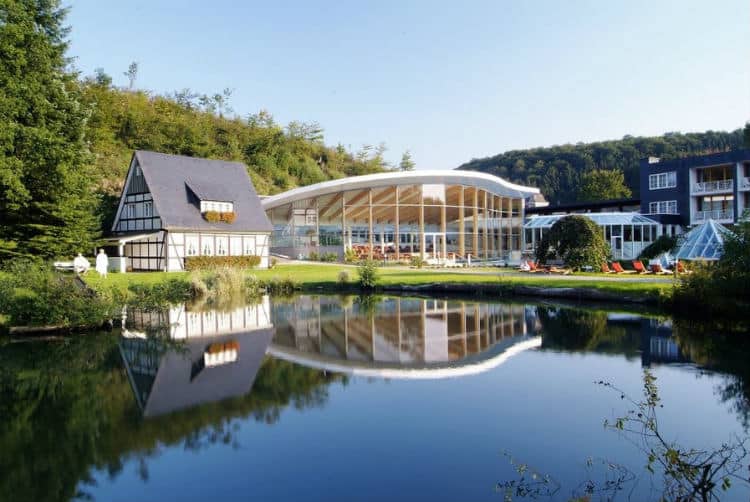 The Romantik-und Wellnesshotel Deimann is a five-star property. This hotel is near Golf club Schmallenberg, a 27 hole golf course set on a mountain plateau.
The Romantik is being run by the Deimann family for over a century.
The family are golf enthusiasts themselves and often offer guests helpful tips.
Golfers who have stayed at Romantik-und Wellnesshotel Deimann have highly rated their excellent hospitality.
3. Best Western Premier Seehotel Krautkramer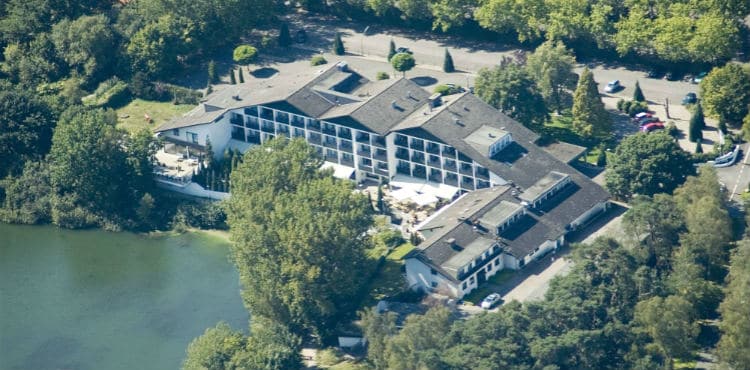 The Best Western Premier Seehotel Krautkramer in Munsterland is near not one, but two golf courses.
About sixteen minutes away is the Golf club Bruckhausen, an 18 hole course dotted with water hazards and island greens.
Golf club Münster-Tinnen is the second golf course nearby.
4. Golfclub Wasserschloss Westerwinkel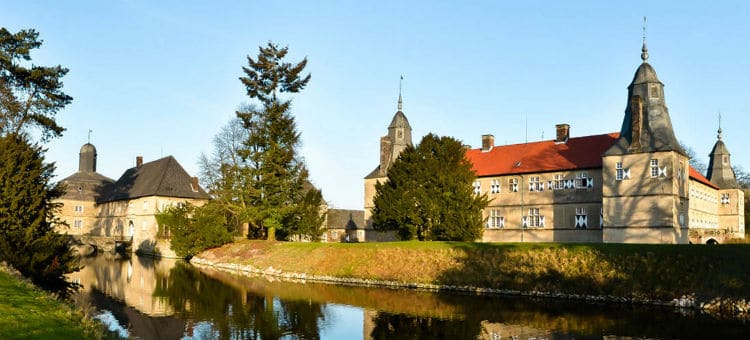 A little away from Seehotel Krautkramer, you will find Golf club Wasserschloss Westerwinkel.
Acclaimed golf architect G Worner designed this fit-for-Championships 18 hole course.
The hotel itself is a four-star property, offering breathtaking views of Hiltruper Lake.
If you book yourself a two-night golf package, you can avail green fees for two at both the golf courses, along with other amenities.
5. NH Collection Frankfurt City
A good budget option in the heart of Frankfurt city is the NH Collection Frankfurt City. Here you will get good, clean rooms at an affordable price.
They can book you for a round of golf at the Frankfurter Golf Club and get you attractive discounts.
Another worthy mention in the budget golf holiday segment is Holiday Inn Dusseldorf.
Being close to Golf Club Gut Larchenhof, it is perfect for golf breaks in Germany.
Steigenberger Hotel Treudelberg is a good golf resort in Hamburg. Right next to it is the Treudelberg golf course.
This 27 hole championship course has something for both amateurs and hardcore golfers.
Other golf hotels include the Schlosshotel Kronberg, Hotel Burg Colmberg, Parkhotel Adler and Hotel Gut Ising.
They are all located near golf courses and offer great golf packages.
Night Golf in Germany
If you want to sample night golf in Germany, book yourself on the Baltic Sea golf cruise. Berlin is one of the stops on a multi-nation tour.
There are wonderful golf packages available to suit your taste.
Golf Green fees in Germany
Greens fee vary across all German golf courses.
Depending on the golfing experience and other amenities on offer the cost for an 18-hole course can range from Euros 50 to Euros 90.
Top German golf courses such as Hamburger Golf-Club Falkenstein, Golfclub Budersand Sylt, Mittelrheinischer Golfclub Bad Ems etc peg their greens fee at Euros 90.
However, for 9-hole courses, the greens fee starts from Euros 25 and goes up to Euros 50. Detailed golf green fees.
Sources

# Golfholidays.com
# 1golf.eu
# Leadingcourses.com
# Yourgolftravel.com

The travel specialists at TheBetterVacation.com use only high-quality sources while researching & writing their articles. We make every attempt to keep our content current, reliable and trustworthy.
Recommended Reading
1. Golf holidays in Italy
2. Golf holidays in Australia