With stunning beaches and unique flora and fauna, Australia is an unforgettable vacation destination.
While this fact is widely known, a lesser known fact is that Golf holidays in Australia are quite popular.
Australia has almost two thousand Golf courses spread all over the country.
The choice is varied – from the traditional courses in Melbourne's renowned Sandbelt to the coastal Golf idylls of The Mornington Peninsula.
Golf is an extremely popular sport in Australia as well.
From urban Golf courses to seaside links, Australia has something to offer every Golf tourist, amateur or professional.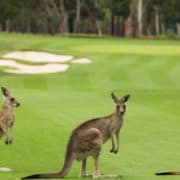 Best Golf courses in Australia
The biggest draw in Australia is its natural beauty, and this has crept into the way Golf courses in Australia are designed.
Ten percent of the Australian population play Golf at least once every month and this is why a lot is invested in Golfing infrastructure.
No wonder that the country has almost 2000 Golf courses – some of whom make it to the top 25 Golf courses in the World.
Check out the top Golf courses in Australia –
1. West Golf Course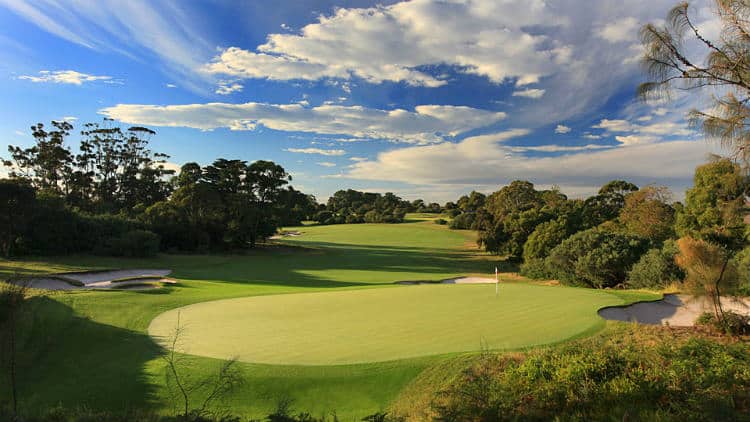 The Royal Melbourne Golf Club is the piece de resistance of Golf in Australia and a game of Golf on its greens must be included in your Golf vacation.
It is exclusive to private members, though members can invite their guests for a round of Golf on most days.
This 36-hole Golf club is located in Victoria and is the country's oldest Golf club.
It has been the venue of many national and international Golf tournaments.
The two Golf courses are simply named the West Golf Course and the East Golf Course. Of these, the West Course is more famous and more challenging.
It has also been ranked among the ten best Golf courses in the world.
Recommended Reading
1. Golf holidays in New Zealand
2. Golf holidays in Vietnam
2. Kingston Heath Golf Course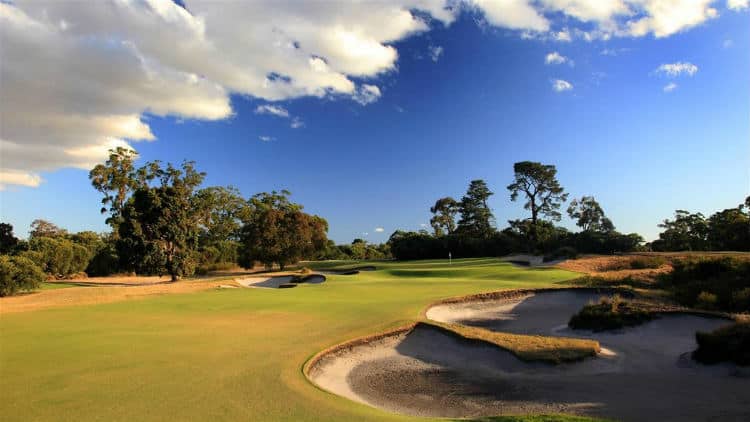 Located in the southeast of Melbourne is another world class Golf club, the Kingston Heath.
The Kingston Heath Golf Course was once ranked the best course in Australia.
It has hosted the Australian Open on numerous occasions.
Kingston Heath is also a member's only Golf club, and the wait for membership can be several years long.
In 2009, the legendary American Golfer Tiger Woods played on this course in the Australian Masters' tournament.
3. Barnbougle Dunes Golf Links
Your Golf vacation in Australia can take on added charm if you include the Barnbougle Dunes Golf Links.
Located in a seaside village of Tasmania called Bridport, the Barnbougle boasts of two of the best Golf courses in the country— the Dunes Golf Links and Lost Farm Golf Links.
The Dunes is one of the most breath-taking Golf courses in Australia.
Sprawled along the north-eastern coast of Tasmania, this course offers stunning views and challenging Golf.
It has been built on the lines of the traditional Golf courses of Ireland and Scotland.
Wide fairways, thriving greenery, undulating terrain, huge bunkers— the Dunes has it all.
The Lost Farm Links was built six years after The Dunes, and it has 20 holes.
It is essentially different from its sister course, with steeper terrain.
The course design is minimalistic, but it does not disappoint as far as a challenging round of Golf is concerned.
4. New South Wales Golf Club Course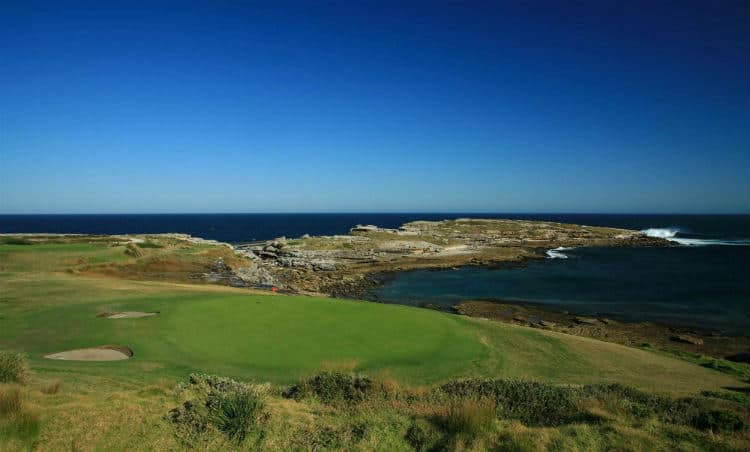 The New South Wales Golf Club was built in 1926. If your Golf break includes a round of play at the Golf course here, expect to play a hole right next to the deep blue Tasman Sea.
Set in front of the Pacific Ocean coastline, among the hills and valleys, the New South Wales Golf Club course has couch fairways and bent greens.
It was built by Dr Alister MacKenzie and is patronized by the Governor of New South Wales.
Best Golf Resorts in Australia
Your Golf vacation in Australia is incomplete without a visit to either Melbourne or the Mornington Peninsula.
There are a number of all inclusive Golf packages that let you sample the best of both Golf destinations.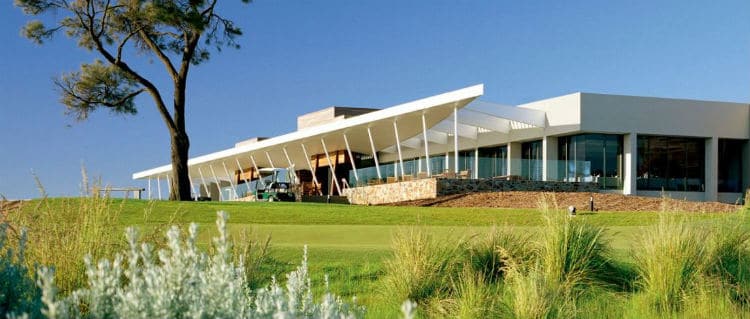 If you choose to book a Melbourne and Mornington Peninsula Golf package, you can avail of three night's stay at the Crown Metropole or Westin Hotel in Melbourne, a couple of night's stay at Peppers Moonah Links in Mornington and four rounds of Golf at the Royal Melbourne, Kingston Heath, The National and Moonah Links.
Private transfers from airports and Golf courses are also included in the Golf package.
Barnbougle in Tasmania is a Golfer's paradise, as well as a most attractive destination for tourists who love luxury.
The Barnbougle Golf Club has two world-class Golf courses and accommodation to match.
Stay and play Golf packages are offered by Barnbougle, which include rounds at one or both the courses and accommodation at your chosen location.
If you are playing at The Dunes, you can choose from luxury cottages, bunker villas or ocean villas.
If the Lost Farm Links is more suited to your Golf vacation in Australia, stay at the luxury Golf lodge built especially for that course.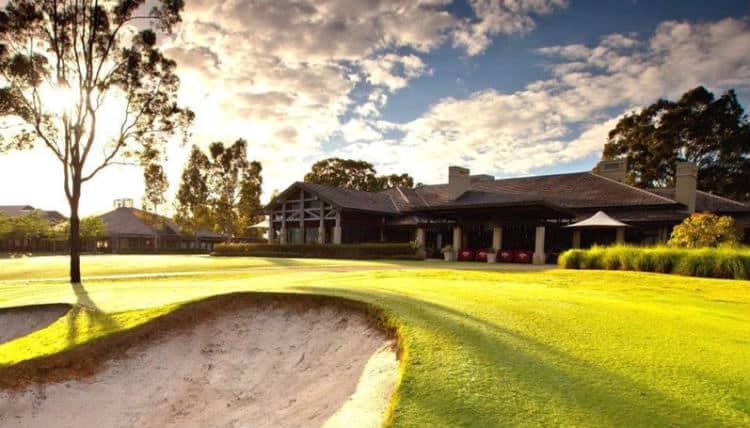 The Vintage Golf Resort and Spa in Hunter Valley Wine Country will add a luxurious touch to your Golf Getaway.
It has an 18-hole Golf course suited to amateurs and professionals both. In addition is the decadent accommodation in the Chateau Elan Hunter Valley.
Recommended Reading
1. Golf holidays in Thailand
2. Golf holidays in Dubai
The Bonville Golf Resort in New South Wales is arguably Australia's most beautiful and attractive mainland Golf resort.
Located halfway between Sydney and Brisbane, it has been consistently among the top Golf resorts in Australia.
It offers attractive all-inclusive Golf holidays amid luxurious settings and unforgettable rounds of Golf.
Best time for Golf holiday in Australia
As Australia covers so much area from East to West, various parts of the country experience different extremes of weather.
Australia has all four seasons in the calendar— spring, summer, autumn and winter.
Spring lasts from September to November and has a very pleasant climate. Summer (December to February) sees the high temperature.
Autumn (March to May) is perhaps the best time to plan your Golf vacations in Australia, as this season experiences lovely weather.
It is ideal to spend a day outdoors, immersed in a Golfing challenge.
Winter (June to August) does not get too cold. Instead, it's pleasurably cool.
Green fees in Australian Golf courses
Golf holidays in Australia are more affordable than in other countries.
This is primarily because most of the Golf courses in the country charge reasonable green fees.
The Dunes charges green fees of around 95 USD on weekends and public holidays. Weekday green fees are lesser, at around 70 USD.
Golf packages offer a discounted price if you hire a guide as well.
Kingston Heath and the Royal Melbourne are private Golf clubs and require an introduction from your home club, to be eligible to use their Golfing facilities.
Wherever you choose to play, invest time for some online research.
Sources

# Matesescapes.com.au
# Thegolftravelagency.com.au
# Yourgolftravel.com
# Teedupgolftours.com

The travel specialists at TheBetterVacation.com use only high-quality sources while researching & writing their articles. We make every attempt to keep our content current, reliable and trustworthy.
Recommended Reading
1. Golf holidays in the USA
2. Golf holidays in Scotland