New Zealand is a country of astonishing natural beauty.
The blue ocean, the lofty mountains, and the green valleys make it a delightful cocktail for any nature-loving traveler.
Now imagine a Golf vacation in this beautiful backdrop, and you are all set for the vacation of a lifetime.
Golf holidays in New Zealand are popular all over the world because the beautiful country has some of the most breathtaking Golf courses on the planet.
From Queensland to Wellington, there are a number of great Golf resorts to choose from.
So, what are you waiting for? Get set for a Golf break of your dreams!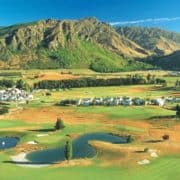 Best Golf courses in New Zealand
Golf courses in New Zealand are strategically built near snow-capped mountains or coastal stretches, which ends up making them World-class courses.
All of the Golf courses in this country provide an exciting natural backdrop for a round of golf.
Check out our list of the four top Golf courses in New Zealand –
1. Tara Iti Golf Course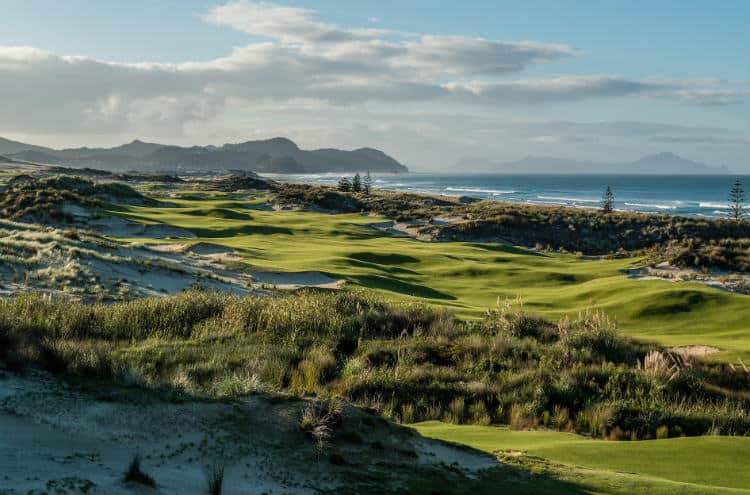 Celebrated American Golf architect Tom Doak has designed two of the best Golf courses in New Zealand—the Tara Iti Golf Course and the Cape Kidnappers Golf Course.
The Tara Iti is a little over an hour's drive from Auckland.
This private Golf club is also accessible by helicopter from the Auckland airport.
Set on the pristine dunes of a surf beach along the Pacific Ocean and the Hauraki Gulf, the fairways at the Tara Iti have both sand and grass.
Make sure your Golf vacation in New Zealand includes this Golfing haven.
Recommended Reading
1. Golf holidays in Australia
2. Golf holidays in Vietnam
2. Cape Kidnappers Golf Course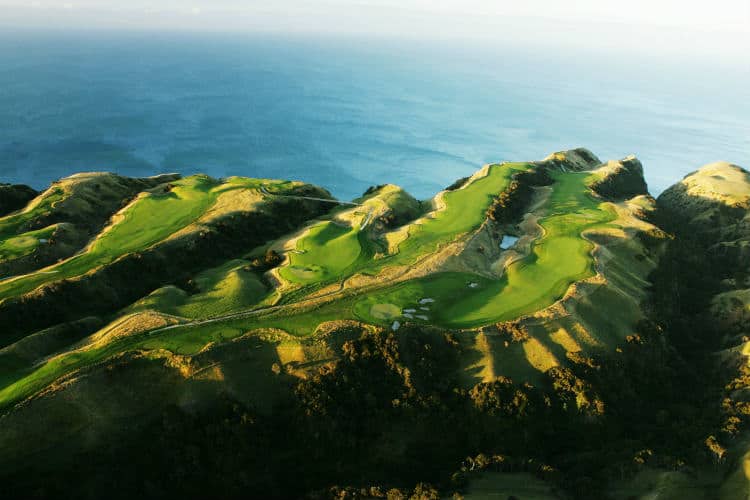 Tom Doak also designed the imaginatively named Cape Kidnappers Golf Course, located in Hawke's Bay.
When a creator calls his own creation an 'epic', you know there is something special about this Golf course.
Sprawled across spectacular cliffs looking on to the Pacific Ocean, this Golf course follows a ridge and valley pattern.
This internationally acclaimed Golf course is suitable for professionals as well as amateurs because every hole comes with as many as five different teeing positions.
3. Kauri Cliffs Golf Course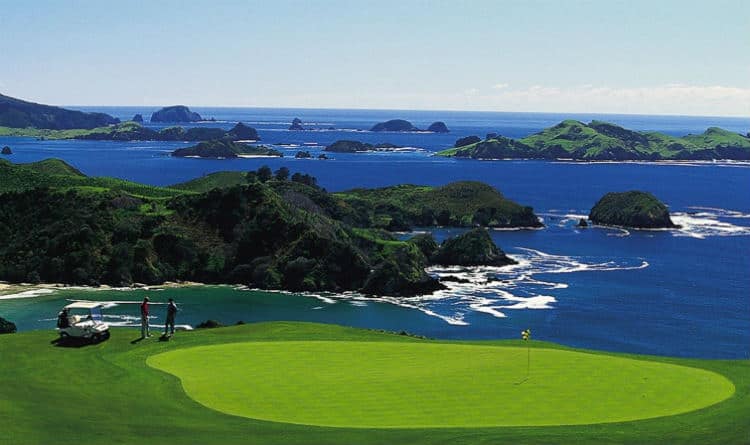 Another Golf course in New Zealand set on seaside cliffs is the Kauri Cliffs, situated on the Bay of Islands.
The most attractive feature of this par 72 championship standard Golf course is that fifteen of its holes have amazing views of the Pacific Ocean.
Your Golf break in New Zealand will be incomplete without experiencing the Kauri Cliffs Golf Course.
4. Jack's Point Golf Course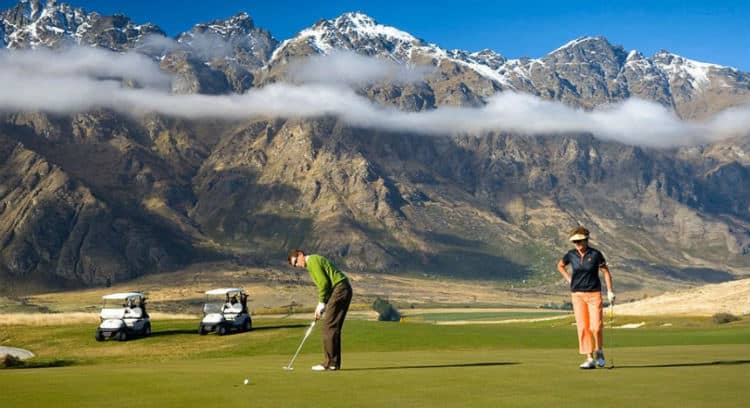 About half an hour away from central Queenstown is another favored destination for Golf holidays in New Zealand— Jack's Point Golf Course.
This Golf course is set beside the stunningly beautiful Lake Wakatipu, and also offers marvelous views of the Alps. Designed by John Darby, this Golf course is at one with the whims of nature.
It is also a very good option for beginners because there are four tee positions for every hole.
Best Golf Resorts in New Zealand
It is only fair to back up such amazing Golf courses, with equally exciting Golf resorts. Golf resorts in New Zealand regularly feature in Golf Digest's top ranks.
Here is our list of the top three Golf resorts in New Zealand –
1. The Lodge, Kauri Cliffs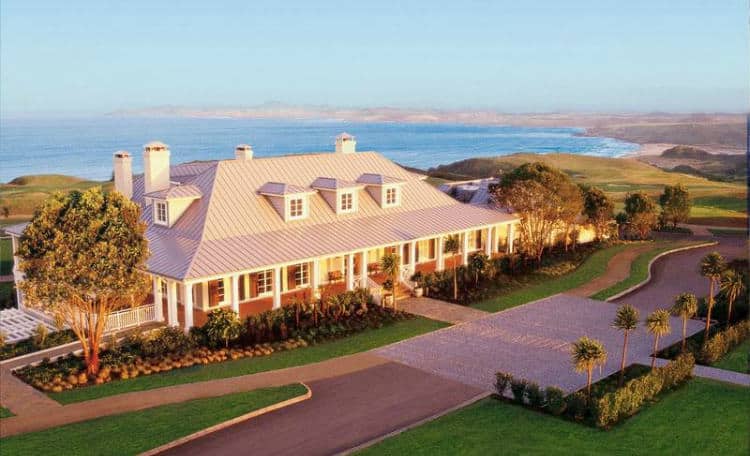 While planning a Golf vacation in New Zealand, your prime pick as far as accommodation is concerned is bound to be The Lodge, at the Kauri Cliffs.
It was once ranked the best Golf resort in the world, beating stiff competition from acclaimed resorts of Scotland, Mexico and the Bahamas.
The Lodge offers stay and play Golf packages that include Golf at the Kauri Cliffs course.
When the day's Golf is over, you have a host of activities to choose from. There is wine tasting, luxurious rooms, relaxing spa treatments and picnics at the secluded Pink Beach.
Recommended Reading
1. Golf holidays in Thailand
2. Golf holidays in Dubai
2. The Farm, Hawke's Bay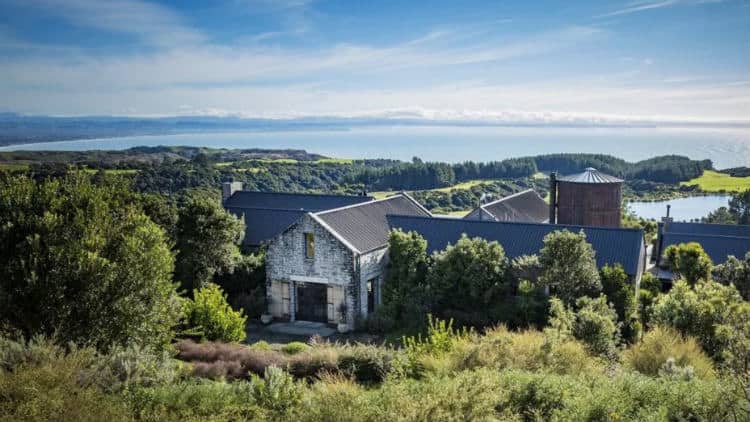 Cape Kidnappers in Hawke's Bay has its own Golf resort too, named The Farm.
Set on top of a six thousand acre work farm, the drive from the gate of the resort to the actual resort is a mind-boggling nine kilometers.
On the way, you will cross forests, streams, and animals, which add a beautifully rustic charm to your Golf break.
The resort looks like farm buildings from outside but does not compromise on luxury.
It offers all inclusive Golf holidays that can be customized to suit individual needs.
3. The Huka Lodge, Taupo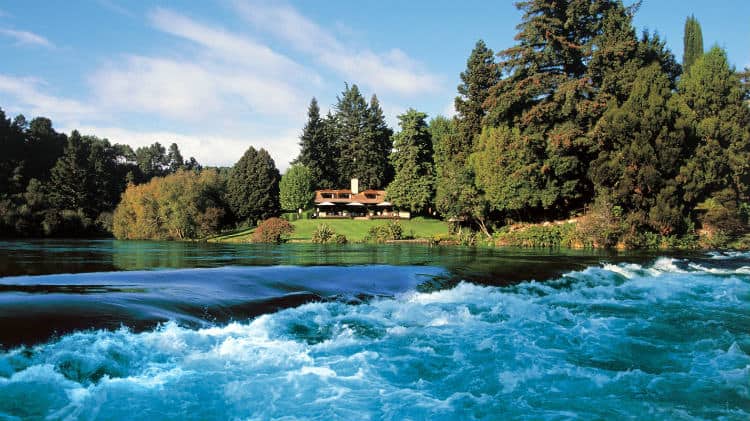 Set near the Waikato River is The Huka Lodge.
This Golf resort will add a touch of celebrity stardust to your Golf vacations in New Zealand.
Why? Because The Huka Lodge is a favorite Golf resort of none other than Golfing legend Jack Nicklaus.
You can have dinner on an isolated patio, in front of the river rapids, in the trophy room or the wine cellar.
Stay and play Golf packages include a round of Golf at the two nearby Golf courses—the Wairakei Golf course and The Kinloch Club.
Other Golf resorts include the Millbrook Resort and Matakauri Lodge in Queenstown, Peppers Clearwater Resort in Christchurch and the Terrace Downs Resort in Canterbury.
Best time for Golf holiday in New Zealand
The best time to plan Golf vacations in New Zealand is the Fall.
The primary reason for this is that the country is at its most beautiful during this time.
Also, during this period the rush of tourists from the peak season of summer becomes steadily less, so your Golf break can have a calm backdrop.
Fall lasts for three months in New Zealand, from March to May.
Summer (December to February) is the most popular season for Golf vacations in New Zealand, but expect steep prices and book everything in advance to avoid hassles. Spring (September-November) is also ideal for Golf breaks.
Green fees in New Zealand Golf courses
Different Golf courses in New Zealand charge different green fees, based on exclusivity, time of the year and week and other factors.
If you play nine holes out of the eighteen holes at Titirangi Golf Club, you can pay 50 USD instead of the 90 USD.
If you are a guest of a Club member, you can pay lesser than that.
Junior Golfers get a discount on the green fees.
Some Golf courses are exclusively for private members and you can only play by invitation.
Caddies, Golf carts and Golf equipment can be hired at extra cost.
Self drive Golf tours in New Zealand
Golf vacations in New Zealand have an added attraction—the self drive factor.
During your Golf break in New Zealand, you can opt to club it with self-drive tours.
Several companies offer self drive Golf packages in New Zealand, which include a reserved vehicle, accommodation, bookings at your preferred Golf courses and sightseeing.
These packages give you the freedom to enjoy your Golf break at your own pace.
They also negate the hassles of taking care of every detail, ensuring that you have a blissful holiday.
Online research will help you get the best deal while planning a self-drive Golf holiday in New Zealand.
Sources

# Experiencegolf.co.nz
# Newzealand.com
# Yourgolftravel.com
# Golfexplorer.com.au

The travel specialists at TheBetterVacation.com use only high-quality sources while researching & writing their articles. We make every attempt to keep our content current, reliable and trustworthy.
Recommended Reading
1. Golf holidays in the USA
2. Golf holidays in Florida