When you think of Dubai, the first things that come to mind are shopping malls, towering skyscrapers and every luxury imaginable to man.
In recent times, however, Golf holidays in Dubai have emerged as a travel trend.
One of the reasons for this development is the mostly warm climate that Dubai enjoys.
Except for the very hot summer, Dubai has the perfect weather for a round of Golf.
Secondly, some of the leading Golf architects of the world have been invited to create Golf courses in Dubai.
This has resulted in some of the best Golf courses in Dubai.
Best Golf courses in Dubai
The three best Golf courses in Dubai are situated in the Emirates, the Montgomerie Resort, and the Dubai Creek.
Your Golf vacation in Dubai must include at least one of these Golf courses, if not all three.
1. Majlis Golf Course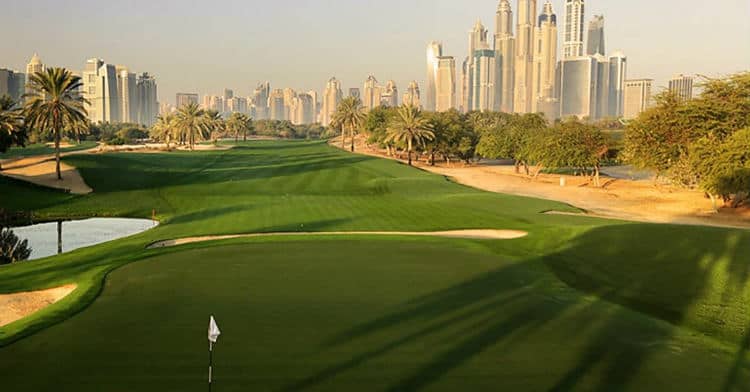 The Emirates Golf Club has the first championship course in the Gulf region made entirely of grass.
Not surprisingly, it was named 'the desert miracle'.
The Club has two outstanding Golf courses— the Majlis Golf Course and the Faldo Golf Course.
Needless to say, the Faldo course was created by none other than Golf legend Nick Faldo.
Designer Karl Litten created the original course of the Emirates – the Majlis Golf course.
Sprawled across desert wastelands, this is one of the most challenging courses in Dubai and hosts the Dubai Desert Classic annually.
The other two courses are equally engaging and will add variety to your Golf breaks.
Recommended Reading
1. Golf holidays in Morocco
2. Golf holidays in Turkey
2. Address Montgomerie Golf Course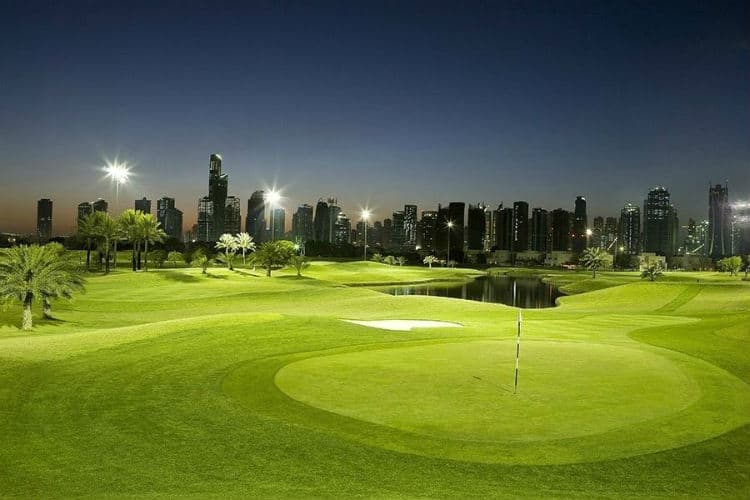 Colin Montgomerie has quite recently created the Golf course of the Montgomerie Resort at Emirates Hills.
He has unbelievably but successfully recreated a Scottish links-style Golf course in the desert terrain.
The undulating land makes a level stance difficult to achieve.
The huge expanse of man-made lakes adds to the overall difficulty of the Address Montgomerie Golf Course, making it one of the most challenging in the region.
However, amateurs can also try their hand at this Golf course.
3. Dubai Creek Golf Course
Many Golf tours in Dubai also include the Dubai Creek Golf Course.
Named after the saltwater creek that runs beside the property, this Golf course also boasts of many lakes, beautifully manicured fairways, and a traditional Arab sensibility.
The Dubai Creek Golf course has hosted the Dubai Desert Classic on two occasions.
Best Golf Resorts in Dubai
Dubai should be your Golf holiday destination if you love luxury. The Golf resorts in Dubai offer the best of amenities and service levels imaginable.
Our recommendation for the top three Golf resorts in Dubai are –
1. Address Montgomerie Golf Resort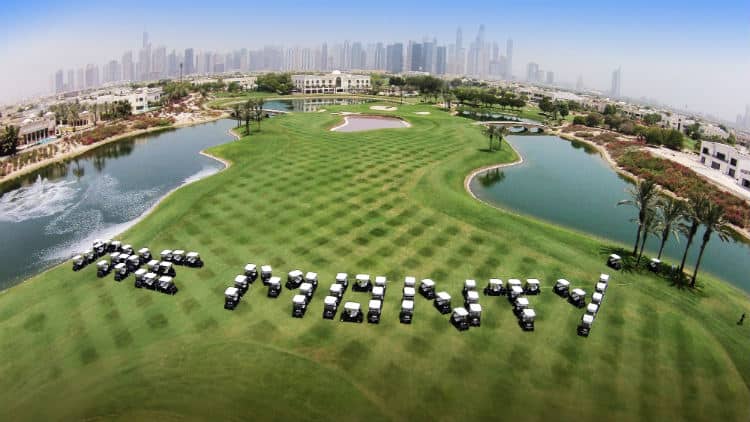 The Address Montgomerie Golf Resort is a popular pick for Golf vacations in Dubai.
This Golf resort has a Golf course created by Scottish Golfer Colin Montgomerie and boasts of luxurious accommodation.
This boutique style Golf resort exudes intimate charm, with 21 bedrooms furnished in minimalist but luxurious style.
There is a spa, a restaurant that serves excellent world cuisine and a famous cigar bar.
All inclusive Golf holidays are created by the Montgomerie Resort, which takes care of accommodation and a round of Golf at two other Golf courses apart from its in-house course.
Recommended Reading
1. Golf holidays in Russia
2. Golf holidays in Bulgaria
2. Jebel Ali Golf Resort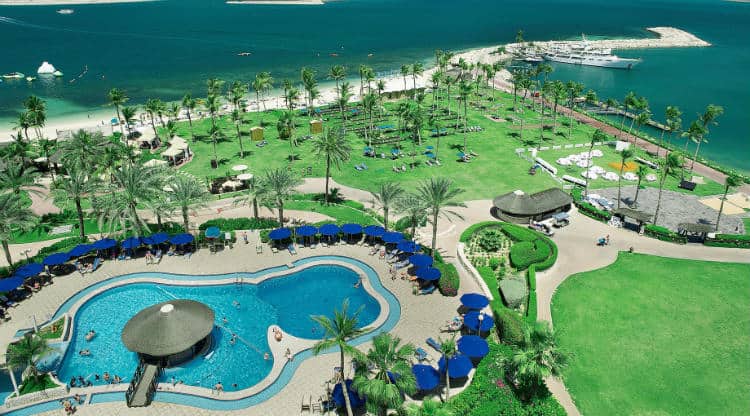 The Jebel Ali Golf Resort is another notable destination that offers Golf holidays including flights.
The Resort's Golf course is small by international standards, having only nine holes.
But it is a Golf course set to championship levels and will satisfy even the pickiest of Golf travelers.
The Golf resort's piece de resistance is the 800 meter stretch of private beach, which is bound to add an extra dimension to your Golf breaks.
There are 260 rooms and beautiful gardens.
The swimming pools have sun terraces where you can soak up the sun and get a tan that will make you the envy of everyone back home.
3. Media Rotana hotel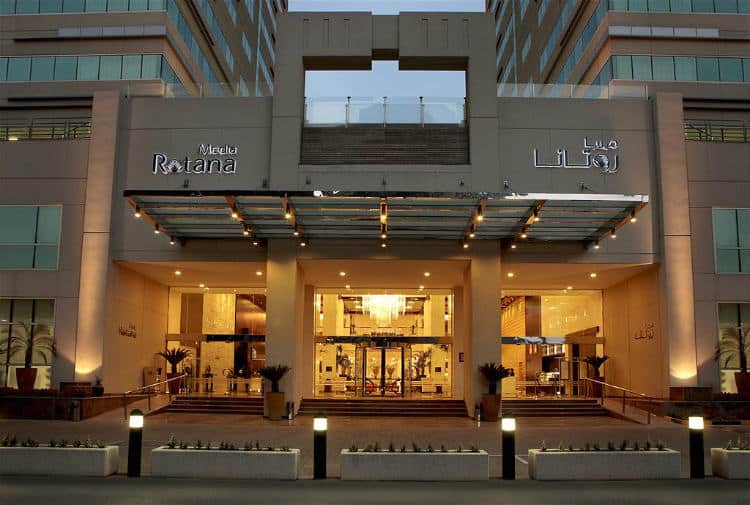 A few minutes away from the Emirates Golf Club is the five-star Media Rotana hotel, which is another perfect base for Golf vacations in Dubai.
There are more than 500 rooms, restaurants serving five different cuisines and every form of relaxation that you can ask for.
Best time for Golf holiday in Dubai
The most fantastic feature about the climate of Dubai is that it experiences an average of one week of rainfall each year.
This climatic feature makes it a firm favorite for Golf vacations because the weather remains perfect for outdoor activities almost all year.
However, summer months (June to September) see extreme heat.
It is not ideal to spend too much time in the sun during this time, as temperatures become stifling.
Some Golf courses and Golf resorts are also closed for the month of Ramadan.
It is best to avoid these months while planning a Golf vacation in Dubai.
Green fees in Dubai Golf courses
Green fees in most of the Golf courses in Dubai are lesser in summer than in the other months of the year.
Summer green fees in Address Montgomerie Golf course for weekdays and weekends are the same – at around 109 USD.
Once summer is over, the green fees are increased to 172 USD.
The Maljis Course in the Emirates Golf Club is the most expensive Golf course in Dubai.
Green fees in summer are around 167 USD while during other months it is raised to 197 USD.
These green fees include one round of Golf, use of shared buggies and other club facilities.
Emirates Golf holidays
The international airline conglomerate Emirates offers extremely attractive Golf packages.
These all-inclusive Golf holidays can be customized to suit your individual needs.
Whether you are in Dubai for business or pleasure, Emirates has the perfect plan to make Golf a part of your Dubai trip.
Titled 'Arabian Adventures', these Golf packages are exclusively tailored for Golf vacations in Dubai.
Imagine having a Golf session booked at five premier Golf courses of Dubai.
Imagine having transportation from one Golf course to the other arranged for you.
And now imagine having the hassle of hiring equipment or getting a restaurant reservation being taken care on your behalf, at each of these Golf clubs.
This is exactly what Emirates Golf holidays offer, and then some more.
The five Golf courses included in this Golf package are Montgomerie Dubai, the Al Badia Golf Resort, the Majlis Course and the Wadi course at the Emirates Golf Club and the Dubai Creek Golf and Yacht Club.
To be eligible for these Golf packages, players must have their handicap certificates.
Emirates also offers free carriage of Golf clubs if you book their Golf holidays.
Temporary membership of the exclusive Golf clubs of Dubai is also arranged by Emirates.
Sources

# Yourgolftravel.com
# Golfholidaysdirect.com
# Golf-escapes.com
# Golfsavers.com

The travel specialists at TheBetterVacation.com use only high-quality sources while researching & writing their articles. We make every attempt to keep our content current, reliable and trustworthy.
Recommended Reading
1. Golf holidays in New Zealand
2. Golf holidays in Italy