While planning a Golf break, Morocco might not be the destination that springs to mind immediately.
However, this country situated in North Africa against a mountainous backdrop has developed considerably as a Golf destination.
To begin with, Morocco enjoys warm and sunny days almost all throughout the year.
This suitable weather makes it a favorite destination for Golf holidays, especially among Europeans and Americans.
Secondly, the country has a rich tapestry of culture, which leaves plenty to explore on the hours left over after playing Golf.
There are many Golf resorts which add to the allure of Golf vacations in Morocco.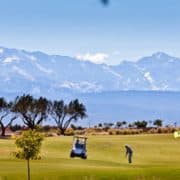 Best Golf courses in Morocco
Golf vacations in Morocco are centered around its two main cities, Agadir and Marrakech. Of these, Marrakech has some of the best Golf courses in the country.
1. Al Maaden Golf course
The best Golf course in Morocco is undoubtedly the Al Maaden Golf Course, which was designed by noted American Golf architect Kyle Philips.
There are gently rolling fairways, well-placed bunkers and quite a few water hazards.
This Golf course is extremely challenging for even the most experienced of Golfers. However, amateurs need not lose hope.
There are forward tee positions on almost all the holes, specially made for those with a higher handicap.
Another attractive feature of the Al Maaden is that even though it retains the essential characteristics of a Moroccan Golf course, it also gives you a links-style feel.
Recommended Reading
1. Golf holidays in Mauritius
2. Golf holidays in Zimbabwe
2. Amelkis Golf Club Course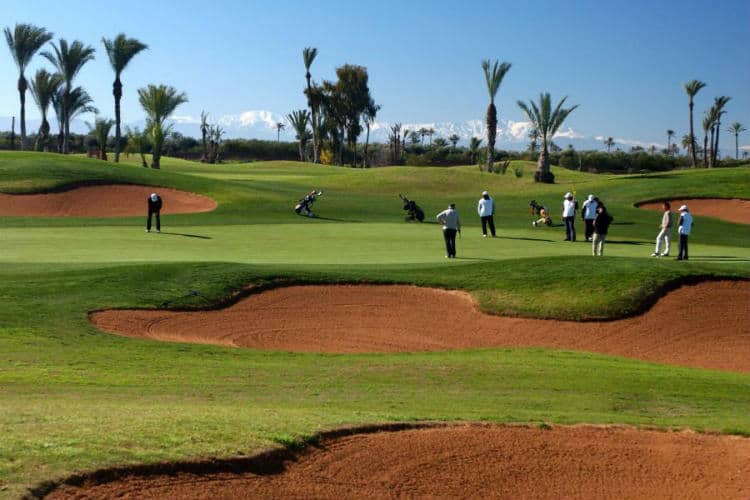 Golf vacations in Marrakech must include a round at the Amelkis Golf Club course.
This Golf course has 27 holes and is one of the older Golf establishments in the country.
One of the most attractive features of this Golf course is that it is set at the foot of the snowy Atlas Mountains, thus offering you spectacular views.
The Golf is pretty spectacular too, with mature palm trees, tall papyrus reeds, hazards, and bunkers.
This Golf course was designed by celebrated Golf architect Cabell B Robinson.
3. Assoufid Golf Club course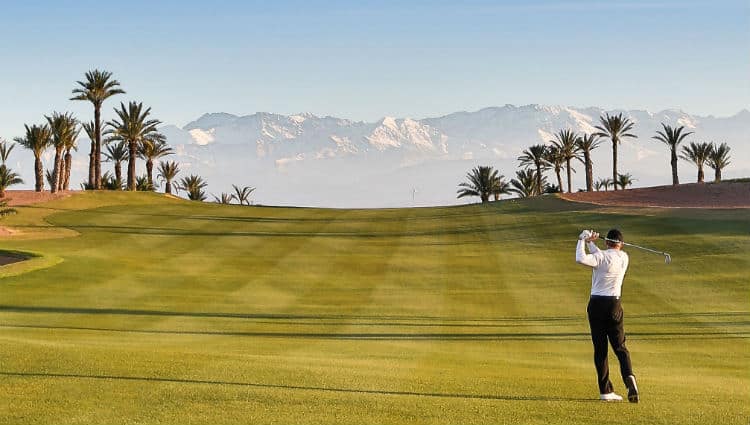 Scottish professional Golfer Niall Cameron made his foray into course designing with the Assoufid Golf Club course.
A recent addition to the Golf scene in Morocco, it has already gained in popularity as a premier destination for Golf holidays in Marrakech.
Cameron has kept the natural desert landscape of olive trees, palm trees, and cacti mostly intact, and created one of the best Golf courses upon this unique terrain.
It is an eco-friendly Golf course as well, mindful of water and power consumption.
4. Palmeraie Golf Club course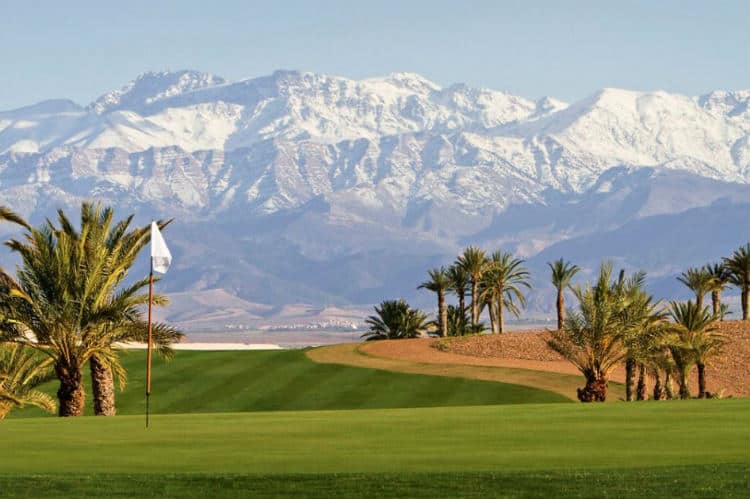 Robert Trent Jones, Senior designed the Palmeraie Golf Club course on a flat land, almost 1500 feet above sea level.
During your Golf holidays in Morocco, you must include this beautiful course in your Golf itinerary.
The greens here are fast and there are more than a hundred thousand trees, so be sure to keep an eye on your Golf ball.
There are water hazards in the form of lakes, there are bunkers and beautiful palm trees as well.
The best Golf courses in the city of Agadir are the Golf du Soleil, the Golf de l'Ocean and the Golf des Dunes.
Best Golf Resorts in Morocco
Morocco is known for its luxurious accommodations, and when it comes to Golf hotels and resorts it is no different.
Here is our list of top three Golf resorts in Morocco –
1. Hotel Riu Tikida Beach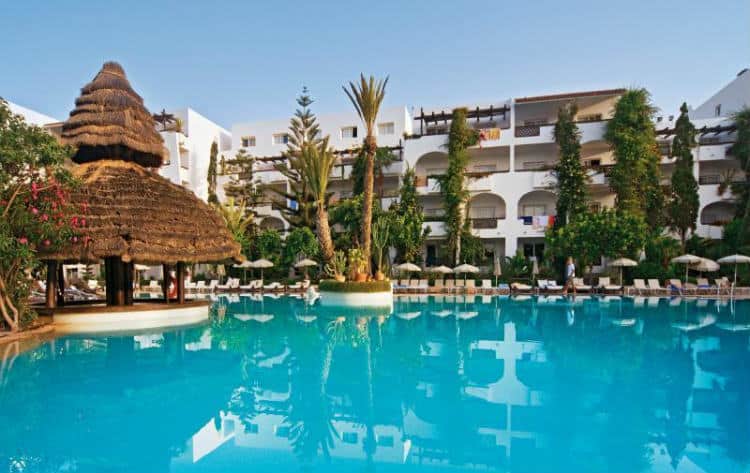 If your Golf vacation in Morocco includes playing in Agadir, you cannot look beyond the Hotel Riu Tikida Beach.
This Golf resort is for adults only, ensuring a peaceful and relaxed stay.
What makes it more alluring for Golf tourists is that it has great Golf packages that include playing in the three best Golf courses in Agadir.
Sample one of their all inclusive Golf holidays: five nights' accommodation, meals, one round each at are the Golf du Soleil, the Golf de l'Ocean and the Golf des Dunes courses, airport and Golf course transfers.
As far as Golf packages go, you cannot get a more comprehensive offer!
Recommended Reading
1. Golf holidays in Morocco
2. Golf holidays in the UK
2. Palmeraie Golf Palace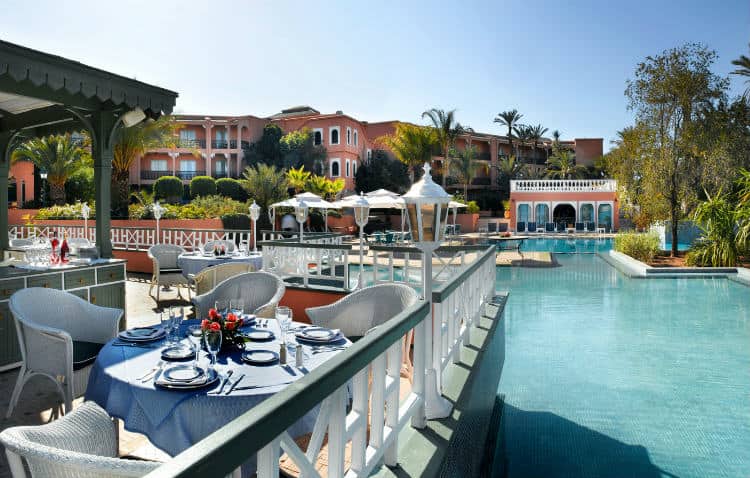 The Palmeraie Golf Palace is built with a traditional Moroccan aesthetic, and it is situated a short walk away from the throbbing city center of Marrakech.
Golf packages offered by the hotel will impress even the most jaded of Golf tourists.
All inclusive Golf holidays offer four nights' stay with breakfast and two rounds of Golf each at the Palmeraie Golf course and the Palm Golf Ourika.
Airport transfers and the services of a local tour guide are complementary.
3. Hotel du Golf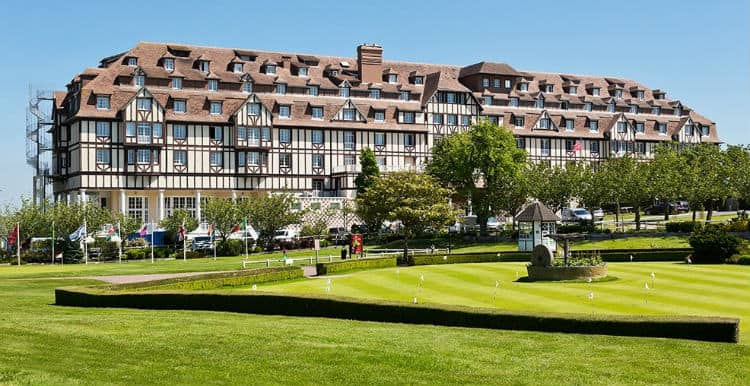 If your idea of a Golf vacation in Morocco means waking up to breathtaking views of a Golf course every morning, book yourself one of the many Golf packages offered by the Hotel du Golf.
Why? Because this hotel overlooks the 27 holes of the Palmeraie Golf course. Not to forget, it offers you every luxury you can possibly dream of.
Even though it is located near the city center, the Hotel du Golf retains a magically calm atmosphere.
It is a perfect place to retreat to, once your adventurous day of Golf comes to an end.
You can also try the Mazagan Beach Resort, the Riad Star and the Tikida Golf Palace.
Best time for Golf holiday in Morocco
Morocco enjoys almost three hundred days of sunshine every year, making it an irresistible destination for Golf holidays.
Imagine not having to limit your Golf vacation in Morocco to a particular time of the year, and you will realize why this country is gaining popularity as a Golf destination.
Think warm days and lovely suntans, to add to your Golf vacation.
However, there is one thing that you should keep in mind while planning a Golf break in Morocco.
This country has a predominantly Muslim population.
There are restrictions during the month of Ramadan, especially during the daylight hours.
Green fees in Moroccan Golf courses
The best thing about the beautifully manicured Golf courses of Morocco is that they charge very reasonable green fees.
While planning a Golf vacation in Morocco, you can set aside a budget of around 25 pounds as green fees for each course.
However, most Golf courses mandate the hiring of caddies, though that is not too expensive.
Most Golf courses charge around 8 pounds for hiring caddies. It is customary to tip your caddy if you are satisfied with their service.
Fifty percent of caddy charges is an ideal tip. It might seem expensive, but respecting local custom is mandatory.
Sources

# Yourgolftravel.com
# Golfholidaysdirect.com
# Golf-escapes.com
# Golfbreaks.com

The travel specialists at TheBetterVacation.com use only high-quality sources while researching & writing their articles. We make every attempt to keep our content current, reliable and trustworthy.
Recommended Reading
1. Golf holidays in Dubai
2. Golf holidays in Florida