Mauritius has been a dream vacation destination for years.
Surrounded by crystal clear, blue waters of the Indian Ocean and some of the most beautiful beaches on Earth, this island nation is a firm favorite for tourists.
However, in recent years Golf holidays in Mauritius have started gaining popularity.
This is primarily because of the development of many world class Golf courses and Golf resorts in Mauritius.
With the creation of these Golfing venues, Mauritius has become an irresistible destination for casual and professional Golfers to plan their Golf breaks.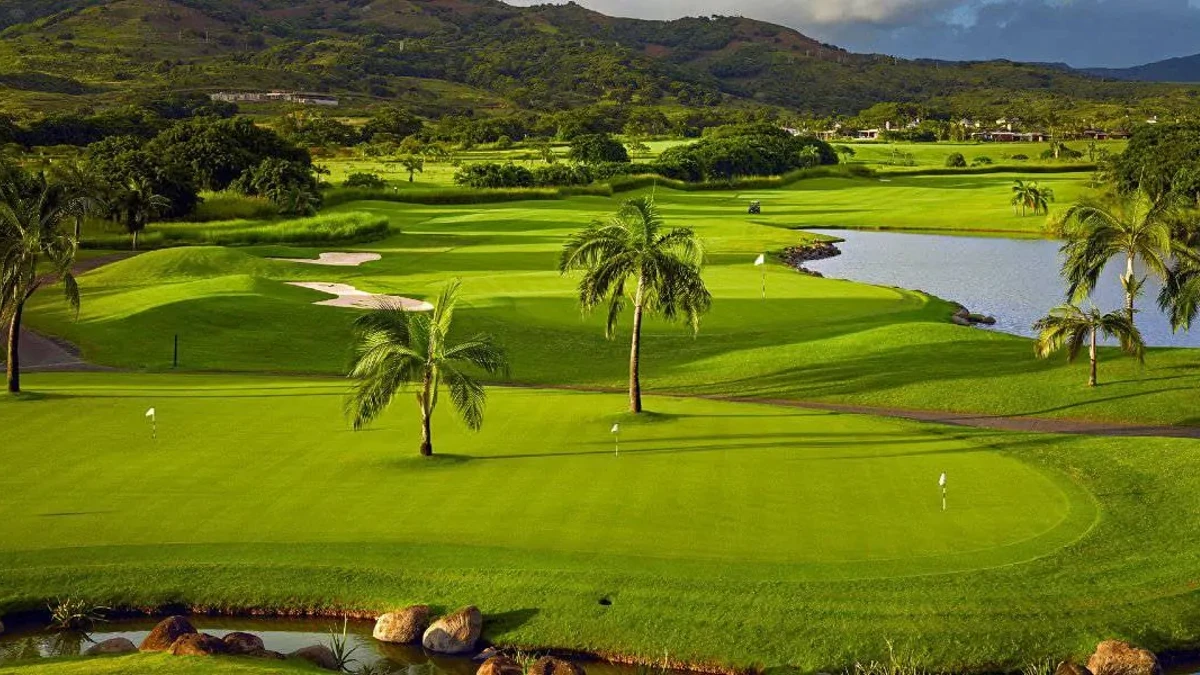 Best Golf courses in Mauritius
Mauritius has a large number of amazing Golf courses spread all over the island.
No wonder then that this tropical paradise is one of the fastest growing golfing destinations in the World.
These Golf courses range from basic 9 holes courses to 18-holes world-class championship Golf courses designed by the likes of Ernie Els, Bernard Langer sprawls and David Leadbetter.
Check out the best Golf courses in Mauritius –
1. Le Touessrok Golf Course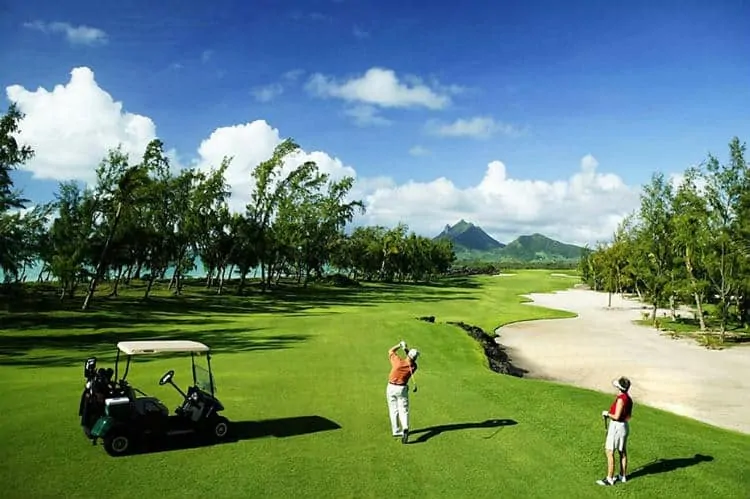 Le Touessrok Golf course is one of the best courses in Mauritius.
This course is located in the Ile Aux Cerfs Island, which is near the eastern coast of Mauritius. Only an hour's drive from the airport, this Golf course is set amid the most stunning seascapes imaginable.
Le Touessrok Golf Course bears the mark of celebrated German Golfer Bernhard Langer, who was the captain of the European team that won the prestigious Ryder Cup in 2004.
The Golf course he has designed at Le Touessrok is largely flat, though you shouldn't be deceived by its innocent appearance.
It meanders through rocky outcrops and deep ravines.
Each hole presents a different challenge, keeping even the most jaded Golfer engaged.
Recommended Reading
1. Golf holidays in Zimbabwe
2. Golf holidays in South Africa
2. Legend Golf Course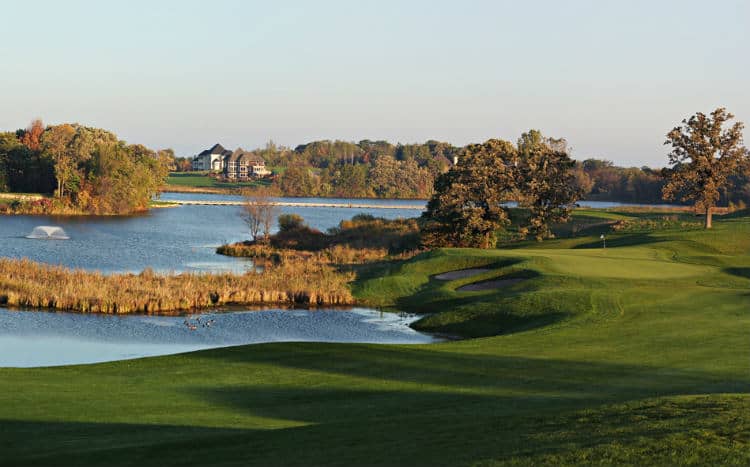 No Golf break in Mauritius is complete without a visit to the Belle Mare Plage and its two championship level Golf courses.
Named the Legend Golf Course and the Links Course, these set of Golf courses are perhaps the most well-known Golf destinations Mauritius.
South African professional Golfer Hugh John Baiocchi designed the Legend Course, which is the more famous of the two.
Set on one of the island's most scenic beaches, this Golf course also takes in the flora and fauna of the east coast of Mauritius.
The Link Course was a later, but no less attractive addition to the Belle Mare kitty. Golf legend Peter Alliss joined hands with Rodney Wright to design this Golf course.
It has the woodland charm and water features of the Legend Course and has helped distribute the large footfall the older Golf course receives.
3. Golf de Chateau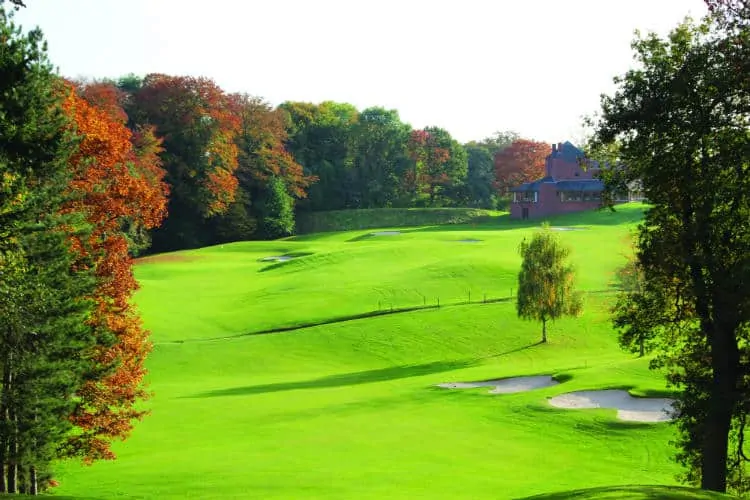 If your Golf vacation in Mauritius includes a trip to the west coast of the island, you must experience the Golf de Chateau.
This area of Bel Ombre used to have sugarcane fields, which were removed and eventually a championship level Golf course created by another South African Golf architect, Peter Matkovich.
Picture the volcanic mountains of Mauritius at your back, the aquamarine waters of the Indian Ocean in front and a Golf heaven spread under your feet.
The Golf de Chateau is indeed an experience of a lifetime.
4. Els Golf Course at Anahita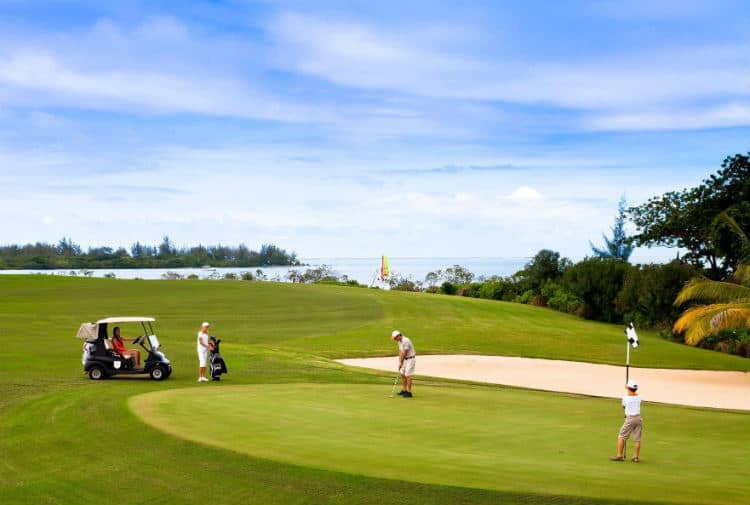 The Els Golf Course at Anahita is another Golfing experience that will leave you with memories for a lifetime.
The natural mountainous terrain and lagoon have been seamlessly included in the modern layout of the Golf course, offering visitors the best of both worlds.
It is fit for all Golfers.
Best Golf resorts in Mauritius
There are numerous World class Golf resorts in Mauritius, which specialize in creating lifetime Golfing memories for both amateurs and professional Golfers.
Scattered amidst lush tropical greenery these resorts offer the best of Golf breaks for casual tourists as well as busy executives.
Here is our recommendation on the top Golf resorts in Mauritius –
1. Constance Belle Mare Plage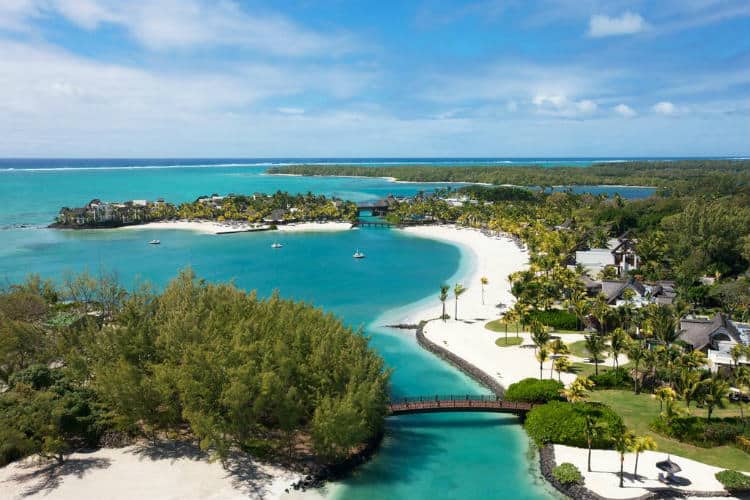 One of the finest Golf resorts in Mauritius is the Constance Belle Mare Plage.
This luxurious resort has the two Golf courses mentioned above — the Legend Course and the Links Course.
It offers many packages for Golf holidays including flights.
Sample this: return airfare, seven nights' stay at the resort and seven rounds of Golf at either of the two courses, all for around 2000 USD per person.
What's more, early bookings can get exciting discounts as well. Incentive enough to book yourself a Golf holiday in Mauritius? Definitely!
Recommended Reading
1. Golf holidays in Morocco
2. Golf holidays in UK
2. The Heritage Awali Golf and Spa Resort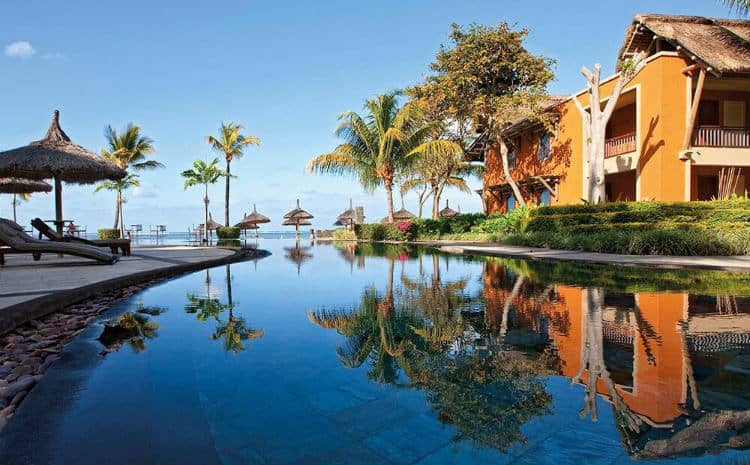 If you want to play on the Golf de Chateau course, book yourself an all inclusive Golf package at The Heritage Awali Golf and Spa Resort.
This five-star hotel is nestled amid charming and intimate surroundings, offering you luxury and privacy.
Not to mention some exceptional Golf.
It has a well-known spa within its premises, which offers you the perfect relaxation after a challenging day of Golf.
There are swimming pools, beach volleyball courts, and tennis facilities as well, in case you want to beat the frustrations of the Golf course on a different playing field.
3. Shangri La's Le Touessrok Resort and Spa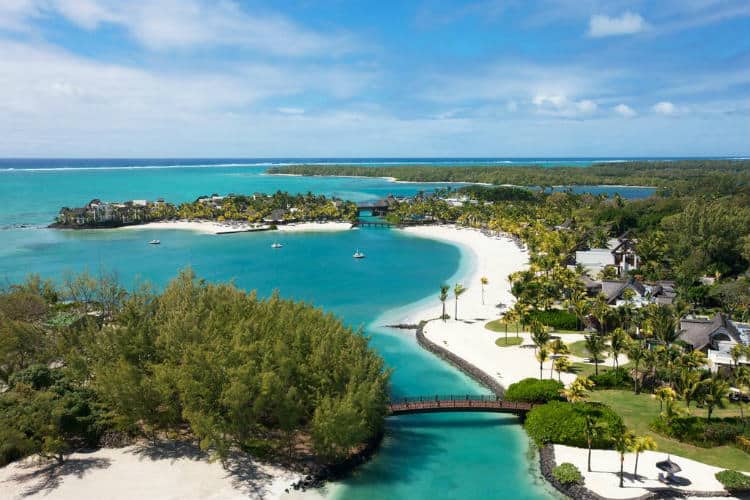 Shangri La's Le Touessrok Resort and Spa can be another worthy addition to the itinerary of your Golf break in Mauritius.
This Golf resort offers access to the Le Touessrok Golf course, which is widely considered to be one of the best Golf courses on the island.
In addition to that, it has attractive Golf packages to make your vacation even more memorable.
This Golf resort can make your vacation as relaxing or as active as you want.
You can choose to lounge at the beach or indulge in lively water-sports when you are not on Golf greens.
The other notable Golf resorts include the Anahita Golf and Spa Resort and the Four Seasons Resort.
Best time for Golf holiday in Mauritius
Mauritius, being a tropical island, enjoys mildly pleasant weather throughout the year. You don't need to plan your Golf break for any particular month.
However, winter months from May to December offer the best possible climate for your Golf holiday in Mauritius.
During this season, the island sees a maximum temperature of around 24 degrees Celsius and a minimum temperature of 18 degrees Celsius.
Summer lasts in Mauritius from January to April.
The maximum temperature rises up to the mid-thirties and the minimum temperature stays around 25 degrees Celsius.
While this temperature is not at all extreme, summer sees fewer tourists.
Green fees in Mauritius Golf courses
As expected from a country heavily reliant on tourism, Mauritius charges higher green fees from tourists than from locals.
So, plan your Golf holiday keeping this in mind.
As most of the Golf courses are adjacent to luxury resorts, expect steep green fees that average at around 100 Euro.
Most Golf courses keep their green fees the same on weekdays and weekends, so you need not worry about paying more on the weekends.
If you opt for an all-inclusive Golf package offered by most of the Golf resorts in Mauritius, you can avail of attractive discounts on green fees.
Sources

# Yourgolftravel.com
# Golfbreaks.com
# Chakatravel.com
# Golfkings.co.uk

The travel specialists at TheBetterVacation.com use only high-quality sources while researching & writing their articles. We make every attempt to keep our content current, reliable and trustworthy.
Recommended Reading
1. Golf holidays in Dubai
2. Golf holidays in Florida