The Sunshine State of Florida enjoys a warm and pleasant climate almost all year round, which makes it an ideal destination for tourists.
But the southernmost state of the United States of America is also a great pick for Golf breaks.
Why? Because it has over one thousand Golf courses, most of which have been ranked among the best in the USA.
Palm Beach and Fort Lauderdale especially, are the popular destinations for Golf vacations in Florida.
The Jacksonville coastline also has world-class Golf courses and Golf resorts, adding to the allure of Florida in the eyes of Golf tourists.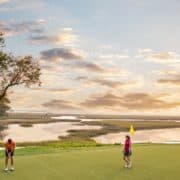 Best Golf courses in Florida
Many Americans and tourists from other countries who escape their winter and head towards Florida for the sunny weather try out Golfing.
Such is the allure of the Golf courses in the Sunshine State.
There are more than 1,200 Golf courses in Florida – more than any other state in USA – where you can try your golfing skills after paying the green fees.
While all the courses are above par, some of them stand out from the rest. These Golf courses need a high level of skill, and good networking to play on.
Check out our list of the top five Golf courses in Florida.
1. Seminole Golf Club course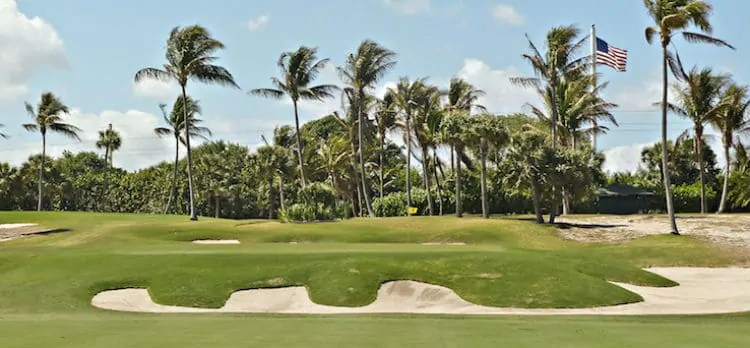 The Seminole Golf Club in Juno Beach is arguably the best Golf course in Florida.
Originally designed by Donald Ross, this Golf course is rectangular in overall shape.
The unique feature of this Golf course is that to play each hole, you have to combat a different wind direction.
The Golf course at Seminole Golf Club has been redesigned several times since its inception, adding layers of complexity to an already challenging terrain.
Next to the Atlantic Ocean, this Golf course also has an undulating valley-like feel.
It is widely regarded as a shotmaker's heaven and praised by international Golfers.
Recommended Reading
1. Golf holidays in the USA
2. Golf holidays in Mauritius
2. Players Stadium Golf Course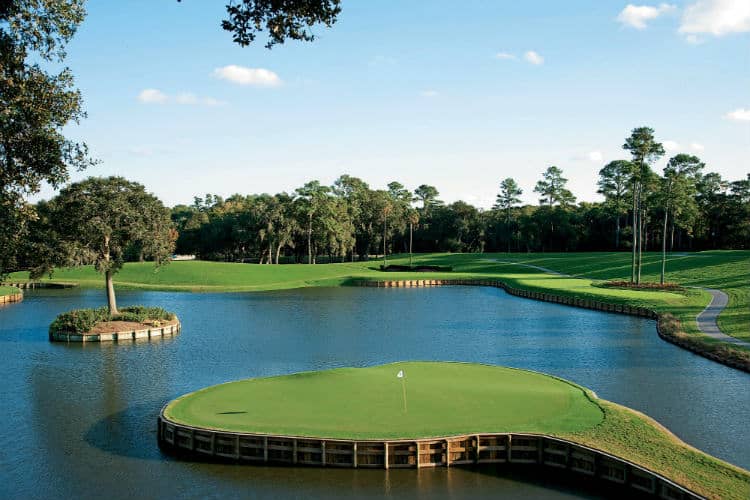 Golf vacations in Florida must include the TPC Sawgrass, better known as the Players Stadium.
Golf architect Pete Dye built this Golf course in the 1980s with what he termed the 'grenade attack' style of architecture.
This is actually referring to random bumps and obstacles created around the holes, which add to the thrill of Golf on this course.
Some of the holes have been redesigned recently, so expect more surprises!
3. Calusa Pines Golf Course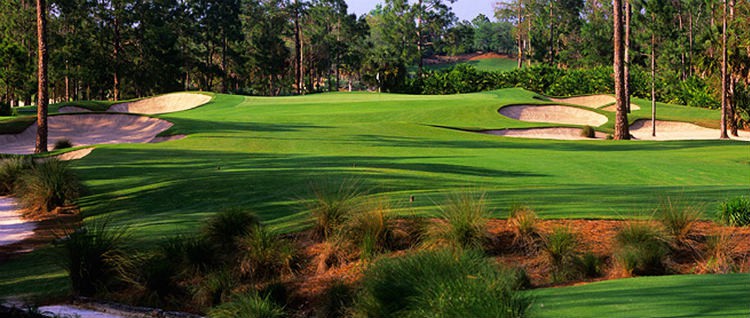 The Calusa Pines Golf Club is a unique destination for Golf holidays in Florida, not least for its interesting history.
It was commissioned by a Chicago millionaire who went by the name of Gary Chensoff.
He was diagnosed with cancer but miraculously survived, which is curiously reflected in how this Golf course is designed.
Chensoff wanted a unique Golf course in the southern part of Florida and gave the responsibility to Michael Hurdzan and Dana Fry.
The result—a Golf course filled with ponds, high ridge lines, oaks, pines and palms and some of the firmest and fastest fairways.
4. Blue Monster Golf course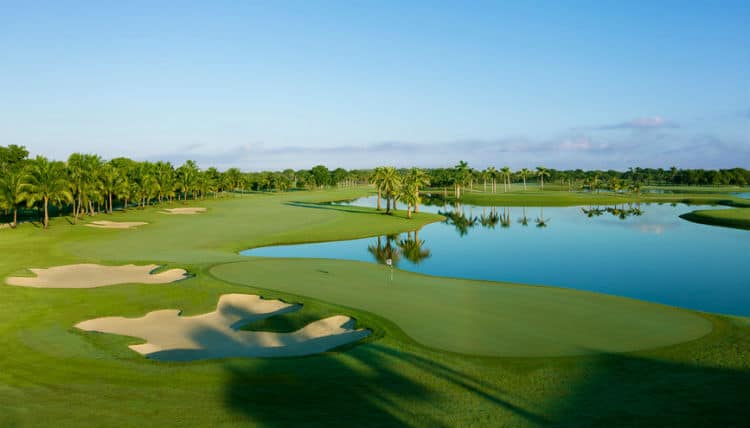 The Blue Monster course in Fort Lauderdale is a Golf course sure to fill your Golf getaway with fun memories.
This Golf course is renowned internationally for its beautiful and challenging Golf.
This Florida Golf course is called the blue monster because water hazards feature on more than half of its holes.
In addition, there are lush green fairways, adding a beautiful emerald contrast to the deep blue lakes.
5. Plantation Preserve Golf Course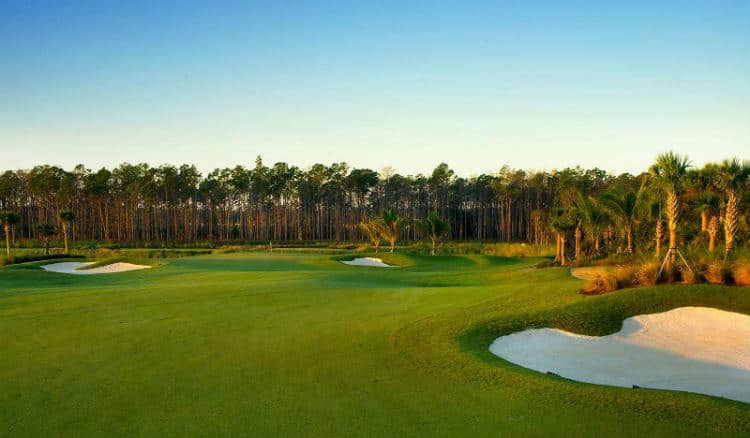 The 18-hole Plantation Preserve Golf Course is another worthy and must have addition to your Golf holiday itinerary in Florida.
This Golf course is surrounded by wetlands.
Each hole has five different sets of tee boxes, for variations in difficulty. As a result, this course is ideal for amateurs as well as professionals.
Other notable Golf courses in Florida are the Streamsong and Jupiter Hills Club.
Best Golf Resorts in Florida
If golf is on your itinerary, Florida offers a multitude of options to stay.
Beautiful Golf resorts are scattered all over Florida, which suits both golfing and non-golfing travelers.
Many of the good golf resorts and hotels in the Sunshine State are in and around Orlando.
Here is our pick of the best golf-friendly resorts in Florida –
1. Trump National Doral, Miami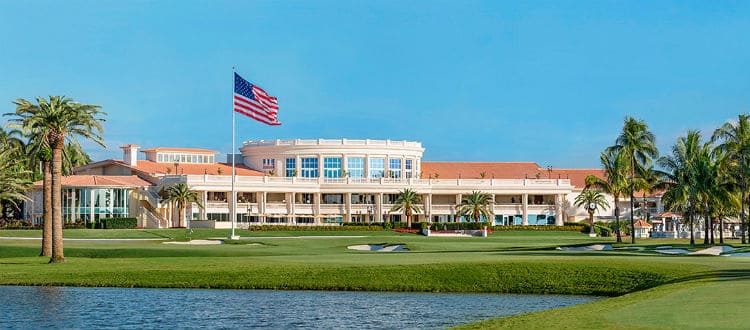 The most popular Golf resort in Florida is the Trump National Doral in Miami.
Perhaps that is why Doral is often referred to as the 'kingdom of Golf'. This Golf resort has not one, not two, but four championship standard Golf courses.
Even if your Golf vacation in Florida includes only the Trump National, you can rest assured of an excellent Golfing experience.
All inclusive Golf holidays are creat
ed by the Trump National Doral. These Golf packages include accommodation and rounds of Golf at all four Golf courses.
Additionally, Golf holidays including flights are arranged by the hotel too. Along with return airfare, these packages include accommodation and Golf rounds.
Recommended Reading
1. Golf holidays in Portugal
2. Golf holidays in Croatia
2. Sawgrass Marriott Golf Resort, Ponte Vedra Beach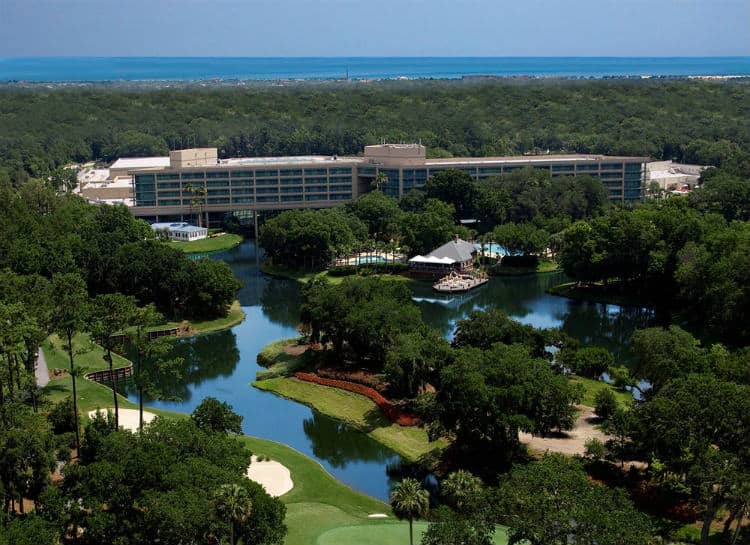 The Sawgrass Marriott Golf Resort and Spa houses the famous TPC Stadium Course. In addition, this Golf resort also has four other championship level Golf courses.
This resort offers Golf holidays including flights for around 1500 pounds.
This four-star resort can be reached by an easy drive from both Orlando and Jacksonville. It has more than 500 rooms, each a testament to luxury and taste.
There is an amazing spa in case you want to relax after your Golfing sessions.
The restaurant serves critically acclaimed Italian cuisine that will add an unforgettable taste to your Golf holiday.
3. Omni Orlando Resort at Championsgate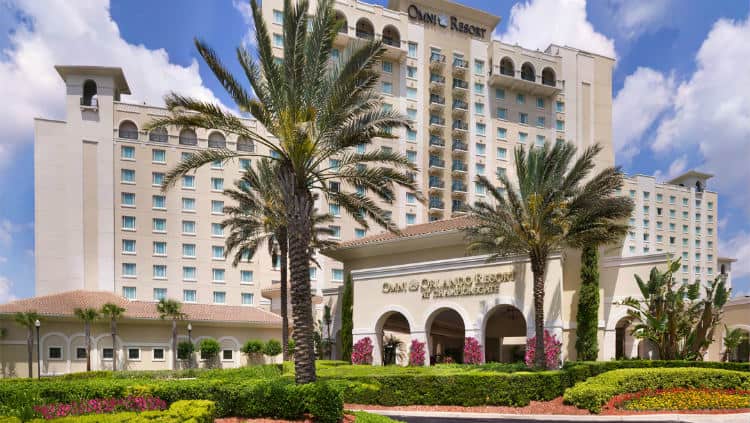 The Omni Orlando Resort at Championsgate can also be a great addition to your Golf vacation in Florida.
This five star Golf resort has two Golf courses—the National and the International.
When you are done with an exciting round of Golf at these Golf courses, you can relax in the lap of luxury at the Golf resort's well-appointed rooms.
Celebrated Golf tutor David Leadbetter offers special Golf lessons at the Omni Orlando Resort.
So if your Golfing skills need brushing up, you know which Golf resort in Florida to go to!
Best time for Golf holidays in Florida
Summer is usually hot and humid in Florida. If you are not comfortable with that, it is best to plan your Golf vacation in Florida from November to May.
April and November experience the lowest rainfall, so if you plan your Golf break accordingly, there are lesser chances of your game being interrupted by showers.
June, July and September experience the heaviest rainfall, and it's best to avoid these months altogether.
June to November is also what is known as hurricane season in Florida.
These months can ruin your perfect Golf break, so you must avoid them at all costs.
Green fees in Florida Golf courses
While planning a Golf fete in Florida, it is important to have a fair idea about the green fees you have to shell out in various Golf courses.
Since there are thousands of Golf courses in Florida, the green fees vary from quite reasonable to very expensive.
For example, you can get a chance to play at the Harder Hall Country Club for as little as 27 USD.
But for more acclaimed Golf courses like the Streamsong, expect to pay upwards of 200 dollars.
Green fees vary from weekdays to weekends and also according to the time of the day.
Sources

# Yourgolftravel.com
# Golfbreaks.com
# Golfholidaysdirect.com
# Expedia.com

The travel specialists at TheBetterVacation.com use only high-quality sources while researching & writing their articles. We make every attempt to keep our content current, reliable and trustworthy.
Recommended Reading
1. Golf holidays in South Africa
2. Golf holidays in Vietnam