Cherish the marvels of the sizzling Adriatic coasts by taking a Golf vacation in Croatia.
There are several Golf packages and Golf tours being provided by travel agents based inside and out of Croatia.
The hospitable atmosphere and the delicious cuisine add to the fun of Golfing in this scintillating East European country.
Istria in Croatia is a perfect location for eager Golfers who prefer to design their holidays around Golf.
There are many affordable and luxury Golf resorts where tourists can stay during their holiday and also take part in the Golf tournaments being conducted for visiting tourists.
To know everything about Golf holidays in Croatia, continue reading.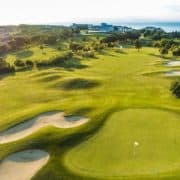 Best time for Golf holiday in Croatia
Due to the Mediterranean climate, the autumn and the winters are never too harsh. In fact with an average temperate of just 18 degree Celsius, winter is the perfect time for Golfing in Croatia.
The marvelous Golf courses and the enchanting scenery will help you lose yourself in the vast greens of Croatian Golf courses.
The Adriatic climate will make sure that you are never too hot or too tired of Golfing for the long Golf tours this country offers.
Once your Golfing session is over, the Golf resort you are staying in will help you relax so you are fresh for the next day of Golfing.
These Golfing resorts are built keeping in mind gold fans such as yourself.
All you have to do is identify the right all inclusive Golf holiday package for you and your family and land up in Croatia.
Best Golf courses in Croatia
Croatia has a number of Golf courses. We have listed them below and also tried to give them our rating.
1. Split 1700 Golf Club
Split 1700 Golf Club is Croatia's southern-most Golf course and usually doesn't figure in the schedule of visiting Golfers.
Probably because it is a makeshift course with just six holes and a driving range.
The good thing about this Golf course is that you can make an unplanned entry for it is never crowded.
Even if you are not carrying your Golf kit, just hire whatever is available in at the Golf club and start teeing – yes no tee-time reservation needed as well.
To top it all, this Croatian Golf club has no dress code.
Address: Kroz Smrdečac 27, 21000 Split, Croatia
Golf Course Rank #6
Recommended Reading
1. Golf holidays in Portugal
2. Golf holidays in Spain
2. Sveti Martin Spa & Golf Resort
This Golf course is part of the Sveti Martin Spa & Golf Resort and the best way is to stay in the resort and use their services. Located in the hinterland of Croatia called Međumurje.
This 9-hole Golf course is one of the few flood-lit Golf courses in the whole of Europe. If you don't want to get out of your resort you can also use the indoor Golf simulator and play wherever you want.
This Golf course is surrounded by vine-covered Međimurje hills which makes for a great sight as you walk the greens.
Address: Grkaveščak b.b., 40313 Sveti Martin Na Muri, Croatia
Golf Course Rank #5
3. Brijuni Golf Course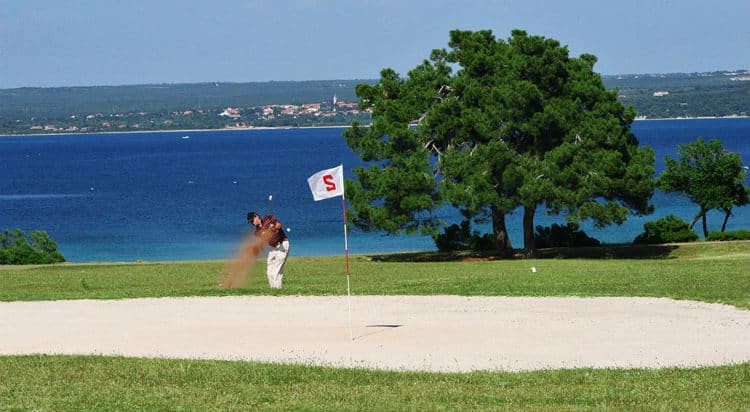 Brijuni islands are a popular Golfing and non-Golfing holiday destination.
These 14 islands which charm every tourist are located off the Istrian Adriatic coast.
In fact, President Marshal Josip Broz Tito of Yugoslavia loved these islands so much that he made them his personal State summer residence.
The Brijuni Golf course on these islands was built in 1922 and thus hold a lot of historical significance in the region.
This 18-hole, par 71 course with sand greens is a challenging course but the wildlife you see along the way – deer, rabbits, mouflon, and peacocks etc – lighten the pressure.
The unique thing about this Golf course is that no pesticides or water is used on the Golf course. The course depends on weather conditions and tends itself.
Address: 52212 Brijuni, Croatia
Golf Course Rank #4
4. Dolina Kardinala Golf & Country Club – Championship & Family Course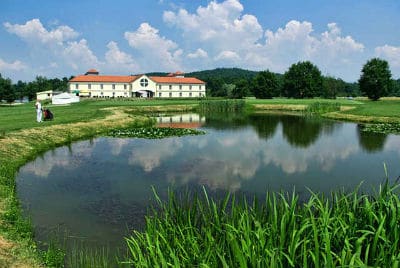 Dolina Kardinala Golf & Country Club is another marvelous spot suited for seasoned Golfers.
Having hosted many famous faces, around the world, this Golf course stretches for 6600 yards and contains two returning loops.
The featured holes also play to the greens of the adjacent islands. It was designed by Howard Swan and has a par of 71.
Address: Krajiška ulica 20, 10000 Zagreb, Croatia
Golf Course Rank #3
5. Kempinski Golf Club Adriatic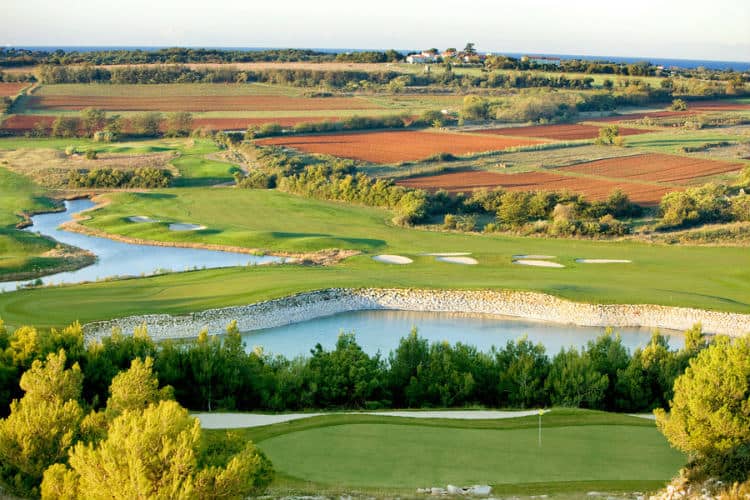 Kempinski hotel chain's first Golf course, better known as Golf Club Adriatic, was inaugurated in 2009.
Designed by architect Diethard Fahrenleitner, this 6360 square meters big Golf course offers five tee options available at every hole so that every level of Golfer can have-a-go.
While Golfing, the tourists can also enjoy the charming view of the Adriatic Sea from this course.
This 18-hole championship Golf course just close to the Kempinski Hotel Adriatic and is built to suit both amateurs and professionals.
It has a signature hole, aptly named as the 'Monster'. Golfers need to play from an elevated tee box and avoid a specimen tree to reach the hole.
Address: Alberi 300 A, 52465, Savudrija, Croatia
Golf Course Rank #2
6. Golf & Country Club Zagreb – Championship & Executive Course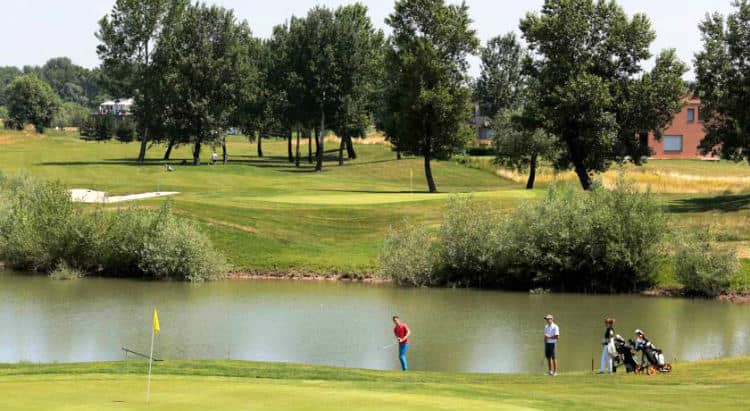 This Golf course is in Zagreb, the capital city of Croatia. There are two courses in this club – the Championship course and the Executive course.
The challenging 18-hole, par 72 Championship course has 11 lakes which adds to the challenge for the Golfer.
The Executive Golf course is shorter with 9-hole, par 30 featuring grass bunkers and a forest.
If you want to experience this Golf course during your Golf holiday in Croatia it is best to stay within the city.
Address: Jadranska avenija 6, 10020 Zagreb, Croatia
Golf Course Rank #1
Recommended Reading
1. Golf holidays in Scotland
2. Golf holidays in Germany
Best Golf resorts in Croatia
Two of the best Gold resorts in Croatia are Kempinski Hotel Adriatic Istria and Golf Adriatic.
They offer you unlimited Golfing in their amazing Golf courses combined with the best of luxury back at the resort once the day's Golfing is done.
1. Kempinski Hotel Adriatic Istria, Croatia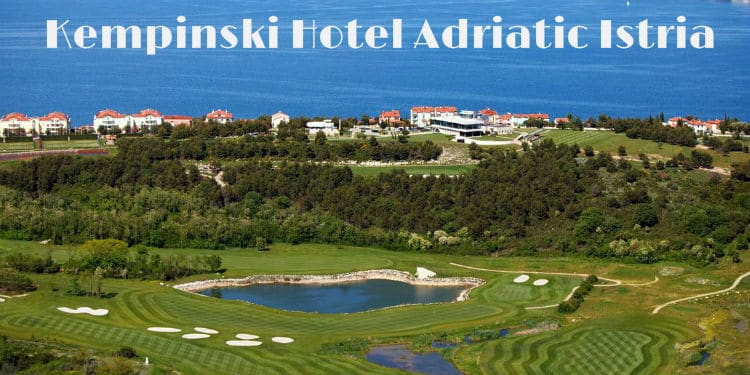 Kempinski Hotel Adriatic Istria is the best five-star luxury seaside Golf-and-spa resort in the whole of Croatia.
This luxury Golf resort has 180+ rooms, a private secluded beach, a 3000-square meters spa, meeting spaces etc. It has two restaurants serving international cuisine.
Located at Umag countryside in northwestern Istria, it is surrounded by olive groves and vineyards and offers amazing views of the Adriatic sea.
If you are staying at this resort your Golfing will happen at the Golf Adriatic Golf course.
2. Skiper Resort, Istria, Croatia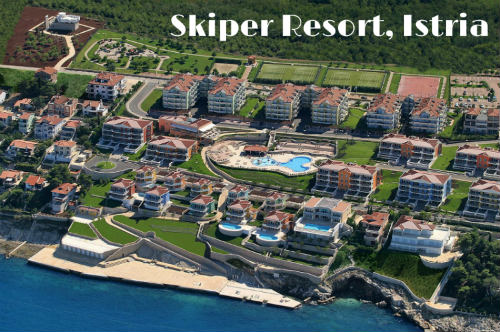 Skiper Resort is also located in Istria, in the village of Alberi. This Golfing resort is just right for a memorable Golfing holiday in Croatia because of its proximity to the Adriatic Golf course, the relaxing views of the Slovenian and Italian coast and the amazing food on offer at this resort.
Depending on your budget for your Golf vacation you can choose between villas, suites, and apartments at the resort.
When you aren't on the Golf course with your buddies, you can enjoy the swimming pool, private beach, or the modern sports center within the Skiper resort.
Sources

# Golf-adria.com
# Golftravelcentre.com
# Golftravel.world
# Welcome-center-croatia.com

The travel specialists at TheBetterVacation.com use only high-quality sources while researching & writing their articles. We make every attempt to keep our content current, reliable and trustworthy.
Recommended Reading
1. Golf holidays in Bulgaria
2. Golf holidays in Zimbabwe