A vibrant culture. Richly tapestried history. Scenery to remember forever.
Mouthwatering food. The two meccas of club football—Barcelona and Real Madrid.
Spain is a country which, if you visit once, you will not be able to forget in a lifetime. More so if you are fond of Golf.
Yes, Golf vacations in Spain are just as memorable and eventful.
To begin with, the country enjoys pleasant sunshine almost all year round, so there is no fixed time for your Golf vacation.
Then there are the numerous Golf packages offered by all the resorts. As a Golf tourist, you will be literally spoiled for choice.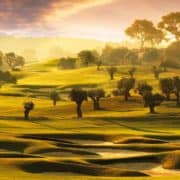 Best courses for Golf holidays in Spain
Golf holidays in Spain offer equal amounts of sun, sea, sand and Golf courses.
When it comes to best Golf courses in Spain for Golfing holidays, the lengthy Mediterranean coastline offers amazing possibilities.
Check out our list of the best Golf courses for Golf holidays in Spain.
1. Real Club Valderrama Golf Course, Andalusia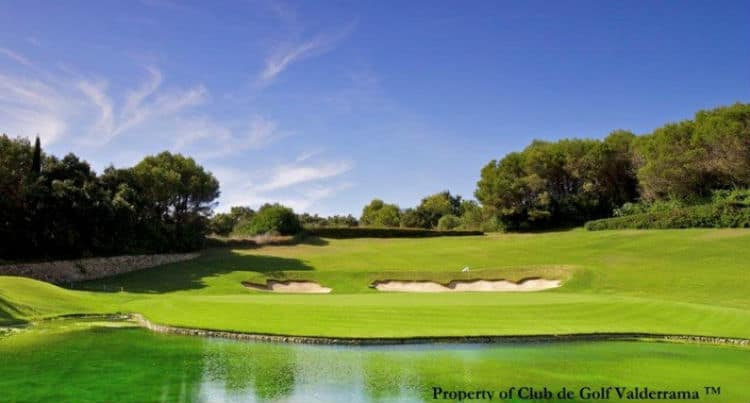 The most highly rated Golf course in Spain is the Real Club Valderrama (also referred to as Valderrama Golf Club).
Located in the southern Spanish region of Andalusia, it has 18 holes and two separate Golf courses.
It is almost equidistant from Cadiz and Malaga, and is hence easy to reach.
However, the Real Club is not for the amateur Golfer.
It is intricately designed by the Golf architect Robert Trent Jones, Senior and is built with professional expectations in mind.
Real Club Valderrama is also an expensive Golf course so opt for it only if you are looking for a luxury Golf break.
Recommended Reading
1. Golf holidays in Portugal
2. Golf holidays in France
2. Finca Cortesin Golf Course, Andalusia
Finca Cortesin Golf course is also in Andalusia, near the Mediterranean Sea.
This 18-hole course is widely revered in the international Golfing circuit, and for good reason. It is built on a completely natural landscape.
As far as length of the course is concerned, it is one of the biggest in Europe.
While playing Golf at this course, Golfers can enjoy stunning views of the Mediterranean Sea as well as the nearby mountains.
3. Club de Golf la Reserva, Sotogrande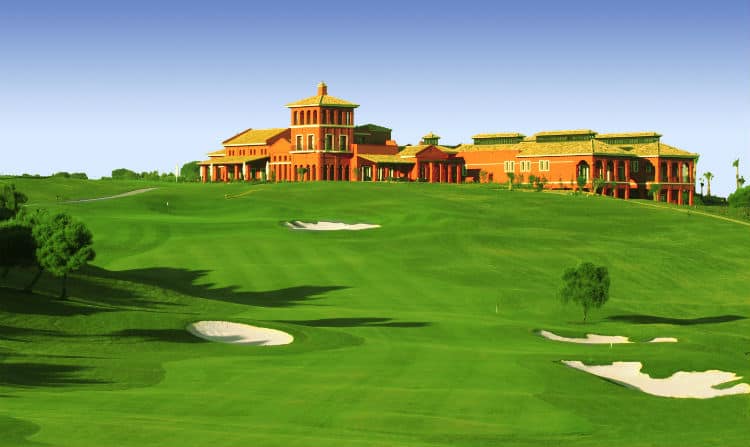 Dotted with serene lakes and majestic trees, the Club de Golf la Reserva in Sotogrande also offers beautiful views of the Mediterranean Sea.
This Golf course also has 18 holes and is quite challenging as well.
However, its main appeal lies in its unique clubhouse, which is built on the lines of an Andalusian farmhouse.
4. La Galiana Golf Course, Valencia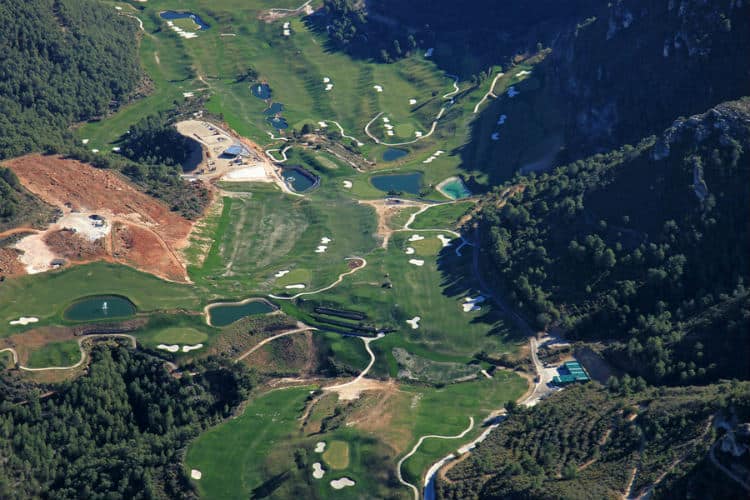 If you do not want to shell out half of your bank balance on Golf tours, try the La Galiana Golf Course in Valencia.
You do not have to be an exclusive member to avail of their excellent Golfing facilities.
The green fees here are almost one-third of the other, more posh Golf clubs. But that does not mean that the La Galiana compromises on quality.
This mountainous course will provide you with a challenging round of Golf any time of the day.
5. PGA Catalunya Resort Golf Course, Girona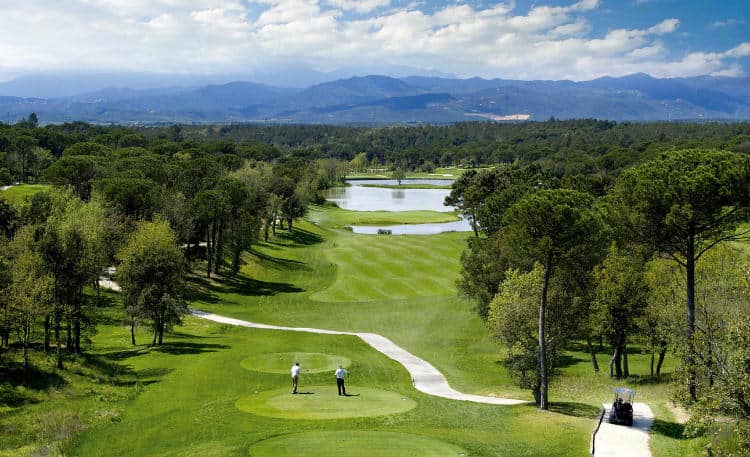 The PGA Catalunya Resort Golf course in Girona has 36 holes and is probably the most challenging Golf course in Spain.
This satisfyingly long course has thick foliage and numerous large lakes that add to its charm and challenge.
The terrain of the course naturally rolls up and down, which makes it even more attractive.
6. Golf Son Gual, Mallorca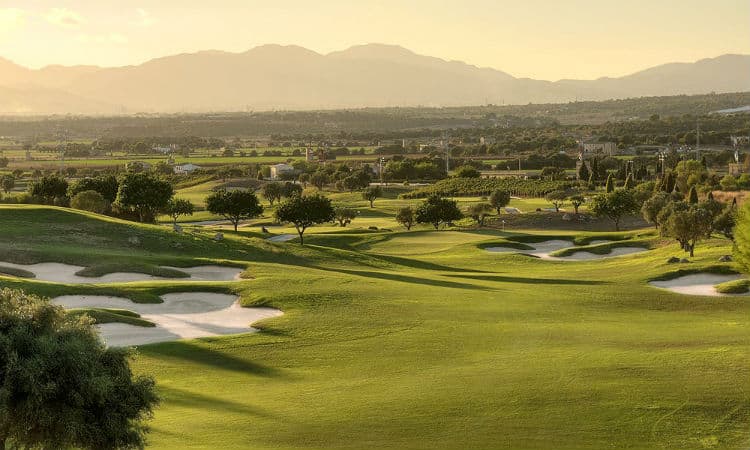 The Golf Son Gual in Mallorca has 18 holes and an interesting history.
It was built by business tycoon and Golf aficionado Adam Palmer, who was a regular visitor to the island.
The challenging Golf course is designed by German Golfing champion Thomas Himmel.
Other world-class courses in Spain include the Lumine Hills, the Villa Padierna Golf Club and the Abama Golf Resort.
Top Golf resorts in Spain
Golf resorts abound throughout the length and breadth of Spain, so it is not difficult to plan Golf breaks here.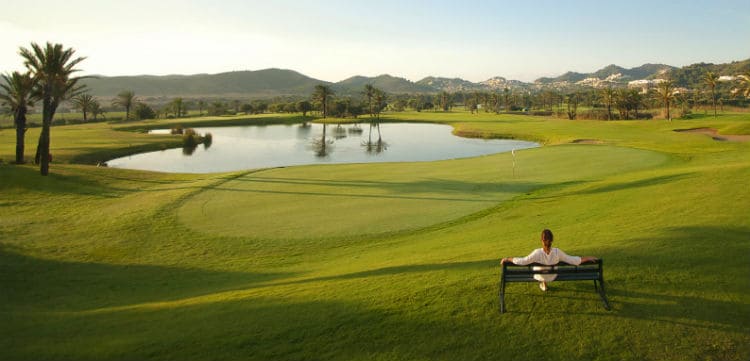 You cannot look beyond the Hotel La Manga Club in Murcia.
It is considered the most famous Golf resort in Europe, and with good reason.
It has three Golf courses built with Championship standards along with every Golfing luxury imaginable.
Of the three courses, the South Course is the most celebrated.
No wonder then that it has hosted regional and national Golf tournaments, including the Spanish Open.
The South Course has numerous bunkers and water hazards and it would make a Golfer's eyes shine with anticipation.
The West Course is no less difficult.
It hides its challenges amidst beautiful scenery.
The North Course is relatively easy, but it does not compromise on beauty or variety.
Recommended Reading
1. Golf holidays in Morocco
2. Golf holidays in Poland
The La Cala Resort in Malaga is another top resort for Golf vacations in Spain.
The majestic hills of Mijas houses this resort and its three 18-hole Golf courses.
This resort offers all inclusive Golf holidays for the discerning traveler.
Near the lesser known Spanish town of Benidorm, you will find the Melia Villaitana Wellness Golf and Sun Resort.
This superb hotel gives you access to two Golf courses, the Levante and the Poniente.
Both these courses have been designed by the American Golfing legend Jack Nicklaus, so you can expect a challenging game of Golf.
The Hotel Guadalmina Spa and Golf Resort in Malaga offer attractive Golf packages.
It is adjacent to two championship courses and offers the services of a Golf academy.
If you spend around 200 Euros per head, you can get a three-night stay at the hotel and two rounds of Golf.
Other top Golf resorts are Hotel Almenara, Barcelo Montecastillo Golf, the PGA Catalunya Resort and others.
Best time for Golf holiday in Spain
Spain enjoys great Golfing weather for almost the entire year, making it one of the most favored European destinations for Golf holidays.
Though it's true that many tourists avoid the high summer temperatures of July and August.
The Golfing season in the country lasts for half the year, starting from February and ending in early July.
The span of three months from September, October, and November again sees a spurt in Golf vacations in Spain.
While most of Northern Europe experiences harsh cold weather, Spain remains warm and inviting, making it the ideal holiday destination for travelers and Golfers alike.
Green fees in Spanish Golf courses
Since Spain has many Golf courses and Golf resorts, there is no uniformity when it comes to the subject of green fees.
They start from as low as 35 Euro per person and can go up to more than 200 Euros.
Some Golf courses have specially discounted green fees for weekdays, like the Campo de Golf Abra del Pas, which slashes green fees to 17 Euros per person.
Green fees sometimes include exclusive buggies while on some courses you must share buggies with other Golfers.
Some courses like the Calanova Golf Club also offer special Golf packages for children.
Sources

# Yourgolftravel.com
# Golfbreaks.com
# Golfholidaysdirect.com
# Golfbreaksinspain.com

The travel specialists at TheBetterVacation.com use only high-quality sources while researching & writing their articles. We make every attempt to keep our content current, reliable and trustworthy.
Recommended Reading
1. Golf holidays in Germany
2. Golf holidays in Zimbabwe
3. Cheap family holidays in Spain