Deep blue sea. Dark green jungles. Majestic mountains.
A plethora of wildlife. Stunning scenery!
As a vacation destination, it is almost impossible to look beyond South Africa.
For golf aficionados, there is the added attraction of going for a golf holiday in South Africa.
The African nation has some of the best golf courses and golf resorts in the world.
There are an amazing variety of all-inclusive golf packages to choose from.
Even the pickiest of golf traveler will find something to his or her liking.
If not, there is no issue – all golf packages on offer in South Africa are open to customization.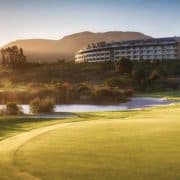 Best Golf courses in South Africa
This African nation has many golf courses of international repute. Here is our top four best golf courses in South Africa.
1. Gary Player Golf Course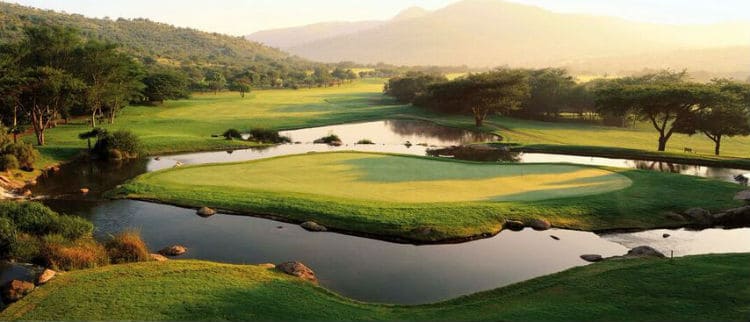 Sun City (a luxury golf resort situated in the North West Province of South Africa) is the most celebrated golf destination in the country of South Africa.
This city promises to be a malaria-free zone and thus safe for European and American tourists.
The city enjoys sunny days almost all through the year, making it an ideal pick for your golf breaks.
Sun City has two international standard golf courses designed by the ex-South African golfer Gary Player, one named after the golfer and the other called Lost City Golf Course.
While the latter is comparatively easy, the Gary Player Golf Course is notoriously difficult.
It also ranks among the longest courses in the country. The terrain is mostly flat but quite challenging. It is dotted with bushes, lakes and bunkers.
Recommended Reading
1. Golf holidays in Morocco
2. Golf holidays in Mauritius
2. Fancourt Links Golf Course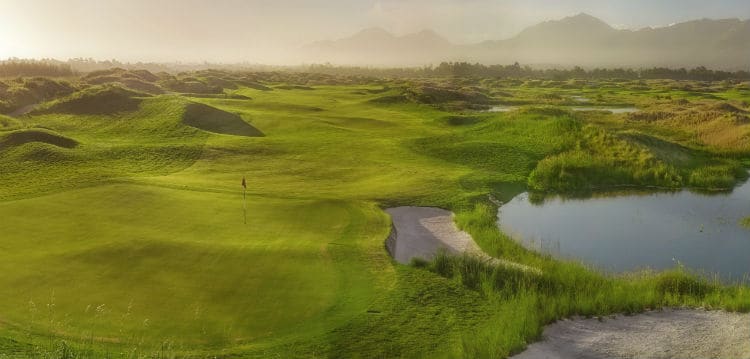 The Fancourt Links on the Western Cape offers some splendid golf holiday memories.
Two other courses, the Montagu and the Outeniqua are adjacent to the Links, but it is the latter which is more widely known.
Rated consistently as one of the best golf courses in the country, the Fancourt Links Golf Course was also designed by Gary Player.
Fancourt also maintains its very own golf academy where you can brush up your skills.
3. Durban Country Club Golf Course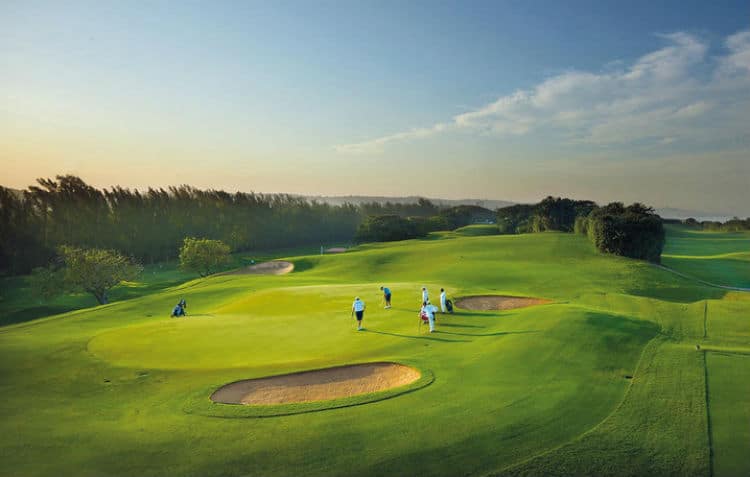 The Durban Country Club Course has hosted the most number of South African Opens in the country — an unbelievable seventeen.
The calm seaside terrain of the Club is a delightful contrast to the bustling city of Durban.
No wonder it is one of the top picks for golf vacations in South Africa.
All the holes in the Club Course are not of equal difficulty, making it an interesting challenge for beginners and professionals alike.
4. Leopard Creek Country Club Golf Course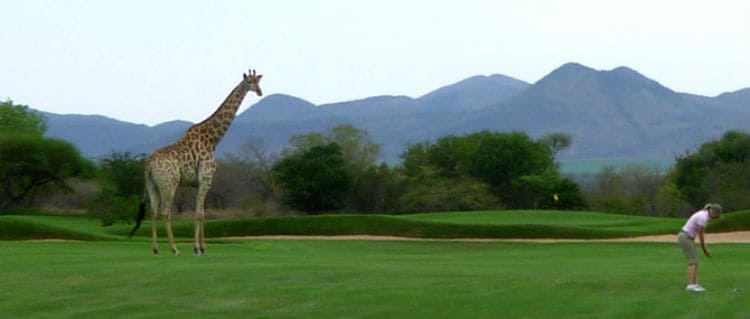 Leopard Creek Country Club Golf Course is an exclusive destination for golf breaks in South Africa.
Here guests can switch off from the outside world and immerse themselves in the pursuit of golf, amidst the abundance of nature.
This South African golf course has been hosting the annual Alfred Dunhill Challenge on the European tour since 2005.
Best Golf resorts in South Africa
Being a golf destination par excellence, South Africa has some of the finest Golf resorts in the region. Here are our favorite four.
1. Sun City Golf Resort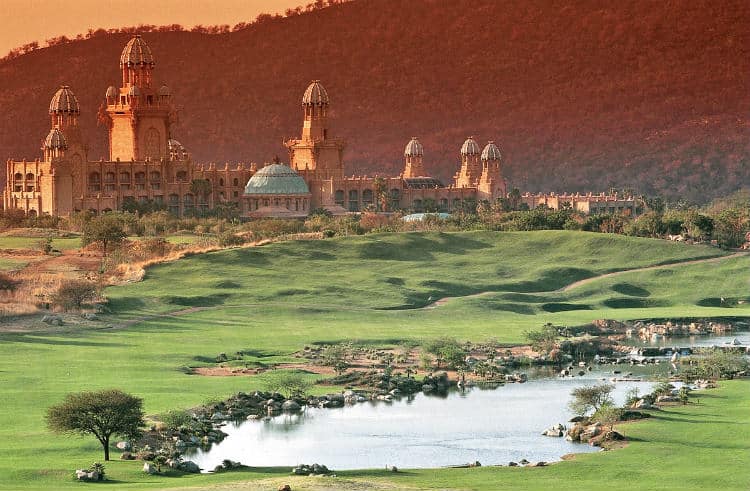 One cannot look beyond the Sun City Golf Resort when planning a golf vacation in South Africa.
There is much hype about this resort all of which is well-deserved.
This luxurious holiday resort has a veritable smorgasbord of entertainment and relaxation that will leave you stupefied.
Over and above the two golf courses designed by Gary Player, there are many other attractions.
There is an abundant opportunity to sample the local wildlife and immerse yourself in every kind of luxury imaginable.
Predictably, the Sun City Resort is meant for those with deep pockets and a taste for luxury.
Recommended Reading
1. Golf holidays in Zimbabwe
2. Golf holidays in Spain
2. Fancourt Golf Resort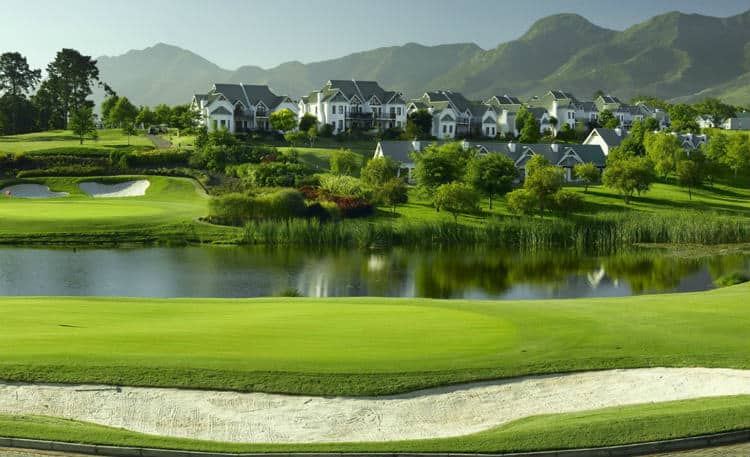 If you want your golf break to include a trip to the scenic Garden Route, you should definitely try the Fancourt Resort.
This luxury resort is home to not one, but three golf courses designed by Gary Player.
Additionally, it commands absolutely spectacular views of Knysna, the bay that forms the center of the Garden Route.
3. Zimbali Coastal Golf Resort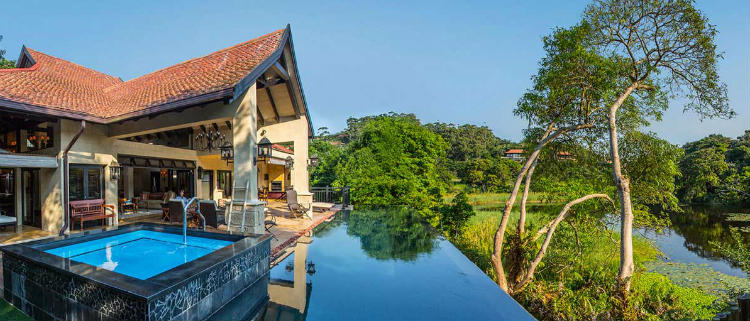 Drive just a little under an hour away from Durban and you will reach the Dolphin Coast or the Valley of Flowers.
Tom Weiskopf has designed the golf courses here.
The Zimbali Coastal Resort, located right next to the Indian Ocean will fulfill your Golf desires and pamper you with panoramic ocean views.
4. Steenberg Golf Estate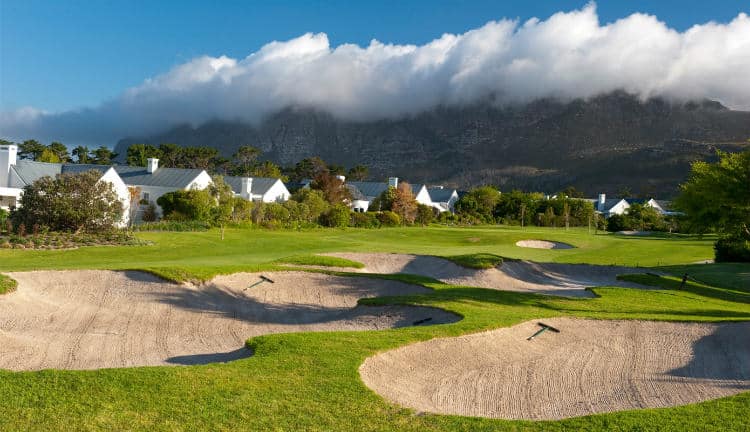 Most golf tours to South Africa include a visit to Cape Town, and with good reason.
In this region of diverse beauty, you can choose the internationally loved Steenberg Golf Estate as accommodation.
They offer all-inclusive golf packages which can be tweaked to suit individual demands.
Best time for Golf holiday in South Africa
Since South Africa is a large country, different regions experience different climates.
There is rain in the winters in Cape Town and Western Cape, so do not plan your golf breaks here from June to August.
Summers in these areas are hot and very dry, so plan accordingly.
The Eastern Cape and Garden Route are vulnerable to rainfall any time of the year, so expect your round of golf to be interrupted anytime.
If you want to combine your golf holiday with an African safari, the dry winter months from May to October are going to be your best bet.
Green fees in South African Golf courses
The green fees in golf courses in South Africa vary from one region to another.
The green fees in Durban are comparatively lesser than those in the Garden Route or Cape Town.
In the Sun City Resort and other exclusive golf courses, be prepared to shell out quite a considerable sum as green fees.
But then, what you will get in return is something to remember forever.
Not only are the golf courses set on beautiful terrain, they are professionally designed and extremely challenging.
Golf vacations in South Africa are bound to leave you with memories to last a lifetime.
South African Golf and Safari Tours
Most tourists combine their golf and safari holidays in South Africa. This is an opportunity almost unique to African golf.
You can alternate between playing golf and looking at some wonderful South African wildlife.
You cannot miss the Kruger National Park, where you can see lions, elephants, rhinos, and buffalos as well as some breathtaking African flora and fauna.
Kruger has some private reserves which you can book if you want a jungle safari in relative peace and quiet.
These private reserves like Sabisands and Thornybush allow a limited number of visitors, so they are never over-crowded with noisy tourists.
Kruger National Park also offers three types of safaris—Family Safari, Honeymoon Safari, and Luxury Safari.
Combine any of these safaris with your golf holiday in South Africa and be prepared to be blown out of your mind!
The Sun City Resort is adjacent to the Pilanesberg National Park, which makes it even easier to combine golf and safari tours, as you wish.
Sources

# Yourgolftravel.com
# Golfbreaks.com
# Golfholidaysinsouthafrica.co.za
# Golf-escapes.com

The travel specialists at TheBetterVacation.com use only high-quality sources while researching & writing their articles. We make every attempt to keep our content current, reliable and trustworthy.
Recommended Reading
1. Golf holidays in Thailand
2. Golf holidays in Australia