The Centre Pompidou is a 20th-century contemporary architecture and art Museum designed by Renzo Piano and Richard Rogers.
Besides architecture, the popular Parisian attraction showcases music, cinema, photography, and multimedia.
To top it all, Centre Pompidou has a beautiful 6th-floor rooftop offering panoramic views over Paris.
This article shares everything you need to know before buying Centre Pompidou tickets.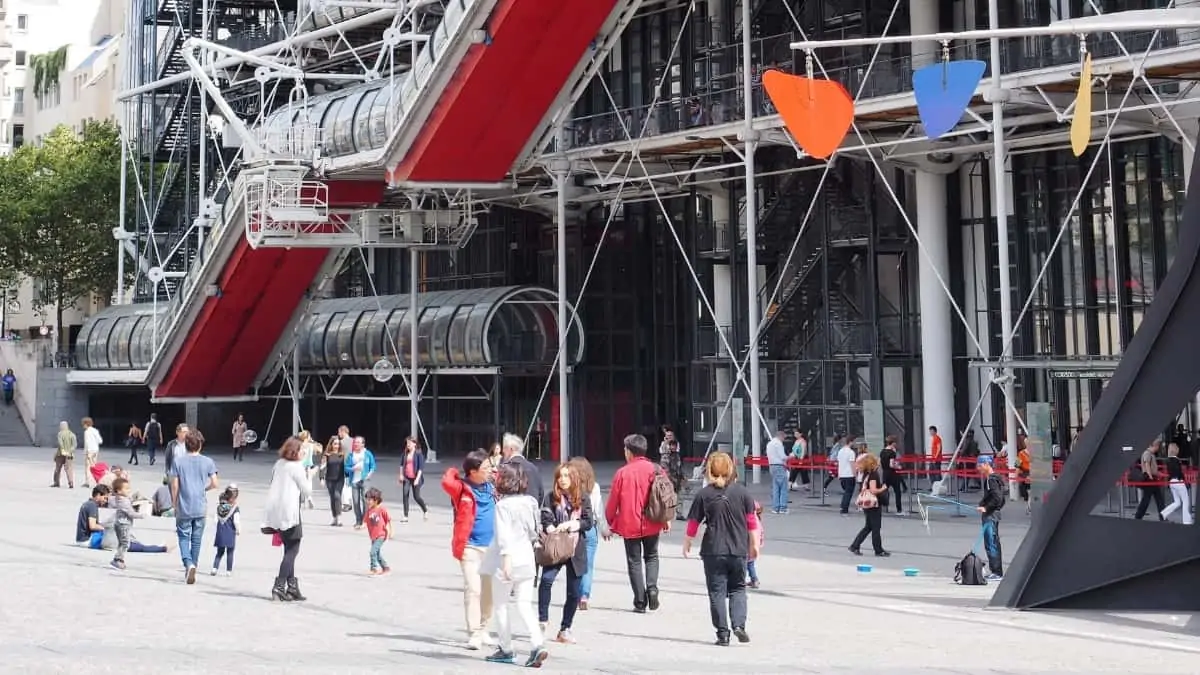 What to expect at Centre Pompidou
Regular Centre Pompidou tickets, the cheapest and most popular way to enter the museum, cost €15 for all visitors aged 18+ years.
Visitors younger than 18 years and EU citizens under 26 can visit for free.
To visit the Baselitz Exhibition, you need to get the Baselitz Exhibition tickets which also get you access to the museum's permanent collection.
If cost isn't an issue, but you prefer the most immersive experience, we recommend the semi-private guided tour of Pompidou.
---
---
Centre Pompidou tickets
You must purchase your Centre Pompidou ticket online in advance so that you don't have to queue up at the museum's ticketing window.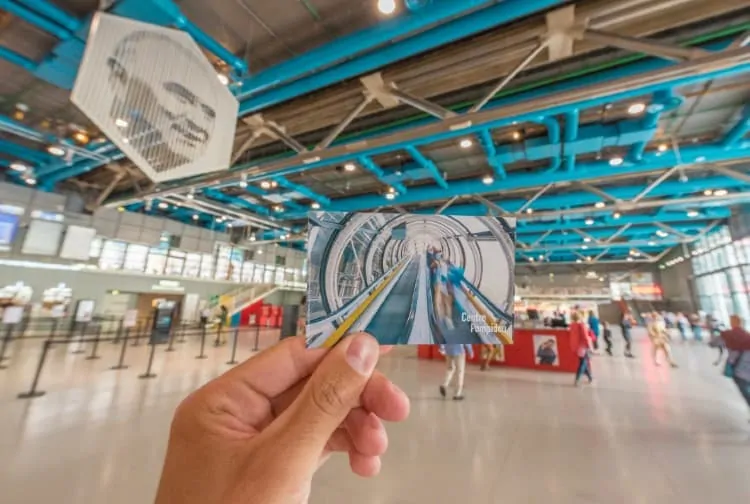 How to buy Centre Pompidou tickets
There are three ways to book tickets for Centre Pompidou –
1. Reach the venue and buy from Centre Pompidou's ticket counter
2. Buy the tickets over a phone call
3. Buy Smartphone tickets online (our recommendation!)
We explain all three options in detail below.
1. Buying at the attraction
You must line up at the ticketing window, wait your turn, and then buy the Centre Pompidou ticket.
During the peak season of April to September, the maximum wait in these ticketing counter queues can even go up to two hours.
Waiting time at the ticket counter can be anywhere from 30 to 45 minutes during off-seasons.
Don't believe us? Check out what these tourists who visited Centre Pompidou have to say about the time it takes to buy tickets, waiting times and the length of queues at the venue.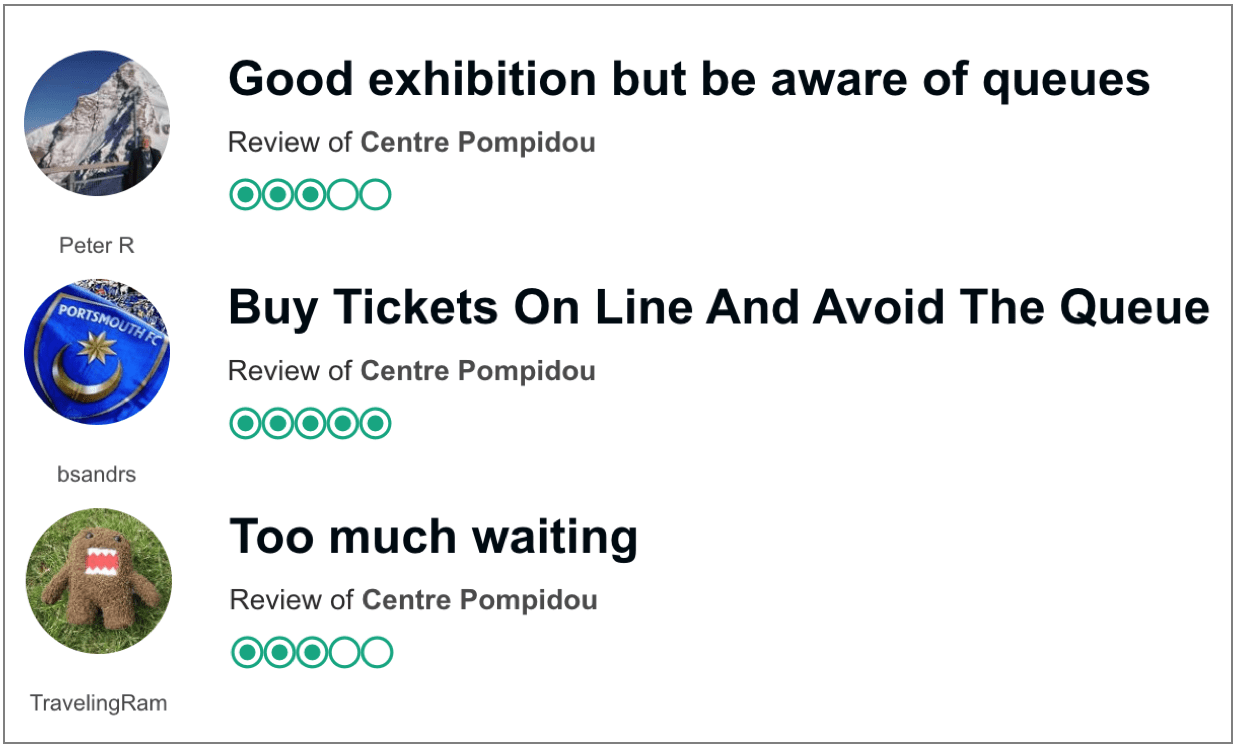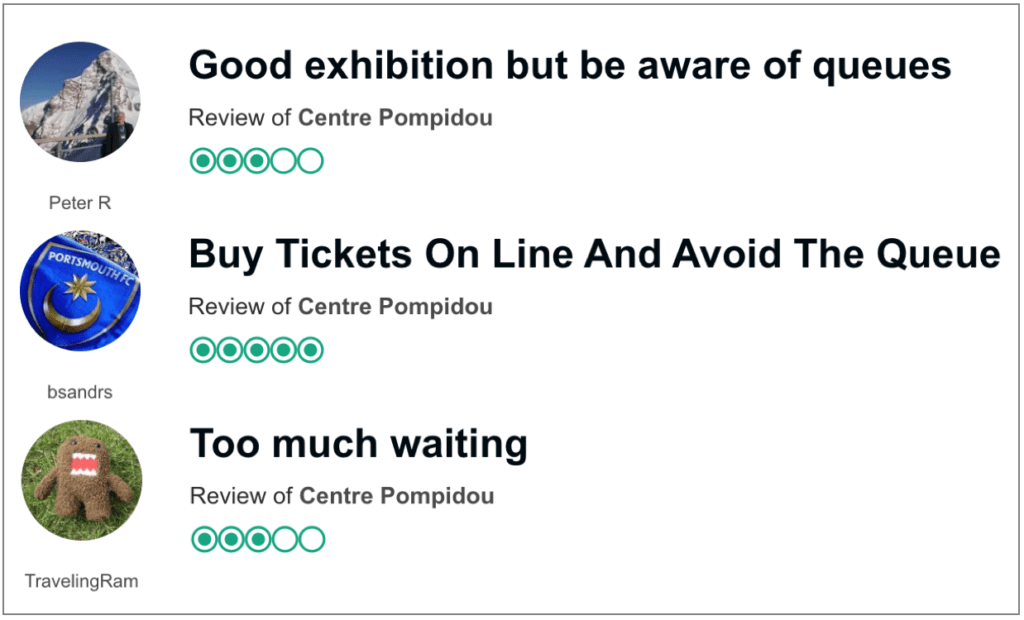 You can find these reviews here, here and here.
2. Purchasing by phone
You can purchase Centre Pompidou tickets by calling +33 (0) 144781233 as well.
Telephonic booking services are provided Monday through Saturday from 9 am to 7 pm, excluding public holidays.
While there is no waiting time here, we feel this option is still tiresome.
Going through the whole process of buying the Pompidou admission tickets over the phone can take a long time.
3. Booking online
Numerous travel websites and apps sell Centre Pompidou tickets, and since everything is online, you can have the tickets in your inbox in a few minutes.
There are three distinct advantages of buying them online –
1. You can plan your trip depending on ticket availability
2. You can avoid waiting in the queue at the venue
3. You can avoid carrying a physical ticket. Your ticket will be in your email (and you don't need to take a printout!)
How online tickets work
As soon as you purchase, Centre Pompidou tickets get delivered to your inbox.
On the day of your visit, show the ticket on your smartphone at the Priority Entrance, and walk straight to the security checkpoint. No need to take printouts!
After the security check, you can skip the long ticket purchase line and walk up to the Museum entrance.
At the Museum entrance, show your smartphone ticket and step in. You may have to show your smartphone tickets a few more times during your Centre Pompidou visit.
*When popular exhibitions are on, there is some waiting at the security lines.
Centre Pompidou ticket prices
Centre Pompidou ticket for all visitors 18 years and above costs €15.
Visitors younger than 18 years of age, EU citizens under 26, and those with a disability certificate can enter the museum for free.
---
---
Baselitz Exhibition Tickets
'Baselitz – The Retrospective' Exhibition in Centre Pompidou showcases six decades of Georg Baselitz's masterpieces chronologically.
It is Centre Pompidou's first comprehensive exhibition on the ace German artist.
The temporary exhibition is an opportunity for the general public and art enthusiasts to learn more about the German artist.
They can see the evolution of Baselitz's creative periods and gain insight into his process.
All visitors 18 years and older must pay €15 to access the Georg Baselitz Exhibition, while those under 18 can enter for free.
Besides the temporary exhibition, this ticket also grants access to the Centre Pompidou's permanent collection.
---
---
Guided tour of Centre Pompidou
Centre Pompidou is the world's leading reference for the art of the 20th and 21st centuries.
It showcases more than 100,000 items, which tourists can explore during their visit.
Even if you spent 30 seconds in front of every item, it would take you more than 825 hours to see everything that's on display at Centre Pompidou.
In massive museums, guided tours are better because a guide –
– Ensures you don't get lost and waste your time
– Shows you all the masterpieces in the Museum
– Narrates exciting stories and anecdotes
Savvy tourists understand this and opt for guided tours of Centre Pompidou.
We recommend the following tours –
Paris City Pass can get you free access to 60+ tourist attractions and unlimited free rides in Metro, buses and trains. Buy Paris City Pass
Visual Story: 13 must-know tips before visiting Centre Pompidou
---
---
Centre Pompidou hours
Centre Pompidou opens at 11 am and closes at 9 pm on all days except Tuesday.
On Thursdays, visitors get two hours extra as the Centre Pompidou's closing time is extended till 11 pm.
On Tuesdays, this modern Parisian Museum is closed.
The last entry is an hour before the museum closes.
---
---
Best time to visit Centre Pompidou
The best time to visit Center Pompidou is after 3 pm when most of the crowd has explored the museum.
Fearing the legendary Center Pompidou queues, tourists start lining up half an hour before the museum opens at 11 am, and that's why it is not a good idea to visit in the morning.
Here is a chart of the most comfortable times to visit Center Pompidou –
Ongoing temporary exhibitions also decide the crowd at the museum.
The local Parisians love exhibitions and crowd the museum on the first and the last week of an excellent temporary exhibition.
The exhibitions usually change in June, September, and February and if you are visiting during these months, be at Center Pompidou as early as you can.
When NOT to visit Centre Pompidou
Rainy days aren't the best time to visit Centre Georges Pompidou.
Since it is an indoor attraction, everybody opts for the art and architecture museum on bad weather days.
It is better to avoid school holidays and National holidays such as Easter, Christmas, New Year's eve, etc.
Note: If you book your tickets online, you don't need to worry about waiting in long lines.
---
---
How long does Centre Pompidou take
You will need at least two hours to explore the six floors of modern art displayed at Centre Pompidou.
Tourists who have been to art museums say that art fatigue sets in after approximately 90 minutes, so if you want to explore longer, take a break at one of the many restaurants.
It is, after all, the largest museum for modern art in Europe.
When you buy your Centre Pompidou tickets online, you can finish your tour sooner because you don't waste time in the ticket counter lines.
---
---
Centre Pompidou free entry
Centre Pompidou offers free entry on the first Sunday of each month.
However, thousands throng this Paris attraction on free entry days.
At just €15 per person, Centre Pompidou tickets aren't costly.
Unless you are on a budget holiday, going through the long waiting hours to get inside Centre Pompidou for free doesn't make sense.
On regular days, entry is free for under-18s (permanent + temporary collection), EU citizens under 26 (permanent collection), and disabled visitors and carers.
---
---
What's inside Centre Pompidou
Centre Pompidou is a gorgeous space dedicated to the culture of the 20th and 21st centuries.
It is one of the most influential multi-cultural institutions globally, bringing together visual arts, literature, design, music, and cinema under one roof.
It has extensive galleries featuring both visiting exhibitions and selections from its permanent collection of modern and contemporary art.
The Pompidou Centre is a cultural complex with many parts, the most important being the National Museum of Modern Art (Musée national d'Art moderne) on Levels 4 and 5.
The modern art museum displays collections from 1905, including 50,000 works and objects from more than forty thousand artists.
Exhibits include paintings, sculptures, drawings, photographs, cinema, architecture, design, etc.
Some of the primary schools of art represented in the museum include Fauvism (Derain, Matisse, Marquet, Dufy), Cubism (Picasso, Braque), Dada (Duchamp), Paris School (Soutine, Chagall, Modigliani), Abstract School (Mondrian, Klee, Kandinsky, Kupka), and Surrealism (Dalì, Magritte, Brauner, Masson, Giacometti, Picasso, Mirò).
Centre Pompidou's temporary exhibition halls are located on Levels 1 and 6.
The Public Information Library is on Levels 1, 2, and 3 and is popular with Parisians.
On Level 1, you will find a cafe and on Level 6, the fashionable Georges restaurant.
Besides the restaurant, the sixth level also has the famed Centre Pompidou terrace offering some of the best views of Paris.
The terrace looks out onto the Eiffel Tower, Notre-Dame Cathedral, and Sacré-Coeur Basilica, and many other rooftops of the world's most romantic city.
The Centre Pompidou priority ticket gets you access to the rooftop.
---
---
How to reach Centre Pompidou
Center Pompidou's address: Place Georges-Pompidou, 75004 Paris, France. Get Direction
Centre Georges Pompidou (most commonly referred to as Centre Pompidou) is situated in the Beaubourg area of the 4th arrondissement of Paris, near Les Halles, rue Montorgueil, and the Marais.
Since it is conveniently located amongst public transport options, we suggest you give them a try.
By Metro
Rambuteau Metro Station, which is served by Line 11, is closest to Centre Pompidou – just 150 meters (500 feet) away.
Hotel de Ville Station served by Lines 1 and 11 and Chatelet Station served by Lines 1, 4, 7, 11, and 14 are also not far.
Both of them are around five minutes by walk from the attraction.
By RER Trains
The Metro lines serve the city of Paris, while the RER trains serve Paris and its suburbs.
If you are reaching Centre Pompidou from the suburbs, you can take one of the RER trains to Châtelet – Les Halles.
Châtelet – Les Halles is around 500 meters (one-third of a mile) from Centre Pompidou and easily walkable.
By Bus
Bus route numbers 29, 38, 47, and 75 can get you closer to the contemporary architecture and art Museum.
Want to save money and time during your holiday in Paris? Buy Paris Museum Pass and visit 60+ attractions for free.
Popular attractions in Paris
# Eiffel Tower
# Louvre Museum
# Palace of Versailles
# Arc de Triomphe
# Musee d'Orsay
# Disneyland Paris
# Notre Dame
# Pantheon
# Paris Zoo
# Catacombs of Paris
# Opera Garnier
# Montparnasse Tower
# Picasso Museum
# Sainte Chapelle
# Seine River Cruise
# Seine Dinner Cruise