Picasso Museum in Paris showcases the paintings, drawings, engravings, and sculptures of the Spanish-born artist Pablo Picasso.
Also called Musée National Picasso, the museum exhibits 400 of his best works, and paintings by other artists such as Paul Cézanne, Henri Rousseau, and Henri Matisse, which were part of Picasso's collection.
With around 5000 items on display, it is the most extensive collection of works of the most well-known artist of the 20th century.
In this article, we share everything you must know before buying Paris' Picasso Museum tickets.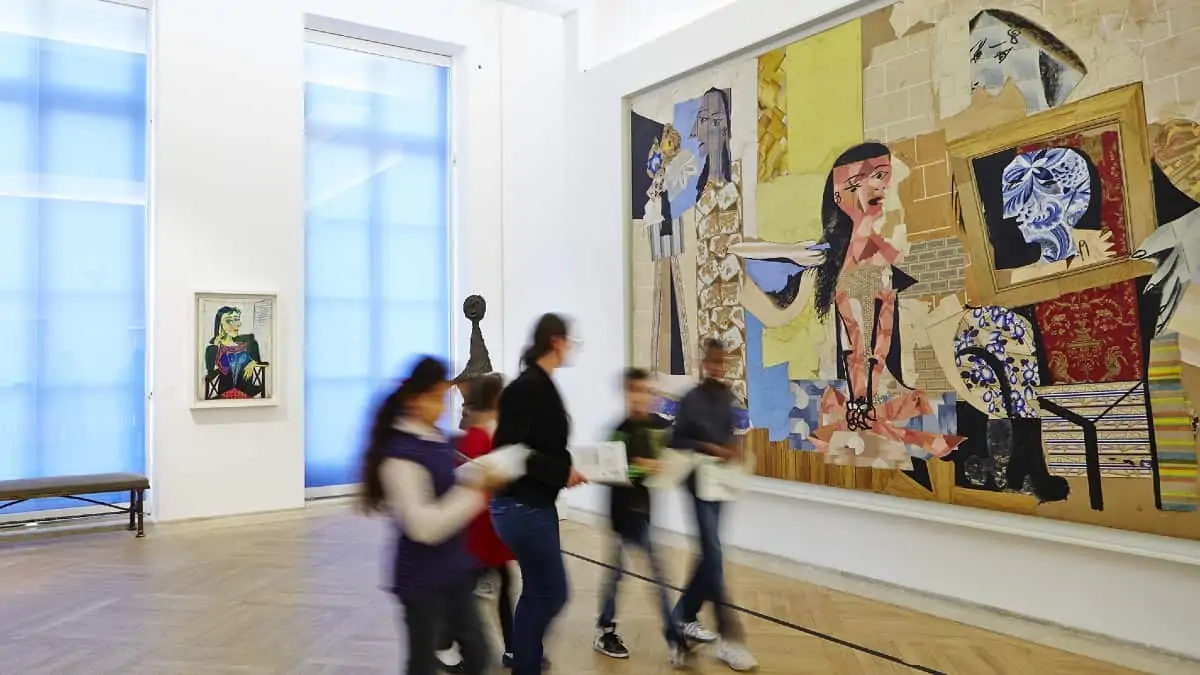 What to expect at Picasso Museum
---
---
How to get to Picasso Museum
Musée National Picasso-Paris is in Hotel Sale, a remarkable building constructed between 1656 and 1659 by the ace architect Jean de Bouiller.
Hotel Sale is located in the Marais district, in the heart of Paris, and is classified as a historical monument.
Three subway stations are within 8 minutes of walk from the Picasso Museum in Paris – Saint-Paul, Saint-Sébastien Froissart, and Chemin Vert.
Saint-Paul gets serviced by Line 1, while Saint-Sébastien Froissart and Chemin Vert get serviced by Line 8.
Many buses can also get you closer to the Pablo Picasso Museum.
Bus 29 : Rue Vieille du Temple
Bus 96 : Saint-Claude
Bus 75 : Archives Rambuteau
Bus 69, 76, 96 : Rue Vieille du Temple – Mairie du 4e
Bus 67, 72 : Rue Vieille du Temple – Mairie du 4e
---
---
Picasso Museum tickets
Visitors can purchase tickets to Picasso Museum Paris online or at the venue.
We recommend you book your tickets online because it helps you avoid waiting in the ticket counter lines.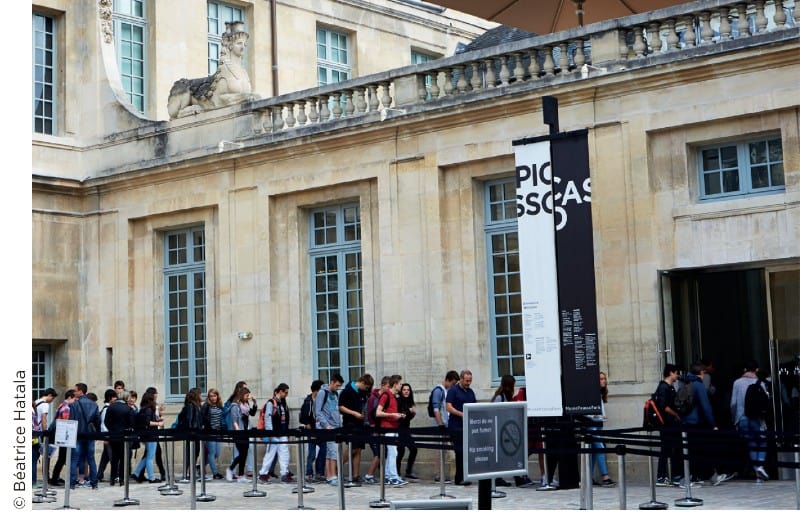 With these Picasso Museum tickets you can explore both permanent collections and temporary exhibitions at the museum.
French residents younger than 18 years, European residents under 26 years, disabled visitors with a carer, job seekers, and teachers don't need to purchase tickets.
They can enter the museum for free, with a valid ID.
However, at the Picasso Museum, there is no discount for seniors.
Ticket price (18+ years): €14
Discount Alert! You can score a 10% discount when you combine your visit to the National Museum of Picasso with a trip to Musée Rodin or with the Dali Museum in Paris.
---
---
Picasso Museum hours
From Tuesday to Friday, the National Museum of Picasso opens at 10.30 am and closes at 6 pm.
On Saturdays and Sundays, the museum dedicated to the Spanish artist opens at 9.30 am and closes at 6 pm.
The last admission is at 4.30 pm, and officials start clearing the rooms 30 minutes before the museum's closing time.
The Parisian Picasso museum stays closed on Mondays, 1 January, 1 May, and 25 December.
---
---
How long does Picasso Museum take
Most visitors spend 90 minutes to two hours exploring the paintings, drawings, engravings, sculptures, etc., on display in the 40 odd stately rooms of Picasso Museum in Paris.
Do keep aside some time to explore the Picasso Museum's gardens, which are adorned with the Spanish artist's sculptures.
Art enthusiasts who frequent art museums tend to spend around three hours or more.
---
---
Picasso Museum's audio guide
Picasso Museum in Paris offers an audio guide to its visitors for a more immersive experience.
The audio guide is available for rent at the museum's entrance for €5 per person.
Jobseekers, young European Union citizens under 26, social benefit recipients, and people with disabilities can show a valid ID and pay the discounted rate of €4 per person.
Kids have a special child-friendly tour, which is available in both English and French.
Tourists who have used the audio guide recommend selecting the longer of the two tours offered because you get more options to explore each of the rooms.
---
---
Visiting with kids
Contrary to popular belief, kids do get engaged while visiting Picasso Museum Paris.
Families visiting with children can pick up the kids' activity booklet from the museum's reception.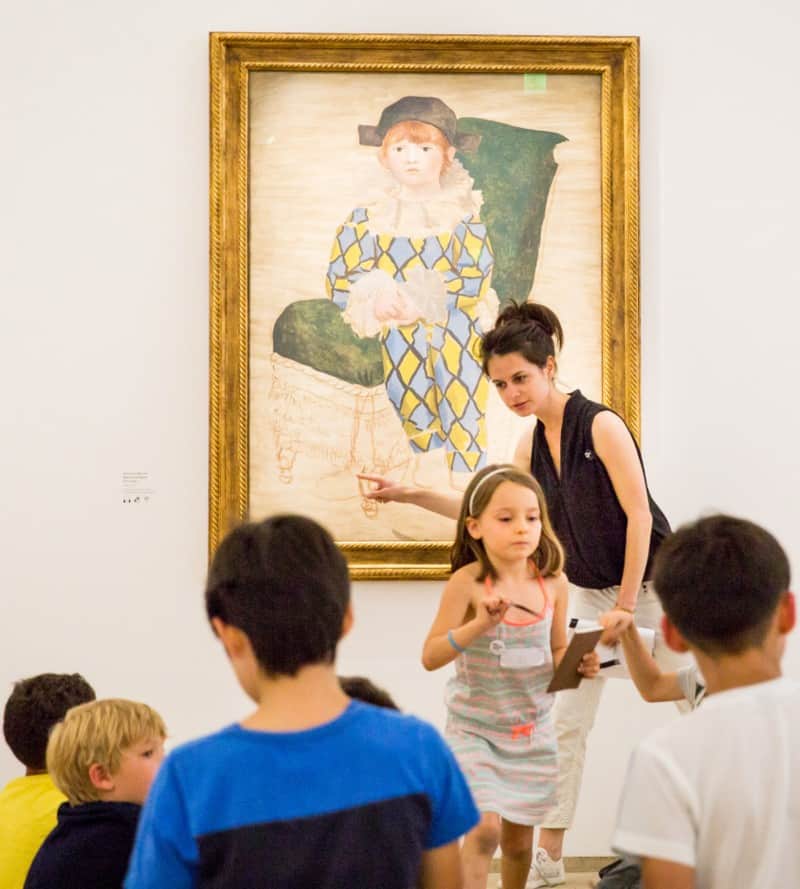 The art museum also offers tours and workshops for young audiences and families.
Visitors can also purchase a child-friendly audio guide available in English and French from a counter at the museum entrance.
Small-frame strollers are available on request at the information desk, and visitors can bring their own too.
Tip: During your visit, don't miss out on the Picasso Museum gardens. It is accessible to visitors through the lower-level galleries from March to September and houses Picasso's larger sculptures.
---
---
Map of Picasso Museum
The Picasso Museum in Paris may not be massive, but it has lots to see.
The museum has five levels: -1, 0, 1, 2, and 3, all of which are full of paintings, sculptures, drawings, and other displays.
It is important not to get lost amongst the exhibits and not miss out on the masterpieces.
This is why we suggest you understand the museum's layout for a better experience.
Access to the museum's gardens is on Level 0.
Download Picasso Museum's layout
---
---
History of Picasso Museum
The Picasso Museum first opened in Paris in 1985 with 228 paintings, 149 sculptures, and around 3,000 drawings and engravings.
The way all of Picasso's work came together to the Nation Picasso Museum has an exciting story.
The French Government had to alter its inheritance-tax law to allow Picasso's heirs to pay the taxes owed by his estate in art instead of money.
As a result, France now formally owns numerous paintings, sculptures, drawings, etc., by Picasso.
Over the years, the museum has acquired many more items, and today it has 5,000 plus artworks by Picasso.
Nowadays, art lovers worldwide come to the Picasso Museum in Paris for research on Picasso's life and work.
Sources
# Museepicassoparis.fr
# Wikipedia.org
# Tripadvisor.com
# Britannica.com

The travel specialists at TheBetterVacation.com use only high-quality sources while researching & writing their articles. We make every attempt to keep our content current, reliable and trustworthy.
Popular attractions in Paris