Grand Palais Immersif, located in the heart of Paris, combines a historical site's grandeur with innovative technology.
Originally built in 1900 for the Exposition Universelle, this architectural masterpiece has long symbolized artistic excellence.
The Grand Palais Immersif has undergone an incredible transformation in recent years, embracing the concept of immersive art experiences.
Paris Grand Palais Immersif pushes the boundaries of traditional exhibitions, inviting visitors to step into a realm where art merges with technology to create amazing sensory journeys.
Through a seamless blend of projection mapping, soundscapes, and interactive elements, this venue offers a truly immersive and unforgettable encounter with art.
In this article, we share everything you need to know before you visit the Grand Palais Immersif Paris.
Top Grand Palais Immersif Tickets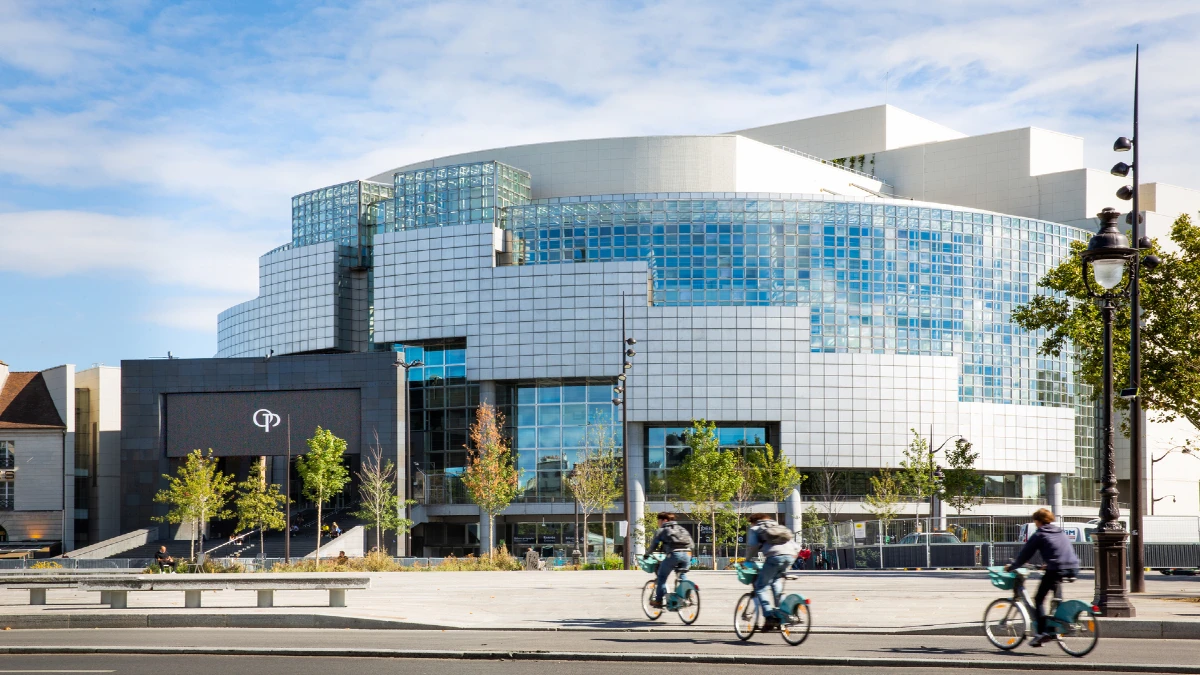 What to expect at the Grand Palais Immersif tour
At Paris' Grand Palais Immersif, enter the renowned Czech artist Alphonse Mucha's magical universe.
The Grand Palais Immersif celebrates the artistic brilliance of Mucha with the Eternal Mucha exhibition.
The vibrant colors and great details of Mucha's artworks explode from the walls thanks to modern projection mapping and multimedia installations, immersing you in a symphony of visual splendor.
About Alphonse Mucha
Alphonse Mucha is known for his magnificent Art Nouveau (new art) masterpieces.
His graceful lines and elaborate patterns perfectly capture femininity and nature.
Mucha's ability of composition and storytelling is evident throughout his colossal "Slav Epic" series and the classic "The Seasons" panels.
His artistic talent goes beyond painting; he also creates eye-catching posters and illustrations.
Mucha's works' enduring beauty, grace, and romance captivate audiences everywhere and leave a lasting impression of his artistic brilliance.
Art and music
The Eternal Mucha exhibition at the Grand Palais Immersif is a blended experience and a visual feast.
Allow the mystical music to guide you as you walk around the immersive areas, enhancing the emotional effect of the artwork.
You get to spend some time getting lost in the subtle melodies that capture the essence of Mucha's time and deepen your relationship with his work.
Celebration of an active legacy
More than just an exhibition, Eternal Mucha honors Alphonse Mucha's active legacy.
Witness the enduring impact of his work, which continues to enthrall and inspire audiences of all ages.
These immersive displays highlight Mucha's amazing artistic accomplishments, from his iconic posters and decorative panels to his lesser-known works.
Additionally, the exhibition highlights his enduring influence, which ranges from the 1960s pacifist "Flower Power" movement to Japanese manga, superheroes, street painters, and even tattoo art.
You can learn more about Mucha's particular impact on the television show ARCANE, whose sets were designed using the artist's creations.
| Tickets | Cost |
| --- | --- |
| Tickets for Grand Palais Immersif | €20.00 |
---
---
Where to book tickets
The tickets for the Grand Palais Immersif are available online in advance or at the attraction.
We recommend booking your tickets well in advance to save time and money.
Online booking offers exciting discounts as well.
Booking online also helps avoid last-minute disappointment and delays.
How do online tickets work
Go to the Grand Palais Immersif Paris booking page, select your preferred date and the number of tickets, and buy the tickets right away.
After the purchase, you will receive the tickets in your email.
There is no requirement to bring any printouts.
You can walk in and show the ticket on your smartphone.
Save time & money! Buy Paris Museum Pass and visit over 60 famous attractions in and around Paris. Book now and explore museums and monuments such as the Louvre and Versailles.
Cost of ticket
The Paris Grand Palais Immersif tickets are priced at €20.
For kids under six years old, disabled people (including their caretaker), and International Council of Museums (ICOM) card holders, entry is free.
Those who qualify for free admission must present their valid ID to the control desk to gain entry to the exhibition.
Grand Palais Immersif tickets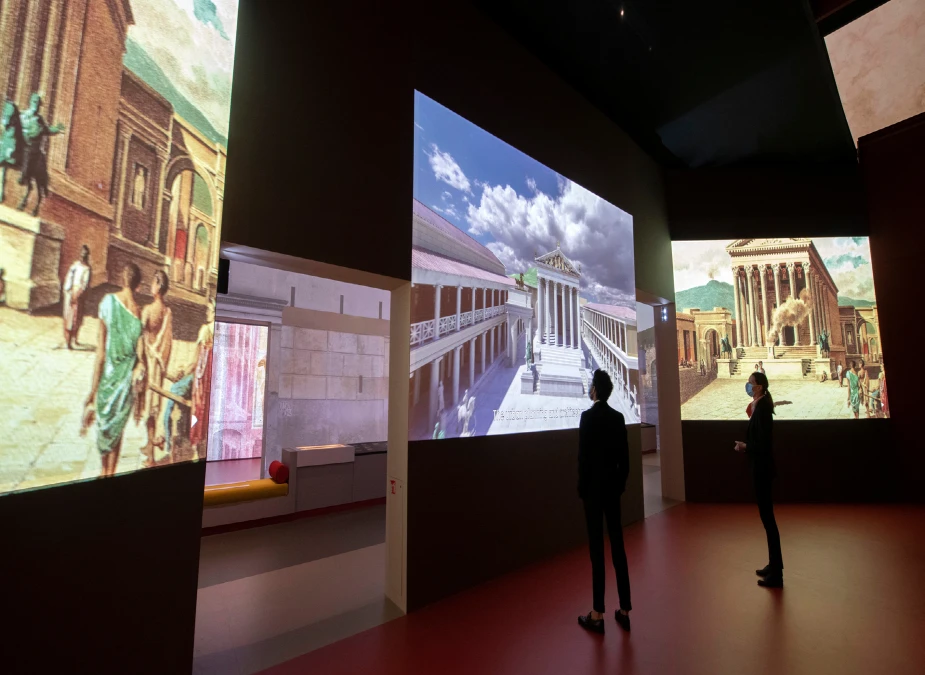 The Grand Palais ticket gets you access to Alphonse Mucha's magical universe.
Enjoy a fully immersive experience as Mucha's works come to life in a stunning blend of art, technology, and music at the Grand Palais Immersif exhibition.
Discover the defining symbols of Mucha's style, from his dreamy feminine figures dressed in flowing robes to the complex botanical patterns that represent the harmony of nature.
You travel through the symbolism of Mucha's artwork and gain a thorough grasp of the societal environment in which it was produced through interactive displays.
You can cancel this ticket up to 24 hours before your time of visit and get a full refund.
However, rescheduling is not available for this ticket.
Ticket price:
General Admission Ticket (+6 years): €20
Kids Ticket (below 6 years): Free
Disabled people and caretakers: Free
ICOM card holders: Free
---
---
Visiting hours
The Grand Palais Immersif Paris opening hours on Monday are from 12.00 am to 7.00 pm.
The museum is closed on Tuesdays.
The museum stays open from 10.00 am to 5.00 pm on Wednesday.
On Thursday, Friday and the weekends, the museum is open from 10.00 to 7.00 pm.
Best time to visit
The best time to visit Paris Grand Palais Immersif is early morning when the museum opens.
Visiting the museum on weekdays is best to avoid overcrowding and appreciate the art peacefully, as it should be.
How long does the tour take?
A comprehensive visit to the Grand Palais Immersif takes one to two hours.
How to go to Grand Palais Immersif
Address: 110 Rue de Lyon, 75012 Paris, France. Get directions.
By Bus
Grand Palais Immersif Paris is only a one-minute walk from Bastille bus stop.
Lines: 29, 69, 87, 91 Bastille.
By Metro
Grand Palais Immersif Paris is only a one-minute walk from Bastille metro station.
Lines: 1, 5, 8.
By Car
If you're driving by car, turn on Google Maps and get started!
Car parking
The nearest parking place to the museum is SAGS – Parking Bastille Saint Antoine which is only five minutes walk from the Grand Palais Immersif Paris.
Grand Palais Immersif artworks
Visitors journey through Alphonse Mucha's life and work in three stunning displays by Eternal Mucha at Grand Palais Immersif.
Act 1 examines Mucha's mastery of the poster and features some of his most famous pieces and avant-garde design.
Act 2 focuses on his vital contribution to the 1900 Universal Exhibition.
The epic "The Slav Epic" series by Mucha is highlighted in Act 3, along with his active influence on modern art.
From his recognizable posters to his forward-thinking portrayals of Slavic history, this comprehensive exhibition offers a unique insight into Mucha's artwork, displaying his unparalleled talent and enduring influence.
FAQs about Grand Palais Immersif
Here are some frequently asked questions about the Grand Palais Immersif, Paris.
Is photography/videography allowed at the exhibition?
Yes, visitors can take photos of their interests. 
Flash photography is not allowed. 
It is advisable to check the guidelines at the entrance or inquire with the staff before capturing any media.
Are there any accessibility provisions for visitors with disabilities?
Grand Palais Immersif strives to provide accessibility for visitors with disabilities.
Is there a cloakroom or storage facility available at Grand Palais Immersif?
Yes, Grand Palais Immersif typically offers a cloakroom or storage facility where visitors can securely store their coats, bags, or other belongings during their visit.
Are food and drinks allowed inside Grand Palais Immersif?
No, food and drinks are not permitted inside the exhibition spaces at Grand Palais Immersif.
However, there is a designated café within the venue where visitors can enjoy refreshments during or after their visit.
Is there parking available at Grand Palais Immersif?
Grand Palais Immersif does not typically have parking facilities. 
SAGS – Parking Bastille Saint Antoine is the nearest parking area.
Popular attractions in Paris