Notre Dame de Paris or Notre Dame Cathedral is one of the favorite tourist destinations for Catholic and non-Catholic tourists.
Tourists admire its stained glass, the towers, rose windows, steeple, and gargoyles.
They also spend time exploring the Notre Dame treasury and climb the towers to see panoramic views of Paris.
In this article, we explain everything you need to know before you visit Notre Dame in Paris.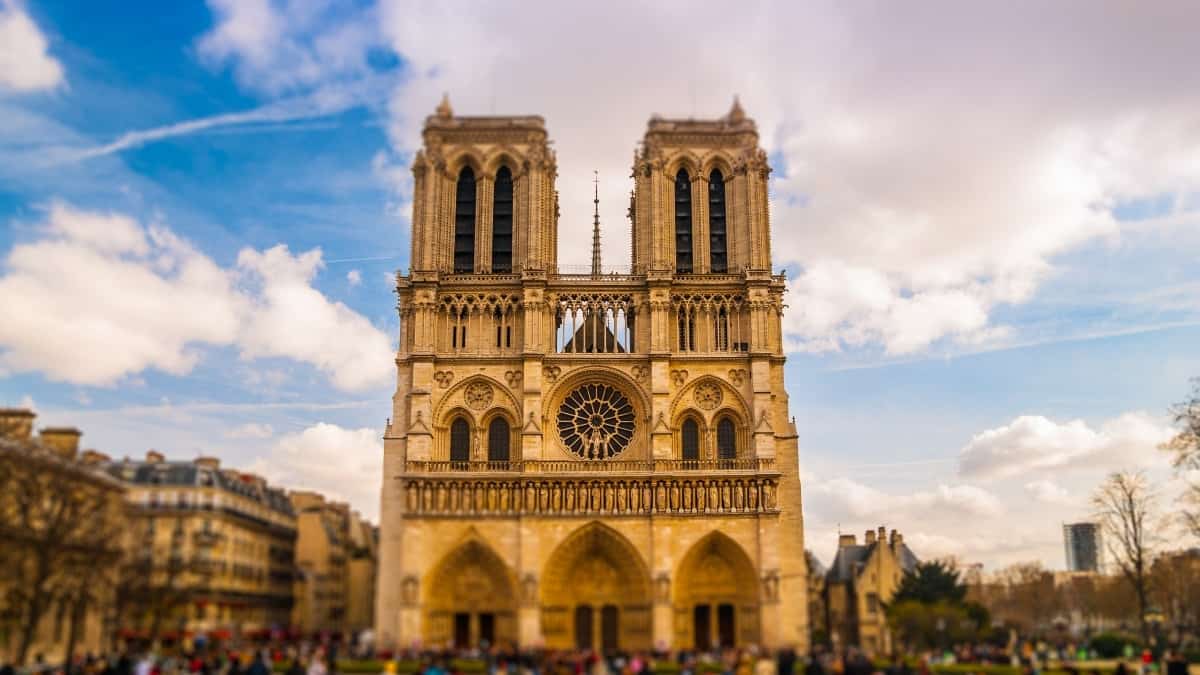 Following a severe fire on 15 April 2019, Notre Dame Cathedral, its treasure, and towers are closed for visitors until further notice. We recommend Sainte Chapelle and Pantheon instead.
Where is Notre Dame in Paris?
Notre Dame Cathedral is located on the île de la Cité in the heart of the city.
It's one of the two remaining natural islands in river Seine.
The official address of Notre Dame is 6 Parvis Notre-Dame – Place Jean-Paul II, 75004 Paris. Get Direction
How to reach Notre Dame
It is pretty easy to access Notre Dame cathedral.
If the Paris Metro is your preferred mode of transport, you can get down at any of these Metro stations
• Cite Station or Saint-Michel station on Line 4
• Hôtel de Ville station on Lines 1 or 11
• Cluny – La Sorbonne or Maubert-Mutualité station on Line 10
• Châtelet RER station on lines 7, 11 or 14
Paris also has the commuter/rapid transit system – Réseau Express Régional (RER).
On both Line B and C of RER, you can get down at the Saint-Michel l – Notre-Dame station.
If you are driving a rented car or need parking for your hired cab, head to du Parvis Notre-Dame, which you can access through Rue de la Cité.
You will find enough parking spots.
---
---
Notre Dame tickets – priority entrance
The only way to avoid the long lines is by buying priority entrance tickets.
If you have decided to buy Notre Dame tickets, you have three options.
1. Self-guided tour with an audio guide
2. Guided tour
3. Guided tour with access to the Tower

All these tickets will get delivered to your inbox immediately after purchase.
On the day of your visit, show the ticket on your smartphone and walk in.
Self-guided tour with audio guide
You get to skip the line with this ticket and enter Notre Dame cathedral through the priority entrance.
At the reception, you hand over an ID and collect the audio guide (you don't have to pay).
Besides English, the other languages supported are Spanish, Chinese, French, German, Italian, Japanese, and Portuguese.
Notre Dame ticket price
Adult ticket (12+ years): 19 Euros
Child ticket (0 to 11 years): Free entry
Guided tour of Notre Dame
This English guided tour is available for two time slots – 10 am and 2 pm.
They take you in and around the Cathedral for an hour, narrating stories and sharing anecdotes.
The guide also shares whether the legends of the novel "Hunchback of Notre Dame" written by Victor Hugo are true or not.
After the guided tour is over, you are free to explore the cathedral on your own.
Ticket price
Adult ticket (18+ years): 19.99 Euros
Children (10-17 years): 15 Euros
Children (0-9 years): Free Entry
Guided tour with Tower access
This guided tour needs a lot of walking, not to mention the 400 steps you must climb to reach the tower.
With these tickets, you will skip two lines – the queue at the entrance and the queue for going up the Tower.
The duration of this tour is two hours.
Ticket price
Adult ticket (4+ years): 44 Euros
Child ticket (0 to 3 years): Free entry

Recommenced reading: Everything about climbing Notre Dame Towers
---
---
Notre Dame combo tickets
There are two reasons why Notre Dame combo tours are popular among tourists.
Reason 1: Combo tour tickets are 20% cheaper than if you bought the tickets individually

Reason 2: There are lots of interesting attractions near Notre Dame, which tourists prefer to see on the same day
For instance, The Louvre, Sainte-Chapelle, and Latin Quarter are within 15 minutes of walking distance from Notre Dame.
Eiffel Tower and Arc de Triomphe are 5 Kms from Notre Dame, and a cab can take you there in ten minutes.
Here are our favourite Notre Dame combo tours –
Notre Dame and Ile de la Cité
You start with a walking tour of island Ile de la Cité, one of two natural islands on the Seine River.
The second part of the tour includes a guided tour of Notre Dame.
You also get to climb the towers and see a panoramic view of the city.
Ticket price
Adult ticket (15+ years): 35 Euros
Children ticket (4-14 years): 30 Euros
Children ticket (0-3 years): Free Entry
Notre-Dame Towers and Sainte-Chapelle
This tour is quite popular with religious tourists.

You will skip the lines and enter both Sainte-Chapelle and Notre Dame under the guidance of an English speaking guide.
You will also climb up the tower at Notre Dame.
Ticket price
Adult ticket (19+ years): 63 Euros
Children ticket (4 to 18 years): 53 Euros
Infant ticket (0 to 3 years): Free entry
Notre-Dame and Louvre Museum
This ticket gets you to skip the line entrance to Notre Dame and The Louvre, saving you a lot of waiting time.
After exploring the Cathedral, you skip the line to go up the Towers.
At The Louvre, the guide takes you around on a masterpieces tour showing you world-famous icons like the Mona Lisa, Venus de Milo, Winged Victory of Samothrace, etc.
Ticket price
Adult ticket (15+ years): 96 Euros
Children ticket (4-14 years): 91 Euros
Children ticket (0-3 years): Free Entry
---
---
Notre Dame hours
From Monday to Friday, Notre Dame opens at 8 am and closes at 6.45 pm.
It opens at 8 am on Saturday and Sunday but extends its closing time by an hour to 7.45 pm.
All through the week, there are no midday closures.
This timing is applicable all through the year.
Welcome desk's timings
The information desk at the Cathedral follows a different timing.
On weekdays, it opens at 9.30 and closes at 6 pm.
On Saturdays and Sundays, the information desk opens early at 9 am but closes at the same time – 6 pm.
---
---
Mass times at Notre Dame
The Mass takes place every Monday at 8 am, and 9 am in the choir of Notre Dame.
The 9 am choir doesn't happen in July, August, and the first 15 days of September.
From Monday to Saturday, mass also happens in Notre Dame at noon, at the main altar.
Sunday Mass at Notre Dame Paris
On Sunday, several Mass occur throughout the day.
At 8:30 am, there is a simple Mass followed by Laud's service and then the Gregorian Mass at 10 am.
International Mass happens at 11:30 am, followed by another Mass at 12:45 pm.
The 6:30 pm Mass is presided over by the archbishop of Paris, an important event for Catholic tourists visiting Paris.
---
---
How long does the Notre Dame take
Visitors need at least an hour to explore Notre Dame – half an hour to walk around the Cathedral and another half hour to go in and enjoy the interiors.
There is as much to see from outside the Cathedral as there is inside.
Time needed to climb Notre Dame Tower
If you decide to climb the towers of Notre Dame, you may need more time.
The queues are long, and climbing up the 402 stone stairs is a hectic task though the view is as rewarding as the climb is exhausting.
Waiting in the line, climbing the tower at Notre Dame, and then getting back can take you around two hours.
If you decide to sign the book of remembrances, factor in 15 minutes more.
Visiting the treasury will add another 20 minutes to your tour of Notre Dame.
Here is the summary –
| | |
| --- | --- |
| Walking outside | 30 mins |
| Exploring inside | 30 mins |
| Climbing the Tower | 2 hours |
| Signing Book | 15 mins |
| Visiting treasury | 20 mins |
| Total time | 3 hours 35 mins |
*Some tourists don't recommend the tower climb. They say it is too much of an effort for views of Paris which can be seen from either the Eiffel Tower or Arc de Triomphe.
If you decide to go up, click here for everything about Notre Dame Paris Towers
---
---
Best time to visit Notre Dame
The best time to visit Notre Dame is 5.30 pm.
Around this time, visitors can enjoy the Notre Dame cathedral draped in sunset colors, relish the stained glass experience, and hear Vespers Service singing.
If you plan to go up the Notre Dame Tower, 5.30 pm is too late for you because the entries to the Towers close at 6 pm.
Best time to experience the stained glass
For the best stained-glass experience at Notre Dame, mornings and evenings are much recommended because the light enters at an angle.
If you reach Notre Dame after dark, you won't be able to enjoy the beauty of the stained glass.
Best months to visit
Queues at Notre Dame are the longest from April to October.
The best months for a quick visit are from November to March – you won't waste a lot of time queuing up.
When NOT to visit Notre Dame
Major religious holidays like Christmas, Easter, All Saints' Day, Ascension Day, etc., are not the best days to visit Notre Dame, Paris.
You must avoid visiting for a few days before and after these significant religious holidays because many believers attend the church.
Notre Dame is also exceptionally crowded in the French Spring holidays, Easter Weekend, and 14 July.
As much as possible, avoid Sundays because it is teeming with believers who want to attend the service.
---
---
Notre Dame for free
There is no admission fee for Notre Dame in Paris.
And that is why it is always crowded, with long lines which lead to a lot of waiting time.
If you want to enter through a priority entrance and/or climb up the Bell Towers, you need to buy a ticket.
However, there is a way to use both the special entrance and go up the Towers for free – by buying the Paris Museum Pass.
Besides the Notre Dame Cathedral, this discount card also gives you free access to 60 other Parisian museums and attractions.
---
---
Waiting time at Notre Dame
Notre Dame Cathedral is notorious for its long line of tourists waiting to get in.
The lines are mainly because of visitors who block the entrance as they start taking pictures right at the door, blocking the way for others.
There's no one to manage the lines, which means the lines move when they move.
On average, you must wait for 30 minutes or so before you can enter the Notre Dame Cathedral.
If you opt to go up the Tower, you must stand in yet another queue, where the waiting time can even go up to 90 minutes during peak times.
This long waiting time is because of two reasons:

1. Every 10 minutes, only 20 people can walk up the stairs
2. There are lots of visitors who want to go up the stairs
If you must go up the Tower, we suggest you reach Notre Dame 30 minutes before it opens.

This way, you will be one of the first to go up the stairs.
---
---
Dress code at Notre Dame
Since Notre Dame in Paris is also a place of worship, a strict dress code gets followed.
Visitors found violating the dress code get stopped at the entrance.
Women must wear clothes that cover their shoulders and knees.
Low cut or sleeveless clothing, shorts, miniskirts are a strict no.
Men must avoid shorts and hats as well.
If you visit on a Sunday and plan to sit for the service, you may want to dress up a bit.
---
Inside Notre Dame, Paris
Notre Dame is about 127 meters (417 feet) long and 48 meters (158 feet) wide and can hold around 9000 people.
Looking at the long lines, many visitors decide to explore it from outside, which is a huge mistake.
Notre Dame's interiors are marvelous – you must buy the priority entrance ticket and step inside.
The three enormous stained glass windows are its most prominent feature.
The glass windows were created in different periods, but the parts are from medieval times.
The diameter of the two large rose windows is 13.1 meters (43 feet).
The rose window on the West, over the portals, was the first and smallest of the windows in Notre Dame.
Once you are inside, you must check out the top floor, made entirely of oak wood.
It is believed that they cut a forest of 21 hectares (52 acres) to construct this masterpiece.
There are around 29 chapels in the cathedral.
In the chapels, you will find a silver statue of the Virgin Mary dating back to the 14th century.
Don't miss out on the "Mays" of Notre-Dame de Paris.
These paintings are referred to as 'Mays' because the Parisian Goldsmiths' Society commissioned them every year to be gifted to the cathedral on May 1.
The organ of the Notre Dame has around 7800 pipes and is 30-foot-wide.
The Cathedral has five bells, the largest of which is called Emmanuel.
It has been part of Notre Dame since the 16th century.
Emmanuel is in the South tower and weighs over 13 tons.
This bell is always rung first, at least 5 seconds before the rest. The other four bells are in the North Tower.
Notre Dame's most valuable relic is the Crown of Thorns, a legendary cultural property from Judea.
Safety in Notre-Dame
During your trip to Notre Dame, please be on your guard – it could mean the difference between an excellent tour of the Cathedral or a holiday that went bad.
Outside Notre Dame (and in other tourist areas of Paris), you can be approached by locals requesting you to sign a petition.
Do not sign anything; walk away.
Once you show interest, you will be asked to donate money, which goes into the scamster's pocket.
Sources
# Wikipedia.org
# Britannica.com
# Notredamecathedralparis.com
# Friendsofnotredamedeparis.org

The travel specialists at TheBetterVacation.com use only high-quality sources while researching & writing their articles. We make every attempt to keep our content current, reliable and trustworthy.
Popular attractions in Paris