Paris Zoo (Parc Zoologique de Paris in French) is home to more than 2000 animals of 180 different species and a favorite among kids and adults. 
More commonly known as Vincennes Zoo, it has been part of Parisian heritage for more than eight decades.
The zoo is divided into five biozones, each replicating the native ecosystem of the animals.
This article explains everything you should know before buying tickets for the Paris Zoo.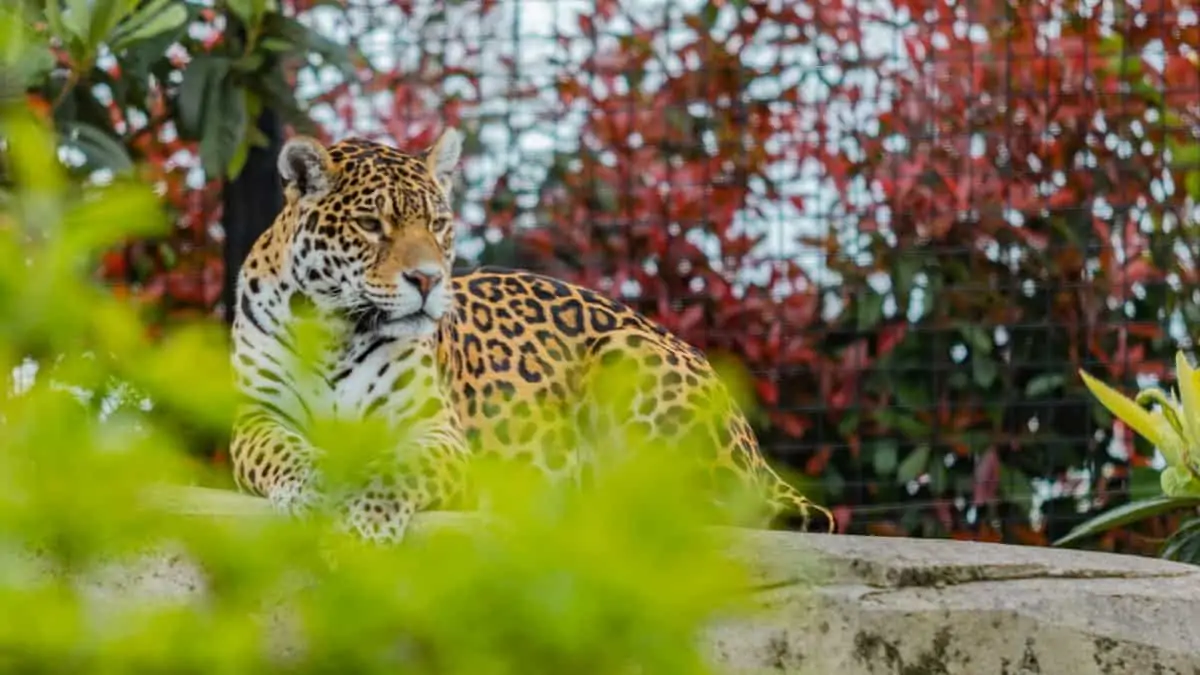 What to expect
The Paris Zoo or Vincennes Zoo offers a great opportunity to explore wildlife from all over the world in one place.
The zoo is divided into five biozones – Madagascar Zone, Amazon Guyana Zone, Europe Zone, African Zone, and Patagonia Zone.
In these zones you can spot  bamboo lemurs, jaguars, toads, turtles, meerkats, lizards, giraffes, rhinos, storks, etc.
The zoo has some cafes and food kiosks, namely Monument café Zoo de Paris,  Le Zarafa, Rosie, Twiggy, and Zakko where you can take a small snack break.
---
---
Where to buy tickets
You can buy Paris Zoo tickets online and at the ticket booth at the main gate.
We strongly suggest you purchase online tickets to save money and time.
Online ticket prices tend to be cheaper than tickets at the venue.
When you buy online, you can avoid the long queues at the ticket counters.
Because some zoos sell a limited number of tickets, booking early helps avoid last-minute disappointment.
How online ticket works
Go to the Paris Zoo ticket booking page, select the desired number of tickets and date, and book your tickets right away!
Upon completing the payment, you will receive a confirmation email.
On the day of your visit, show your ticket at the entrance and walk in.
No need to take ticket printouts.
Remember to bring your official IDs.
Ticket Prices
The Paris Zoo rickets for adults aged 13 years and above cost €20.
Tickets for children between three to 12 years are priced at €15.
Infants below two years old get free admission.
Paris Zoo tickets
With this ticket you get access to all the five biozones of the Paris Zoo which includes Madagascar Zone, Amazon Guyana Zone, Europe Zone, African Zone, and Patagonia Zone.
Apart from discovering the zoo exhibits, attend the animal feeding and animal presentations to learn more about the animal way of life.
Ticket Prices
Adult Ticket (13+ years): €20
Child Ticket (3 to 12 years): €15
Infant Ticket (up to 2 years): Free
---
---
How to reach
Paris Zoological Park is in the 12th arrondissement of Paris and is spread over 14.5 hectares (36 acres) of Bois de Vincennes, the city's largest public park.
While on your way, keep an eye out for the Big Rock, the 65 meters (213 feet) tall artificial mountain, an iconic symbol of the Paris Zoological Park.
Address: Av. Daumesnil, 75012 Paris, France. Get Directions
You can reach the zoo by public transport or personal vehicle. 
By Metro
There are several metro stations and lines to take you to the Parc Zoologique de Paris.
You can board Line 8 and get down at Porte Dorée station, which is 10 minutes walk from the zoo entrance.
If you board Line 1 and get down at Saint-Mandé station, you can take bus 86 or 325 to get to the zoo.
While traveling on Line 1, you can also get down at Château de Vincennes station, in which case you must take bus no 46.
By Bus
Bus routes 46, 86, 201, and 325 can get you to the zoo – you must get down at the bus stop called "Zoological Park."
If you board bus 77, please get down at the bus stop "Porte de Reuilly."
By Tram
Tram Line T3 can also help you reach the Parisian Zoo, and the closest stop is Porte Dorée.
By Car
If you plan to drive, fire up your Google Map and follow the directions.
GPS address: Avenue Daumesnil (facing number 11), 75012 Paris
Click here to view the nearby car parking lots.
---
---
Timings
In the peak months of May to August the Paris Zoo runs from 9.30 am to 8.30 pm.
In the lean season of October to March, the zoo welcomes visitors from 10 am to 5 pm.
From September to mid-October, and March end to April, the zoo is open from 9.30 am to 6 pm.

But before you visit the Paris Zoological Park, check the official website to confirm the opening and closing hours.
The last admission is one hour before the Vincennes Zoo closes.
---
---
Best time to visit
The best time to visit the Paris Zoo is as soon as they open at 9.30 am.
Since the animals are most active in the morning, they are more visible and may recede to shaded areas as the day gets hotter.
The temperatures are still moderate, which helps in exploring the mostly outdoors zoo.
The crowd is also yet to get in, which means you don't need to stand in any queue.
When you start early, you can explore for a few hours, have lunch at one of the restaurants, and begin exploring the zoological park again.
We recommend weekdays for a peaceful visit because it gets crowded on weekends and school holidays.
---
---
How long does Paris Zoo take?
If you are visiting with children, you may need 4 hours to explore Paris Zoo. 
Children tend to linger longer around their favorite animal enclosures, attend feeding sessions, keeper talks and try out numerous experiences.
Families that break for lunch tend to take more time.
If you want, you can also turn it into a full-day outing because Paris Zoo entry tickets don't have a time limit.
If you are in a hurry, you can walk past all exhibits and experiences in 90 minutes.
Tip: When you buy Paris Zoo tickets online, you can skip the long lines at the ticket office and save time.
---
---
Animals in Paris Zoo
The architecture and landscape design of Zoological Park of Paris is animal friendly and tries to replicate their surroundings from their native ecosystems.
The Paris Zoo houses more than 2000 animals of 180 different species, including mammals, birds, reptiles, amphibians, fish, and invertebrates.
Visitors get to see all these animals immersed within five biozones.
Madagascar biozone
The Madagascar biozone includes two ecosystems – the tropical rainforest and the tropical dry forest.
The tropical rainforest is enclosed in the Great Glasshouse and is full of colorful birds.
Inside the glasshouse, you will also see the Greater Bamboo Lemur, one of the most endangered lemurs in the world.
Don't miss seeing Fossa, the largest carnivore on Madagascar Island.
As you keep exploring, you will reach the dry Madagascan forest with its sparse vegetation consisting of low-level plants, grasses, and thorny shrubs.
You will see the Radiated Tortoise and Crowned Sifaka in the dry forest, among other exotic animals.
Africa Biozone
The Africa biozone is the most extensive section of the Paris Zoo and covers 4.5 hectares.
It is further divided into different habitats such as the wooded savanna, deltas, shrublands, open grasslands, etc.
Africa's biozone is home to large mammals such as the White Rhinoceros, Giraffes, Zebras, West African Lion, etc.
Two of the highlights of this part of the Paris Zoo are the Great Aviary, with hundreds of free-flying birds, and the Giraffe House, home to 16 giraffes.
Amazon-Guyana biozone
In the equatorial forest of the Amazon-Guyana biozone, visitors move from canopy to creek and river, discovering a wide variety of animal species.
A stunning Tropical Forest rests under an enormous glasshouse.
Once inside, you can't miss tall fig trees hanging with creepers, numerous tropical plants, and the fascinating waterfall with manatees swimming in a pool beneath.
Many birds fly around freely in the lush surroundings, making it feel as if you really are in a forest.
Don't miss to spot White-faced Sakis, Tamarins, Sloths, Giant Anteaters, etc.
Europe Biozone
The Europe biozone is at the foot of the Great Rock, the best landmark of Vincennes Zoo.
Next to the rock, visitors can see the otters' waterfall and the aviary with many endangered species such as Black Vulture, Egyptian Vulture, Red Kite, etc.
In the Conifer forest, under the tall black pines, beech trees, hornbeams, oak trees, and silver birches, you will see Iberian wolves, Lynx, wolverines, etc.
The vivarium is inside the Great Rock, showcasing animals such as frogs, newts, toads, tortoises, lizards, and snakes, in terrariums re-creating their natural habitat.
Patagonia Biozone
The Patagonia biozone tries to re-create the wildlife in the southernmost part of South America.
Visitors see three types of habitats – the Pampas, the Rocky Coasts, and the Andean Forest.
In the Pampas, you can see Darwin's rhea, a relative of the ostrich, the Patagonian hare, Guanaco, etc.
At the Rocky Coasts, you will see sea lions bask on the rocks even as the Humboldt penguins dive in and out of a neighboring pool.
The highlights of the Andean forest are the Pumas and the Pudus, the smallest member of the deer family.
The regular Paris Zoo tickets get you access to all the biozones.
Paris Zoo's mobile application acts as a tour guide and helps you locate, discover and learn about the different natural environments and the main animal species exhibited in the zoo. Download for Android or iPhone.
---
---
Food in Paris Zoo
Paris Zoo has lots of places to eat and drink, and if you prefer, you can also pack up for a family picnic.
Monument Cafe offers varied and seasonal buffets with jar and casserole dishes.
Le Zarafa is a self-service outlet serving burgers, fish and chips, salads, pasta, etc.
Rosie, Twiggy, and Zakko offer quick takeaways for visitors in a rush.
Besides, there are many drinks and snack machines located along the tour route.
Paris Zoo also has two areas designated for picnics, with tables, chairs, and water fountains.
---
---
Map of Paris Zoo
Paris Zoological Park is spread over 14.5 hectares (36 acres), and it is advisable to carry the map to strategize your visit.
Map of Paris Zoo will help locate the animal enclosures and visitor facilities such as restrooms, restaurants, picnic areas, medical rooms, lockers, and souvenir shops.
If you visit with kids, having a map handy is critical because you don't want to roam around without a plan and get tired.
We recommend you also take a look at this visitor guide before your visit.
Popular attractions in Paris