Sainte Chapelle in Paris was built to house priceless Christian relics, including Christ's crown of thorns.
The Holy Chapel has 15 stained glass windows, each 15 meters high, and together they depict more than 1100 scenes from the Old and New Testaments narrating the world's history.
Annually more than a million tourists visit this chapel, which holds religious significance for believers.
Sainte Chapelle is also referred to as the Holy Chapel.
In this article, we explain everything you need to know before buying Sainte Chapelle tickets.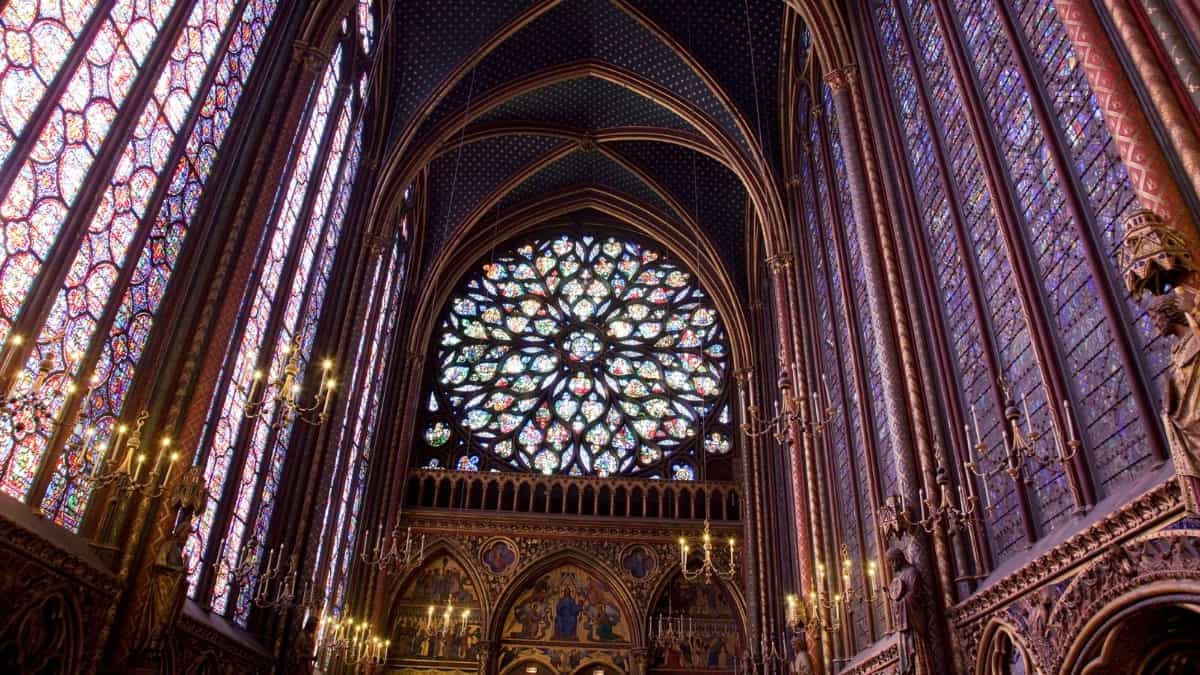 How to reach Sainte Chapelle
The Sainte Chapelle is at 8, Boulevard du Palais, 750001. Get Directions
The Sainte-Chapelle is located in Palais de la Cité, the medieval royal palace on Ile de la Cité, the island on river Seine.
It is half a kilometer (one-third of a mile) from Notre Dame.
Bus route numbers 21, 27, 38, 85, 96 can take you closer to Sainte Chapelle.
You can get the latest routes and bus schedule from RAPT, who operate the Paris transit buses.
If you prefer Subway, get onto Line 4, and get down at Station Cite, from where Sainte Chapelle is around 200 meters (650 feet).
Or you can board Lines 1, 4, 11, 14 and get down at Station Chatelet, from where the Chapel is only five minutes by walk.
You can take Batobus to reach the Chapel from River Seine.
---
---
Sainte Chapelle hours
Sainte Chapelle opens daily at 9 am.
During the peak season of April to September, Sainte Chapelle closes at 7 pm, and during the lean season of October to March, the Holy Chapel closes at 5 pm.
The last admission is 30 minutes before the time of closure.
Every day from 1 pm to 2:15 pm, Sainte Chapelle shuts down for lunch.
Sainte Chapelle in Paris remains closed on 1st January, 1st May and the 25th December.
---
---
Best time to visit Sainte Chapelle
The best time to visit Sainte-Chapelle and see it in all its glory is during sunset.
The sunset timings depend on the season – around 4 pm in the winters and approximately 9.30 pm in summer.
But this is also the most crowded time at this Parisian attraction.
The next best time to visit is sunny weekday mornings – when the sun rays enter the chapel at an angle, and the crowd hasn't yet arrived.
For some reason, Thursday ends up being the busiest day of the week.
You will find a massive crowd around the Christmas holidays, Easter holidays, weekends of 14 July, and 15 August, which you should avoid.
Sainte Chapelle at night
From 15th May to 15th September, every Wednesday, Sainte Chapelle is open till 9.30 pm.
It is the best time to avoid the crowd and explore the Chapel in peace.
Best time for photography
Visit the Holy Chapel one hour or so before sunset, and position yourself to capture the light through the windows, even as the sun sets outside.
If you can't make it during sunset hours, opt for morning time on a sunny day.
When the sun is overhead, it is a lousy time for photography because the rays won't be entering at an angle.
Flash photography is prohibited and considered non-courteous at the chapel, so natural lighting becomes a key component.
---
---
Sainte Chapelle free entry
The Sainte Chapelle in Paris allows free entry on the first Sunday of every month.
The waiting time on such days is around 45 minutes and more.
Some visitors qualify for free entry to Sainte Chapelle daily.
Visitors under 18 years of age can enter without tickets if they show a valid ID card with a photograph.
European Union residents younger than 25 years can also avail free entry.
You will be required to display a photo ID or official proof of your residence.
Free with Paris Passes
Yet another way to enter Sainte Chapelle for free (well, almost) is by buying one of the Paris discount Passes.
The Paris Museum Pass helps you save money and time (because you can skip the line at most places).
If you are visiting Paris for more than three days, it makes sense to buy the Pass.
The Paris Museum Pass helps skip the line at Sainte Chapelle, and the access is free as well.
---
---
Sainte Chapelle tickets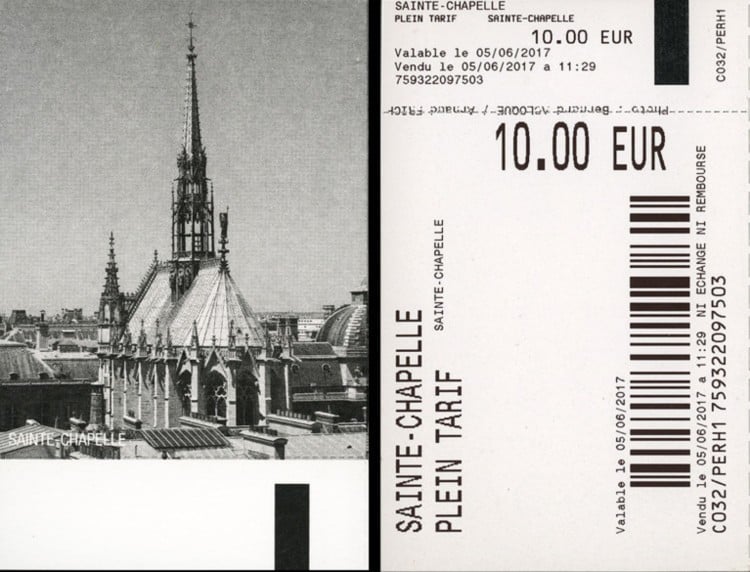 This Sainte Chapelle ticket allows skip-the-line access (yes, you don't need to stand in any lines) to witness the Gothic period's most beautiful stained glass windows.
This self-guided tour ticket has no validity period. Once purchased, you can use it anytime you want.
The ticket gets emailed to you, and you don't need to take printouts.
On the day of your visit, show your ticket on your mobile and walk in.
Sainte Chapelle ticket price
Adult ticket (18+ years): €11.50
Child ticket (0-17 years): Free entry
---
---
Sainte Chapelle combo tours
The site of Sainte Chapelle in Paris is close to many other tourist attractions.
For instance, it is 1 km (0.7 miles) from Conciergerie and only half a kilometer (one-third of a mile) from the Notre Dame Cathedral.
This makes purchasing combo tours a much viable option.
Did you know that combo tours end up being 20% cheaper than if you bought the tickets individually?
Important: Earlier, Sainte Chapelle and Notre Dame Cathedral combo tour used to be popular, but after the fire at Notre Dame, visitors aren't allowed inside.
Île de la Cité, Seine Cruise and Sainte Chapelle
During this 90-minute guided tour, you start with Île de la Cité, a small island in the Seine with a considerable influence on the history of France.
Next, head to the city's most beautiful chapel – Sainte Chapelle.
After seeing the beautiful stained glass at the Chapelle, you go on a one-hour Seine River cruise.
Ticket Price
Adult ticket (15+ years): €36
Child ticket (2-14 years): €31
Sainte Chapelle & Conciergerie combo tour
This combo tour gets you entry into Sainte Chapelle and Conciergerie, a revolutionary prison in Paris.
You will need around four hours to explore both the attractions.
The audio guide will cost you €3 extra.
Visitors under 18 years and EU residents under 26 years get in free with a valid ID.
Ticket Price
Adult ticket (18+ years): €17
Child ticket (0-17 years): Free entry
---
---
Dress code for Sainte Chapelle
There is no dress code for Sainte-Chapell. However, since it is a religious place, visitors are expected to dress modestly.
Better to wear respectful clothes, to not hurt the sentiments of the others.
Halter tops, short shorts, low t-shirts showing cleavage, etc., aren't recommended.
As for the men, it is better not to wear a hat. Also, it is better to avoid t-shirts with words such as "I hate God" or "I am GOD!"
Besides Sainte Chapelle, the Paris Museum Pass gets you free access to 60+ attractions in the city. Buy Paris Museum Pass
---
---
What to see at Sainte Chapelle
The Sainte-Chapelle is one of the best examples of Gothic architecture in the world.
When you first enter Sainte Chapelle, you get into the lower chapel, which is smaller.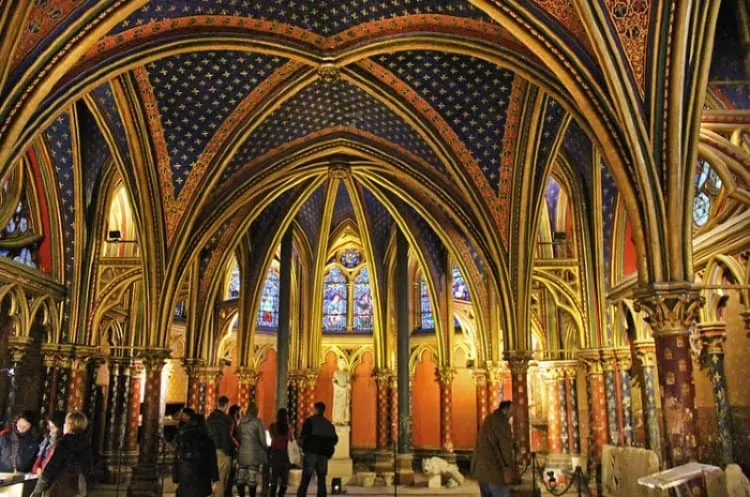 This chapel has the incredible night sky ceiling – a low vaulted ceiling painted to resemble a starry sky.
You then climb up a spiral staircase and reach the Upper chapel, which the Royals used.
What strikes you first is the height of the ceiling – around 40 meters (130 feet) high.
All around, you see a total of 600 square meters of stained glass paneling, which shimmers in the sunlight.
However, to see the details on these glass panels, you need a not-so-bright day.
There are 15 large stained-glass windows and the rose window, which got added 100 years after the chapel was constructed.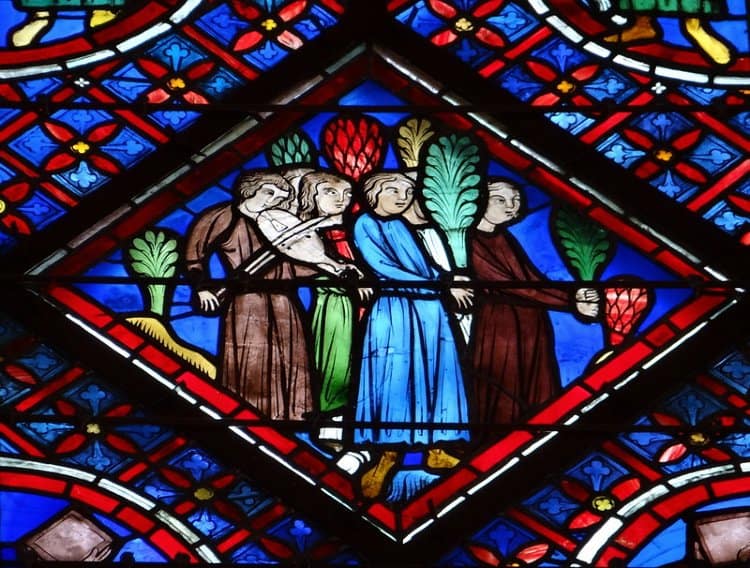 The stained glass in the chapel depicts various biblical scenes from both the new and old testaments.
---
---
Sainte Chapelle concerts
From mid-March to mid-December every year, Sainte Chapelle hosts classical concerts regularly.
Euromusic Productions produces these musical extravaganzas, and you can buy the concert tickets from the ticket office at the entrance of Sainte-Chapelle.
The ticket office is open from 10 am to 5 pm, on the day of the concert.
Here are a questions visitors to Sainte Chapelle concerts ask before they book their tickets –
Can kids attend Sainte Chapelle concerts ?


Visitors of all ages love these musical feasts.

However, if you are traveling with kids, you may have to make sure they sit in one place for the performance duration.

These Sainte Chapelle concerts are perfect for both locals and visiting tourists who speak other languages.

When should one arrive for the Holy Chapel concerts?


It is best to reach the Sainte Chapelle 30 to 45 minutes before the time mentioned on your ticket so that you can go through the security comfortably.

These concerts usually start at 8 pm or later. Schedule


How long do Sainte Chapelle concerts last?


These concerts usually last an hour.

There is no intermission, which means you may have to be seated for at least one hour and 15 minutes at a stretch.

Who performs at Sainte Chapelle concerts?


The concert performers are mostly French soloists on the rolls of the production company Euromusic Productions.

What is the dress code for the musicals at Sainte Chapelle?


Since the Sainte Chapelle is no longer a consecrated religious building, you don't need to follow a strict dress code.

However, it is still a church, and it is best to avoid ripped jeans, hot pants, shorts, bared midriffs, beachwear, etc.

Visitors usually dress up differently – from dinner jackets to casual shirts and jeans.

Sainte-Chapelle can get cold in winters because it is not heated, so it is best to dress up in layers.

What is the seating arrangement for Sainte Chapelle concerts?


These concerts happen inside the Holy Chapel, which can seat 200 patrons.

There are three different categories of seats, all with a good view of the performers.

The VIP category ticket gets you a place in the first ten rows.

Within a category of seats, you can pick your spot on a first come first serve.

What kind of music is composed during Sainte Chapelle concerts?


Euromusic has a team of the best ensembles and soloists from Paris, who bring to life some of the classical music's greatest hits at the Holy Chapel.

Performances include masterpieces by J. S. Bach, Mozart, Vivaldi, and Handel.

Regularly masterpieces starting from the Baroque period through to the 20th century are also performed.

Are Sainte Chapelle concerts disabled-friendly?


Yes, Sainte-Chapelle shows are accessible.

Wheelchair access to Sainte-Chapelle's lower chapel is via a small ramp, and you can use the lift to go up to the upper chapel – if need be.

Taxis/cars can drop you off on Boulevard du Palais right in front of the chapel.
Note: Holy chapel's concert is at night, and you can find more information here.
We highly recommend you also visit this attraction during the day to see its beautiful stained glasses. Book tickets now!
---
---
Sainte Chapelle history
Tourists have a lot of questions about the history of the Holy Chapel.
When was Sainte Chapelle built?
The Sainte Chapelle of Paris was one of the highest achievements of the Rayonnant period of Gothic architecture.
Its construction began sometime after 1238, and the building got consecrated on 26th April 1248.
Who built Sainte Chapelle?
King Louis IX of France (Saint Louis) commissioned the construction of Sainte Chapelle.
Historians believe that the King commissioned the chapel to architect Pierre of Montreuil.
Why was Sainte Chapelle built?
Sainte Chapelle was built as a place for King Louis IX of France to house his passion relics, which he had purchased from Baldwin II, the Latin Emperor of Constantinople.
These Passion relics included the Crown of Thorns, the image of Edessa, and some thirty other items.
At the time of the deal, the Latin Emperor had pawned these relics to a Venetian Bank. They were retrieved and sold to the French King for 135,000 Livres.
The construction of the Holy Chapel cost the King around 40,000 Livres.
Sources
# Wikipedia.org
# Sainte-chapelle.fr
# Cometoparis.com
# Tripadvisor.com

The travel specialists at TheBetterVacation.com use only high-quality sources while researching & writing their articles. We make every attempt to keep our content current, reliable and trustworthy.
Popular attractions in Paris
# Palace of Versailles
# Eiffel Tower
# Louvre Museum
# Arc de Triomphe
# Disneyland Paris
# Musee d'Orsay
# Centre Pompidou
# Notre Dame
# Vincennes Zoo
# Catacombs of Paris
# Opera Garnier
# Montparnasse Tower
# Picasso Museum
# Pantheon
# Seine River Cruise
# Seine Dinner Cruise