The Catacombs of Paris are one of the earliest tourist attractions of the city – curious people have been visiting Paris Municipal Ossuary since 1809.
Paris Catacombs were originally limestone quarries, which now hold human remains of more than six million Parisians.
This incredible experience involves stacked bones and skulls in the underground, below the City of Lights.
In this article, we share everything you must know before buying tickets for Paris Catacombs.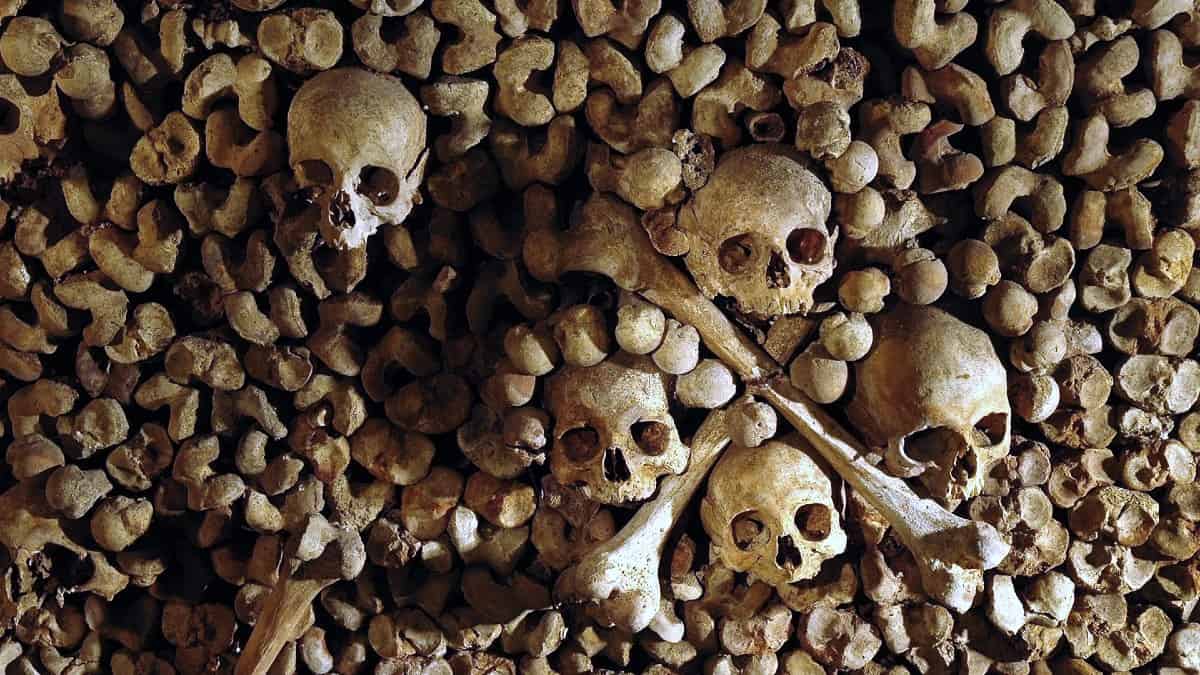 What is Paris Catacombs
In the late eighteenth century, the cemeteries in Paris were overflowing and creating public health problems.
As a result, the city officials decided to transfer their contents to an underground site – the former Tombe-Issoire quarries, just outside the city.
Between 1785 to 1787, the Saints-Innocents cemetery, the largest in Paris, was excavated and moved to the underground site.
The new spot was officially named Paris Municipal Ossuary in 1786.
Inspired by the 5th-century burial grounds in Rome, the Roman Catacombs, the Parisians started calling this site the Paris Catacombs.
The total area of the Catacombs in the French capital is 11,000 m2, and it is 20 meters (65 feet) deep, equivalent to a 5-story building.
Tour of Paris Catacombs
Today, about half a million visitors tour the Catacombs of Paris every year.
The tour lasts around 45 minutes, during which you explore a small portion of the actual underground burial site.
Visitors can book a self-guided tour or a guided tour to explore this underground burial site.
The 1.5 kilometers (almost a mile) long tour starts at 1, Avenue du Colonel Henri Rol-Tanguy, and ends at 21 bis, Avenue René-Coty.
During this walk, you climb down 131 steps and climb up 112 steps, and the floor is uneven and slippery.
The tour of Paris Catacombs is not suitable for visitors with mobility issues.
Inside the underground site, the temperature ranges around 14°C all through the year, and it is humid as well.
---
---
Paris Catacombs tickets
There are two ways to experience the Catacombs of Paris – you can book a self-guided tour ticket and explore it by yourself or book a guided tour and get a local expert to take you around.
When you book these Paris Catacombs tour tickets online, you can avoid long lines at the ticket counters.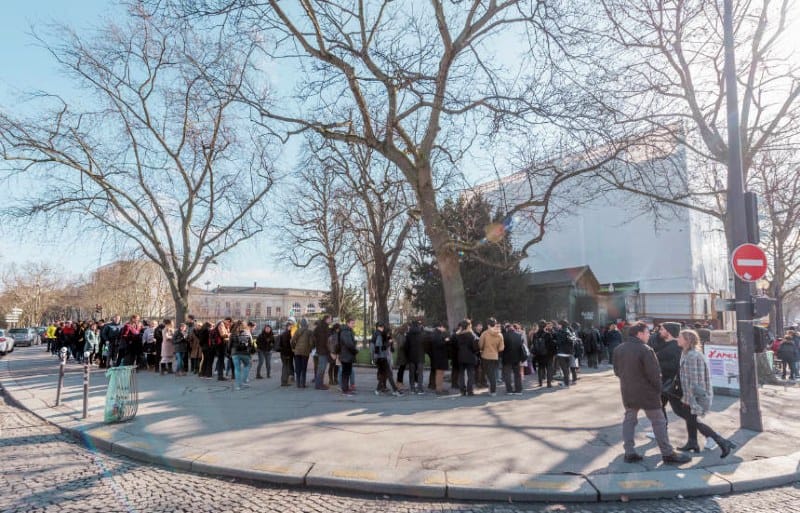 As soon as you purchase these tickets, they get emailed to you.
And on the day of your visit, you can show your voucher on your smartphone and start your Catacomb tour.
No need to take printouts!
Self-guided tour tickets
With the self-guided tour tickets, you explore the dark side of the City of Lights at your own pace.
These tickets get you complete access to the world beneath the streets of Paris, and you can see all the tunnels and rooms decorated with the human bones and skulls of around 6 million Parisians.
With this ticket, you also get a 30-minute long audio guide explaining the most important landmarks along the route.
You can cancel this Paris Catacomb ticket up to 24 hours before your visit for a full refund.
Adult ticket (18+ years): €29
Child ticket (up to 17 years): Free entry
Guided tour tickets
If you are not on a budget holiday, we highly recommend you book a guided tour of the Catacombs in the French capital.
With the guided tour ticket, you skip the lines and discover the labyrinth of the Paris Catacombs with knowledgeable locals.
The guide shares stories and anecdotes about the people buried here, those who worked here, etc., helping you unearth the macabre and mysterious underbelly of Paris.
The guide takes their time to make your trip memorable, which is why this is a two-hour long tour.
You can cancel this ticket up to 24 hours in advance to receive a full refund.
Adult ticket (18+ years): €79
Child ticket (up to 17 years): €79
---
---
How to get to the Catacombs of Paris
Paris Catacombs' entrance is at 1, Avenue du Colonel Henri Rol-Tanguy (place Denfert-Rochereau) 75014 Paris. Get Directions
It is right next to Denfert-Rochereau station, which is serviced by Lines 4 and 6.
Catacomb's entrance is around 50 meters (160 feet) from the station.
If you plan to take the RER train, you can board Line B and get down at Denfert-Rochereau.
Bus numbers 38 and 68 can also drop you closer to the Parisian attraction.
If you plan to drive, you can find a parking spot on Boulevard Saint-Jacques.
---
---
Paris Catacombs hours
From Tuesday to Sunday, the Catacombs of Paris open at 9.45 am and close at 8.30 pm.
The last entry is at 7.30 pm, which is when the ticket window also closes.
The Catacombs remain closed on Monday.
The famous attraction is closed for visitors on 1 January, 1 May, and 25 December.
---
---
Best time to visit Paris Catacombs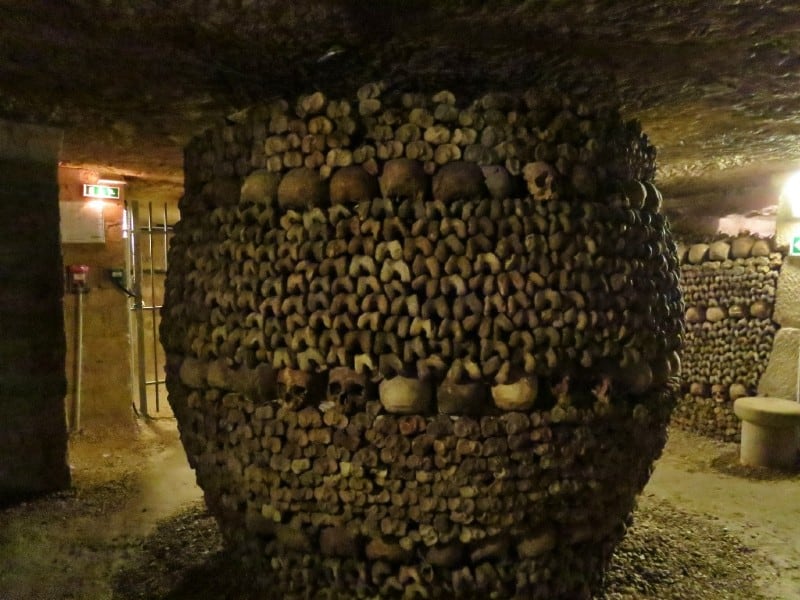 The best time to visit the Catacombs in Paris is as soon as they open at 9.45 am.
If you can't make it in the morning, the next best time is 7 pm.
When you visit later in the evening, the crowd has already left, and the eeriness factor increases manifold.
The Catacombs are most crowded from 1 pm to 5 pm, especially on a Saturday. Sundays are relatively free.
---
---
How long do the Catacombs take
During your tour of Paris Catacombs, you walk 1.5 kilometers (almost a mile) circuit in approximately 45 minutes.
Including your entry and exit, the whole experience lasts an hour.
Since this walk is on an uneven and slippery floor, some visitors take a little more time through the narrow passageways.
---
---
What to wear for Paris Catacombs
Before we recommend what you must wear for your tour of the Catacombs of Paris, here are a few things you must know:
You will walk 1.5 kilometers (almost a mile) of uneven, slippery floor
You will climb down 131 steps and climb up 112 steps
The temperature inside the underground site is around 14°C
It gets very humid
Because of a queue, you may have to wait outdoors at the attraction's entrance. Visitors end up waiting even during non-peak season (winter).
While visiting Paris Catacombs, it is better to wear comfortable shoes for all the walking required.
Since the temperature and humidity underground are different from what you experience above the ground, you must dress up in layers.
---
---
Audio Guides
Paris Catacombs tickets come with audioguides, which are available in English, French, Spanish, and German.
They are 30 minutes long, and help understand the attraction better.
Visitors must bring along their earphones (the connector is a jack) on their Paris Catacombs visit.
---
---
Restrictions at Paris Catacombs
Being a unique tourist attraction, Paris Catacombs has its own set of restrictions for visitors.
To ensure the safety and preservation of the ossuary, visitors can't enter the Catacombs with a suitcase, a large bag, or a motorcycle helmet.
Only bags smaller than 40x30x20 cm are allowed, and you must carry them on the front or hold them on your side.
There is no cloakroom at the attraction because the exit located at 21 bis, Avenue René-Coty, is almost 700 meters (nearly half a mile) from the entrance.
Parents can't bring their kids in strollers. Instead, it would be best if you used a baby carrier.
Eating or drinking is not allowed on Catacomb tours, and all kinds of alcohol are also prohibited.
To preserve them, touching the bones is strictly prohibited.
An adult must always accompany children under fourteen years.
---
---
Paris Catacombs map
The ossuary was created in the late 18th century in abandoned underground quarries dating from the 15th century in the locality of Tombe-Issoire.
These underground quarries cover around 800 hectares (2,000 acres), creating nearly 320 km (200 miles) of labyrinthine tunnels.
However, only a small portion known as the Denfert-Rochereau Ossuary is open to the public.
The Paris Catacombs tour happens along this 1.5 kilometers (almost a mile) long route shown on the map below.
The map shows the various points of interest. Note the absence of visitor services – that's because there are none.
For more details on these points of interest, check out the Paris Catacombs guide (PDF, 1.4 Mb).
Sources
# Catacombes.paris.fr
# Getyourguide.com
# Tripadvisor.com

The travel specialists at TheBetterVacation.com use only high-quality sources while researching & writing their articles. We make every attempt to keep our content current, reliable and trustworthy.
Popular attractions in Paris
# Palace of Versailles
# Eiffel Tower
# Louvre Museum
# Arc de Triomphe
# Disneyland Paris
# Musee d'Orsay
# Centre Pompidou
# Notre Dame
# Vincennes Zoo
# Pantheon
# Sainte Chapelle
# Opera Garnier
# Montparnasse Tower
# Picasso Museum
# Seine River Cruise
# Seine Dinner Cruise