Thoiry ZooSafari is a unique and exciting wildlife park located in Thoiry, France.
It offers visitors a one-of-a-kind experience by combining a traditional zoo with an immersive safari adventure.
The park covers a vast area and is home to a diverse range of animal species worldwide.
One of the highlights of Thoiry ZooSafari is the safari drive-through experience.
This article covers everything you need to know before booking Thoiry ZooSafari tickets.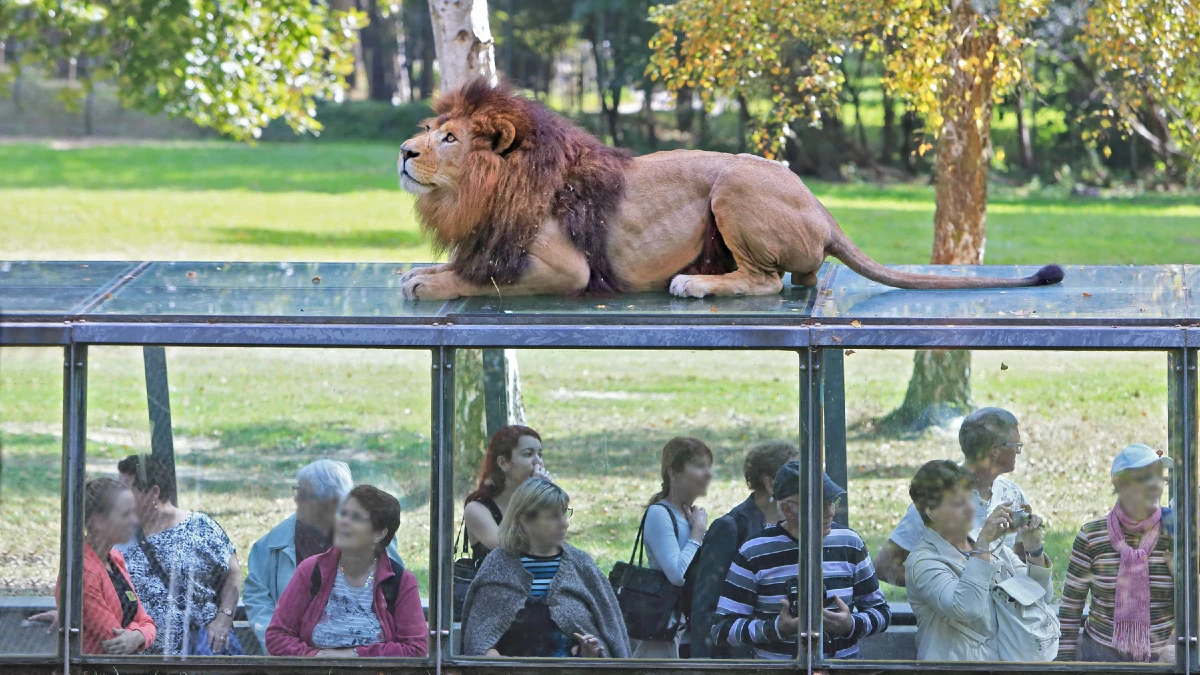 What to expect
Visitors have the opportunity to drive their own vehicles through designated safari areas.
Have the opportunity to observe animals such as lions, elephants, rhinoceroses, zebras, and giraffes roaming freely in their natural habitat.
It provides a thrilling and up-close encounter with these magnificent creatures.
In addition to the safari drive, Thoiry ZooSafari also features a traditional zoo section.
Here, visitors can explore a variety of animal exhibits and discover fascinating species from different continents.
From big cats and primates to reptiles and birds, the zoo showcases a wide array of animals, offering educational insights and an appreciation for wildlife conservation.
Thoiry ZooSafari goes beyond just animal viewing.
The park also offers various attractions and activities for all ages.
There are interactive shows, playgrounds, picnic areas, and even a castle to explore.
Visitors can also enjoy guided tours, educational programs, and special events that provide deeper insights into the animal kingdom.
With its combination of safari adventure, traditional zoo exhibits, and engaging activities, Thoiry ZooSafari provides a memorable and enjoyable experience for families, wildlife enthusiasts, and nature lovers.
It offers a unique opportunity to witness animals in a natural and immersive setting while promoting conservation and education.
---
---
Where to book tickets
You can book your tickets for ZooSafari Thoiry either online or at the ticket counter.
By purchasing your tickets online, you not only secure your spot in advance but also enjoy its added benefits.
Online ticket prices tend to be cheaper than purchasing tickets at the venue, allowing you to save money while still experiencing the wonders of the zoo.
You can avoid the long queues at the attraction's ticket counters, saving valuable time and ensuring a seamless entry into the park.
By booking your ticket online, you can secure your spot in advance and avoid the last-minute disappointment of finding out that tickets are no longer available.
So don't wait until the last minute!
Take advantage of the benefits of booking online and book right away!
How do online tickets work?
When you book Thoiry ZooSafari tickets, you must select your preferred visit date on the booking page.
Immediately after purchase, your tickets get emailed to you.
Since it is not a timed ticket, you can visit the attraction at your convenience as long as you give yourself enough time to enjoy the experience.
You don't need to take printouts – you can show the tickets on your smartphone and walk in.
Cost of Thoiry ZooSafari Paris tickets
The Tickets for Thoiry ZooSafari: Skip The Line costs €30 for all visitors above 12 years.
Children between the age of three to 11 can get a discount of €6 and pay only €24.
Visitors with a disability over the age of 12 need to pay only €16, whereas people between the ages of three to 11 can pay only €13.
Children up to the age of two can get the ticket for free.
Tickets for Thoiry ZooSafari: Skip The Line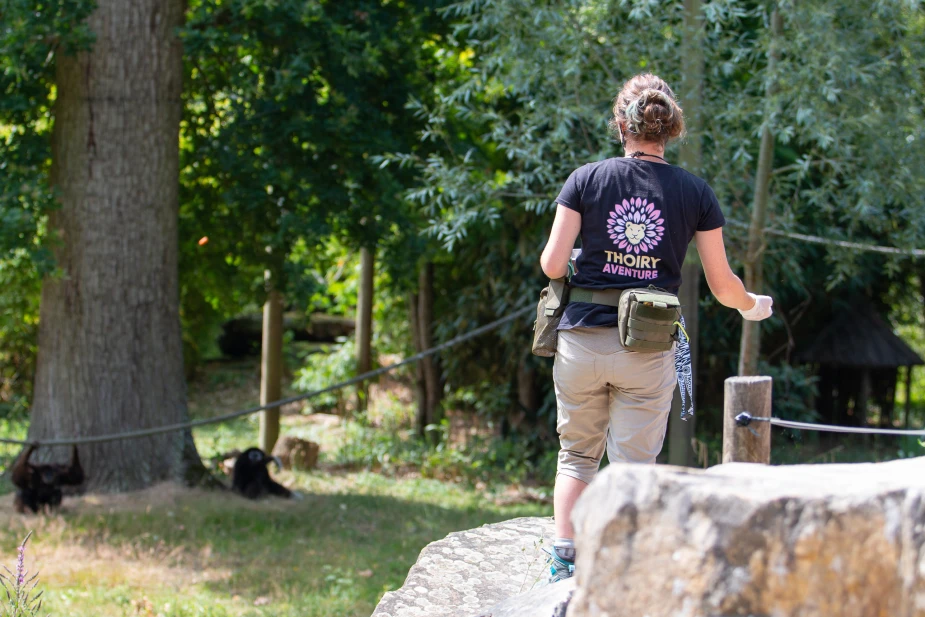 Enjoy a hassle-free visit to Thoiry Zoo with our skip-the-line entrance ticket.
With this ticket, you can bypass the queues and enter directly, saving you time and allowing you to make the most of your day.
Explore the zoo at your own pace and embark on an exciting safari experience by driving through the park in your own car.
Get up close to giraffes, zebras, elephants, bears, lions, and over 800 other animals as they roam freely in their natural habitat.
The ticket also grants you access to the playground area, where children can have a blast with games and activities.
Don't miss the enchanting Lumières Sauvages event during the winter season, which illuminates the park in a magical display.
Please note that the ticket does not include the bush taxi service or the zipline activity.
Plan your visit to Thoiry Zoo and create unforgettable memories with your family and friends.
Ticket Prices
Adult Ticket (12+ years): €30
Child Ticket (3 to 11 years): €24
Disabled Visitor (12+ years): €16
Disabled Visitor (3 to 11 years): €13
Infant Ticket (up to 2 years): Free
Combo tickets
Combo tickets are great for local and foreign tourists.
You can get combo tickets for Thoiry ZooSafari in combination with Parc Astérix, Aquarium de Paris, and Palace of Versailles and Gardens.
By purchasing combo tickets, you can visit all of these locations with only one reservation!
Combination tickets offer great discounts and are, therefore, worth every penny!
Thoiry ZooSafari + Aquarium de Paris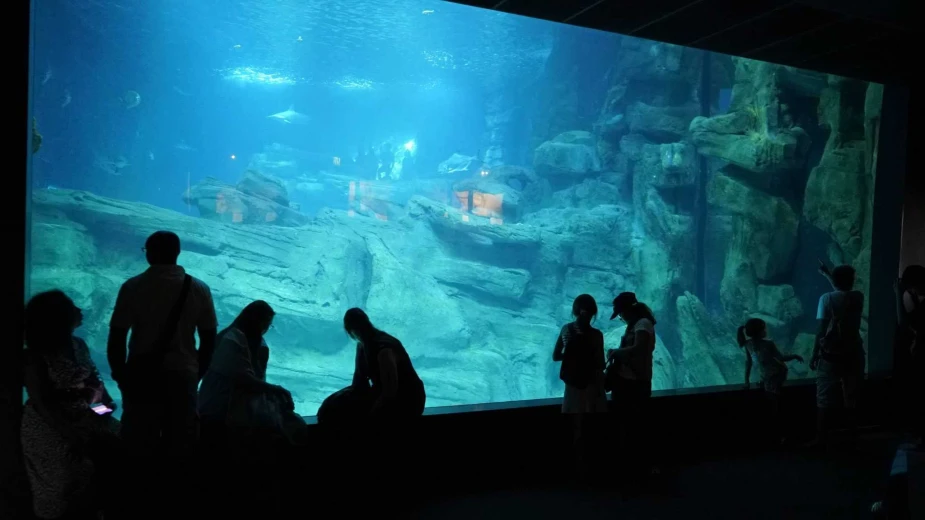 Immerse yourself in the ocean's wonders at Aquarium de Paris with our entry ticket.
Dive into a deep-sea excursion right in the heart of Paris and discover the mesmerizing marine world.
With this ticket, you'll have access to the Aquarium de Paris, where you can explore a diverse range of aquatic life and marvel at stunning displays of marine species.
Be captivated by the enchanting Mermaid Show, witness thrilling Animal Feedings, and delve into the educational animations and Cinema area.
This ticket offers a comprehensive experience to explore and learn about the fascinating underwater realm.
For an extraordinary wildlife adventure just a short distance from Paris, Thoiry ZooSafari is the perfect destination.
With the skip-the-line entrance ticket, you can bypass the queues and dive into the wildlife experience.
Book your tickets at a 7% discount now and embark on an unforgettable journey through the ocean depths at Aquarium de Paris and the wildlife of Thoiry ZooSafari Paris.
Ticket Price: €52 per person
Thoiry ZooSafari + Parc Astérix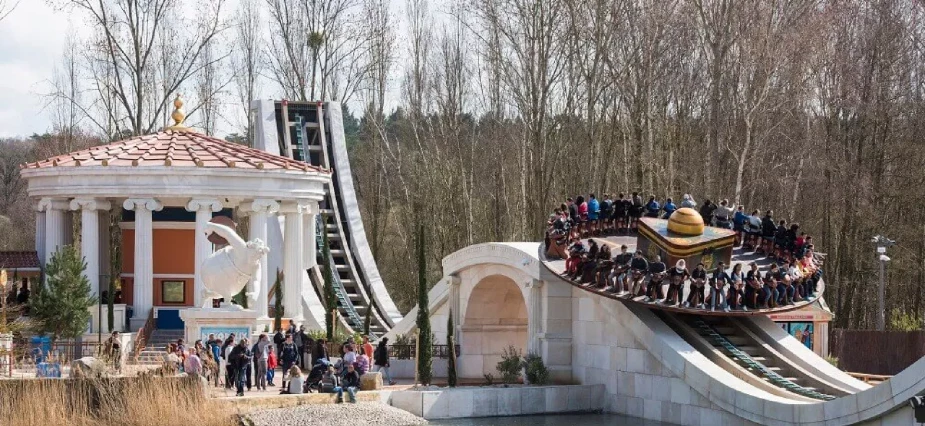 Embark on a thrilling adventure at Parc Astérix, an action-packed theme park located near Paris that celebrates the beloved Gaul.
With the access ticket, you'll step into a world of excitement and fun.
Enjoy unlimited access to Parc Astérix and dive into all the exhilarating attractions and shows the park offers.
Experience heart-pounding roller coasters, immersive rides, and entertaining shows that bring the spirit of the Gauls to life.
This ticket grants you the full Parc Astérix experience, ensuring a day filled with laughter, adventure, and unforgettable memories.
Also, explore Thoiry ZooSafari and witness magnificent lions, majestic tigers, playful bears, and more as you embark on a safari-like experience.
The ticket includes access to the safari, where you can drive through the park in your own car, getting up close to the animals in their natural habitats.
Don't miss out on this excitement – book your ticket now and get ready for an action-packed day at Parc Astérix and an exciting wildlife journey.
Ticket Price: €76 per person
Thoiry ZooSafari + Palace of Versailles and Gardens
Immerse yourself in the grandeur of the Palace of Versailles with the entrance ticket.
Step into the opulent world of this elegant 17th-century castle and explore its magnificent rooms.
Marvel at the exquisite architecture, intricate details, and lavish decorations as you stroll through the various rooms.
To enhance your visit, you can download a free interactive app that provides insightful information and enriches your experience.
For an unforgettable trip, you can get the wildlife adventure at Thoiry ZooSafari and the Palace of Versailles and Gardens.
Don't miss the chance to explore the Palace of Versailles and Thoiry ZooSafari Paris and immerse yourself in its timeless beauty.
Secure your entrance ticket now at a 5% discount and embark on a captivating journey.
Ticket Price: €47 per person
Save time & money! Buy Paris Museum Pass and visit over 60 famous attractions in and around Paris. Book now and explore museums and monuments such as the Louvre and Versailles.
---
---
How to reach Thoiry ZooSafari
Thoiry ZooSafari is situated in Thoiry, a commune in the Yvelines department of the Île-de-France region in France.
Address: Château de Thoiry, 78770 Thoiry, France. Get Directions.
You can either drive to the location or take public transport.
By Bus
Take the 78 express train, 35, 40, 41, or 55, and get off at Mairie.
From there, it is a three-minute walk.
By Car
If you're planning on taking the car. Put on Google Maps and get started!
To find the closest parking, click here.
Timings
Thoiry ZooSafari is open every day.
The zoo's opening hours vary depending on the season, with general timings from 10 am to 5 pm.
During certain periods, the zoo extends its evening hours until 7 pm or 9 pm, allowing visitors to enjoy the park longer.
It's worth noting that the exact timings may change, so it's advisable to check the official website or contact the zoo directly for the most accurate and up-to-date information.
Whether you're planning a family outing or a day trip with friends, Thoiry ZooSafari offers a fantastic opportunity to explore nature and see various animals in a beautiful setting.
How long does the tour take
The duration of the tour at Thoiry ZooSafari can vary depending on various factors.
On average, visitors typically spend several hours at the zoo to fully enjoy the wildlife safari and explore the different areas of the park.
It is recommended to allocate a minimum of three to four hours for a visit to have ample time to see the animals, participate in activities, and take in the overall experience.
However, visitors are welcome to spend as much time as they like, immersing themselves in the fascinating world of wildlife at Thoiry ZooSafari.
Best time to visit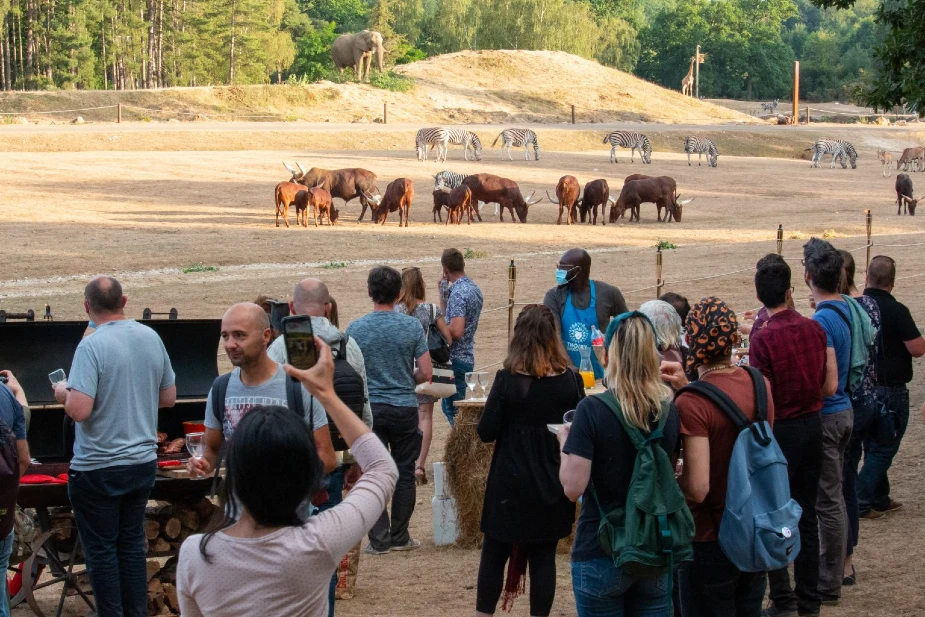 The best time to visit Thoiry ZooSafari is during weekdays and outside peak hours to avoid larger crowds.
Mornings and early afternoons are generally less busy, allowing visitors to explore the park and observe the animals more relaxedly.
Additionally, visiting during the shoulder seasons of spring and autumn can offer pleasant weather and fewer visitors compared to the summer.
Enhance your experience and make the most out of your time at Thoiry ZooSafari.
---
---
Thoiry ZooSafari Map
A map is essential when visiting Thoiry ZooSafari as it provides a comprehensive layout of the park and ensures an easy and organized visit.
With a map, visitors can easily navigate the extensive grounds and locate the various animal exhibits, attractions, and facilities.
The map helps plan an efficient route, ensuring you get all the must-see animals or shows.
It also highlights key points of interest, such as feeding sessions, restrooms, dining areas, and play zones for children.
By following the map, visitors can make the most of their time at the zoo, avoiding unnecessary detours and maximizing their opportunity to see and learn about the diverse wildlife.
Whether you're a first-time visitor or a returning guest, a map is an invaluable tool for a smooth and enjoyable experience at Thoiry ZooSafari.
FAQs
Where can we eat at the Thoiry ZooSafari?
Several fast food spaces and snack options are available within the zoo, offering a variety of sweet and savory items based on the season. 

You are allowed to bring your own picnic to the zoo. 

Several designated picnic areas are available for visitors to enjoy their meals and snacks at their convenience.
Can you rent strollers at the Thoiry ZooSafari Paris?
Yes, they can be rented at the entrance of the zoo for a small fee. 

You are also welcome to bring your own strollers throughout the zoo, except in the immersion enclosures such as Lémur Trek, the South America area, and the goat enclosure.
Can we enter and leave the park on the same day with the same ticket?
Absolutely! You can enter and leave the park on the same day using the same ticket. 

Please make sure to keep your ticket with you and present it each time you re-enter the park.
Can we use scooters, rollerblades, skates, bikes, and other "rolling machines" to get around the zoo?
To ensure the safety of all visitors, the use of scooters, rollerblades, skates, bikes, and other similar "rolling machines" is strictly prohibited within the zoo premises.
Popular attractions in Paris