Montparnasse Tower has two observation decks – on the 56th and 59th floors and offers sweeping views of Paris.
The viewing platform is at the height of 210 meters (690 feet), and one of the highlights is the opportunity to travel in the fastest elevator in Europe.
Often referred to as Tour Montparnasse, this Parisian attraction is a massive hit with both adults and kids.
In this article, we share everything you must know before buying Montparnasse Tower tickets.
Top Montparnasse Tower Tickets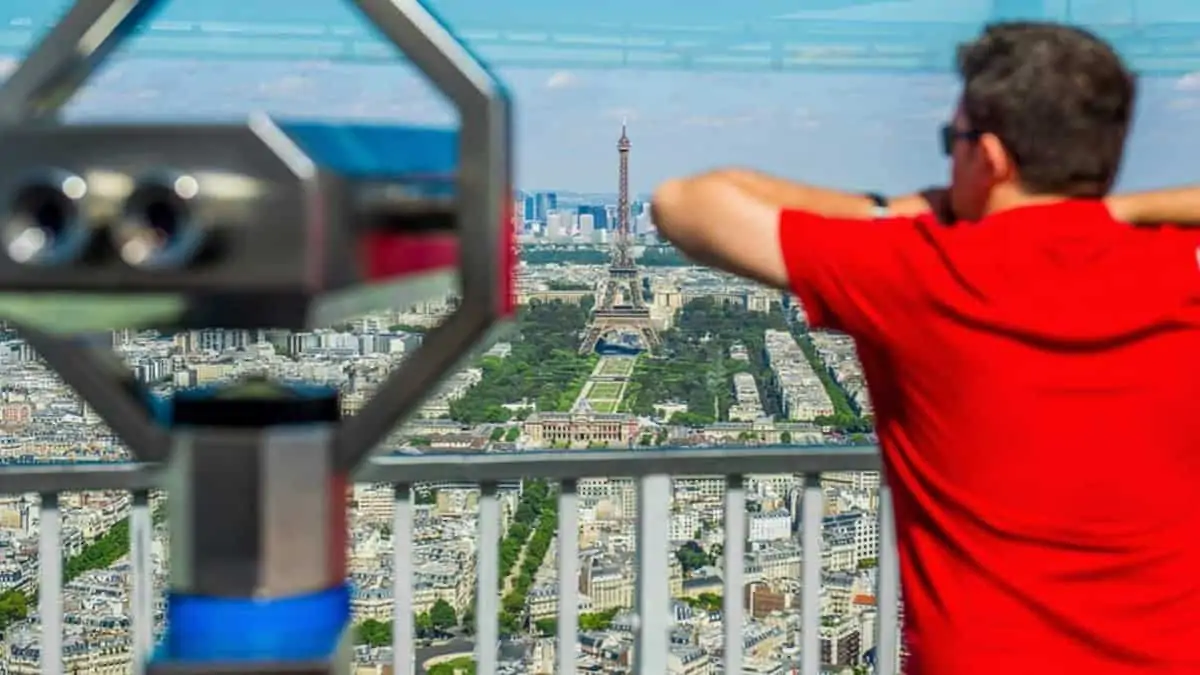 What to expect at Montparnasse Tower
When you book Montparnasse Tower tickets online, you avoid the queue and go straight through security.
After clearing security, you get into the fastest lift in Europe, and 38 seconds later, you are at the top of the Montparnasse Tower.
Yes, that's right – 56 floors in 38 seconds!
After taking in 360-degree views of Paris and spotting all the landmarks, including Eiffel Tower, you go up further – to the 59th floor.
The 59th floor of Montparnasse Tower doesn't have an elevator, but climbing the steps is worth it because it is the highest rooftop and open-air observation deck in Paris.
This floor has a hot chocolate machine, a bar, and exciting events happen all around to entertain the visitors.
---
---
Montparnasse Tower tickets
When you purchase Tour Montparnasse tickets online, you can skip the ticket counter queue and save time.
Once you make the purchase, the tickets get emailed to you—no need to take a printout.
On the day of your visit, you can show the tickets on your smartphone and walk in.
These tickets for Montparnasse Tower visit are not timed, which means you can visit whenever you want on the day of the booking.
Children under four years don't need tickets.
Ticket prices
Adult ticket (19+ years): €15
Child ticket (4 to 11 years): €8
Youth ticket (12 to 18 years): €12.50
Infant ticket (up to 3 years): Free entry
Discount Alert! When you book Paris Merveilles Lido Evening Show and Montparnasse Tower together, you get an 8% discount.
---
---
How to get to Montparnasse Tower
The Montparnasse Tower Observatory is in the 15th arrondissement of Paris.
Its entrance is on rue de l'Arrivée via the ticket counter dedicated to the observation deck. Get Directions
Montparnasse-Bienvenüe, serviced by Lines 4, 6, 12, and 13, is the closest Metro station.
The station is only 100 meters (330 feet) from the Parisian observatory tower, and you can walk the distance in less than two minutes.
Bus numbers 28, 58, 82, 88, 89, 91, 92, 94, 95, and 96 can also drop you close to the Tower.
---
---
Montparnasse Tower hours
From April to September, Montparnasse Tower opens at 9.30 am and closes at 11.30 pm daily.
During the lean period of October to March, the observation deck opens at 9.30 am every day, but its closing time varies.
Sunday to Thursday the Tower closes at 10.30 pm, and on Friday and Saturday, it closes at 11 pm.
The last admission is half an hour before closure.
---
---
Best time to visit Montparnasse Tower

The best time to visit Montparnasse Tower is during sunset.
You must reach the attraction half an hour before sunset to give yourself enough time to reach the top of the observation area.
Besides stunning sunset views, you also get to enjoy the Paris skyline in daylight and after the lights come on.
However, the sunset hours are pretty busy with lots of visitors and even longer waiting lines.
If you are looking for quiet time and want to avoid the crowd, visit the Parisian observation deck as soon as they open at 9.30 am.
If you can't visit in the morning, the next best time to avoid the crowd is after 8 pm.
---
---
How long does it take?
Most visitors spend an hour at Montparnasse Tower.
Visitors spend around half an hour on the 56th floor, taking in the fantastic sights of Paris, and then go up to the 59th floor for light snacks, drinks, activities, and even better views.
Montparnasse Tower tickets don't have any time limit, which means you can stay on for as long as you want.
Not long ago, Montparnasse district was the heart of Parisian artistic and intellectual life. Explore it better with an audio-guide tour on your smartphone.
---
---
Montparnasse Tower's observation deck
The Tour Montparnasse's Observation deck has two viewing levels – the indoors 56th floor and the panoramic terrace on the 59th floor.
The regular Tour Montparnasse ticket gets you access to both the viewing platforms.
56th-floor deck
The 56th-floor observation deck is at 196 meters (643 feet) and is also known as the Panoramic Floor.
The Tower'sTower's elevator, the fastest in Europe, gets you to this height in just 38 seconds.
This deck is surrounded by floor-to-ceiling windows, which offer uninterrupted views in all directions.
This floor also has interactive kiosks and touch-sensitive orientation tables, which help you discover the city's famous landmarks.
59th-floor terrace
The Montparnasse Tower's outdoor terrace on the 59th floor is airy, with beautiful views of Paris. It also has a modern sheltered walking area.
This observation deck has a hot chocolate machine, a bar, and comfortable seating for visitors to hang around.
---
---
View from Tour Montparnasse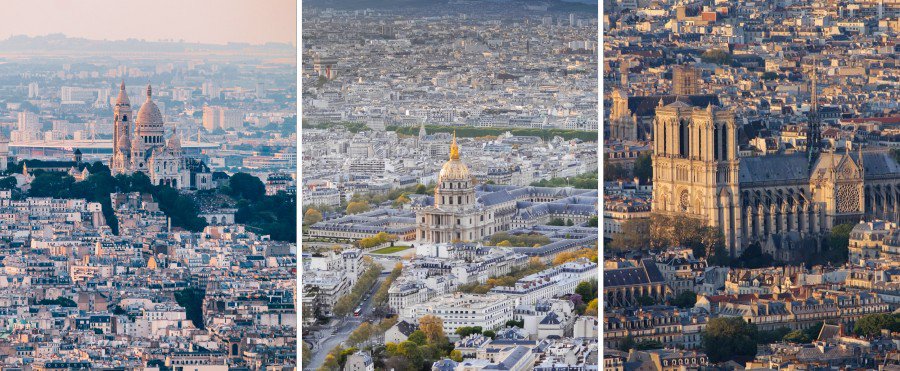 Montparnasse Tower is the best place to take in the incredible panoramic views of Paris and its iconic monuments.
The Tower's location – right in the city center – is just perfect for taking in 360-degree views of the city by day or by night.
From a height of 210 meters, visitors can see up to 40 kilometers (25 miles) in all directions.
Some of the monuments you can see from Tour Montparnasse are The Louvre Museum, Les Invalides, the Sacré-Cœur, Notre-Dame cathedral, Montmartre, the Panthéon, etc.
---
---
Montparnasse Tower at night

From April to September, Montparnasse Tower is open till 11.30 pm, and the rest of the year, it welcomes visitors till 10.30 pm.
Many tourists prefer to stroll through the city's enchanting lights and then go up Montparnasse Tower's observation deck to take in the beautiful views of Paris all lit up.
Even after dark, Eiffel Tower continues to be the city's main attraction, and tourists love to see it sparkling from the Tower.
When you purchase the Montparnasse Tower tickets, you don't select a time of visit. This means you can visit whenever you want – night or day.
Download the Magnicity app for Android or iOS to enhance your visit to Montparnasse Tower. During your visit, open the app and point your smartphone's camera towards the horizon to get interesting information about various Parisian landmarks.
---
---
Rooftop bar on 59th floor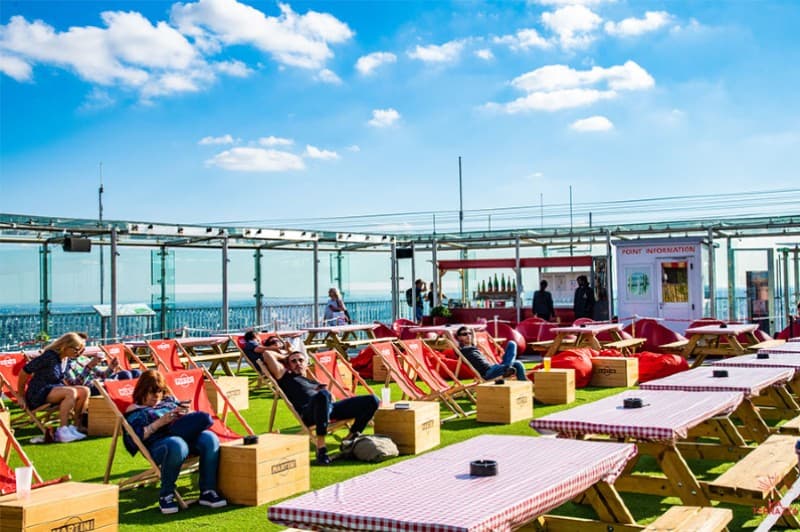 'Guinguette On Top' on the 59th floor of Tour Montparnasse is the highest rooftop bar in Paris.
This summer bar is open from July to September, and visitors must have Montparnasse Tower tickets to access it.
On weekdays Montparnasse Tower's bar opens at 4 pm, and on weekends the service starts at noon.
The last order gets taken at 10.45 pm.
Guinguette On Top offers flavor, atmosphere, and breathtaking views of the world's most romantic city.
---
---
Montparnasse Tower's restaurant
If you want to combine a lunch or dinner with your visit to Montparnasse Tower, you have two options – Ciel de Paris or the 360 Cafe.
Ciel de Paris (the Paris Sky) is a gourmet restaurant offering flavourful, imaginative, and seasonal cuisine.
To book a table near the windows, call +33 (0)1 40 64 77 64.
The 360 Cafe doesn't need any reservations and serves sandwiches, salads, croque-monsieurs, cold and hot drinks, desserts, etc.
Sources
# Tourmontparnasse56.com
# Wikipedia.org

The travel specialists at TheBetterVacation.com use only high-quality sources while researching & writing their articles. We make every attempt to keep our content current, reliable and trustworthy.
Popular attractions in Paris
# Palace of Versailles
# Eiffel Tower
# Louvre Museum
# Arc de Triomphe
# Disneyland Paris
# Musee d'Orsay
# Centre Pompidou
# Notre Dame
# Vincennes Zoo
# Pantheon
# Sainte Chapelle
# Opera Garnier
# Catacombs of Paris
# Picasso Museum
# Seine River Cruise
# Seine Dinner Cruise