Opéra Garnier, also known as Palais Garnier, is a 1,979-seat opera house in Paris.
Ace French architect Charles Garnier built the structure from 1861 to 1875 at Emperor Napoleon III's request.
Till 1989, Paris Opera performed at Opéra Garnier, after which they moved to a new building called the Opéra Bastille.
Today, the company uses Palais Garnier primarily for ballet and offers tours for visitors who want to explore the interiors of the beautiful architectural jewel of Paris.
In this article, we share everything you must know before buying Opera Garnier tickets.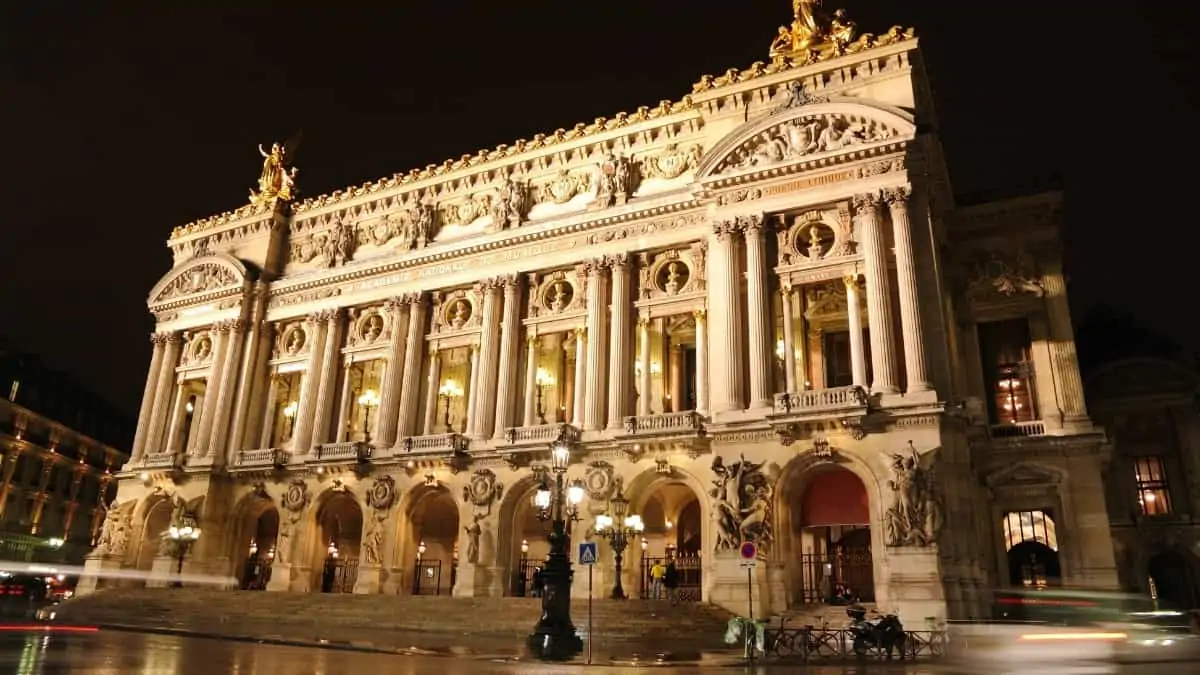 What to expect at Opera Garnier
We recommend a guided tour by a local expert, for the best experience at Opera Garnier.
Visitors on a budget holiday opt for the self-guided tour, which is the cheapest way to experience the architectural marvel.
If you are intrigued by the Phantom of the Opera, check out the underground tour of Palais Garnier.
---
---
Opera Garnier tickets
If you want to tour Opera Garnier, you have three options – you can book a self-guided tour, a guided tour led by a local expert, or opt for the mystery underground tour.
Three out of five visitors opt for a guided tour.
All of these tickets give you access to Opera Library-Museum, Rotonde des Abonnés, Pythia Basin, Grand Staircase, Grand Foyer, Avant-Foyer, Moon and Sun Saloons, Glacier Rotunda, and tapestries.
These Opera Garnier Paris tickets also get you inside ongoing temporary exhibitions.
Access to the auditorium may be restricted or forbidden at times for technical or artistic reasons.
Self-Guided visit to Opera Garnier
The self-guided tour of Opera Garnier is the cheapest way to explore the largest opera hall in Europe.
It also offers quick and easy access to this magnificent building in the center of Paris – you can skip the line at the ticket counter and walk right in.
Audioguide is not part of this ticket, but if you want you can rent it at the entrance for 5 Euros.
Kids below 12 years of age don't need a ticket and can enter for free.
This Opera Garnier ticket is valid one year after the purchase date.
Ticket price (12+ years): €14
Guided tour of Opera Garnier
Opera Garnier's guided tour is an opportunity to discover Europe's largest opera house better.
When you buy this ticket, an expert guide takes you on an informative 90-minute tour of the Parisian Baroque masterpiece.
Since this experience costs only €3 more than the self-guided ticket, most users opt for the guided tour.
Guided tours of Palais Garnier in English run every day at 11 am and 2.30 pm.
On these tours, kids and seniors get no discounts – all visitors pay the same price.
This tour is not available to children below five years of age.
Ticket price: €14 per person
Palais Garnier's underground tour
This tour of Palais Garnier focuses on the building's mysteries, myths, and incredible stories.
The expert guide narrates its history through the story of Erik, the mysterious man with a hideous face, more well-known as Phantom of the Opera.
Phantom of the Opera is the story (which later became an opera) by Gaston Leroux, and it forms as the common thread during this tour.
This tour of the Parisian Opera House is also often called 'Mysteries of the Opera Garnier tour'.
Visitors below 12 years needn't buy tickets to join this tour.
Ticket price (12+ years): €21
Box: If you want to save money, check out this combo deal – Opera Garnier and Seine River Cruise.
Visual Story: 11 must-know tips before visiting Opera Garnier
---
---
How to reach Opera Garnier
The Opéra Garnier is in the busy 9th arrondissement in Paris.
The entrance of the historic Opera house is at the corner of Scribe and Auber streets.
Lines 3, 7, and 8 can get you to the Opéra station, the closest subway station to Palais Garnier.
If you are taking the RER, you must board Line A and get down at Auber station. Palais Garnier is around 100 meters (330 feet) from the station.
Bus routes 20, 21, 27, 29, 32, 45, 52, 66, 68, and 95 can also get you dropped near the attraction.
Car Parking
Paid car parking is available at Q-Park Edouard VII – Rue Bruno Coquatrix 75009 Paris. It is in front of 23 Rue de Caumartin. Book Your Spot
If you have booked an Opera performance, check the venue on your tickets. The Paris Opera has two opera houses – the Palais Garnier and the Opéra Bastille – and you don't want to end up at the wrong place.
---
---
Opera Garnier hours
During the peak season which runs from 15 July to 10 September, Palais Garnier opens at 10 am and closes at 5.30 pm.
From 11 September to 14 July, the historic Parisian house opens at 10 am and closes at 4.30 pm.
The last entry is a half-hour before closure.
The Palais Garnier remains closed on 1 January and 1 May.
---
---
What's inside Palais Garnier Paris
Palais Garnier isn't just about the performances.
Architect Charles Garnier ensured that the exterior and the interiors of the opera house followed the Napoleon III style of leaving no space without decoration.
As a result, today, thousands of tourists line up for a tour of Opera Garnier every day.
During the tour, the visitors are dazzled by the almost 150-year-old building's facade, the grand staircase, Auditorium, Grand Foyer, Ceiling, etc.
The exterior
The architect used seventeen different kinds of materials to build the exterior of the Parisian opera house.
He then arranged the exterior in elaborate multicolored marble friezes, columns, and extravagant statuary, most of which portray deities of Greek mythology.
For the best views of Palais Garnier, you must walk away from the front steps to Avenue de l'Opéra till you see the whole building in one frame.
Don't miss out on the facades on all four sides – South Main Frontage, West Side elevation (Garden Side), East Side Facade (Courtyard Side) and Front Rear.
Front Rear is the side with service entrances for artists, administration, technicians, staff, etc., so it is less decorated than the other facades.
Grand Staircase
When your tour of Palais Garnier starts, the Grand Staircase will immediately command your attention.
Charles Garnier couldn't have described it better when he said, "The opera is the staircase."
The Opera Garnier Staircase is built of white marble from Seravezza, Italy. The onyx balustrade (fence) is sitting on a base of green marble from Sweden, and the 128 balusters are of antique red marble.
The Grand Staircase is flanked by 30 enormous columns, each made out of a single piece of marble.
After admiring the columns, you see the spectacular fresco painted by Isidore Pils when you look up.
The auditorium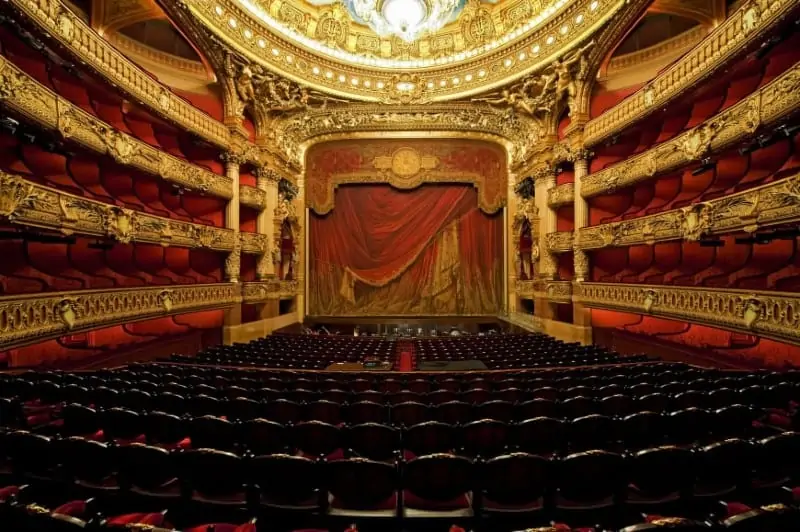 Palais Garnier Paris's auditorium has a traditional Italian horseshoe shape and can seat 1,979.
It has the largest stage in Europe and can accommodate as many as 450 artists at a time.
The auditorium is supported by its metal structure, masked by marble, stucco, velvet, and gilding, which helps hold the eight tons heavy bronze and crystal chandelier equipped with 340 lights.
During your Opera Garnier tour, you can step into the auditorium, but not on the stage.
And when you do step in, don't miss out on the ceiling painted by Marc Chagall and the stage curtains, which have been replaced only twice (1951 and 1996) in the last 150 years.
Grand Foyer
The Grand Foyer at Opera Garnier was a place where people could mingle before performances, building up the mood for the show.
Grand Foyer is a 154 meters (505 feet) long, 13 meters (42 feet) wide, and 18 meters (59 feet) tall room covered in gold and gold paint.
Paul Baudry, who was summoned from Rome by Garnier, painted the ceiling fresco, an allegory of Music.
Opera Garnier Ceiling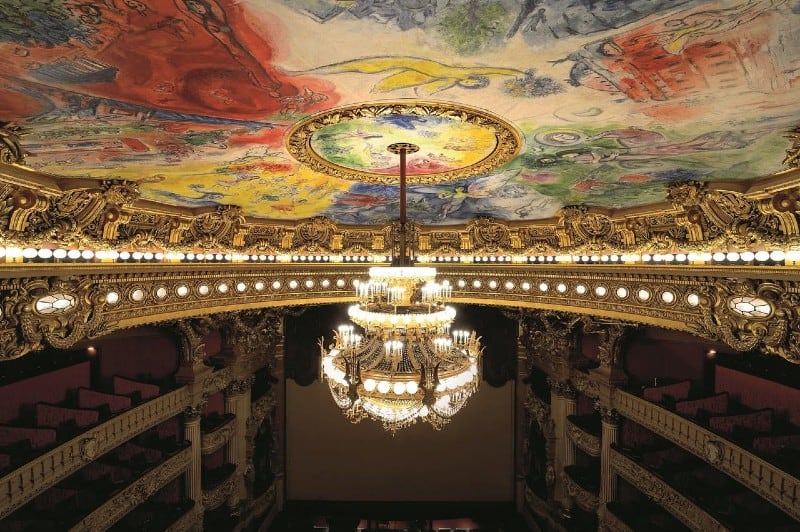 The ceiling of the Opéra Garnier was re-painted by the Russian painter Marc Chagall in 1964.
It took him almost a year to paint 2,400 square feet of frescoes in luminous colors and myriad detail.
Two facts stand out – Marc Chagall was 77 years old when he painted Palais Garnier's ceiling and refused to take any payment for the work.
Today the ceiling of the Opéra Garnier pays homage to 14 significant opera composers, but it wasn't always so.
Before 1964, the ceiling had Jules-Eugène Lenepveu's work – The Muses and the Hours of the Day and Night.
All these areas of the Palais Garnier are included in the self-guided tour, guided tour, and mystery underground tour.
Sources
# Operadeparis.fr
# Wikipedia.org
# Tripadvisor.com
# Britannica.com

The travel specialists at TheBetterVacation.com use only high-quality sources while researching & writing their articles. We make every attempt to keep our content current, reliable and trustworthy.
Popular attractions in Paris
# Palace of Versailles
# Eiffel Tower
# Louvre Museum
# Arc de Triomphe
# Disneyland Paris
# Musee d'Orsay
# Centre Pompidou
# Notre Dame
# Vincennes Zoo
# Pantheon
# Sainte Chapelle
# Catacombs of Paris
# Montparnasse Tower
# Picasso Museum
# Seine River Cruise
# Seine Dinner Cruise