A Seine River Dinner Cruise is the perfect way to experience Paris.
During these dinner cruises, you see Paris and its monuments all lit up, even as you enjoy the Parisian cuisine.
Since many companies are offering different types of dinner cruises, selecting the right one can get confusing.
This article explains everything you must know before you book your Dinner Cruise on River Seine (also known as Marina de Paris).
Summary of best dinner cruises
What to expect on the Dinner Cruise
Two kinds of boats float about on the River Seine – the Sightseeing boats and the Restaurant boats.
Dinner Cruises happen on the Restaurant boats, which have a glass-enclosed dining area so that you can enjoy the Parisian views from a protected environment.
The Dinner Cruises on Paris River come in many flavors, and also get customized according to the occasions such as Valentine's Day, Bastille Day, Christmas, New Year's, etc.
The Menu is pre-announced, which means you know what will be served when you book your Seine Dinner Cruise.
A Dinner Cruise on the Seine is suitable for couples, families with kids, and groups of friends as well.
Note: If cost is a factor, we suggest you try out a sightseeing cruise on River Seine.
---
---
Which Seine River Dinner Cruise to book?
Eight factors influence your dining and cruising experience on River Seine.
We list them below –
Price of Seine cruise tickets
The cost of a meal cruise ranges from 45 Euros to about 300 Euros depending on the duration, the menu, the type of boat, the kind of service you choose, etc.
Discounts for kids
If you have kids below three years of age, Dinner Cruises aren't for you.
And most often than not, kids aged 4 to 12 years get approximately 50% discount on the adult tickets.
Location of the port of departure
If the dinner cruise boat departs from a popular location, such as the foot of Eiffel Tower, etc., it is convenient in many ways.
Most tourists prefer a cruise that departs from Eiffel Tower or Notre Dame because it allows them to spend the evening at these attractions and then get on the dinner cruise.
Menu on Seine River Cruises
Every Cruise boat tour has a unique menu.
Some offer a lavish four-course meal with the finest of wines, while others provide Tapas or Pizzas on board.
Dinner Cruises with lavish menus usually have three to four different services, which you can choose from while booking your tickets.
Each of these services gives you different privileges, for instance, access to premium wines, table at the front of the boat, etc.
Some Seine River Cruises are not dinner cruises in the real sense, but dinner is part of the ticket.
If you book such a 'dinner' cruise, you will be dining before or after the journey, either at the port of departure or at a Bistro restaurant nearby.
All the Seine River Dinner Cruises offer vegetarian food on board.
Duration of Seine River Dinner Cruise
Depending on the type of Seine River Dinner Cruise you are booking, they can be one to two hours long.
An elaborate dinner cruise can also take two and a half hours.
However, if you book an early evening dinner cruise, you will be back on the shore in an hour.
Tourists want to know the duration of a dinner cruise because it helps them plan the transport back to their hotel later.
Seine Dinner Cruise hours
The night time Dinner Cruises usually set sail between 8 pm to 9 pm.
Early evening dinner cruises set sail between 6.15 pm to 6.30 pm.
You will find the exact departure time of your cruise on the ticket booking page (and the ticket).
Knowing the departure time is essential because you need to be at the departure port at least 45 minutes earlier.
Boarding time
Dinner Cruise's boarding starts half an hour before the cruise's departure and usually takes 15 minutes.
If you book an early evening Seine Dinner cruise, the boarding will start at 6 pm.
Dinner cruise frequency
Depending on the number of restaurant boats, a boat tour company has, the frequency of its dinner cruises will vary.
For instance, Bateaux Parisiens has three Seine Dinner cruises sailing out every day.
Cruise 1: Departure at 6:15 pm and return at 7:30 pm
Cruise 2: Departure at 8:30 pm and return at 11 pm
Cruise 3: Departure at 9 pm and return at 10:30 pm
So you may want to decide which one you would want to book.
Cruise duration is the longest for the restaurant boat that sets sail at 8.30 pm.
Dress code for Seine River Dinner Cruise
Knowing the dress code of the Dinner Cruise you plan to book is important to ensure that you reach the port of departure in appropriate clothes.
All dinner cruises have their own dress code, which you will be able to see on the ticket booking page.
You can't go wrong if you are in a smart dress for a Seine Dinner Cruise.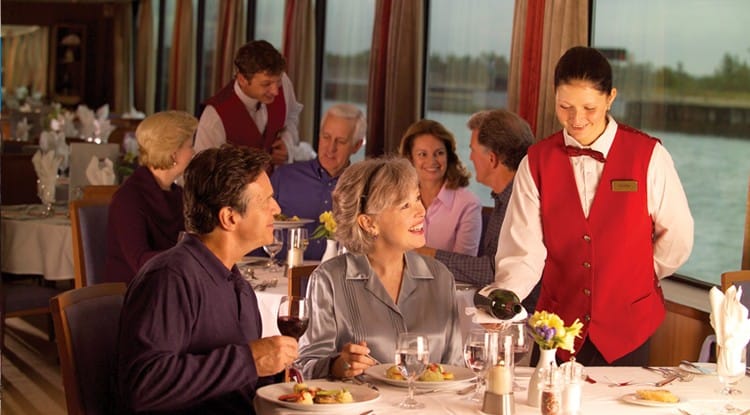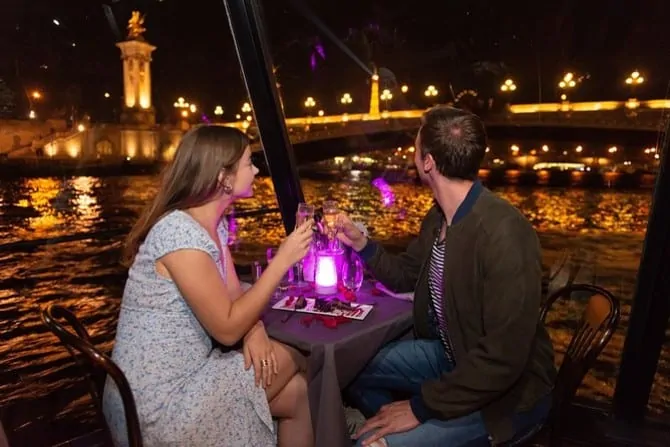 Some tourists believe that since they have already booked the Dinner Cruise, they will be allowed to board the cruise even if they don't follow the dress code.
That's not true – good boat tour companies refuse entry to visitors not dressed appropriately.
That's why it is always better to avoid sportswear, sports shoes, shorts, flip flops, caps, etc. for a dinner cruise on River Seine.
Other activities with the Dinner Cruise
Some Seine Dinner Cruises come combined with other Parisian attractions such as the Crazy Horse, Lido de Paris Cabaret show, Moulin Rouge, or Eiffel Tower for that matter.
Tourists who want to add one more tourist attraction to their dinner cruise opt for these combo tours.
Some prefer these combo tours because they are approximately 15% cheaper than if the tickets are bought individually.
---
---
Best Seine River dinner cruise
Seine Dinner Cruises come in many flavours.
But before we share the six different options, let's explain how these River cruise tickets work.
How online Seine River Cruise tickets work
The moment you purchase the tickets to Dinner Cruise in Paris, they get emailed to you.
On the day of your visit, show the tickets in your email, on your smartphone, and board the boat. No need to take printouts!
Since you would have bought these tickets online, you get to skip the line at the attraction's ticket counter.
Now for the six types of Seine River Dinner experiences, you can book –
Gourmet dinner cruise
This Seine River Dinner cruise if offered by Bateaux Parisiens and is very popular among visitors.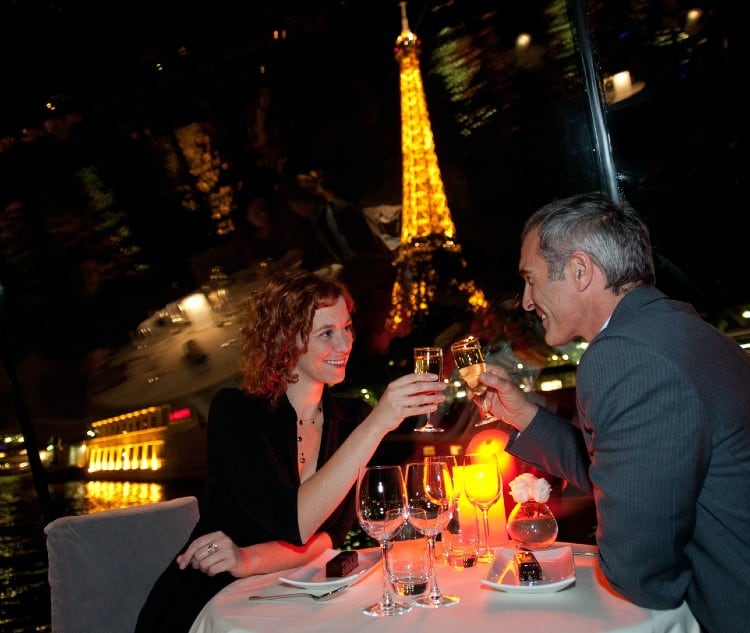 You get to enjoy a four-course meal and wine, a live singer, and stunning visuals of the city of Paris all illuminated.
The boarding starts at 8 pm at the foot of Eiffel Tower and goes on till 8.15 pm, and at 8.30 pm, the cruise leaves the port.
The boat returns to the shore at 11 pm.
The dress code for this exceptional dining gourmet cruise is smart casual.
Patrons aren't allowed to wear jeans, sports shoes, shorts, or caps.
Dinner cruise menu
While booking this Seine dinner cruise, you must choose between four different menus.
Here is what you get –
Etoile Service: A starter, a main, and a dessert
Découverte Service: Two starters, two main courses, two desserts, and Petits Four. Besides, you also get a table with a panoramic view and a glass of champagne.
Privilege Service: Starters, mains, cheese dish, desserts, Petits Four, a glass of champagne as an aperitif, and a selection of premium wines. With this service, you also get an excellent window seat.
Premier Service: This the best menu and hence also the costliest. It gets you a table at the front of the boat, two glasses of champagne, and a selection of premium wines and mature cheese with an appetizer. Besides this, you also get your choice of starter, main dish, dessert, and Petits Four.
Ticket Price
Étoile Service: 99 Euros / person
Découverte Service: 139 Euros / person
Privilège Service: 169 Euros / person
Premier Service: 205 Euros / person
Early evening dinner cruise
Bateaux Parisiens offers this Dinner Cruise as a cheaper version of the Gourmet dinner cruise mentioned above.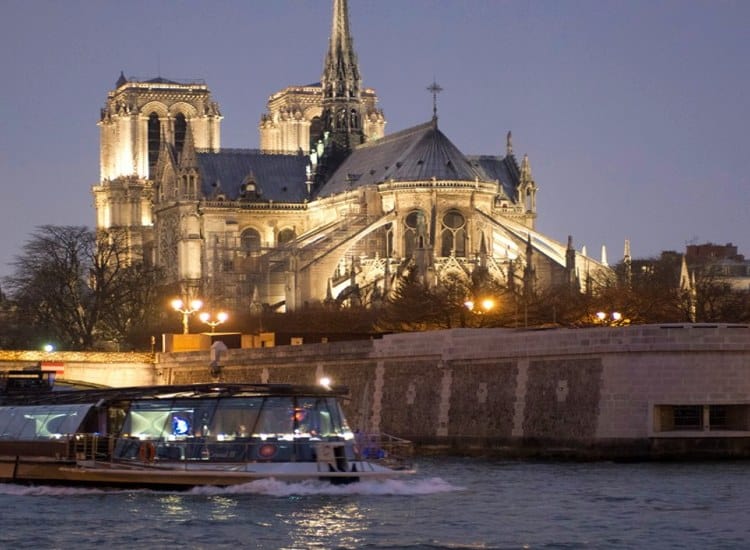 You get to enjoy a three-course meal and share a bottle of wine.
The boarding starts at 6 pm at the foot of Eiffel Tower, and at 6.15 pm, the boat sets sail.
The boat returns to the shore at 7.30 pm.
The dress code for the early evening Seine River dinner cruise is casuals, but shorts aren't allowed.
Depending on your budget, you can either book a table near the window or a table at the aisle.
Early Evening Dinner Cruise Menu
Adult ticket (12+ years, Aisle table): 69 Euros
Adult ticket (12+ years, Window table): 85 Euros
Child ticket (up to 11 years): 34 Euros
Here is another early evening, 3-course dinner cruise in the same range.
Pizza dinner cruise on River Seine
This is a one hour and 45 minutes long dinner cruise, during which you get appetizers, seven types of pizza, and dessert.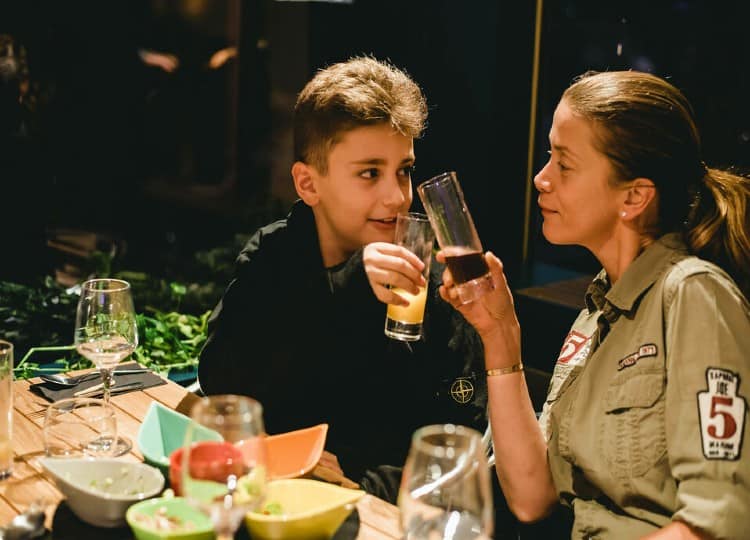 This dinner cruise is also known as 'Pizza on the Seine.'
This boat called LE DANIEL'S departs from close to Pont de Grenelle, facing the Statue of Liberty at 8.30 pm. Location
Adult ticket (11+ years): 35 Euros
Child ticket (3 to 10 years): 29 Euros
If you are looking for a cheap dinner cruise on River Seine, check out this one on board Paris en Scène
Lounge Dinner cruise
This is the perfect Seine River Dinner Cruise, if you love to party till late.
Boarding for this two-hour-long dinner cruise starts at 8.30 pm, and the boat departs at 9 pm.
The boarding takes place from Port d'Austerlitz. Location
During this dinner cruise, you get to enjoy a 3-course meal including starters, meal assortments, and desserts.
A chef on board prepares food.
Even as you take in the Parisian monuments, you enjoy live singers in a lounge atmosphere.
A party (till 12.30 am) with a live DJ follows this dinner cruise.
Adult ticket (18+ years): 69 Euros
Child ticket (3 to 18 years): 39 Euros
Romantic dinner cruise on Capitaine Fracasse
The most romantic cruise on the Seine is the Gourmet Dinner Cruise detailed above.
If you want to spend a romantic evening with your partner, but can't afford the high costs of a Gourmet Dinner Cruise, Capitaine Fracasse is your next best option.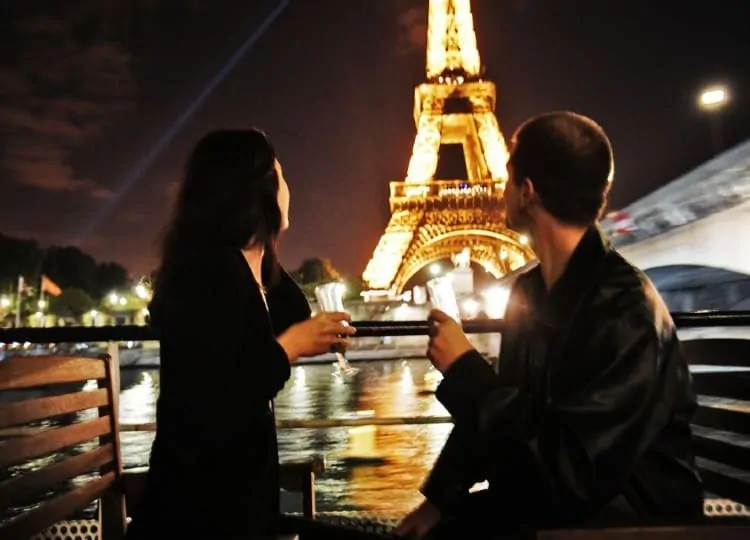 Capitaine Fracasse is a glass-enclosed boat, which also has an open-air terrace offering unforgettable views of the Seine and the city of Paris.
This two-hour dinner cruise departs at 8.15 pm from Bir-Hakeim bridge, which is a brisk 3-minutes' walk from the Eiffel Tower. Location
Adult ticket (13+ years): 67 Euros
Child ticket (4 to 12 years): 35 Euros
Bistro style Seine dinner cruise
A Bistro or Bistrot is a small restaurant serving moderately priced simple meals with alcohol.
Some tourists prefer to focus on sightseeing during their Seine cruise and enjoy dinner at the quay later.
If you are one of them, this three-hours long Bistro dinner plus cruise package offered by Bateaux Parisiens is just perfect.
The Seine Cruise sets sail by 5.30 pm, and once you are back, you have dinner at Le Bistro Parisien anytime between 6 pm to 10 pm.
This see-through bistro offers fantastic views of the Eiffel Tower and the River Seine.
Adult ticket (12+ years): 59 Euros
Child ticket (3 to 11 years): 19 Euros
---
---
Seine Cruises with shows
Couples who want to make it a memorable night, or friends who want to paint the town red opt for Seine Cruise dinners combos with exciting Parisian shows.
We list them below –
Dinner Cruise, Eiffel Tower & Moulin Rouge
This seven-hour long tour includes a visit to the Eiffel Tower, a Seine River Cruise and a Moulin Rouge cabaret show with a glass of champagne.
While booking this tour, you can choose to either have dinner on your cruise or in Eiffel Tower's restaurant.
When the Moulin Rouge show ends late at night, you will be dropped to your hotel by a luxury air-conditioned coach.
This tour is not suitable for kids under the age of six.
Adult ticket (12+ years): 242 Euros
Child ticket (6 to 11 years): 189 Euros
Dinner cruise + Lido de Paris Cabaret Show
This six-hour tour starts at 5.45 pm with an early dinner cruise on the River Seine to see the famous sights in Paris.
Later you head to Lido de Paris located on the Champs-Élysées to enjoy a cabaret and burlesque show called 'Bonheur Revue.'
At the end of the tour, you are dropped off at your hotel.
Adult ticket (12+ years): 189 Euros
Child ticket (6 to 11 years): 89 Euros
Dinner cruise + Crazy Horse Show
In this Dinner Cruise combo, after the cruise, you visit Le Crazy Horse de Paris to enjoy a glamorous performance called 'Totally Crazy.'
During the Cabaret show, you get half a bottle of Champagne.
This four-hour long tour starts at 7.15 pm.
Ticket price: 192 Euros/person
---
---
Special Dinner Cruises
Seine River Dinner Cruise is very much in demand on three special days in a year – New Year's Eve, Valentine's Day, and Bastille Day.
These days, Paris takes a totally different avatar, which both couples and families love.
New Years' Eve Dinner Cruise
This Dinner Cruise starts at 8.15 pm on 31 December.
You get picked up from your hotel and dropped at Quai de Bercy, from where you board one of the 'La Marina' restaurant boats.
Onboard the cruise, you enjoy a special New Year's Eve dinner, dancing, and a DJ.
Adult ticket (12+ years): 400 Euros
Child ticket (3 to 11 years): 300 Euros
Valentine's Day Dinner Cruise
This trip is a three and a half-hour long romantic dinner cruise on Seine River.
Even as you witness Paris all illuminated, the Chef serves you a menu especially designed and created for Valentine's Day.
During this two-hour long cruise on the Parisian river, you will also enjoy Live Entertainment.
You can choose between three services – Elegance, Privilege, and Premier.
Ticket price: 150 Euros/person
Bastille Day Dinner Cruise
You float along River Seine during this cruise and enjoy the festive atmosphere on Bastille Day – July 14.
The cruising begins at 8 pm and lasts for four hours.
You get to enjoy a fantastic six-course meal with wine, Champagne, and live musical entertainment.
Ticket price: 155 Euros/person
---
---
Seine Dinner cruise route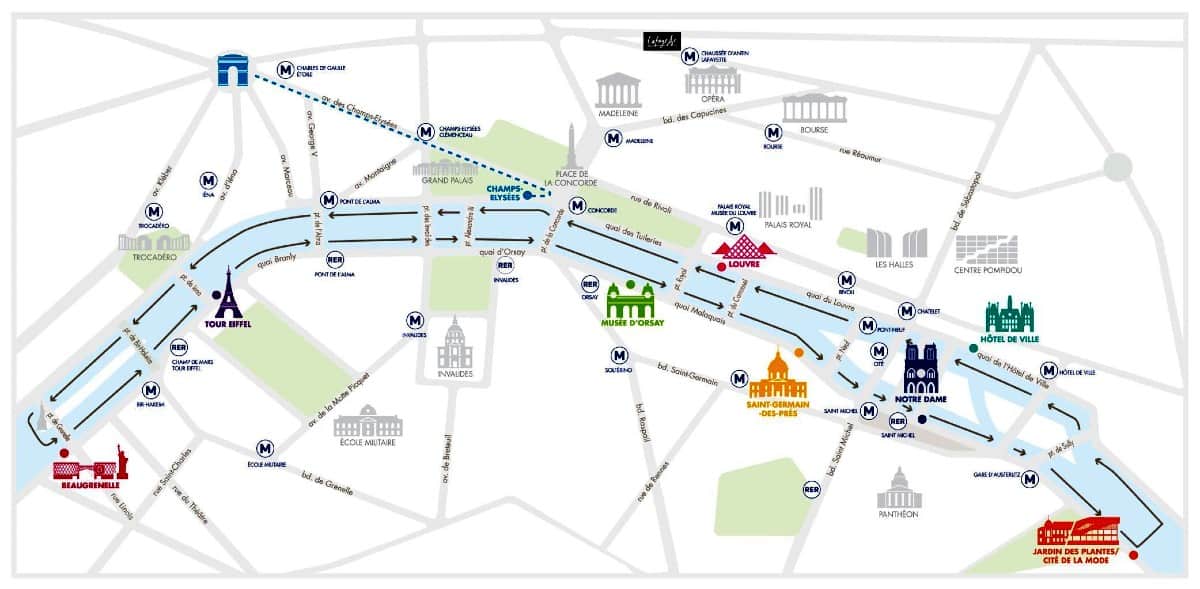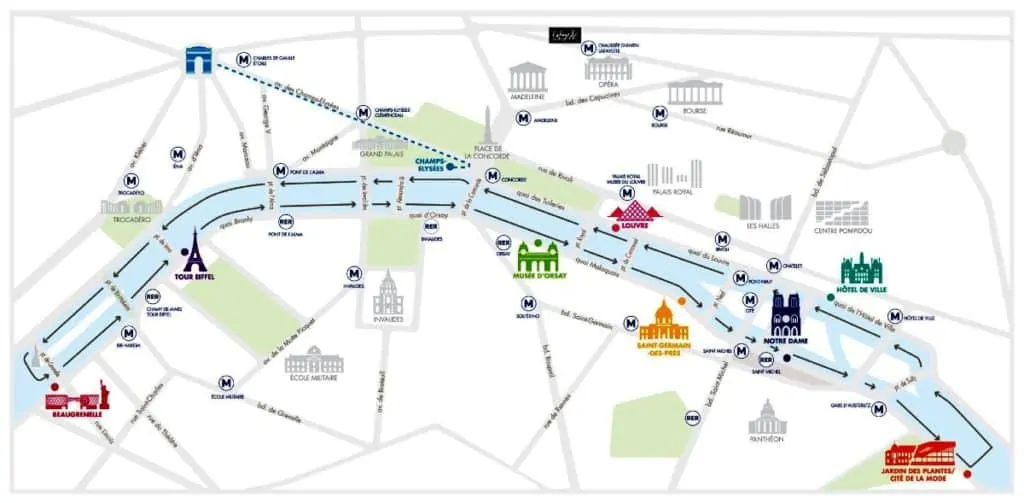 Since the Seine river runs through the city of Paris and all the major attractions are lined up next to it, there is no difference in the routes the different companies follow.
All the dinner cruises go up to the François Mitterrand library to the East and up to the Ile aux Cygnes with the Statue of Liberty to the West.
Some of the major Parisian landmarks visible from dinner cruise boats are The Eiffel Tower, Louvre Museum, Museum d'Orsay, Notre Dame Cathedral, and Pont Neuf, the oldest bridge in Paris.
During your dinner cruise, you can also spot the two natural islands in the middle of the river – Île de la Cité and Île Saint-Louis.
---
---
Seine River Dinner Cruise reviews
Dinner Cruises is a highly-rated tourist activity in Paris.
Check out two Seine River Dinner Cruise reviews we have picked from Tripadvisor, which give you an idea of what to expect from the experience.
A Highlight of our Stay in Paris
Our group of six had the table at the front of the boat for this dinner cruise on the Seine. The views were incredible, and the meal was perfect. A great experience for our last night in Paris. – Kooner2, Canada
All around great river cruise and dinner
This was a lot of fun. The staff was very helpful and friendly. The food was delicious, and with so many courses, there was a plan to fill us up. Our waiter was awesome informative, friendly, and entertaining. We went after nightfall, and it was so beautiful to see Paris in this way. – Iskandar1980, North Carolina
Sources

# Bateauxparisiens.com
# Cometoparis.com
# Seine-river-cruises.com

The travel specialists at TheBetterVacation.com use only high-quality sources while researching & writing their articles. We make every attempt to keep our content current, reliable and trustworthy.
Popular attractions in Paris
# Eiffel Tower
# Louvre Museum
# Palace of Versailles
# Arc de Triomphe
# Musee d'Orsay
# Centre Pompidou
# Notre Dame
# Pantheon
# Paris Zoo
# Sainte Chapelle
# Montparnasse Tower
# Picasso Museum
# Catacombs of Paris
# Opera Garnier
# Disneyland Paris
# Seine River Cruise