Seas, cliffs, foliage, valleys— Ireland is undoubtedly a country of unsurpassed scenic beauty.
Every which way you turn, chances are that there is some natural wonder waiting to take your breath away.
Now imagine playing a round of Golf amidst such awe-inspiring natural sights and sounds.
This is reasoning enough for you to book yourself a Golf vacation in Ireland.
Nature and human influence have together ensured that some of the best Golf courses in Europe are designed in Ireland.
After Golfing at memorable Golf courses such as Ballybunion, Royal County Down and Portmarnock you will not feel like coming back to reality.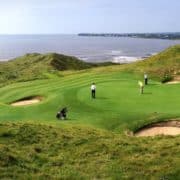 Best Golf courses in Ireland
There are many moving parts to any Golf holiday.
The most important decision of your Golf break in Ireland will be the Golf courses you want to try out.
You are sure to be spoilt for choices when it comes to Golf courses in Ireland. However, some of the courses are better than the rest.
Here is our recommendation on the top four Golf greens in Ireland –
1. Old Golf Course at Ballybunion Golf Club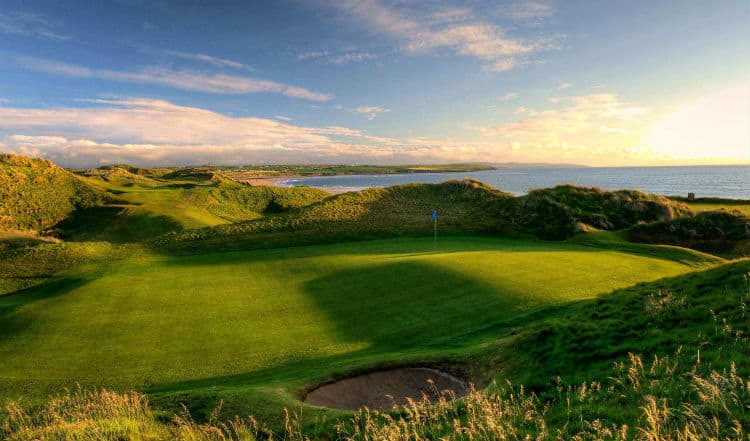 The most famous Golf course in Ireland is the Ballybunion Golf Club.
The present club was built in 1906. One of the oldest Golf clubs in the country, it has two courses—the Old Course and the Cashen Course.
Of these, the Old Course had been counted among the top ten Golf courses in the world and is the more popular of the two.
In the late twentieth century, Herbert Warren Wind, the renowned Golf writer lavished praise on the Old Course.
Soon after, Golf enthusiasts started flocking in to sample the wares of the course.
Till date, the Ballybunion Old Course remains a top draw for Golf packages in Ireland.
It is beside the sea and is largely untouched by man or much vegetation.
Built on the same turf as the Old Course, the Ballybunion Cashen is considered by many to be a more difficult Golf course.
It was designed by Robert Trent Jones Sr, who fell in love with the linksland beside the Atlantic Ocean.
Recommended Reading
1. Golf holidays in the UK
2. Golf holidays in Portugal
2. Adare Manor Golf Course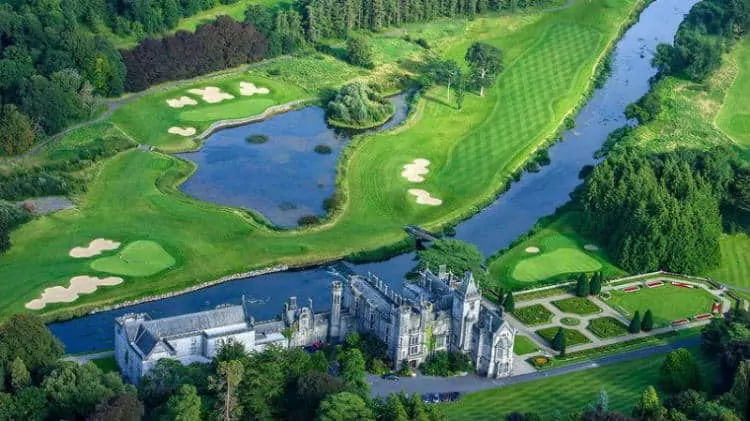 Robert Trent Jones Sr also designed Adare Golf Club. But unlike the Cashen, the Adare Golf course has mesmerizing parklands.
Where most Irish Golf courses retain a typically British flavor, the Adare is built with an American influence.
With streams, deep woods, an enormous lake, cloverleaf bunkers, the Adare Golf Club is indeed a memorable inland Golf course.
3. Old Links course at Ballyliffin Golf Club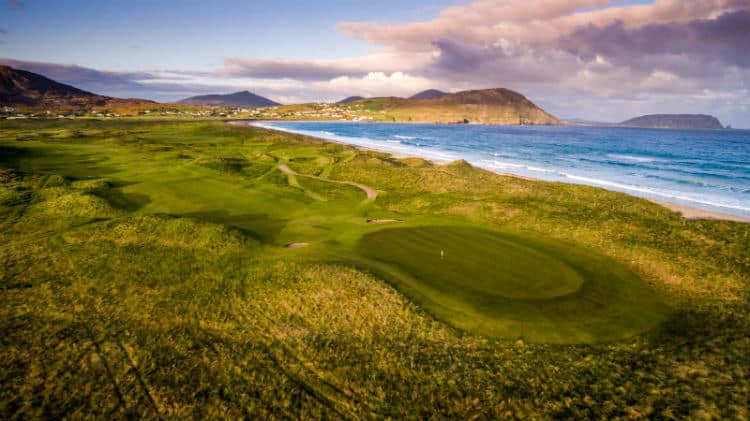 The Ballyliffin Golf Club has two courses—the Old Links and Glashedy Links.
The Ballyliffin terrain is hailed by many as the perfect setting for a memorable Golf break.
Golfer Nick Faldo was famously enamored by the Ballyliffin Old Links Golf course.
He was part of the team that designed the Golf course, though the major work was already done by Nature.
The Glashedy Links was a later addition, built on a more detailed and large scale than the Old Links.
Both Golf courses are a Golfer's delight and your Golf tour will remain incomplete without a pilgrimage to the Ballyliffin.
4. County Louth Golf Club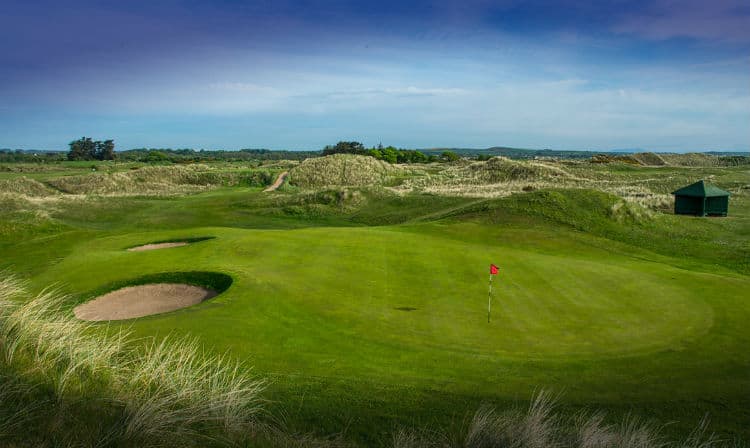 The best links courses in Ireland are concentrated along the south-western region of the country.
However, holding the beacon alive and well for the east coast are Golf clubs like Baltray and Portmarnock.
Locally known as Baltray, the County Louth Golf Club was originally built in the nineteenth century and redesigned in 1938.
The alterations don't stand out like a sore thumb, instead subtly adding to the charm and challenge of the Golf course.
Recommended Reading
1. Golf holidays in Poland
2. Golf holidays in Spain
Best Golf Resorts in Ireland
All inclusive Golf holidays in Ireland does not have to mean emptying your bank balance.
On the contrary, Ireland offers all types of accommodation for Golf tourists, from budget to five-star.
The Irish Open was held for four consecutive years at the Druid Glen Resort, so you can safely include it in your Golf holidays.
It has two courses for its guests, the Druid Glen and the Druid Heath.
The luxury resort offers attractive Golf packages.
For example, there are short stay packages that include a one-night stay and one round each at the two Golf courses.
If you book a four nights package, you will get rounds at other Golf courses too.
There are discounts on burgers and beer at the Golf courses, making your Golf vacations a lot friendlier and relaxed.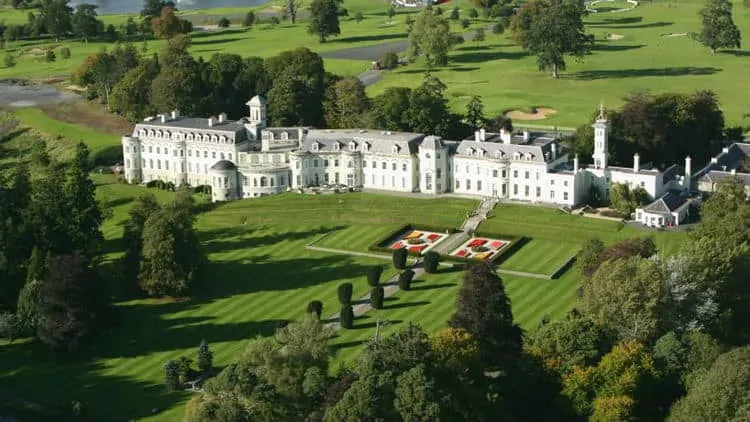 The K Club Golf and Spa Resort owes its international popularity to the Ryder Cup.
This premier Golf championship brought the world-class resort the recognition it richly deserves.
Any Golf holiday in Ireland is incomplete without experiencing the K Club.
A pair of Golf courses built on international standards will keep your days pleasantly occupied.
When you want to relax, there are all five-star luxuries that one can think of.
There are many Golf packages to choose from as well.
The romantically named Mount Juliet is another top destination for Golf breaks in Ireland.
There is some beautiful scenery to mesmerize your eyes.
For the nourishment of the Golf tourist's soul, there is a little fact.
Mount Juliet is the only signature Golf course in Ireland designed by the great Jack Nicklaus.
The Nuremore Hotel and Country Club in Carrickmacross has a lovely Golf course that will delight your soul and satisfy your yearning for a Golfing adventure.
They have good Golf packages throughout the season.
Best time for Golf holiday in Ireland
Ireland enjoys a pleasant climate all through.
There is, however, occasional rain and the winter temperatures which might not be to everyone's liking.
Ireland is at its best in June, July and August.
The crisp weather will provide the ideal backdrop for your Golf holiday.
Though you have to brace yourself for steep prices as this is peak tourist season.
You can also opt for a Golf break in Ireland between the months of March and May, and again from September to November.
It is best to plan your itinerary and book Golf resorts in advance because hotels get booked for months before.
Green fees in Irish Golf courses
Green fees in Ireland vary from season to season.
Green fees in winter are generally cheaper than that of summer months. The lesser Golf courses have green fees of around 25-30 Euro, while the more high-end ones will set you back by 60 Euro. Some Golf clubs charge more on Saturdays than the rest of the week.
There are many Golf packages where discounts are offered on green fees.
Seniors get a discount on some courses.
It is best to research online and see all available offers before making a booking.
Online reservations also carry their own attractive discounts and offers.
Sources

# Yourgolftravel.com
# Golfbreaks.com
# Golfholidaysdirect.com
# Hiddenlinksgolf.com

The travel specialists at TheBetterVacation.com use only high-quality sources while researching & writing their articles. We make every attempt to keep our content current, reliable and trustworthy.
Recommended Reading
1. Golf holidays in France
2. Golf holidays in New Zealand