Who doesn't love capturing every moment with the camera, especially when you're in a magical land like Disneyland Paris?
Wouldn't it be great to adorn your walls with photo frames showing you hugging Mickey or screaming during the rides?
Disneyland Paris has set up a Photopass system that lets you collect memories and keep them with you for the rest of your life.
This article shares everything you should know about Photopass Disneyland Paris.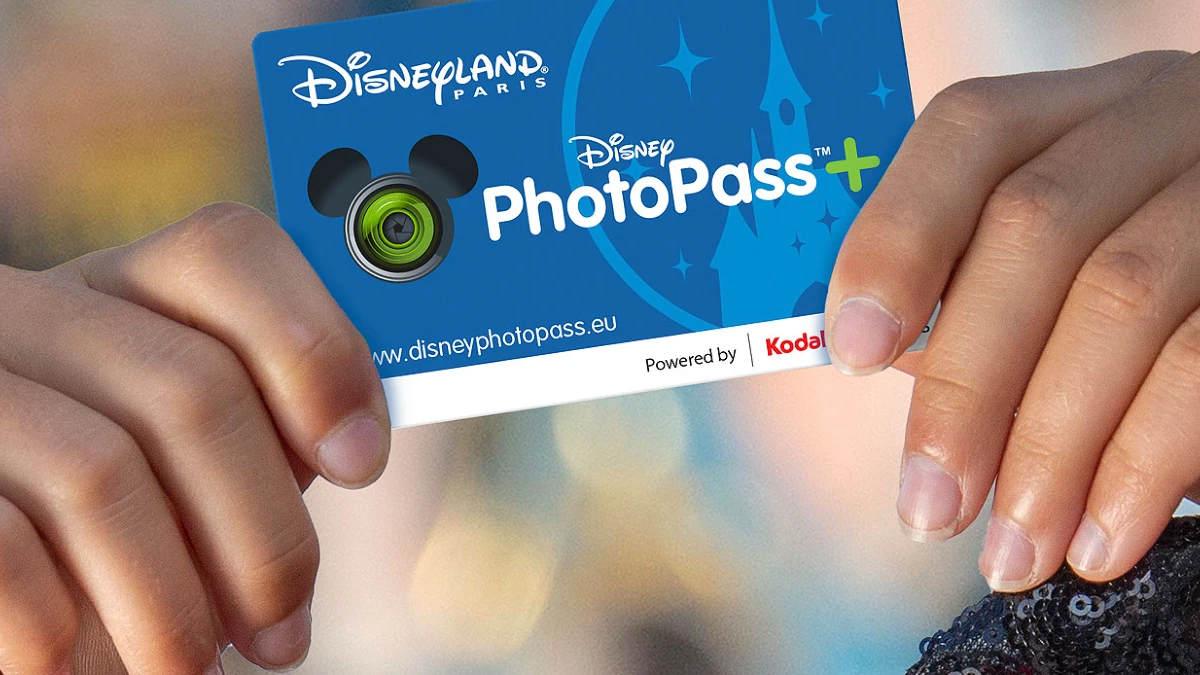 What is Photo Pass Disneyland Paris?
Disneyland Paris' PhotoPass is a professional service available at theme parks so that the visitors can take back memories of the good time spent.
With the Disney Photo Pass Service, guests can view and purchase digital image files of your photos taken by a Disney PhotoPass photographer or at an attraction with an image capture system.
You can request a Disney PhotoPass card at the attraction or from the photographer and then see all your photos at a Disney PhotoPass Sales point available throughout the theme park.
You can also mention your PhotoPass ID at Disneyphotopass.eu and download them.
When you've expert photographers by your side, you don't have to worry about the lighting, camera angle, shadows, and quality.
Recommended Reading: Attractions at Disneyland Paris
---
---
PhotoPass and PhotoPass+
At Disneyland theme park in Paris, you'll find two options to get clicked – PhotoPass and PhotoPass+.
A PhotoPass Service is free at any attraction with an on-ride photo system and also with the official photographers in the Park.
From each attraction with an on-ride system, you can collect a Photo Pass so that you look at/download your photos later.
However, if you want to collect all the photographs you take at Disneyland Paris at once place, you must buy PhotoPass+ which is a paid service.
---
---
How does the PhotoPass work?
If you have got a PhotoPass plus in your hands, you're all ready to go.
The Disney PhotoPass is a plastic card encoded with a chip that can be scanned by the Park's official photographers and on any rides where photos are taken mid-ride.
When you visit an attraction or ride, show your Photopass or PhotoPass+ card to the photographer, who will then click and save your pictures.
All these images are transferred as high-quality digital image files to the online portal, which you can access by logging in.
Where can I use my Disneyland PhotoPass?
Photopass is useful at two places –
Use them at the rides
Photopass service is available at the following Disneyland rides at the two theme parks:
Disneyland Park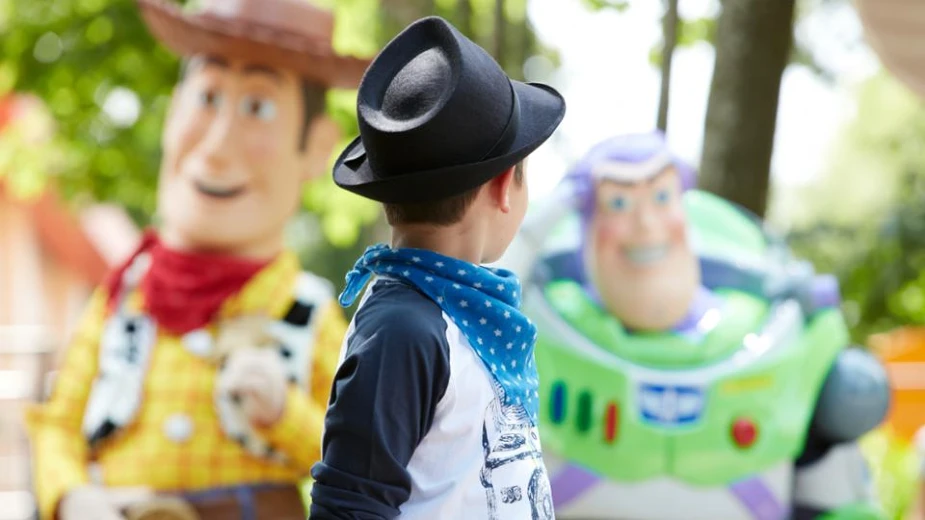 – Buzz Lightyear Laser Blast (Discovery Land)
– Hyperspace Mountain (Discovery Land)
– Big Thunder Mountain (Frontier Land)
– Pirates of the Caribbean (Adventure Land)
Walt Disney Studios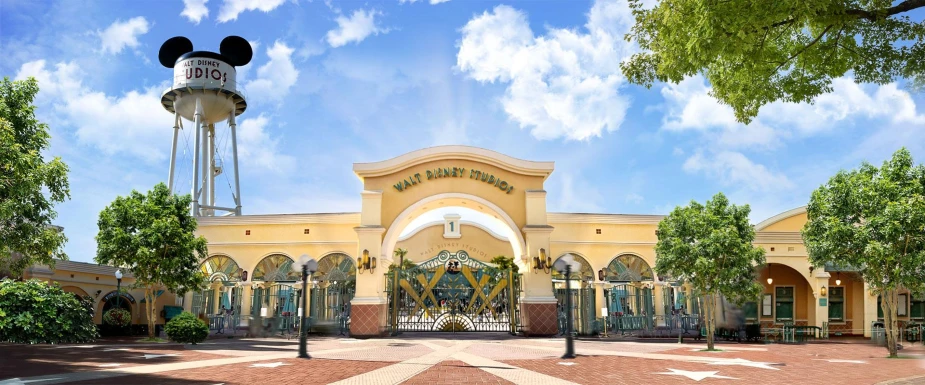 – Tower of Terror
Before you leave the attraction, show your PhotoPass card to the ride attendant.
Note: The popular Disneyland Paris rides have long waiting times, but a Fast Pass can help avoid the queue in most cases. If you are visiting with younger kids, check on the height restrictions before lining up at a ride.
With Disneyland PhotoPass Photographers
You can find Disneyland PhotoPass photographers almost everywhere in the Park– at iconic photo spots, dining locations, rides, and places where you meet Disney characters.
All Disney PhotoPass Photographers use professional-quality digital cameras and wear Cast Member name tags, making them easy to identify.
After they have taken your photograph, share your PhotoPass with them so that they can link your photos to your pass.
Recommended Reading
# Disneyland Paris one day ticket
# Disneyland's two day ticket
---
---
Where to buy PhotoPass Disneyland Paris?
Getting a Disneyland Paris PhotoPass is very easy.
The Disney PhotoPass is available for free at all Disney park attractions with an on-ride photo service and with official Disney photographers roaming the park.
If you want to save your photos, you must show this card to the Photographer, and at the end of your trip, go to any Disneyland Photo sales shop at the park and get the photos printed.
You must pay, depending on the number of photos and prints you need.
However, PhotoPass+ works differently – you can purchase the premium PhotoPass+ in advance at the park entrance.
Or when you book a Hotel + Tickets package or at certain boutiques throughout the Parks and Hotels during your trip.
How do I get my photos?
All photos that you save on PhotoPass (or PhotoPass+) during your stay at Disneyland Paris are automatically transferred and saved to your personal account.
To access all the photos, you must link your vacation photos to your Disney account by entering the unique ID on your Disney PhotoPass card.
When you log into your account, you can view, download and print all the pictures.
You may either purchase individual downloads of your Disney PhotoPass photos or simply get copies of all your images with the purchase of the Disney PhotoPass+ pass.
The images stored on your PhotoPass+ are available on the online platform for one year, so if you want to save your memories forever, download them on your phone or computer.
Note: Understand how the Standby Pass at Disneyland Paris works to avoid the crowd during peak days.
---
---
Is PhotoPass worth it?
Photo Pass at Disneyland Paris is totally worth it – especially if you are a first time visitor, solo traveller, large group, or are celebrating a milestone at the theme park.
Best for first timers
If you're going to Disneyland Paris for the first time, then PhotoPass can be of great use to you.
The photographers will take the best photos at the best spot, making your trip all the more memorable.
Everyone is in the pic
The best thing about PhotoPass is that nobody is left behind the camera.
Perfect for solo travelers
For solo travelers, PhotoPass can be very convenient for getting pictures clicked.
You would no longer need to ask other visitors to take your pictures, because the official photographers will do it for you.
Special events/occasions
Disney celebrates various events and occasions that attract tourists from around the world.
Especially during Christmas and Halloween, the Park is illuminated with lights and decorations that will fill you with joy.
When Disney plans so much for you, why not capture these moments on a camera and lock them for a lifetime?
Photography tips for getting some best clicks
Here are some tips on how to get the best photographs at Disneyland Paris.
Assume the character pose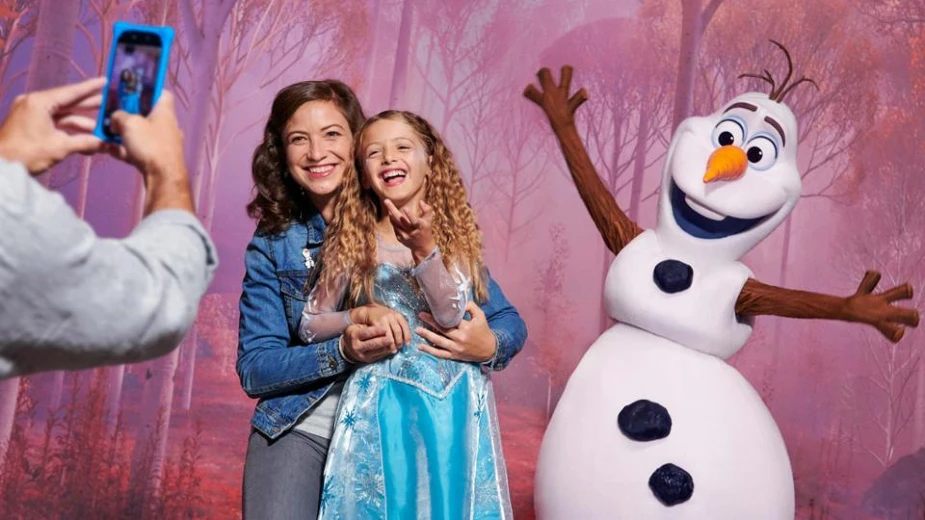 Instead of taking ten pictures, get one perfect click with the character that too in the character pose.
Ask the characters for pose ideas; they will tell you their signature pose.
Kids would love this, for sure!
Take Advantage of Magic Morning/Early Magic Hour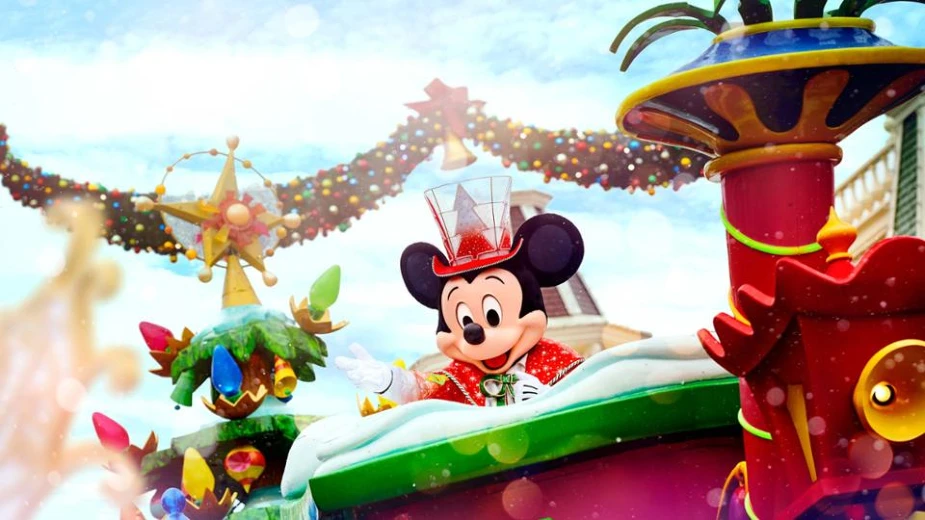 If you've purchased Disneyland Extra Magic Hour, you get a chance to be inside the theme park much before the crowd has arrived.
When you use Extra Magic Hour, you don't just get early access to the attractions; you get a chance to click photos without any photobombing.
In the morning hours, when the crowd is yet to gather, you can get a perfect snap at the Sleeping Beauty Castle or Tower of Terror.
Let your PhotoPass photographer guide you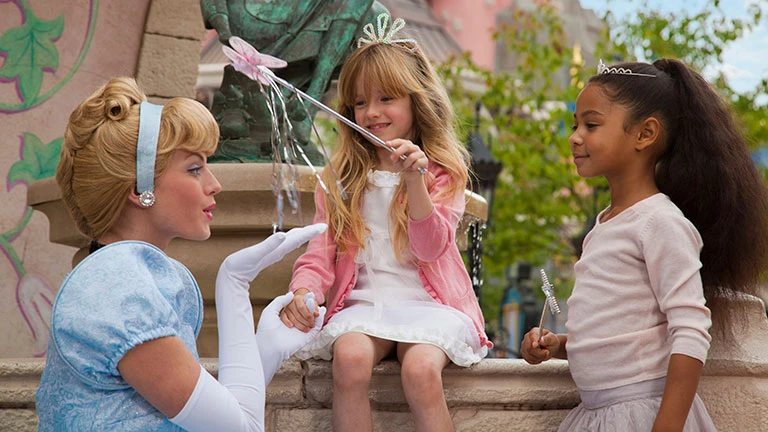 The PhotoPass photographers are experienced professionals who know which corner of the Park will get you good clicks.
So ask for their suggestions, the right pose, and the place for the photo.
Dress for the occasion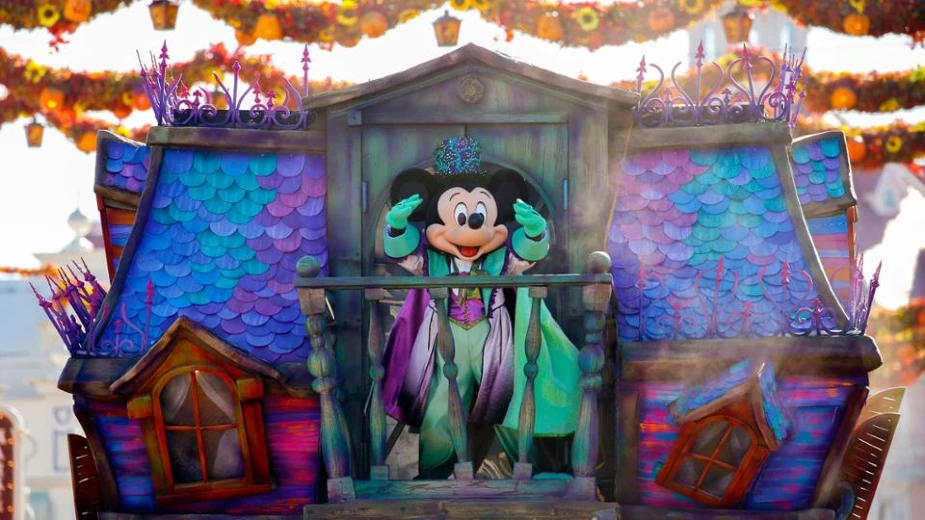 We always recommend visitors wear comfortable clothes and shoes at the Park, but that doesn't mean you should dress up sober for the this Pearl of Paris.
When you're at Disneyland Paris, you should do some extra magic to your clothes to look good in pictures; after all, the snaps will be with you for your entire life.
Boys can wear a funky t-shirt or shirt paired with denim, cargo, or shorts.
Girls can wear tank tops, tees with skirts, jeans or shorts.
But regardless of what you wear, make sure you wear comfy shoes and not heels or slippers because you'll have to walk a lot, and we don't want your feet to get hurt.
Don't forget to carry extra layers like jackets or sweaters because it always gets chilly in the morning and evening – even when you think it's not going to be!
Recommended Reading: Disneyland Paris packages
---
---
Magic Shots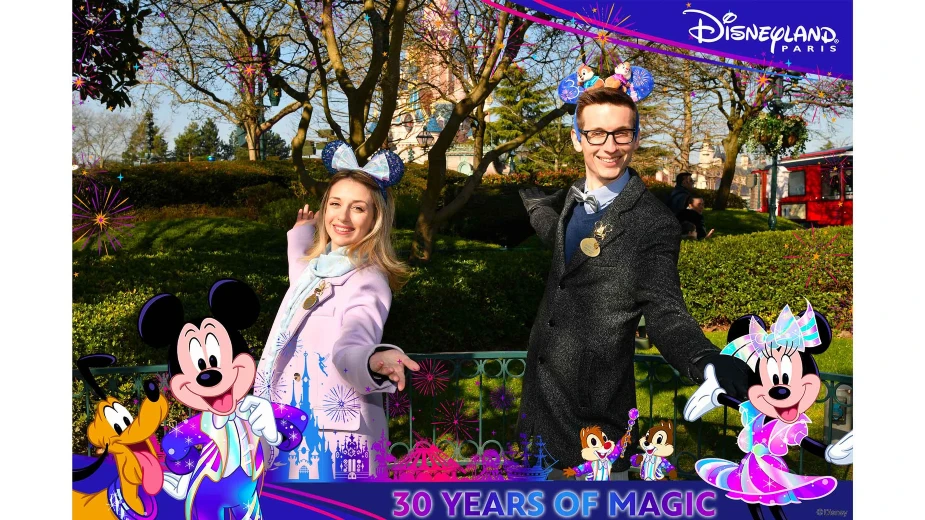 Post-pandemic, Disneyland Paris has come up with Magic Shots.
These magic shots are only available with the PhotoPass and are offered at numerous locations in both parks.
What are Magic Shots?
Magic Shots sprinkles extra magic into your photos to make your dream come true.
When you get a Magic Shot, the photographer will add special effects or characters to enhance your photos.
Only after the photo gets uploaded or printed do you see the holding Tinkerbell in your hands, a minion on your left, and a princess behind you.
Sources
# Disneylandparis.com
# Disneyholidays.co.uk
# Meganlovesdisney.com
# Tripadvisor.com

The travel specialists at TheBetterVacation.com use only high-quality sources while researching & writing their articles. We make every attempt to keep our content current, reliable and trustworthy.
Popular attractions in Paris

# Louvre Museum
# Eiffel Tower
# Arc de Triomphe
# Palace of Versailles
# Disneyland Paris
# Musee d'Orsay
# Centre Pompidou
# Notre Dame
# Paris Zoo
# Pantheon
# Sainte Chapelle
# Montparnasse Tower
# Picasso Museum
# Catacombs of Paris
# Opera Garnier
# Seine River Cruise
# Seine Dinner Cruise