Disneyland Paris is a park where one gets a feeling of being in a magical land as the princess of sleeping beauty castle moves past, Mickey and Minnie stand at the corner to give you a tight hug, and Ratatouille is eager to share his recipes.
The park has rides suitable for all age groups, shows to entertain visitors, and parades to make you dance and sing along.
Each ride and attraction at Disneyland Paris has an incredible design resembling exactly what one sees on television.
If you're a Disney kid, find out the best Disneyland Paris package for you!
This article shares the popular attractions at Disneyland Paris.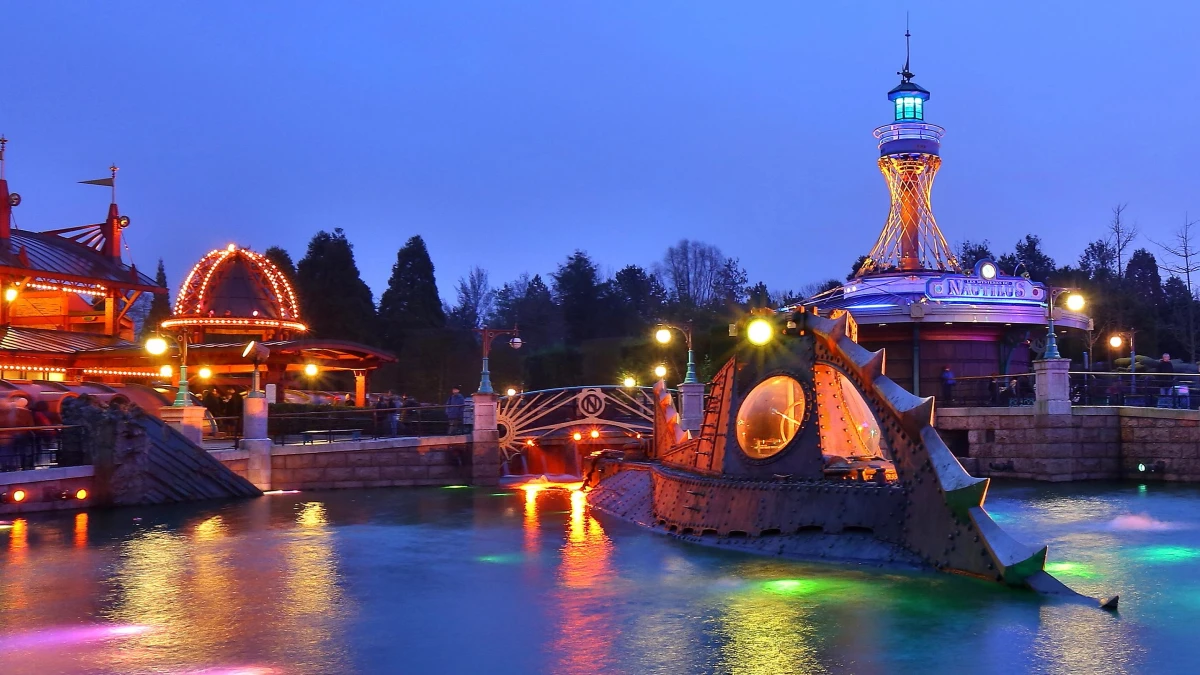 Big Thrill Rides at Disneyland Paris
There are many rides at Disneyland Paris – some are meant for younger kids, while others are for taller kids.
This is why it is better to read up about the minimum height requirements for all the rides, before visiting.
To skip long queues and avoid long wait times at Disneyland Paris, you can opt for the Disney's Fast Pass.
Or use the Disneyland Standby Pass which is free and allows you to reserve your spot without standing in queues.
The most popular attractions at Disneyland in Paris are the thrill rides.
Some of these thrill rides have the on-ride photo service, for which you will need to get the Photo Pass.
Some of the popular big thrill rides at Disneyland Paris are-
1. RC Racer
Tucked away at the back of the Toy Story Playland is the RC Racer ride that swings you in the air.
Once you climb into the remote-controlled car laid on orange tracks, Buzz and Woody speed up and launch you on a thrilling ride throwing you backward and forward over and over again.
Location: Walt Disney Studios Park, Worlds of Pixar
2. Star Wars
The Star Wars ride transports you into hyperspace with the Rebel Alliance on a mission to spy on an Imperial Star Destroyer.
The roller coaster ride is full of thrill and grills that make you scream.
The blaring music and stunning visual effects at Disneyland Paris Space Mountain will make you feel alive!
Location: Disneyland Park, Discoveryland
If you want to read up everything about Disneyland Paris tickets before making the purchase, follow the link.
3. Crush Coaster
Join the mission of finding Nemo with Crush and his friends at Crush Coaster.
Board the turtle shells that will take you on a heart-throbbing underwater journey bringing the movie's scenes right before your eyes.
The Crush Coster has two parts- the first part of the attraction is taking guests to the Great Barrier Reef, where they meet Nemo and Squirt, while the second is riding on turtle shells.
Location: Walt Disney Studios Park, Worlds of Pixar
4. Big Thunder Mountain
Big Thunder Mountain Railroad is a mine train roller coaster that takes you through darkness into the light, offering incredible views from your seats.
As you board your train, it dives into a dark tunnel that slowly makes its way to a hilltop, growing next to the track stalactites and stalagmites, along with several rainbow-colored pools of water.
The swooping bats, shaking tracks, and rumbling sound of the train make this ride more than ordinary.
Location: Disneyland Park, Frontierland
5. Phantom Manor
Experience the spine-chilling stories of the haunted manor in Thunder Mesa at Disneyland Phantom Manor.
Know how Henry Ravenswood's beloved and beautiful daughter, Melanie's lover, met a tragic and mysterious ending.
This ghoulish attraction combines a walk-through portion with Omnimover vehicles that slide you through different story plots of the haunted mansion.
Disneyland Paris Haunted Mansion is worth exploring as it is created using brilliant special effects, Audio-Animatronics, with a unique orchestral soundtrack.
Location: Disneyland Park, Frontierland
6. Avengers Campus
For all the Avengers fans, Disneyland Paris has created an Avengers campus– a place where you can meet your favorite superheroes from the Avengers movie.
The Marvel Disneyland Paris building has a wonderful design that looks even more spectacular at night.
The animatronic Iron Man, the projection of avenger superheroes on screen, etc., are the campus's heart.
The main attractions at the Avengers Campus are:
– Hero Training Center
– Avengers Assemble: Flight Force
– Spider-Man W.E.B. Adventure
– Guardians of the Galaxy: Dance Challenge
Location: Walt Disney Studios Park, Avengers Campus
7. Tower of Terror
Venture into the abandoned abode at the Tower of Terror.
Wind through a dusty lobby and dark library boasting some odd artifacts that may scare you.
The television in the room tells you the terrifying stories of the Tower of Terror, and Rod Serling welcomes you on the journey to the Twilight Zone.
Edge into the boiler room, home to clattering machinery, and your passage into the 5th dimension – the service elevator.
As you go up and down in the elevator, you'll be exposed to some spooky scenes in the hotel that will take your breath away.
Location: Walt Disney Studios Park, Production Courtyard
Recommended Reading
# Disneyland two day admission
# Disneyland one day ticket

8. Indiana Jones
Get ready to go on an exciting expedition to the lost Temple of Peril on a mine car at Indiana Jones Disneyland Paris.
The mine car will go up and down, taking you through the jungle to solve mysteries with everyone's favorite explorer Indiana Jones.
This ride has so many twists and turns that we vouch your heart will palpitate.
Location: Disneyland Park, Adventureland
Family Attractions at Disneyland Paris
There are plenty of family attractions at Disneyland Paris to make you feel alive without compromising the safety of toddlers.
In most of these rides, parents can sit with their children to have a blast.
Here is a list of family attractions to enjoy at Disneyland Paris-
1. Dumbo the Flying Elephant
Inspired by Disney's animated movie, Dumbo the Flying Elephant, this ride invites everyone to witness the flying ability of Dumbo.
When flying on Dumbo, you get a mesmerizing view of Disneyland Park, leaving you amazed.
This ride is suitable for visitors of all ages, making it a perfect ride to enjoy with family.
Location: Disneyland Park, Fantasyland
2. Peter Pan's Flight
Soar high into the dazzling moonlit sky with Flight, a colorful galleon that takes you on an adventurous journey passing through jaw-dropping settings and scenes from Disney's animated film, Peter Pan.
On your journey, catch sight of famous sites from the movie – Darling children's nursery, Big Ben and Tower Bridge, Mermaid Lagoon, and Never Land.
Meet Wendy, Michael, John, Peter Pan, and Captain Hook while swooshing through the sky.
Location: Disneyland Park, Fantasyland
3. Slinky Dog Zigzag Spin
Get ready to shrink to the size of Buzz and Woody at Slinky Dog Zigzag Spin.
You'll bounce up and down as the Slinky Dog tries to catch his tail around a dog bowl filled with rubber bones.
Location: Walt Disney Studios Park, Worlds of Pixar
4. Flying Carpets Over Agrabah
Flying Carpets Over Agrabah is based on the hit Disney animated feature Aladdin.
Clamber aboard your magic carpet and get ready to take off above the bustling streets of Aladdin's land at Flying Carpets Over Agrabah.
On this ride, you'll fly around a giant Genie's lamp, so make sure you grant a wish.
Location: Walt Disney Studios Park, Toon Studio
5. The Lancelot Carousel
Located in Fantasyland is a merry-go-round ride called the Lancelot Carousel.
Come as the young knights wait for you to experience an enchanting journey moving round and round.
Hear stories of Lancelot, one of the knights of King Arthur's round table, and music that make you feel alive.
Location: Disneyland Park, Fantasyland
6. Storybook Land Canal Boats
Live your Disney moments in the Storybook Land Canal boats and enjoy the miniature settings of-
– The dwarfs' mine and house from Snow White and the Seven Dwarfs
– The gingerbread house from Hansel and Gretel
– Rapunzel's high tower with a braid coming out of it from Tangled
– Prince Eric's seaside castle from The Little Mermaid
– The Greek temple and Mount Olympus from "The Pastoral Symphony" from Fantasia
– Snow-covered landscapes from Peter and the Wolf
– The "Night on Bald Mountain" scene from Fantasia
– The Cave of Wonders from Aladdin
– A scene from The Sword in the Stone
– Belle's village and the Beast's castle from Beauty and the Beast
– The Emerald City and Princess Mombi's Castle from Return to Oz
Location: Disneyland Park, Fantasyland
7. Cars – Four Wheels Rally
Hop into your favorite car at Cars – Four Wheels Rally and rev up the car engine to embark on a gutsy ride.
Make your way through the town of Radiator Springs and drench in its beauty.
Location: Walt Disney Studios Park, Worlds of Pixar
8. Pirates of the Caribbean
The Pirates of the Caribbean Disneyland Paris ride is housed in a battle-scarred fortress at the back of the park.
The fort offers glimpses of skeletons, pirates, and everyone's favorite Captain, Jack Sparrow.
Aboard the boats that float through shipwrecks and enter an old fortress where you'd hear gun noises and swordplay.
Relive the battle of the Pirates of the Caribbean on this Disneyland Paris attraction and experience a new thunder!
Location: Disneyland Park, Adventureland
9. Ratatouille
Ratatouille Disneyland Paris offers a 4-D experience taking you through Gusteau's kitchen.
As you slide through, you will discover the sights and smells of a typical Parisian restaurant as you escape Chef Skinner's clutches.
Meet the tiny and inconspicuous chef, Remy, and watch him guide his friend, Alfredo Linguini, movements by pulling his hair.
Location: Walt Disney Studios Park, Worlds of Pixar
Relaxing Walks
There is a higher possibility of you getting exhausted while waiting in queues and riding on Disneyland Paris rides.
Also, since the Disneyland Paris tickets are quite expensive, you'd want to cover almost every attraction in a day despite being tired.
So in between your rides, you can give yourself a little break and go for a relaxing walk at Disneyland Paris, which again holds amazing surprises for you.
You can visit the Gardens of Wonder, Adventure Isle, or Discovery Arcade and relish the beauty around you.
1. Gardens of Wonder
Gardens of Wonder is a sculpture garden nestled in Central Plaza.
You can explore ten different themed creative gardens with over 30 different sculptures.
The Gardens of Wonder offer a completely different atmosphere and ambiance in the dark, so don't forget to take a walk at night.
The whole garden is illuminated at night with different lights spreading magic everywhere.
The ten Gardens of Wonder at Disneyland Paris are:
– Disney Classics
Dumbo, Winnie the Pooh with Tigger, and the Cheshire Cat
– Woods / Forest
Pascal, Thumper, and Meeko
– Jungle
Kaa, Kevin and Pumba & Timon
– Magic
Tinkerbell, the three fairies Flora, Fauna & Merryweather, and Genie
– Villains
Ursula, Jafar, and Maleficent
– Disney Princesses – two gardens with a total of six sculptures
Merida, Belle, and Tiana, as well as Cinderella, Aurora, and Snow White
– Space
Toy Story Aliens, Eve and Stitch
– Water
Nemo and his friends, Ariel and Moana/Vaiana
– Asia
Mushu, Sisu, and Baymax
2. Adventure Isle
Adventure Isle is spread in Adventureland, surrounding a very large area that has many points to explore.
The pathways, walkways, lush green bushes, giant caves, etc., will awe you.
The main point of interest at the Adventure Isle are:
– Pirate's Beach
Pirate Beach is a Pirates-themed playground built especially for children.
– Captain Hook's Pirate Ship
Captain Hook's Pirate Ship is beside Skull Rock; you can climb aboard.
– Swiss Family Robinson Treehouse
Swiss Family Robinson Treehouse is situated on a banyan tree offering a fantastic view from the top.
Keep an eye out for Skull Rock, the stunning landscape of Spyglass Hill, Rope Suspension Bridge, and Pirate Galleon.
3. Discovery Arcade
Stroll at Discovery Arcade, home to some stunning artwork paying homage to the great minds behind Disneyland Paris.
The Arcade features many showcase windows, each displaying models and sketches from the U.S. Patent Office, originally made in the 19th century.
Shows at Disneyland Paris
Disneyland Paris is the ultimate place for entertainment and has literally everything to fix your mood.
The theme park has not just thrill rides to trigger an adrenaline rush in your body but hosts a variety of shows bringing Disney characters out of television.
The stage shows at both Disneyland Paris and Walt Disney Studios Park are a major attraction to lure guests of all age groups.
1. The Lion King: Rhythms of the Pride Lands show
At the Lion King show in Disneyland Paris, your heart will pump down, making you feel like a kid again.
See Simba, Nala, Rafiki, Timon, and Pumbaa fighting against all odds and restoring the Pride Lands by oustering Scar.
Learn the responsibilities of kingship and the "circle of life" from the animal kingdom in African Savannah.
The upbeat music, expressive AcroDance, colorful costumes, and performers' getups make the Lion King show in Disneyland Paris truly magical.
Location: Frontierland Theater, Disneyland Park
2. Mickey and the Magician show
If you're in Disneyland Paris, you should not forget to attend the Mickey and the Magician show in the Walt Disney Studios Park.
You get to relish so many beautiful moments and hiccups at the show.
Watch everyone's favorite Mickey turning into a magician with the help of Disney friends, including Genie (Aladdin), Lumiere (Beauty and the Beast), and Elsa (Frozen.)
In 2016 IAAPA (International Association of Amusement Parks and Attractions) conferred Mickey and the Magician theme park industry award for "Best Theatrical Production."
Location: Toon Studio, Walt Disney Studios Park
3. Dream… and Shine Brighter!
Experience a new thunder at the Central Plaza at the Dream… and Shine Brighter Disneyland Paris show.
Dream… and Shine Brighter is a daytime show that makes you laugh, dance, feel, and be moved.
Watch out for dancers groove at Dream… and Shine Brighter show on popular Disney tracks turning the Central Plaza into a Disney party spot!
Location: Main Street U.S.A, Disneyland Park
4. Disney D-Light Show
As night falls and the moon peeks through the clouds, see the Sleeping Beauty Castle illuminated with bright and captivating colors diffusing new energy in the sky at the Disney D-Light show Disneyland Paris.
Keep an eye out for the spectacular drone light choreography followed by the spectacular Disney illuminations that will transport you into a world no less than a fairyland.
Location: Main Street U.S.A, Disneyland Park
5. The Disney Junior Dream Factory show
Come and help Mickey and Minnie find the nuts and bolts of the factory's dream-making machines at the Disney Junior Dream Factory Disneyland Paris show.
Bop, along with Mickey, Minnie, Timon, Vampirina, and Fancy Nancy Clancy, on Disney music at Walt Disney Studios Park.
Location: Studio D, Walt Disney Studios Park
6. Frozen: A Musical Invitation
Prepare yourself for an ice-cold journey with Anna, Kristoff, and Olaf to surprise Elsa at Frozen: A Musical Invitation Disneyland Paris show.
On your Frozen journey, you'll walk through the streets of Arendelle with Anna, edge into Kristoff's barn, meet the talking snowman – Olaf, and do a lot more.
The Frozen show at Disneyland Paris is the most popular, so book your ticket and reserve your spot early.
Location: Animation Celebration, Walt Disney Studios Park
Parade at Disneyland Paris
The parade featuring beloved Disney characters at Disneyland Paris is the show stealer.
As the sun goes down, Disneyland springs back to life, setting up a breathtaking show of laser projections, fireworks, and music that will make you shout – once more, once more!
Watch Mickey Mouse, Toy Story, The Lion King, Peter Pan, Nemo, Sleeping Beauty, Rapunzel, the Snow Queen, and many more Disney heroes and characters march before your eyes.
The star-studded floats and carriages come closer to the visitors creating an intimate feel.
FAQs about Parade in Disneyland Paris
What time is the parade in Disneyland Paris?
The parade at Disneyland Paris starts at 5.30 pm.
Where does the parade start at Disneyland Paris?
The parade begins at It's a Small World, past Sleeping Beauty Castle, and down Main Street.
How long is the Disneyland Paris parade?
The Disneyland Paris parade lasts for 15 to 20 minutes.
Where is the best place to watch the Disneyland Paris parade?
One of the best places to watch is in front of Sleeping Beauty Castle!
Popular attractions in Paris

# Louvre Museum
# Eiffel Tower
# Arc de Triomphe
# Palace of Versailles
# Disneyland Paris
# Musee d'Orsay
# Centre Pompidou
# Notre Dame
# Paris Zoo
# Pantheon
# Sainte Chapelle
# Montparnasse Tower
# Picasso Museum
# Catacombs of Paris
# Opera Garnier
# Seine River Cruise
# Seine Dinner Cruise