Disneyland Paris has two parks – Disneyland Park and Walt Disney Studios Park.
Disneyland Paris has five magical-themed areas – Main Street, U.S.A., Frontierland, Adventureland, Fantasyland, and Discoveryland, while the Walt Disney Studios Park has four action-packed zones.
Since Disneyland Paris holds so many surprises, a two-day visit is a must to dive into this miraculous world.
This article shares everything you should know before you book your two-day ticket to Disneyland Paris.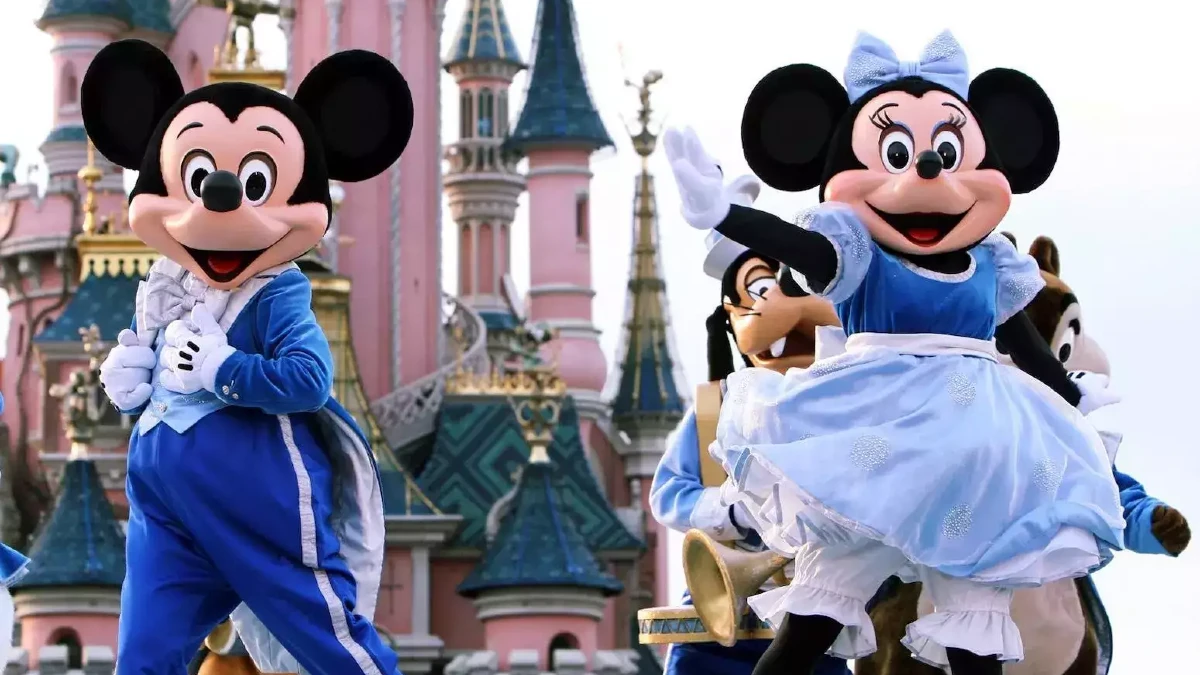 Why book two-day ticket for Disneyland Paris
Disneyland Paris is a huge theme park just outside of Paris.
Visiting both Disneyland Park and the Walt Disney Studios Park in one day and covering all the rides and attractions is nearly impossible.
Even if you try covering both parks in one day, you may hurt your feet and also miss a lot of the rides and attractions.
If you're a hardcore Disney fan, then we expect you'd hop between both the parks, and that's why we suggest you book at least a two-day ticket for Disneyland Paris.
Two days is sufficient to experience spectacular attractions, rides, shows, and parades at both Parks.
The longer you visit, the more you'll enjoy it, as you'll be able to absorb everything slowly and ride the attractions when queues are the shortest.
---
---
Disneyland Paris two day ticket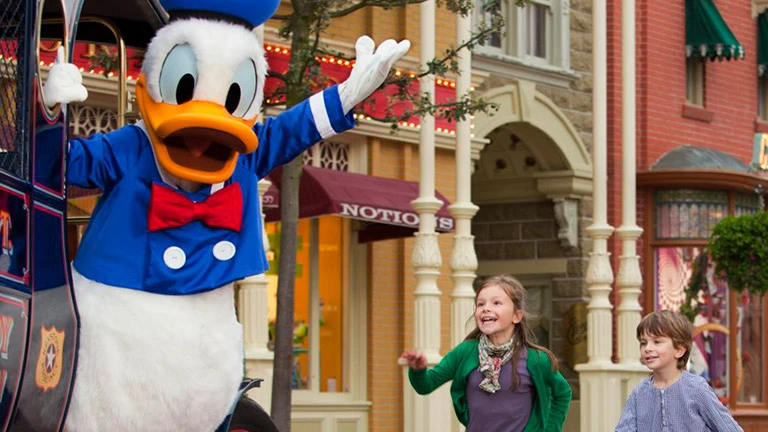 The multi-day Disneyland Paris ticket gets you consecutive days of admission to Disneyland Park and Walt Disney Studios.
With these two-day tickets, you can hop from one Disney Park to the other any number of times.
Where to book the tickets
You can book and purchase Disneyland Paris tickets at the entrance or online.
Purchasing your two-day Disneyland tickets at the gate means standing in long queues, wasting both time and energy.
Also, the ticket prices at the park and online differ – online tickets are cheaper!
When you buy your Disneyland Paris tickets online, you save time, energy and money.
How online tickets work
When you book Disneyland Paris tickets, you select your preferred date of visit and the number of tickets you want to purchase.
After booking, your tickets get emailed to you.
On the day of your visit, you can scan your ticket from your smartphone and walk in – no need to take printouts!
Ticket Prices
Disneyland Paris ticket prices vary from season to season.
Based on the crowd, the theme park has four seasons: Eco, Low, Medium, Medium Plus, Regular, and Peak.
Disneyland offers two kinds of tickets, dated tickets, which can be canceled up to 3 days before the arrival, and undated tickets, which are valid for the whole year.
Also, the ticket prices are different for different age groups; however, kids aged two or under require no ticket.
This Disney Paris ticket is only valid for the date selected at the time of booking and the consecutive date for your 2nd day.
| Ticket | Adult (12+) | Kids (3 to 11) |
| --- | --- | --- |
| 2-Park, 2-Day Ticket – Eco | €142 | €132 |
| 2-Park, 2-Day Ticket – Low | €154 | €142 |
| 2-Park, 2-Day Ticket – Medium | €174 | €162 |
| 2-Park, 2-Day Ticket – Medium Plus | €188 | €172 |
| 2-Park, 2-Day Ticket – Regular | €206 | €190 |
| 2-Park, 2-Day Ticket – Peak | €224 | €206 |
| 2-Park, 2-Day Ticket – Same Day Entry | €224 | €206 |
Do check out other amazing Disneyland Paris Packages as well!
Can you do Disneyland Paris in one day? 
Yes, it is possible! Disneyland Paris' two parks are just a few minutes walk from each other. After spending most of your time at Disneyland Park, you can head to Walt Disney Studios Park. Buy 1-day, 2-park tickets
---
---
Two days itinerary at Disneyland Paris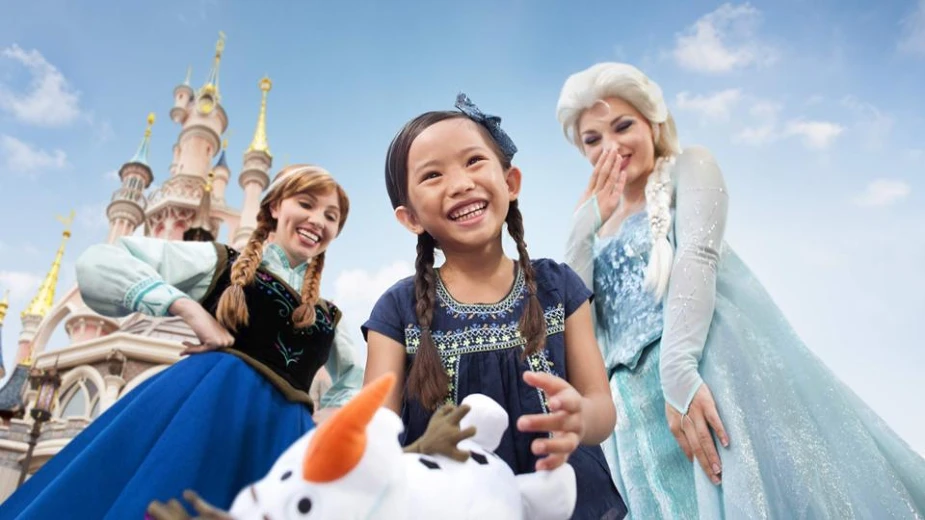 Day 1: Disneyland Park
From the moment your foot hits Disneyland Park, you will be transported to a land you've been dreaming of since childhood.
Mickey, Minnie, Olaf, and Dumbo all will be standing to greet you!
At Disneyland Park, you'll explore five themed lands: Main Street, U.S.A., Frontierland, Adventureland, Fantasyland, and Discoveryland.
All the theme lands offer fantastic thrill rides and attractions that will drive you crazy!
Head to Star Wars Hyperspace Mountain, Indiana Jones, and Big Thunder Mountain for big thrills.
On some rides, you'll be thrown into a different universe; on others; you'll get a bone-chilling experience.
That's not all, the park has fun rides for kids who fear getting into dark rides like Dumbo the Flying Elephant, Peter Pan's Flight, Slinky Dog Zigzag Spin, The Lancelot Carousel, and many more.
Some of these Disneyland Paris rides have height restrictions, and most of them have long waiting times.
Apart from rides, Disneyland Park organizes nighttime shows with an extravaganza of beautiful lights, lasers, and fountains that will touch your heart.
At the Lion King: Rhythms of the Pride Lands show, you get a chance to see Simba, Nala, Rafiki, Timon, and Pumbaa.
Want to avoid the queue at the rides? Opt for Disneyland's Fast Pass. There are two other passes at this theme park in Paris – Photo Pass & Standby Pass.
Day 2: Walt Disney Studios Park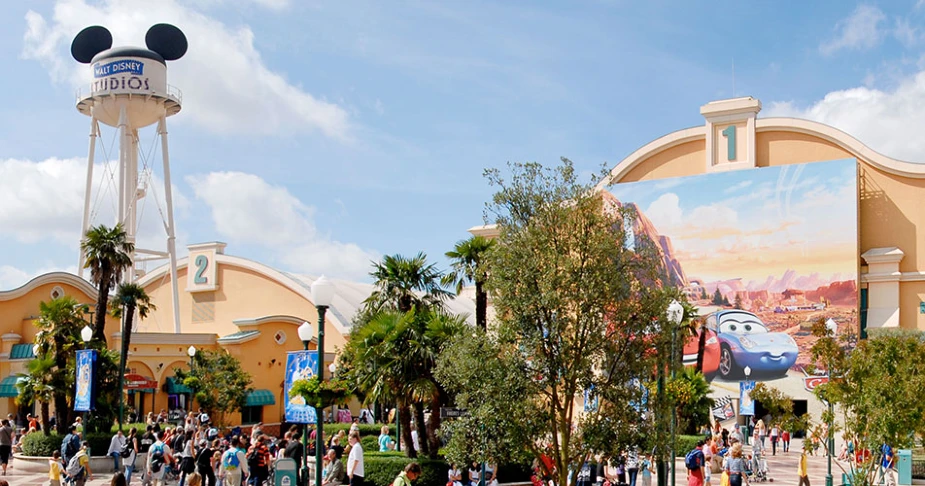 Next to Disneyland Park is Walt Disney Studios Park, the world of cinema and television.
Here you can immerse yourself in fascinating rides that let you soar high in the sky.
Some stunning surprises are awaiting at The Twilight Zone Tower of Terror, RC Racer ride, and Crush's Coaster.
Walk through the new Marvel Avengers Campus and try the new additions– Avengers Assemble: Flight Force and Spider-Man WEB Adventure ride at the park.
Experience Stitch Live, a first-of-its-kind real-time interactive animated experience the kids will love.
Stay tuned for Mickey and the Magician show that will blow your mind!
Walt Disney Studios Park promises unlimited fun and memories for a lifetime
Recommended Reading: Disneyland Paris one day ticket
Sources
# Disneylandparis.com
# Attractiontickets.com
# Magicbreaks.co.uk

The travel specialists at TheBetterVacation.com use only high-quality sources while researching & writing their articles. We make every attempt to keep our content current, reliable and trustworthy.
Popular attractions in Paris

# Louvre Museum
# Eiffel Tower
# Arc de Triomphe
# Palace of Versailles
# Disneyland Paris
# Musee d'Orsay
# Centre Pompidou
# Notre Dame
# Paris Zoo
# Pantheon
# Sainte Chapelle
# Montparnasse Tower
# Picasso Museum
# Catacombs of Paris
# Opera Garnier
# Seine River Cruise
# Seine Dinner Cruise