Nestled at the foot of the Eiffel Tower, Madame Brasserie is the perfect spot for a romantic dinner or a cozy family meal.
The restaurant is a delightful French brasserie that promises to tantalize your taste buds and transport you to the heart of Parisian cuisine.
So why not treat yourself to a night of French indulgence at Madame Brasserie in all its glory with its delicious cuisine, breathtaking views, and unbeatable ambiance?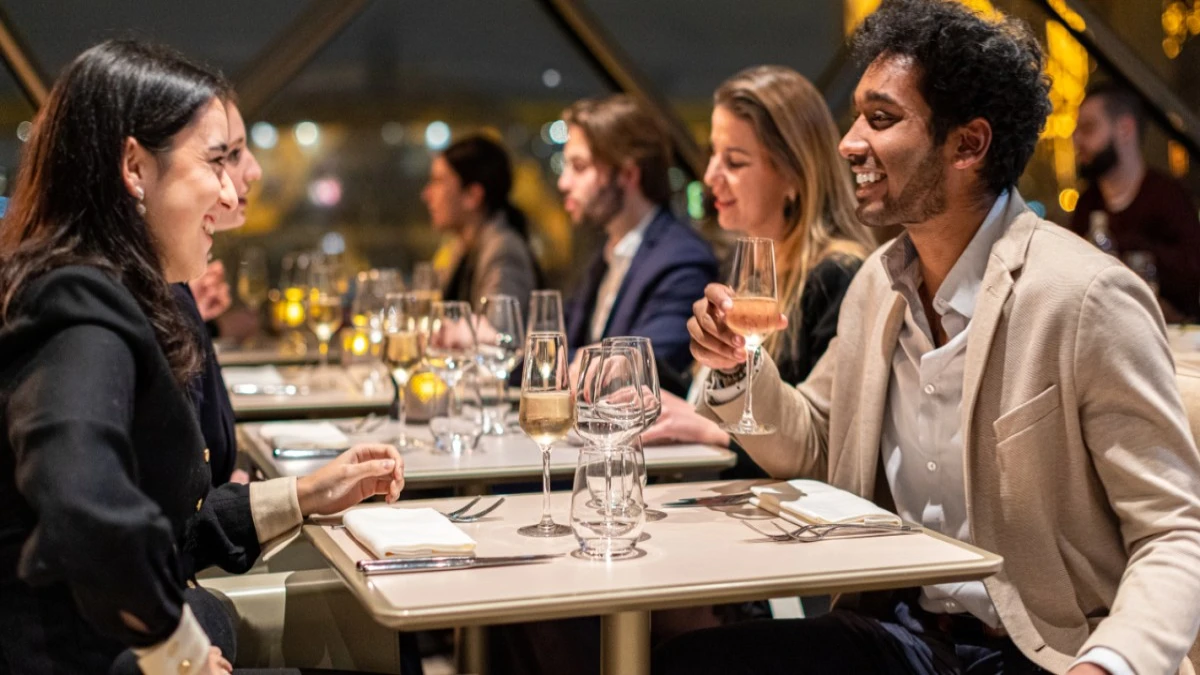 What to expect at Madame Brasserie
Madame Brasserie is more than just a restaurant – it's an experience.
With its chic decor and elegant ambiance, the Madame Brasserie offers a quintessentially French dining experience that will leave you feeling pampered and indulged.
The lavish menu at Madame Brasserie is designed by chef Thierry Marx, who creates modern French dishes as a celebration of France's rich and diverse culinary heritage.
Every dish is a feast for the senses, prepared with love and care using the freshest ingredients sourced from local markets and artisanal producers.
The menu changes regularly to reflect the best seasonal ingredients and includes a wine list featuring some of the best vintages from France and beyond.
A highlight of dining at Madame Brasserie is the stunning view of the Eiffel Tower's inner workings, whether you choose to sit inside the cozy restaurant or in the charming lounge.
You will be offered an unparalleled view of some remarkable landmarks, like the Seine, the lively Place du Trocadéro, the Bois de Boulogne Forest as the sun sets, and the skyscrapers of La Défense business district in the distance.
The attentive and friendly staff are always on hand to make your visit unforgettable, whether by recommending the perfect wine pairing or by regaling you with stories of the Eiffel Tower's fascinating history.
If you time your reservation just right, you may even catch the twinkling lights of the Tower as they come to life at night.
Eiffel Tower's two iconic restaurants stand out above the rest in the heart of Paris: Madame Brasserie and Jules Verne.
---
---
Where to buy Madame Brasserie tickets
To visit the Madame Brasserie Restaurant, you can either book a refined dinner, 6.30 pm dinner or a lunch at the famed restaurant.
Since Eiffel Tower is one of the world's most popular tourist spots, you must expect long queues, which can be quite a killjoy.
The online method of booking your tickets is in visitors' best interest as it helps you save time and avail unmissable discounts and offers.
Online tickets are cheaper because you don't pay a ticketing window surcharge.
When you book your tickets in advance, the tickets are time-stamped so that you can easily plan the rest of your tour.
In addition, the tickets often sell out sooner than you realize.
So, book your tickets online to avoid such last-minute disappointments and head to a stress-free day out with your partner, friends, or family.
How online ticket works
Go to the Madame Brasserie Restaurant booking page, book a table, select a date, number of guests, and time slot.
You will also be provided with a choice of a seating area, menu, and occasion for a perfect arrangement for you and your company.
The €18 cost of ascent to the restaurant on the first floor by lift will be added to your booking amount.
When you arrive at the foot of the Eiffel Tower on the day of your reservation, head to Entrance 1 with your booking confirmation in the queue dedicated to the Brasserie (indicated by specific signs).
To reach the first floor, go to the reception of Madame Brasserie on the forecourt to collect your lift ticket.
For ten or more people, Reservations can be made on Madame Brasserie's contact form.
Madame Brasserie Restaurant entry tickets
Be a class apart at the Madame Brasserie with delicious food, stunning views, and a luxurious ambiance.
Since the second floor is the entry ticket to Madame Brasserie, you can explore the historical spiral staircase, glass floors, and other wondrous attractions on the first floor of the Eiffel Tower.
You can also shop from La Verrière – the largest collection of Eiffel Tower reproductions and the Seine Gift Shop on the second floor.
What gets served at Madame Brasserie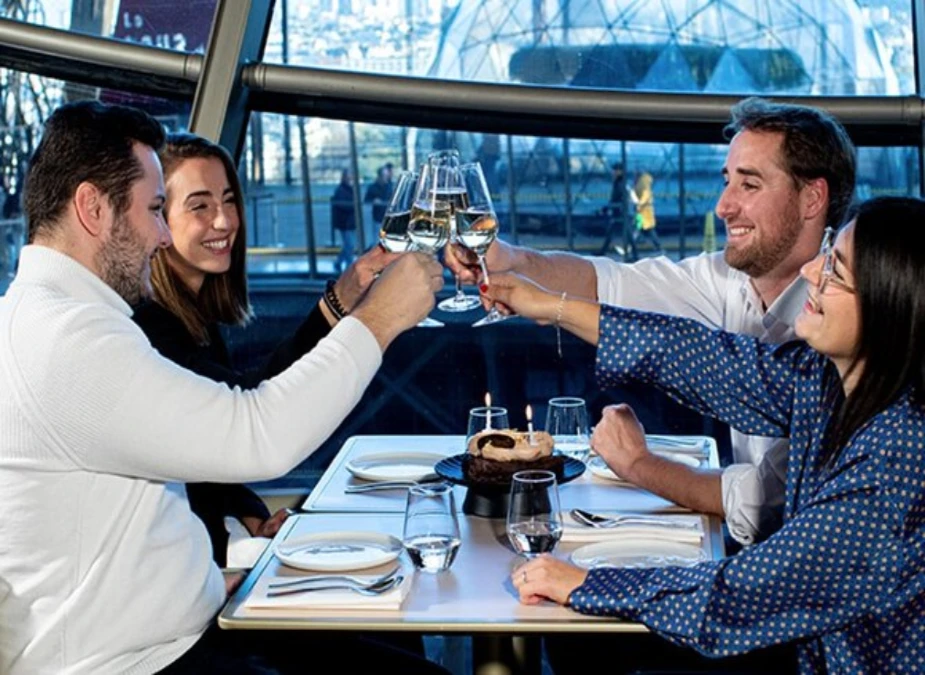 The Madame Brasserie's menu is sophisticatedly curated by chef Thierry Marx to give your gustatory senses a joyride.
From private or business breakfast to dinner and drinks and a separate children's menu- there's something for everyone at the Madame Brasserie. Bon appétit!
Parisian Breakfast: From 10 am to 12 pm
No reservation and only the presentation of an already booked ascension ticket are required.
First service – 12 pm
Second service – 1.30 pm
Snacks
From 3 pm to 6 pm
No reservation and only the presentation of an already booked ascension ticket are required.
First service – 6.30 pm
Second service – 9 pm
Every day of the week
We strongly recommend that you make a reservation for lunch and dinner.
Other services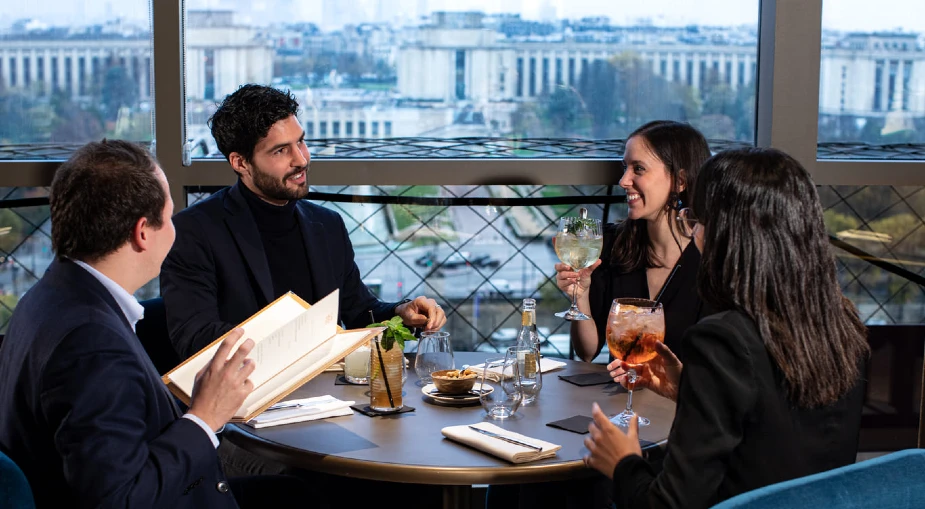 To enhance your experience at the Madame Brasserie restaurant, you can avail of the following services by reserving them at least 48 hours in advance:
Birthdays: €25 per person
A slice of chocolate birthday cake and nuts (Not suitable for vegans or people allergic to nuts)
A birthday candle with a "Happy Birthday" chocolate plaque.
A glass of champagne
For a minimum of two people
Non-customizable plate
Celebration: €30 per person
A glass of champagne
A printed photo
Wedding proposal: €30 per person
A glass of champagne
A Madame Brasserie plate
A printed photo
For a minimum of two people
All Champagne: €20 per person
Half a bottle of champagne per person instead of wine
For a minimum of two people
Recommended reading:
# Champagne Bar at Eiffel Tower
# Restaurants with Eiffel Tower view
Beyond its breathtaking views and historical significance, the Eiffel Tower offers a unique and unforgettable dining experience: The Eiffel Tower Buffets.
---
---
Things to remember about the Madame Brasserie
Remember to arrive at the Eiffel Tower 30 minutes before your reservation.
If you have special dietary expectations or requirements, convey the same to the restaurant via the contact form.
For dinner, you need to wear proper attire.
Avoid sportswear, jogging, running shoes, and flip-flops.
You can privatize the entire restaurant under certain conditions and subject to availability by specifying your requirements on the Madame Brasserie contact form.
The restaurant offers special menus for certain holidays, like December 31st and February 14th, on advance bookings.
Recommended reading: Madame Brasserie vs Jules Verne
FAQs about the Madame Brasserie Eiffel Tower
Here are some frequently asked questions about Madame Brasserie.
What are the timings of Madame Brasserie?
The restaurant is open from 10 am to 11 pm, all days of the week.
Can we smoke at Madame Brasserie?
No, you cannot smoke in any part of The Eiffel Tower as it is a completely non-smoking area. 
The use of electronic cigarettes is also prohibited.
Can I cancel my reservation at Madame Brasserie?
Yes, you can cancel reservations for up to 10 people at no extra cost up to 3 days before your reservation date.
Can I make modifications to my booking at Madame Brasserie?
Yes, you can modify your reservation at no extra cost up to 7 days before your reservation date. 
If you make changes to your reservation between 3 and 7 days before the reservation date, you will be charged for the ascension tickets for the original date and those for the new date.
Where can I collect my ascent ticket to Madame Brasserie from?
Head to the reception area near the North Pillar to get your ascent ticket for the Eiffel Tower.
Can I bring my pet to Madame Brasserie?
No, you cannot bring any animals to the Eiffel Tower except for assistance or service animals. 
Can people with special needs or disabilities go to visit Madame Brasserie?
Yes, people with reduced mobility can access the restaurant through the restaurant's elevators.