Beyond its breathtaking views and historical significance, the Eiffel Tower offers a unique and unforgettable dining experience: the Eiffel Tower Buffets.
These gastronomic delights not only allow you to savor a delectable meal but also to immerse yourself in the enchanting ambiance of this architectural masterpiece.
This article will explore the fascinating world of Eiffel Tower Buffets and explain why they are a must-try for every food enthusiast and traveler.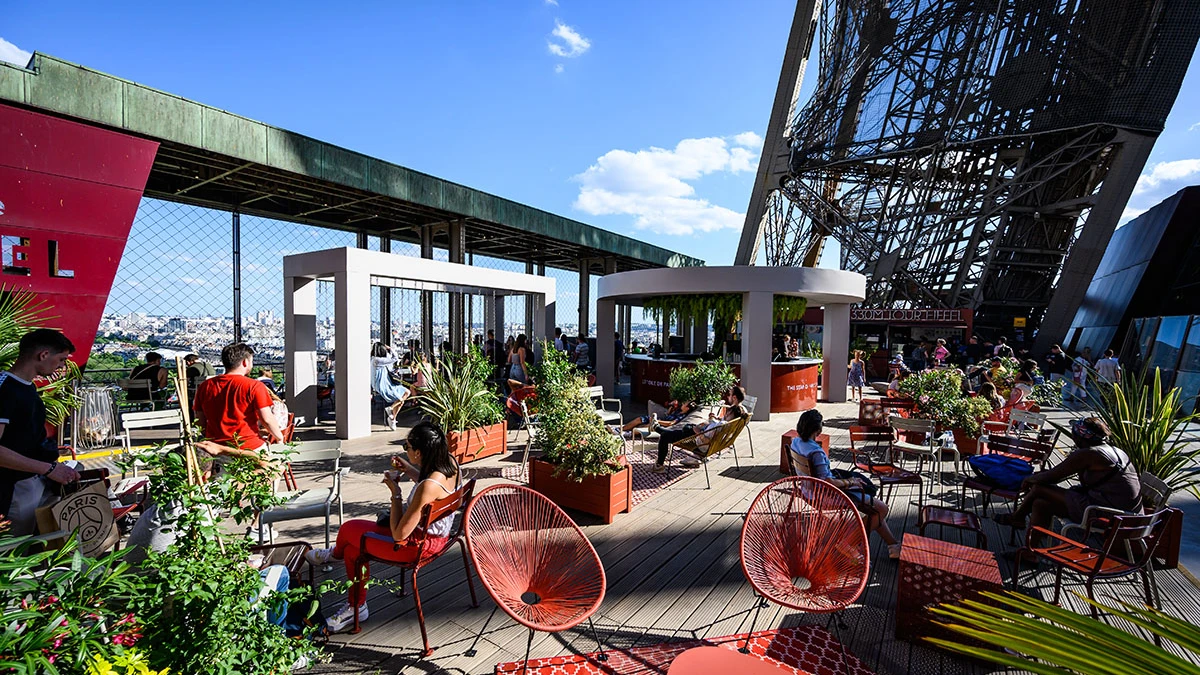 What to expect at Eiffel Tower Buffet
The Eiffel Tower Buffets on the Esplanade, the first and second floors of the monument, combine gourmet cuisine with a panoramic view, creating an unparalleled dining experience.
Relish dine-in or takeaway of fast food, snack, and light meals at these buffets, offering a diverse selection of French and international dishes that cater to all palates.
From classic French delicacies to global flavors, the Eiffel Tower Buffets showcase the culinary prowess of renowned chefs who curate menus with meticulous attention to detail.
Imagine yourself helping yourself to delicious food with a magnificent view of the City of Lights stretched out before you.
These buffets also incorporate international flavors, offering an array of options to satisfy diverse tastes.
From freshly baked pastries to succulent seafood, the buffets leave no stone unturned in satisfying the most discerning palates.
The Eiffel Tower Buffets pride themselves on providing exceptional service, with its staff known for their warm hospitality, attentiveness, and professionalism.
Unwind after a busy day of sightseeing at these budget-friendly buffets.
Recommended Reading: Champagne Bar at Eiffel Tower
---
---
Where to buy Eiffel Tower Buffet entry tickets
To get access to Eiffel Tower Buffets, you need to purchase Eiffel Tower tickets available online or at the Eiffel Tower ticket office.
No specific reservation is needed for the Eiffel Tower Buffets.
Since Eiffel Tower is one of the world's most popular tourist spots, you must expect long queues, which can be quite a killjoy.
The online method of booking your tickets is in visitors' best interest as it helps you save time and avail unmissable discounts and offers.
Online tickets go on sale up to 60 days in advance and are also cheaper because you don't pay a 'ticketing window surcharge.'
When you book your tickets in advance, they will be time-stamped so that you can easily plan out the rest of your tour.
In addition, the tickets often sell out sooner than you realize.
So, book your tickets online to avoid such last-minute disappointments and head to a stress-free day out with your partner, friends, or family.
How online ticket works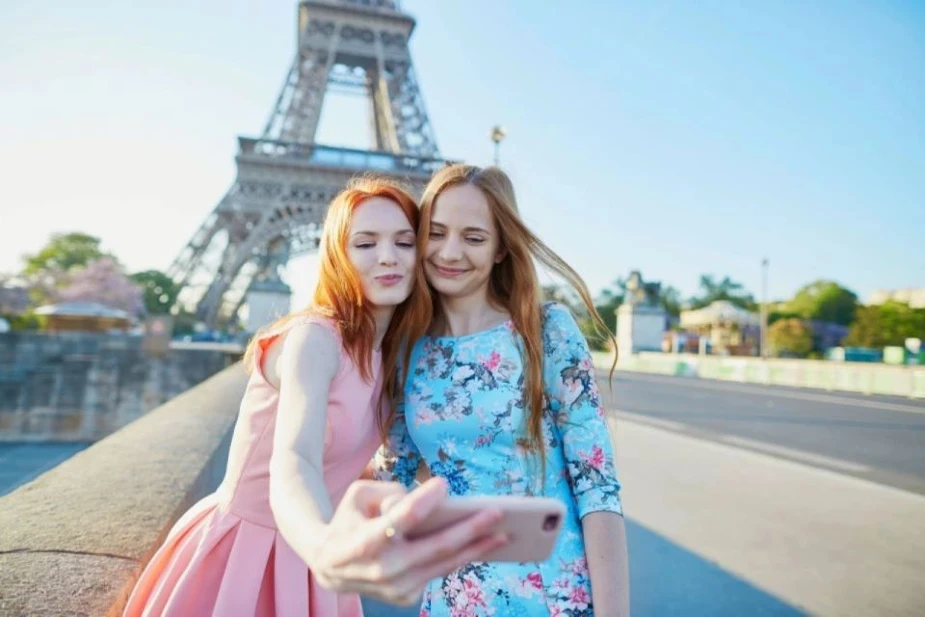 Go to the Eiffel Tower booking page, and select the tour package, i.e., if you want to visit the Summit or only up to the second floor.
Choose your preferred date, time slot, and number of tickets to buy the tickets.
Right after the booking, you will receive the tickets in your email.
Ticket printouts are not required.
With your e-tickets, you bypass ticket counter queues and only have to pass specific lines for security checks heading straight to the lifts.
You can then access buffets on any floor.
It's best to bring along your official photo ID.
Cost of an Eiffel Tower ticket
An Eiffel Tower entry ticket with Summit access costs €107.
Eiffel Tower entry ticket with second-floor access costs €75.
Tickets for children under four years are free.
Every visitor must buy a ticket regardless of their age.
Eiffel Tower entry tickets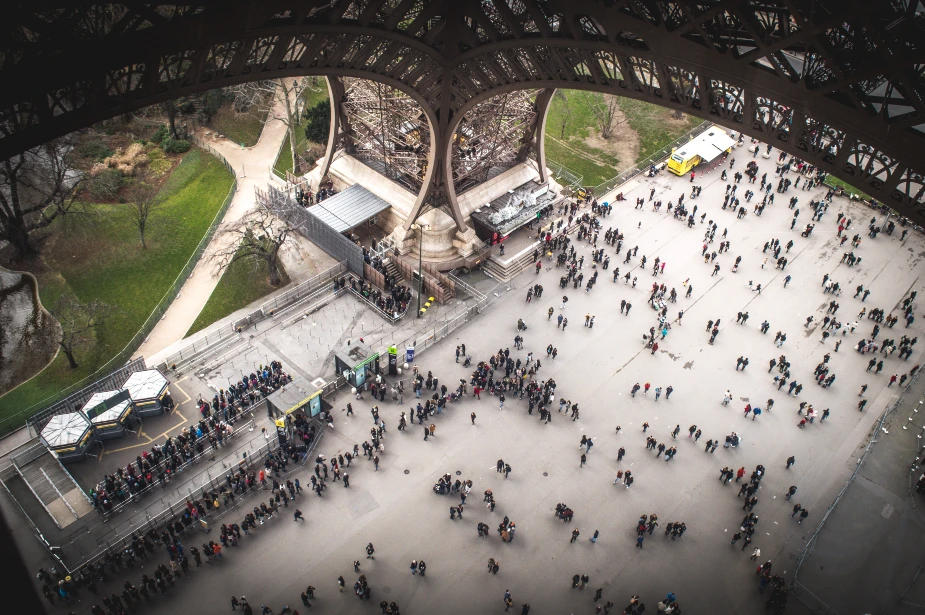 An Eiffel Tower entry ticket will provide you access to all the floors of the iconic Parisian landmark for as much time as you want.
Make a stop at the fulfilling and affordable buffets to replenish yourself before or after exploring the monument.
Live the surreal experience of walking at a height of 906 ft. of the world-famous tourist attraction.
Grab a bite with an unparalleled view of the City of Love.
Ticket cost:
Eiffel Tower entry ticket with Summit Access: €107
Eiffel Tower entry ticket with Second-floor Access: €75
---
---
What gets served at Eiffel Tower Buffet
Quick bites, fast food, and light meals are available in the Eiffel Tower Buffet.
Treat yourself to tempting sweet treats and savory snacks, salads, sandwiches, pastries, cakes, pizzas, ice creams, and hot and cold drinks- all at pocket-friendly prices. 
Restaurants with Eiffel Tower view will combine the enchanting atmosphere of Parisian dining with a captivating view of the majestic and world-famous Eiffel Tower.
Eiffel Tower Buffet timings
Eiffel Tower Buffets on different floors are open to service during the Eiffel Tower opening hours: from 9.30 am to 11.30 pm every day.
While buffets on different floors may vary in timings, it is best to contact the monument's authorities to ascertain the buffet timings beforehand.
Recommended Reading: Madame Brasserie vs Jules Verne
Eiffel Tower's two iconic restaurants stand out above the rest in the heart of Paris: Madame Brasserie and Jules Verne.
Things to remember about the Eiffel Tower Buffet
The cost of Buffet food and snacks is not included in the ticket.
Guests with disabilities are welcome as the site is wheelchair-accessible up to the second floor with elevators and other amenities in place.
You may have to wait in line for security and the elevators.
Big luggage and baby strollers are not allowed on the monument.