A New York City helicopter tour is an excellent way to take in a bird's eye panoramic view of Gotham city.
From the Manhattan Battery Park to Wall Street, from the Upper Manhattan to the renowned Coney Island beach, a helicopter tour over New York is a memorable holiday activity.
The duration of NYC helicopter tours may range from 10 minutes to three hours.
This article explains everything you must know before booking your New York helicopter tour.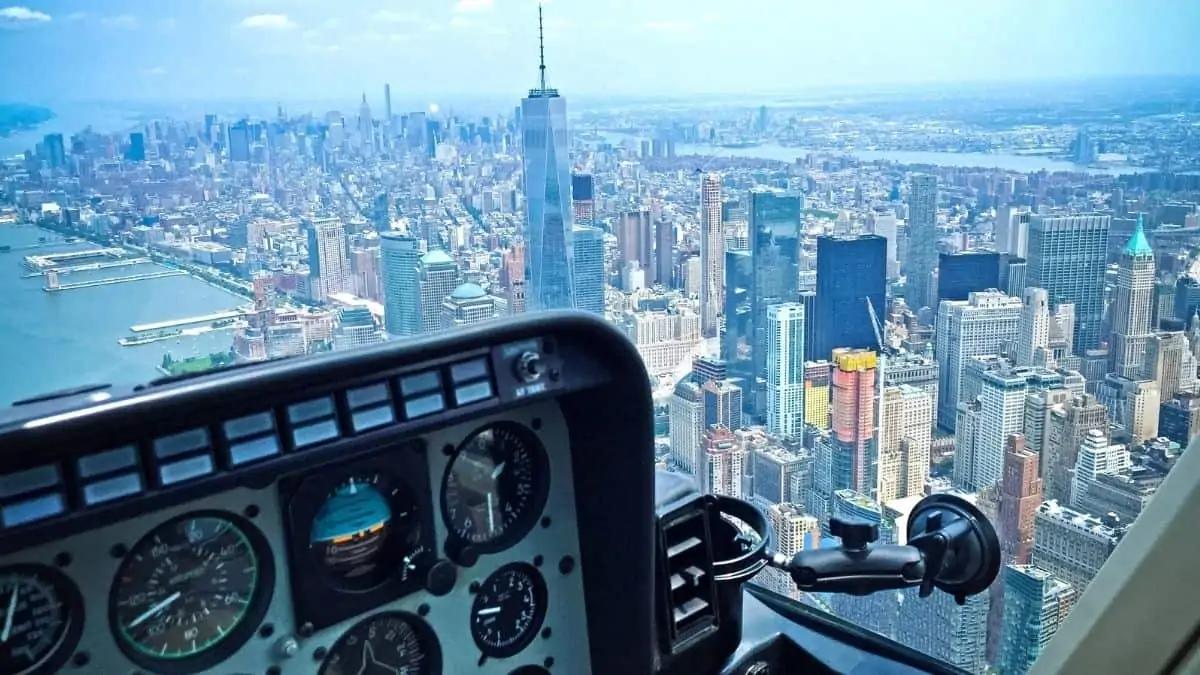 Best time of the year for helicopter tour
The best time for a helicopter tour of New York is anytime – how can you go wrong with New York City?
The city of New York looks mesmerizing from above in all seasons.
However, if you want the city to be in its best form, we suggest a helicopter tour over New York in Fall or Spring.
Fall in New York is between mid-September to mid-December.
The crisp breeze, bright sun, and just-the-right temperatures coupled with the fall colors make your Helicopter tour of NYC memorable.
Spring is mid-March to mid-June.
Best time for helicopter tour over New York
Since the heliport is closed on Sunday, there are no helicopter tours over New York.
Most helicopter tours in the Big Apple are available from Monday to Saturday from 9 am to 6.30 pm. On holidays, they wrap up early – by 5 pm.
Flights over the East River (looking west over the City) are best done in the morning because the sun will be behind you.
It is best to plan flights over the Hudson River (looking east over the City) in the late afternoon with the sun on your back.
Since the helicopter can fly in different directions during a tour, 1 to 3 pm is the best time for a helicopter tour over New York.
During this period, the sun is on top, and the rays are not in your eyes, obstructing both your view and ability to take photographs.
Even though heli tours are costly, chopper rides are a sought-after tourist activity.
And getting your favorite time slot for your chopper tour of NYC isn't always possible.
Here is what we recommend to obtain your preferred time slot for a helicopter tour:
1. Book your helicopter tour 2-3 weeks in advance
2. Call up the tour company after booking the tickets and reserve your time slot
Because of the demand, the helicopter rides are almost always delayed by 30-60 minutes.
Keep this in mind while planning your sortie above New York.
---
---
Helicopter tour's price and duration
Most of the helicopter tours in New York last 12 to 15 minutes, which is enough to make a pleasant flight over the major attractions of the Big Apple.
Most of the trips lasting this duration cost around $200 per person.
The next best option you have is the 20-minute helicopter tour of New York City.
The price of chopper tours of this duration is generally around $300 per person.
By adding just $50 to your budget for the helicopter ride, you can increase your flight duration to 30 minutes.
Fifteen minutes are enough to see most of New York's attractions, but some tourists prefer more air time.
If you opt for a private helicopter tour, you can decide the duration of the flying time.
---
---
Are New York helicopter tours worth the cost?
If we look at the money spent per minute, helicopter tours are one of the costliest tourist activities in New York.
For instance, the introductory helicopter tour lasts for about 12-15 minutes and costs around $200 per person.
As the duration of the helicopter ride over New York increases, the cost goes up.
A 25 to 30 minutes' helicopter ride over New York will put you back by about $350
Due to these prohibitive costs, a helicopter tour in New York is not for the commoner.
However, if you can afford it, it is an adrenalin rush you should indulge in at least once in your life.
Tourists who have flown over New York confirm that the rush of accelerating over the New York landmarks is fascinating.
Besides, the panoramic view of the New York skyline makes for great photo opportunities.
Helicopter tours of NYC are not the best way to explore the massive city. If that's your objective, we suggest Hop On Hop Off New York bus tour or one of the popular New York discount cards such as NYC Explorer Pass, New York Pass, or CityPass, which get you free entry into many attractions.
---
---
Best helicopter tour companies
There are numerous helicopter tour companies in New York.
Names of these helicopter tour companies sound similar and confuse the average tourist visiting New York, which is precisely the intention.
Some of the helicopter tour companies which specialize in NYC and also other cities in the USA are –
CitySights NY
HeliFlite
Liberty Helicopters
Wings Air Helicopters
FlyNyon
New York Helicopter
Helicopter New York City
Awesome Flight LLC
Helicopter Fight Services
CityExperts NY
Helicopters Air Charter
Global Positioning Jets
The top four are Liberty Helicopters, Helicopter Fight Services, Wings Air Helicopters, and Zip Aviation.
Of these four, based on the quality of the choppers, quality of the tours, safety record, and punctuality, our favorite is Zip Aviation.
Recommended Reading: Best cruises from New York
---
---
Best helicopter tour NYC
There are numerous helicopter tours in New York, but our favorites are the Liberty Harbor Helicopter Tour, Grand Island Helicopter Tour, and New York City Deluxe Helicopter Tour.
We explain them below, and you can choose the most appropriate tour based on the time you want to spend in the air and your budget.
As for what route the helicopters take for the three of our recommended New York City helicopter tours, take a look at the
To know the path your chopper will take for each recommended tour, check out the helicopter route map below.
These helicopter tours of Manhattan in New York are in high demand, and if you book in advance, you are more likely to get your preferred time and date.
All three tours are available in English, Spanish, French, German, Russian, Italian, Chinese, Japanese, and Portuguese.
Liberty Harbor Helicopter Tour
All passengers of the Liberty Harbor Helicopter tour are welcomed like celebrities and strapped into your helicopter seat.
After a safety briefing, your pilot lifts off to show you stunning views of New York's breathtaking skyline.
Your helicopter flies by Lower Manhattan'sManhattan's Battery Park and Wall Street, announcing to the World that you have arrived.
You then stare right into the eyes of the Statue of Liberty before you turn back to go up the Hudson River. On the way, you take in aerial views of Ellis Island.
A string of New York attractions follow one by one on your right-hand side.
After crossing the USS Intrepid Sea, Air, and Space Museum, you will spot the lush greenery of New York'sYork's famed Central Park.
After going halfway up Central Park, the pilot will turn back, and this time you can see all the attractions on your left-hand side.
Once your helicopter tour NYC is over, the pilot brings you back to Pier 6.
The duration of this heli tour is 12 to 15 minutes.
The cost of this New York City helicopter tour is $209 per person.
This price doesn't include the $40 per person heliport fee mandated by the Downtown Manhattan Heliport, which you will have to pay before takeoff.
The tour is available Monday to Saturday from 9 am to 6.30 pm.
Landmarks you will see
1. Statue of Liberty
2. Ellis Island
3. One World Trade Center
4. 9/11 Memorial
5. Brooklyn Bridge
6. Battery Park
7. Wall Street/Financial District
8. Empire State Building
9. Chrysler Building
10. Madison Square Garden
11. Times Square
12. U.S.S. Intrepid Sea, Air, and Space Museum
13. Central Park
Grand Island Helicopter Tour
The Grand Island Helicopter tour is designed for people who like it big and beautiful.
It is best for tourists who would rather own the helicopter. Well, almost.
This is the most extended helicopter tour you will find in New York and includes almost every New York attraction.
To ensure you get a much longer time in the helicopter, the pilot doesn't return after the George Washington Bridge. Instead, he continues flying till Spuyten Duyvil in the Bronx.
Once he has gone as high up Hudson river as he can go, he turns the helicopter around, showing you all the New York attractions once again on your left-hand side.
On the way back, he continues flying beyond Pier 6 till you are right above the Verrazano Narrows Bridge.
Verrazano Bridge is the longest double-decker suspension bridge in New York connecting Staten Island and Brooklyn.
Beyond the bridge, you will be able to spot the world-famous Coney Island beach and amusement park before you turn back for Pier 6.
This Helicopter NYC tour costs $349 per person and lasts for 25 to 30 minutes.
Like the previous helicopter tour, this is also available from Monday to Saturday from 9 am to 6.30 pm.
Landmarks you will see
14. Columbia University
15. Grant's Tomb
16. George Washington Bridge
17. Harlem and Harlem River
18. Bronx & Yankee Stadium
19. Palisades Cliffs
20. Spuyten Duyvil Bridge
21. Verrazano Bridge
22. Staten Island
23. Coney Island Beach & Amusement Park
New York City Deluxe Helicopter Tour
When it comes to an NYC helicopter tour, more can be less.
The New York Deluxe helicopter tour is customized for adventure seekers.
On this tour, you will be flying in helicopters with large floor-to-ceiling convex windows.
With this chopper tour of New York, you get to see all the attractions mentioned in the previous two tours and more.
This particular Helicopter NYC tour has a high rating on all platforms.
On the tour booking page, you can choose the flight duration, and the cost will change accordingly.
Cost of helicopter tour
12 to 15 minutes: $249
18 to 20 minutes: $299
25 to 30 minutes: $389
---
---
Cancellation policy of helicopter tours
All helicopter tours in NYC have the same cancellation policy.
If you cancel your tour with 48 to 24 hours to go, you will incur a cost of $50 per person, and the rest will be refunded.
If you cancel on the day of the heli tour or don't show up, you don't get a refund.
---
---
Helicopter tour exclusions
When you book your helicopter tour of New York City, only the flight time is included.
The booking doesn't include Gratuities (which are optional) and hotel pickup and drop-off.
All helicopters seat 5-6 passengers plus the pilot, which means it won't be a private tour.
A free tour is included for your child if they are less than 15 Kgs, and you can show proof of age.
---
---
Security for Helicopter tours NYC
Irrespective of the tour operator all tourists must go through security before they take off on a Manhattan Sky tour.
All flyers are expected to produce a valid photo ID card (preferably a Driver's license or a Passport)
All flyers must walk through a metal detector, as in an airport
Since no handbags or carry-on bags are allowed on the helicopter, you must leave your bags with the tour operator's security
Flyers can carry their cameras and video cameras on the helicopter, but they have to go through the security first
Weight restrictions may apply to ensure the safety of all passengers – nobody can exceed 350 Lbs (or 159 Kgs)
---
---
Directions to Downtown Manhattan Heliport
Downtown Manhattan Heliport is also known as the Wall Street Heliport.
It is at Pier 6 at East River. Address: South St. and Broad St., New York, NY 10004. Get Directions
The Heliport is located just above the Battery on Pier 6, on the East River north of the Staten Island Ferry and south of the South Street Seaport.
If you are self-driving to the Downtown Manhattan heliport for your Helicopter tour NYC, come in a little early. There are only 18 parking slots for cars.
That's why we suggest you take one of the subway lines – it is a quick walk from all stations.
Recommended Reading: Best helicopter tours in USA
---
---
Helicopters used for NYC chopper tours
Usually three types of choppers are used for heli tours in New York.
Bell 206B Jet Ranger
The Bell 206B Jet Ranger is a two-blade, single-engine helicopter that can seat four passengers and one pilot.
This helicopter's safety, size, and easy maneuverability make it a top choice for sky tours of Manhattan.
Bell Jet Ranger's agility is so legendary that US Army signed a contract with Bell to mass-produce it in its military form.
The Army version is called the Kiowa Warrior.
Bell 407/Bell 407GX
The Bell 407 is a four-blade, single-engine helicopter quite popular with flying tour operators.
It can carry six passengers in addition to a pilot.
This chopper is the epitome of luxury with leather seating, extra headroom, state-of-the-art noise-canceling headsets, etc.
AgustaWestland 109SP Grand New
The AgustaWestland GrandNew is a modern helicopter used in various roles – both civilian and military.
It can seat five passengers and two pilots.
The Grand New chopper offers high-performance capabilities, a spacious cabin, and a low environmental footprint.
---
---
New York helicopter tours may get banned
The city of New York doesn't like helicopter tours.
For decades, the city's citizens have been citing air and noise pollution by the thousands of helicopter tours and asking them to stop.
Till 2016 there used to be almost 200 helicopter takeoffs every day.
By 2017, this number got reduced by half – so now less than 100 helicopters take off from Pier 6 heliport every day.
Federal law prohibits these tour flights from flying directly over New York City, Governor's Island, and Staten Island.
In April 2018, a new bill was discussed, which aimed to ban helicopter tours of Manhattan forever.
You may want to go on a tour before it gets banned.
Recommended Reading: Romantic things for couples in Las Vegas
Sources

# Tripadvisor.com
# Heliny.com
# Newyorkhelicopter.com

The travel specialists at TheBetterVacation.com use only high-quality sources while researching & writing their articles. We make every attempt to keep our content current, reliable and trustworthy.
Popular attractions in New York