Valentine's Day is a popular time to visit Las Vegas, as there are plenty of romantic activities and events to enjoy with your significant other.
Valentine's Day 2024 in Las Vegas is as tempting as it sounds.
Sin City is the best place to celebrate Lover's Day with your partner in any year.
Plenty of events, sexy shows, spectacular sights, and the Las Vegas city itself combine to make it the perfect destination for Valentine's Day 2024 celebration.
If you want to go beyond Valentine's Day, Las Vegas also offers you an opportunity to get married!
It is the number one location to get married in the USA. Just saying.
If you adore your sweetheart (and we don't doubt it!), you will want to spoil them with all the romantic surprises Las Vegas has to offer.
Many young couples in love will be flocking to Sin City to celebrate the most romantic day of the year – 14 February 2024.
If you're planning to spend Valentine's Day 2024 in Las Vegas, planning and booking any activities or reservations in advance is a good idea to avoid disappointment.
Things to do on Valentine's Day in Las Vegas
Here are our recommended 12 romantic things to do during your 2024 Valentine's week in Las Vegas.
Watch the magical Bellagio Fountains
Nothing can be more romantic than watching the magically beautiful, dancing fountains with your Valentine by your side.
The bonus is that this fountain at Bellagio hotel is completely free.
On Valentine's Day it can get very crowded, so go ahead of time to find a nice romantic spot for yourself.
---
---
Visit the Eiffel Tower in Las Vegas
You don't need to go all the way to Paris to give your fair lady one romantic kiss in the shadow of Eiffel Tower because Las Vegas has its own replica.
On this Valentine's Day don't miss the chance to kiss or dance in the shadow of Eiffel Tower in Las Vegas.
Don't blame us if your Valentine ends up proposing.
The Eiffel Tower provides the best view of the Las Vegas strip, which acts as the added bonus.
---
---
Watch a sex show with your partner
Sex Shows in Las Vegas are sexier than your fantasies.
Watching one such show on Valentine's Day this year is a hot thing to do as it will surely lead to some streaming hot action in your hotel bed.
Some of the most popular sex shows in Las Vegas are: Crazy Girls and Zombie Burlesque at Planet Hollywood, X Burlesque at Flamingo, Magic Mike at Hard Rock, Thunder From Down Under at Excalibur, Fantasy at Luxor, Absinthe at Caesars Palace and Zumanity at New York.
Not keen? No problem, check out this Stripper 101 Pole Dancing Class.
---
---
Share a cabin at the High Roller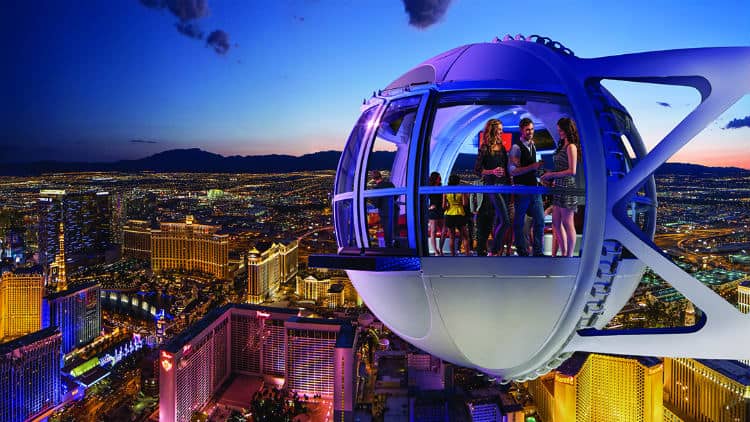 Linq High Roller is an excellent way to take in spectacular 360-degree views of Las Vegas city.
Couples can relax in an air-conditioned cabin and savor the sights of the Las Vegas Strip and the surrounding areas from the world's tallest observation wheel.
To make your Valentine's Day in 2024 even more special, you can opt for the High Roller's Happy Hour ticket, which gets you a cabin with an open bar and unlimited drinks.
---
---
Get an adrenalin rush together
If you want to make your Valentine's Day 2024 an exciting affair, you need to combine indoors fun with outdoors thrill.
Fly LINQ Zipline is the latest adrenaline-fueled attraction introduced in Las Vegas.
In this experience, which is part of the LINQ Hotel & Casino, visitors zip down from 12 stories above the LINQ Promenade near Las Vegas Boulevard and end at the LINQ High Roller.
Young couples love this experience.
Since both Fly LINQ Zipline + LINQ High Roller are at The LINQ Promenade, visitors who have time on their hands and aren't on a budget holiday buy both tickets.
---
---
Walk down the Las Vegas strip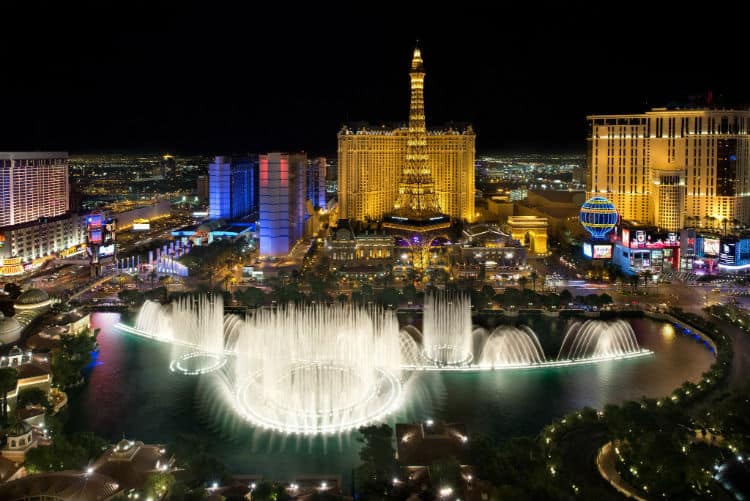 Las Vegas Strip is the heart of the city Las Vegas.
There are a lot of things to do in this vibrant area.
Dynamic array of shops, restaurants, and bars, a replica of Statue of Liberty, Big Apple's skyline, and many more landmarks to be explored and enjoyed.
Do note that this Las Vegas strip is almost 7 kms long (4.4 Miles), so plan accordingly.
---
---
Fly over the Grand Canyon in a helicopter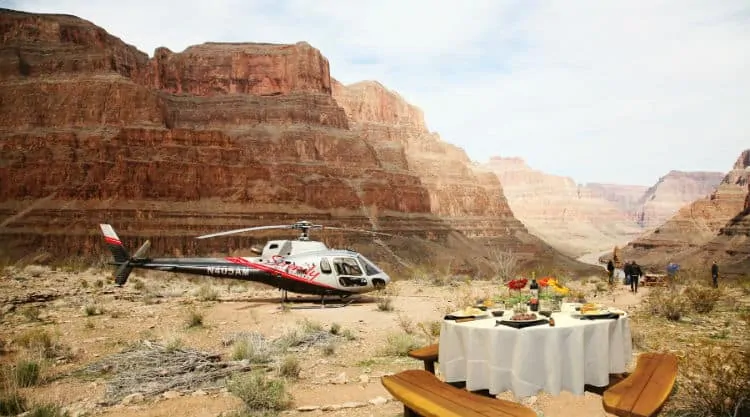 Grand Canyon is one of the natural wonders of the World and has taken millions of years in the making.
Between 8 am to 5 pm, there are numerous helicopter tours over this natural phenomenon.
As the helicopter dives into the widest and deepest part of the Grand Canyon, your partner is bound to reach out for your hand and squeeze it.
Some of these tours involve only flying over the Grand Canyon, some include a landing with a nice romantic picnic, and some involve yet another activity.
This is a once-in-a-lifetime experience and one of the best things to do with your Valentine in Las Vegas.
Couples can opt for various types of Grand Canyon helicopter tours, depending on their preferences.
Tours over West Rim
Tours over South Rim
---
---
Tour the Grand Canyon together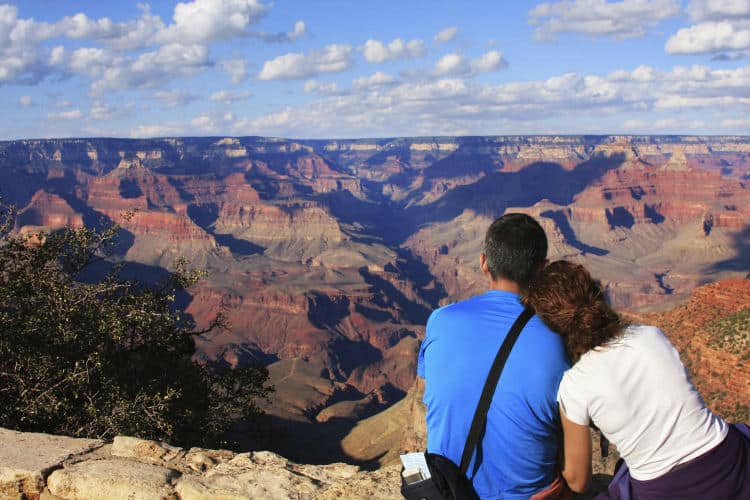 If you are on a weeklong romantic vacation in Las Vegas, we suggest you take the 14-hour long coach tour of Grand Canyon National Park.
This luxury coach will take you through Hoover Dam, the Southwest Desert, and the Grand Canyon and stop at the best places for photos.
This romantic adventure in a luxury coach is just the right break you need from the glitz and glamor of the Las Vegas strip.
You can combine your Grand Canyon visit with a visit to the SkyWalk, stopover at Hoover Dam or a helicopter tour over the natural wonder.
---
---
Partner your lover and save the World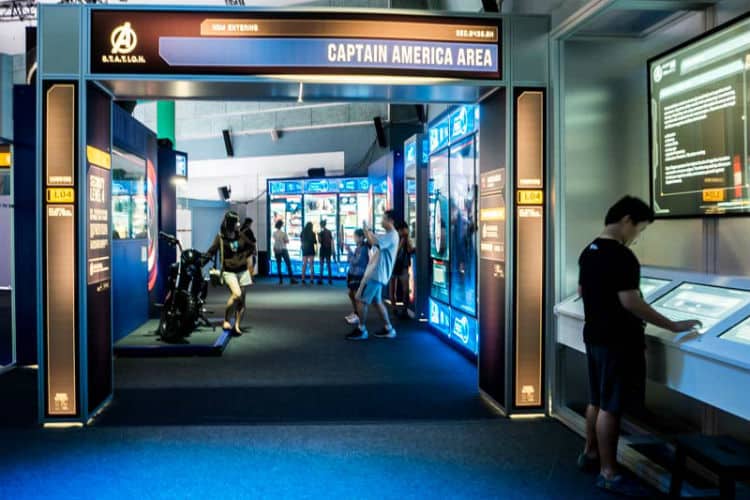 The Marvel Avengers STATION is a must visit for comic-book fans.
The best part of visiting this place the fight against Ultron at the end of this tour.
Yes, that's right. You get to take on the role of one of the Avengers team member and fight Ultron.
During this fight of good over evil, your partner will be with you – making it worthwhile.
However, before the fight with Ultron, you can enjoy exhibits like the original costumes, storylines, archive material etc.
This activity is included in the Las Vegas Explorer Pass.
---
---
Skydive at the Grand Canyon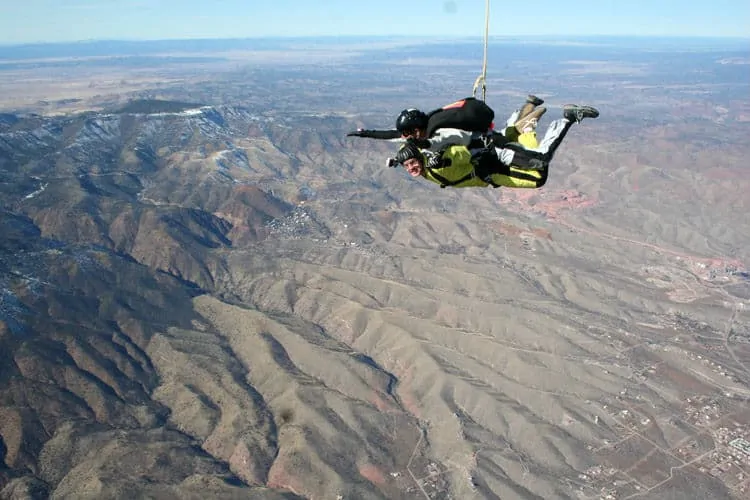 They say indulging in an adventure together with your partner deepens the bond.
That's why on 14 February 2024, we suggest you take your partner along for a skydiving experience at the Grand Canyon.
Duration of the flight and the dive is just 30-45 minutes, which means all you need is half a day.
Earn some serious bragging rights by skydiving as a couple.
Skydiving is the most exhilarating, and adrenaline-pumping activities in the world…now imagine doing it at the Grand Canyon.
Know any friend who can beat that?
Not much of an outdoors skydiver? No problem. Las Vegas has Indoor Skydiving as well.
---
---
Get the Las Vegas Explorer Pass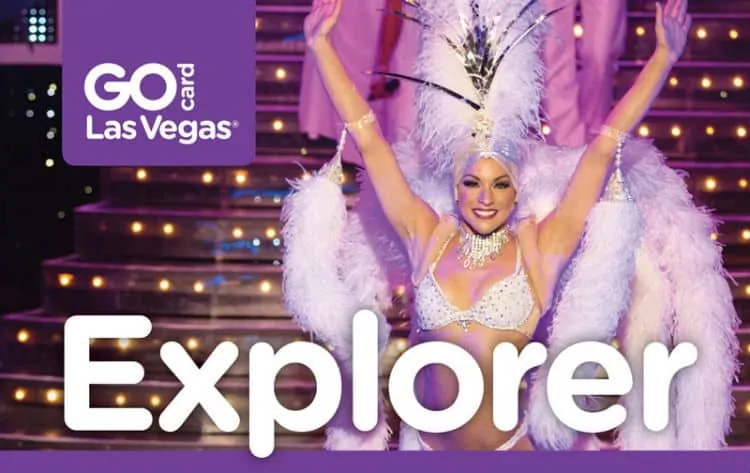 What can be more romantic than not worrying about the cost and roaming around Las Vegas freely.
The smarter of the romantic couples are known to go for the Las Vegas Explorers Pass, which is known to make your Valentine's Day week that much more special.
With this pass, you are guaranteed free entry to more than 30 attractions in the Sin City.
Some of the top attractions are – Hoover Dam Tour, Eiffel Tower Experience, Vegas! The Show, Marvel Avengers S.T.A.T.I.O.N, Rockstar Club Tour, LINQ High Roller, Pet Theater, Zombie Burlesque etc.
---
---
Romantic restaurants
There are a lot of classy and romantic restaurants in Las Vegas.
A breakfast, lunch or dinner in one of these restaurants offering classy food, stunning views, and elegant ambiance will go down well with your partner.
Celebrate your Valentine's Day 2024 at one of these romantic Las Vegas restaurants.
Since Las Vegas has extra visitors during Valentine's Day week, do call in for reservations.
Paris Las Vegas
What if you can't afford to be in Paris and Las Vegas at the same time.
You can dine inside Las Vegas' replica of the Eiffel Tower and have as much fun as a trip to Paris. Well, almost.
The stunning views of the Las Vegas strip and Bellagio Fountains across the street work as a bonus.
The Paris Las Vegas restaurant is very proposal friendly – so call ahead and plan if you want to.
They have numerous packages for couples in love – do enquire.
Top of the World at Stratosphere
This restaurant is called Top of the World for a reason. Situated 800 feet above the Strip it offers amazing views of the Las Vegas valley.
The uniqueness of this restaurant is the fact that it rotates 360 degrees as you eat your meal.
This Valentine's Day 2024, plan a romantic dinner during sunset – and you will want to come again every year.
If you want your evening to be captured for eternity, professional photography is available on request.
Alize at the Palms
Restaurant Alize is on the 56th floor of the Palms.
With its floor-to-ceiling windows it offers beautiful view of the Las Vegas Strip below.
This restaurant was created by Chef Andre Rochat, the first celebrity chef of Las Vegas.
The restaurant serves fine French cuisine, just the right cuisine for a romantic evening with your love interest.
Lago at Bellagio
If you want to wow your Valentine this year, take them to Lago at Bellagio.
There are two spots we recommend at the restaurant – table by the window or one out on the patio.
These are the most favored spots because you can look down at the stunning views of the Eiffel Tower at Paris Las Vegas and the Bellagio Fountains.
Chef Julian Serrano serves Italian food and specialized seafood, which you and your date are sure to love.
Hugo's Cellar at Four Queens
If you are in the mood for some classic Las Vegas gourmet dining, opt for Hugo's Cellar.
This downtown restaurant is made for old world romantics.
Why else will the restaurant give roses to all the ladies who walk in?
As for the food, it is mostly seafood, steaks, lamb, and chicken.
Hugo's table-side salad is included in every main course.
It consists of romaine lettuce, tomato, artichokes, mushrooms, chopped hard-boiled eggs, blue cheese, and bay shrimp.
Mouthwatering, isn't it?
---
---
Romantic hotels
All hotels in Las Vegas are romantic.
Just that some are more romantic than others.
This is our selection of the most romantic hotels in Las Vegas for young couples.
If you want to make your Valentine's day celebration in Las Vegas a grand success, choose one of the below-listed hotels.
Mandarin Oriental
This hotel is the best place to stay in Las Vegas.
In fact, the best hotel money can buy.
Helpful staff will make every single minute of stay memorable and every single penny spent worth it.
If you want to spend your Valentine's Day in sheer luxury, no place is better than Mandarin Oriental.
Address: 3752 Las Vegas Boulevard South, Las Vegas, NV 89109
ARIA Sky Suits
Your every desire will be met here in the Sky Suits.
Service is very personal and efficient.
You don't have to stand in the line for check-in.
Rooms, suites and restaurant are very upscale and you will get the best luxury of your money.
Address: 3730 Las Vegas Blvd., at ARIA Resort & Casino, Las Vegas, NV 89158
Four Seasons Hotel
A lovely place to spend your Valentine's Day in luxury and comfort.
People who have been here remember this place as their second home.
Address: 3960 Las Vegas Blvd S, Las Vegas, NV 89119
The Cromwell
This is a nice boutique hotel in the middle of the Strip where the rooms are nice and the staff is friendly.
A great place if you are looking to make your 2024 Valentine's Day special.
Address: 3595 Las Vegas Boulevard South, Las Vegas, NV 89109
Wynn Las Vegas
Beautiful rooms, excellent staff, fantastic service…all these are waiting for you at the Wynn Las Vegas.
Book this place for your Valentine's Day 2024 in Las Vegas.
Address: 3131 Las Vegas Boulevard South, Las Vegas, NV 89109
Additional Reading
Valentine's Day in Paris
Valentine's Day in Venice
Best honeymoon places in the World
Romantic places to take your girlfriend or wife