Linq High Roller is an excellent way to take in spectacular 360-degree views of Las Vegas city.
Visitors get to relax in an air-conditioned cabin and savor the sights of the Las Vegas Strip and the surrounding areas from the world's tallest observation wheel.
In this article, we share everything you must know before you book your Las Vegas High Roller ticket.
What to expect at Las Vegas High Roller
Linq High Roller in Las Vegas is 168 meters (550 feet) tall and 158 meters (520 feet) in diameter.
It is 2.75 meters (9 feet) taller than the Singapore Flyer and 33 meters (107 feet) taller than the London Eye.
These dimensions make it the Guinness Record holder for the largest observation wheel in the world.
The High Roller has 28 air-conditioned cabins, each of which can accommodate 40 guests.
During your ride, an entertaining audio tour will cover Las Vegas' history, perfectly timed to point out the landmarks as they appear during the rotation.
Check out the video below to get a better understanding of what awaits you at Las Vegas' LINQ Ferris Wheel.
To take in 360° view of Las Vegas, visitors can either book the cheaper and more popular High Roller's Regular tickets or the costlier Happy Hour tickets.
Regular tickets cost $38 for all adults and $20 for kids aged 7 to 17.
Happy hour tickets are priced at $65.25, and since the cabin serves alcoholic drinks, only visitors above 21 years can participate.
---
---
High Roller's hours
From Monday to Thursday, the High Roller Las Vegas opens at 4 pm and closes at midnight. 
From Friday to Sunday, the Las Vegas attraction begins at noon and closes at midnight to cater to the weekend crowd.
If you plan to visit between 12 noon to 4 pm, you must book the daytime hours ticket, and if you plan to visit after 4 pm, you must opt for the nighttime ticket.
Update: Due to the pandemic, High Roller Ferris Wheel is now only open from 4 pm to midnight.
---
---
Best time to visit High Roller at the Linq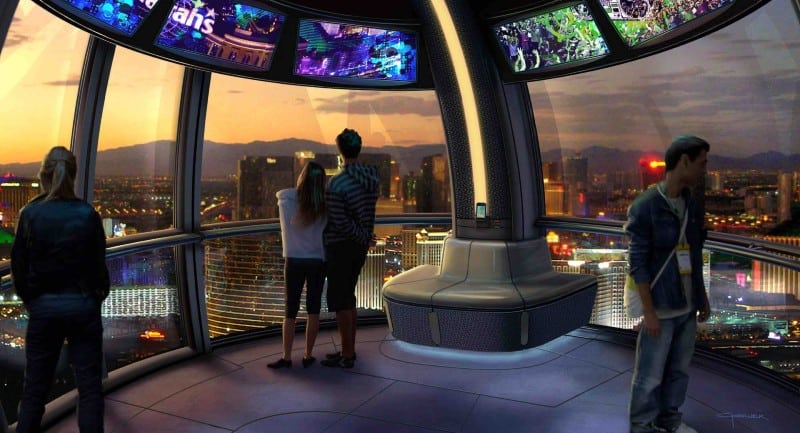 The best time to visit High Roller is just before sunset, because you can see Las Vegas splashed with nature's colorful light.
The High Roller takes 30 minutes for one rotation, which means you must board the observation wheel 15-20 minutes before sunset. Sunset times
Some tourists also time their presence at the top of High Roller, for when the Bellagio fountains take off below.
When it is dark, and your High Roller pod reaches the top, the colorful Bellagio Fountains look beautiful.
Bellagio Fountains shows are scheduled every 30 minutes till 8 pm, after which they happen every 15 minutes till midnight.
Lights at The Linq show
Las Vegas High Roller Ferris Wheel  illuminates at dusk and remains lit until the early morning hours.
During the 'Lights at The Linq' show, the massive observation wheel lights up 2,000 LED lights to music in a fantastic display of color.
During special days such as St. Patrick's Day, Halloween, Fourth of July, etc., the wheel takes on representative colors.
---
---
How long does High Roller take
One rotation of the Vegas' Linq High Roller lasts 30 minutes, which means all guests spend half an hour in the observation wheel's pod. 
When you buy the regular tickets or Happy Hour tickets in advance, you walk past the box office line straight to the entrance, scan your tickets on the smartphone, and get in right away!
You then wait for your turn to enter the pod.
However, if you decide to purchase your tickets at the venue, you may need 20 to 30 minutes more before you can line up for entering the pod.
This additional time depends on the time, day of the week, and the season.
Discount Alert: Visitors who go up the High Roller also visit Las Vegas Eiffel Tower Experience, which is 15 minutes walk away. To get a 10% discount, purchase both the tickets together.
---
---
Regular High Roller tickets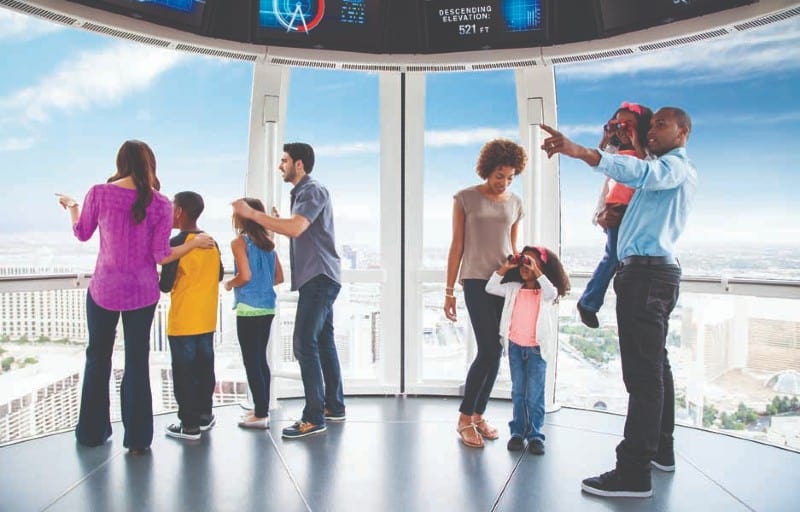 High Roller ticket price
Regular Las Vegas High Roller tickets cost $38 for all adults and $20 for kids aged 7 to 17. Kids aged six and under can enjoy the High Roller for free.
On Friday, Saturday, and Sunday, the attraction opens at noon, and visitors can go up the High Roller till 4 pm, at a discounted rate of $27 for all visitors 18 years and above and $10 for kids.
After 4 pm, the full rate applies.
High Roller ticket discount
The best way to score a discount on the High Roller ticket is to visit between 12 noon to 4 pm on Friday, Saturday, or Sunday.
When you purchase the daytime ticket and go up the High Roller between noon and 4 pm, you save $11 on every adult's ticket and $10 on every child's ticket.
However, the day time ticket is not available during the off-season.
Las Vegas locals can get up to 50% off High Roller tickets. Show your valid Nevada ID at the box office.
Why online tickets are better
It is better to purchase Las Vegas High Roller tickets in advance because of two reasons – 
Tickets at the venue are costlier than the online High Roller ticket.
When you buy tickets online, you can avoid standing in the ticket counter queue and save time.
Once you make the purchase, the tickets get emailed to you—no need to take a printout.
On the day of your visit, you can show the tickets on your smartphone and walk in.
The High Roller ticket is valid for three days – the day you selected while booking the tickets and up to two days after.
Alert: Day time tickets are only available during the peak tourist season.
Day time ticket price
From noon to 4 pm, on Friday, Saturday & Sunday
Adult ticket (18+ years): $27
Child ticket (7 to 17 years): $10
Anytime ticket price
4 pm to midnight, all through the week
Adult ticket (18+ years): $38
Child ticket (7 to 17 years): $20
Discount Alert: Madame Tussauds wax museum is just 10 minutes walk from High Roller wheel, and when you buy both the tickets together, you score a 10% discount. 
---
---
Linq High Roller happy hour tickets
Las Vegas' High Roller happy hour tickets are also known as the High Roller all-you-can-drink tickets.
The happy hour cabins of the High Roller Observation Wheel include an open bar and bartender.
They are available to visitors for 30 minutes, the time taken for one rotation of the wheel.
During the peak tourist season, the happy hour cabins are open daily from noon to 1 am and during the off-season from 4 pm to 1 am.
These cabins can accommodate ten guests at a time.
Guests must be 21 and older to ride in a High Roller's bar cabin.
The High Roller's Happy Hour tickets cost $65.25 for all visitors.
High Roller open bar
High Roller's Happy Hour ticket is almost twice the cost of the regular ticket.
As a result, visitors want to know if there is any other way to enjoy an open bar on Linq High Roller.
Here is the trick to convert your High Roller cabin into a private open bar.
To board the High Roller, visitors must pass through some interactive exhibits, restrooms, a lounge, and a bar.
Stop by at the bar and purchase a beverage to take onto the High Roller.
With your drink in hand, hop in your pod for a ride above Las Vegas.
Outside beverages are allowed on the High Roller as long as they aren't in a glass, cooler, or case.
Follow the link for more on Linq High Roller Happy Hour.
---
---
High Roller + Fly LINQ Zipline
Fly LINQ Zipline is the latest adrenaline-fueled attraction introduced in Las Vegas.
In this experience, visitors zip down from 12 stories above the LINQ Promenade near Las Vegas Boulevard and end at the LINQ High Roller Ferris wheel.
This adventure is Las Vegas Strip's only zipline experience and won Tripadvisor's Travellers Choice Awards in 2020.
Since both the experiences are at The LINQ Promenade, visitors who have time on their hands and aren't on a budget holiday buy both tickets.
After a discount of 10% this combo costs around $40 per person.
---
---
View from Vegas' High Roller Wheel
If you want the best views over Las Vegas' strip, opt for a helicopter tour over Las Vegas.
If you want sky-high views without having to spend a lot of money, Linq High Roller is a great option.
This Las Vegas Observation Wheel has enclosed and air-conditioned transparent pods, which help you get 360-degree views of the city.
The couple benches in the pod and the smooth ride quality ensure even those with a fear of height can enjoy the stunning Sin City's views.
The pod offers panoramic views of the Vegas strip, the rest of the city, the valley, and the mountains.
Start watching the video from 3rd minute onwards for both daytime and night time views from High Roller.
For the best views of the Las Vegas strip from the High Roller, stand in the Southwest corner – your immediate right when you enter the pod.
---
---
How to reach High Roller at LINQ
The High Roller is at the heart of Las Vegas' LINQ Promenade, a lively open-air shopping, dining, and entertainment district.
It is part of the LINQ Hotel + experience, behind 3545 S Las Vegas Boulevard. Get Direction
The High Roller Ferris Wheel's location makes it a perfect evening outing – after checking out the attraction, you get to experience the city.
By Las Vegas Monorail
Las Vegas Monorail starts operations at 7 am every day. Its closing time depends on the day of the week.
| Day | Starting | Closing |
| --- | --- | --- |
| Monday | 7 am | 12 am |
| Tuesday | 7 am | 2 am |
| Wednesday | 7 am | 2 am |
| Thursday | 7 am | 2 am |
| Friday | 7 am | 3 am |
| Saturday | 7 am | 3 am |
| Sunday | 7 am | 3 am |
If you plan to take the Monorail, get down at the Harrah's & The Linq Station, closest to LINQ Promenade.
From the station, the Linq High Roller wheel is a brisk 2-minute walk.
By Bus
If you prefer to take a bus, board the DEUCE or bus number 202 to get to Caesars Palace.
Caesars Palace is one of the finest hotels and casinos in Las Vegas city and is 600 meters (.4 mile) from the High Roller.
A casual 8-minute walk can get you to the tourist attraction.
Popular attractions in Las Vegas
# Eiffel Tower Las Vegas
# Mob Museum
# SeaQuest Las Vegas
# Fly Linq Zipline
# Madame Tussauds Las Vegas
# Natural History Museum