High Roller Observation Wheel at the LINQ Promenade offers two kinds of experiences – the regular High Roller ticket and the Happy Hour ticket.
While the regular ticket gets you 30 minutes in one of the LINQ High Roller cabins, the High Roller Happy Hour ticket also gets you an open bar, unlimited drinks and a bartender. Book Your Tickets
During this one-of-a-kind cocktail experience, visitors sip on cocktails even as they enjoy majestic 360-degree views of the Las Vegas Strip and beyond.
High Roller Happy Hour at the LINQ is one of the most popular activities in Las Vegas amongst couples and youngsters.
In this article, we share everything you must know before buying High Roller Happy Hour tickets.
What to expect at the Happy Hour?
Everybody has a happy hour on the Las Vegas strip, but only the very special manage a happy hour above the Strip.
During High Roller Happy Hour in Las Vegas, you will hop in a climate-controlled pod and enjoy access to a full bar for the entire 30-minute revolution.
Visitors enjoy stunning 360-degree vistas of the Las Vegas strip and beyond while sipping cocktails from as high as 168 meters (550 feet) in the air.
You admire the neon-lit cityscape with a drink in hand while listening to a funny narrator share exciting trivia and the history of Las Vegas.
The narration is timed to point out the region's landmarks as they appear during the High Roller's rotation.
Happy Half Hour pods can accommodate up to ten guests.
Happy hour tickets are priced at $66, and since the cabin serves alcoholic drinks, only visitors above 21 years can participate.
---
---
High Roller Happy Hour tickets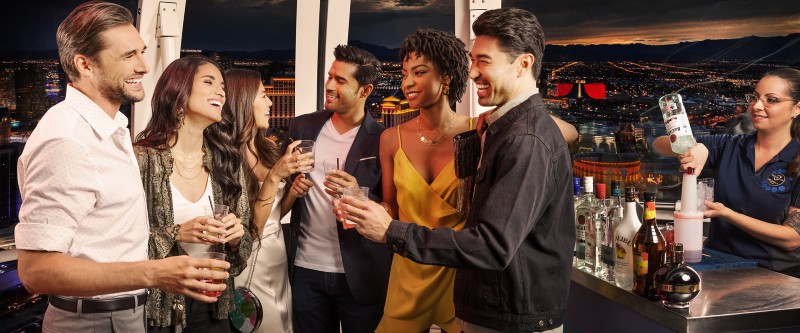 High Roller Happy Hour tickets are also known as the High Roller all-you-can-drink tickets.
The happy hour cabins include an open bar and bartender and are available to visitors for 30 minutes – the time taken for one wheel rotation.
These cabins can accommodate ten guests at a time.
Guests must be 21 and older to ride in a High Roller's bar cabin.
Where to buy tickets
You can get your High Roller Las Vegas Happy Hour tickets at the venue or buy them online, much in advance.
If you plan to get them at the attraction, you must get in the ticketing window queue.
Depending on the time of the day (and month), you may have to wait in the ticket counter line for 30 minutes or more to buy your ticket.
Also, tickets at the venue are costlier than the online Happy Hour tickets.
How online tickets work
When you book Happy Hour tickets online, you select your preferred date of visit.
You can visit the attraction anytime you want, on the selected date.
Immediately after purchase, your tickets get emailed to you. You don't need to take any printouts.
All you must do is, reach the tourist attraction whenever you want and show your ticket at the entrance, on your smartphone, and line up for the Happy Hour pod.
Happy Hour ticket prices
The High Roller's Happy Hour tickets cost $66 for all visitors above 21 years of age.
High Roller doesn't offer any discounts for seniors, students, or disabled visitors.
You must select the appropriate ticket on the booking page.
Since younger visitors cannot board the Happy Hour Cabins, they can purchase the regular High Roller tickets.
The daytime High Roller tickets cost $26 for all visitors older than 13 years and $10 for kids aged four to 12.
You must select the appropriate ticket on the booking page.
Visual Story: 10 must-know tips before visiting Happy Hour at Linq High Roller
Save money on the door price of 2, 3, 4, 5, 6, or 7 Las Vegas attractions with a 60-day Las Vegas Explorer Pass. Choose from some of Sin City's top activities and save up to 55%.
---
---
Happy Hour timings
The Linq High Roller is open open from 2 pm to 12 midnight throughout the week.
The last ride starts at 11.30 pm.
You must purchase a daytime ticket if you want to visit between 2 pm and 5.59 pm Monday to Thursday and 12 pm to 5.59 pm Friday to Sunday, and a nighttime ticket if you plan to visit after 5 pm.
High Roller nighttime happy hour
Many tourists think if they want to go up on the High Roller's Happy Hour pod at night, they must purchase a different ticket.
Thankfully, that's not the case.
Once you purchase a High Roller Happy Hour Vegas ticket, you can visit the attraction anytime on the selected date.
---
---
Best time for Happy Hour experience
If you plan to book the High Roller Happy Hour at the LINQ, it is best to visit after the sun has gone down and Las Vegas is all lit up.
It would help if you boarded the observation wheel at least half an hour after sunset for all the lights and neon signs to come up. Sunset times
Some tourists plan their visit to the top of the High Roller to coincide with the Bellagio fountains below.
The multicolored Bellagio Fountains are charming when it is dark, and your High Roller pod has reached the top.
The Bellagio Fountains perform every 30 minutes until 8 pm, following which they perform every 15 minutes until midnight.
---
---
How long is Happy Hour at Linq High Roller
One rotation of the Linq High Roller lasts 30 minutes, which means all guests spend half an hour in happy hour cabins.
During this half-hour, visitors can order as many drinks as they want from the open bar within the cabin.
When you book your LINQ High Roller open bar tickets in advance, you skip the lines, scan your tickets on the smartphone, and get in right away!
However, if you decide to purchase your tickets at the venue, you may need 20 to 30 minutes more before you can line up for entering the pod.
This additional time depends on the time, day of the week, and the season.
---
---
Is High Roller Happy Hour worth it?
High Roller's Happy half hour includes a ride in a cabin with an open bar and bartender to serve you drinks.
At $66 per person, the Happy Hour ticket costs $28 more than the regular High Roller ticket (priced at $38).
Despite the high cost, the unique Las Vegas experience is totally worth it.
The bartender is not allowed to pour your next drink only after everyone in the pod has had at least one.
As a result, the fewer guests in the cabin, the better it is for you.
Anyway, there is an upper limit of ten visitors per cabin.
Even if you end up with a full cabin, it is not something to worry about because the bartenders are very professional and don't take more than 30 seconds to pour a drink and more than a minute to make a cocktail.
The High Roller Happy Hour cabin serves unlimited liquor, beer, wine, and cocktails for 30 minutes for only $28 more than the regular ticket price.
More alcohol
The Happy Hour experience is better at night, with the stunning Las Vegas views, which is why cabins have more guests after dark.
If you don't mind missing the glittering Las Vegas skyline at night, you can try out the Happy Hour experience during day time.
You may miss the gorgeous lights, but you will receive superior bar service during your High Roller happy hour.
Popular attractions in Las Vegas
# Linq High Roller
# Eiffel Tower Las Vegas
# Mob Museum
# SeaQuest Las Vegas
# Fly Linq Zipline
# Madame Tussauds Las Vegas
# Natural History Museum