The massive state of Texas, known as the lone star state, is famous all over the world for its rich history and impossibly diverse landscape.
Nestled in the prairies of central Texas, in the county of Robertson is a massive 100-acre stretch of safari land – the Franklin Drive Thru Safari – where wildlife and adventure meet.
In an exciting journey through vast vistas of beautiful landscapes, a kingdom of exotic animals comes to life.
Read on to find out everything you need to know before booking tickets for the Franklin Drive Thru Safari – tickets, prices, what to expect, how to reach, FAQs and more!
Top Franklin Drive Thru Safari Tickets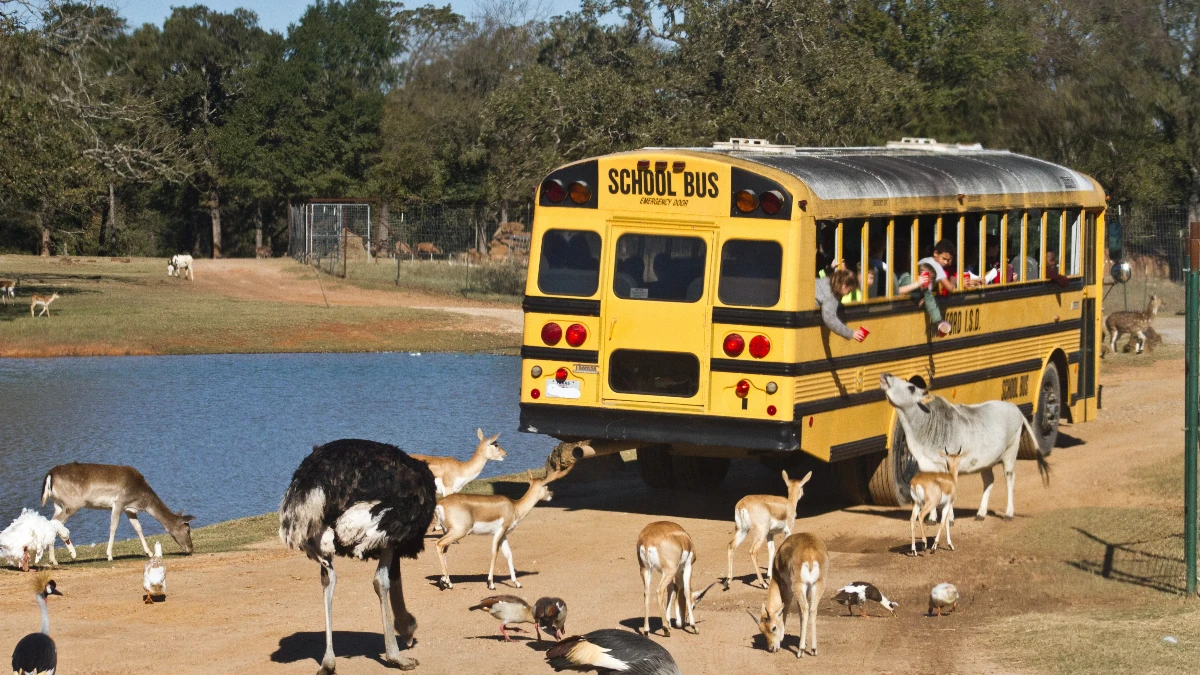 What to expect
At the Franklin Drive Thru Safari, set out on a mesmerizing journey through majestic landscapes and winding trails where bison graze on open plains, zebras gallop through the wind, and 500 species of such animals can be seen in their natural environment.
Take your own vehicle through the dusty wilderness of the primal world, or take a guided tour with the sanctuary's highly qualified staff.
Let your adventurous side shine by petting wild beasts that walk up to your car and feed them from your animal feed boxes, and make many such priceless memories. Make sure to buy multiple boxes of animal feed!
Visit the area designated for the delightfully cute baby animals for cuddles, and after that, step into a specially designed reptile house to learn about the creatures.
Indulge the kids in a delightful experience that is both fun and educational at the Franklin Safari.
Book a stay inside the Franklin Drive-thru Safari, just off the safari trail, to heal and reconnect in the arms of Mother Nature.
---
---
Where to book tickets
Tickets to the Drive Thru Safari in Franklin, Texas, can be bought online here or at the ticketing counter at the adventure park.
However, booking the tickets online in advance is in your best interest.
Booking in advance allows you to plan your visit better, allocate sufficient time for the safari experience, and take advantage of any discounts or special offers available.
You can skip the long queues at the attraction's ticket counter when booking tickets online.
Booking online also helps avoid last-minute delays and disappointments as the tickets tend to sell out fast.
How do online tickets work?
Go to the online booking page of Franklin's Drive Thru Safari, enter the date of your planned visit, and select the number of tickets you want to buy.
Once you have booked your slot, the tickets will be immediately sent to you via mail.
You do not need a physical printout. Just show the ticket on your smartphone and enter!
Remember to carry your ID.
Franklin Drive Thru Safari ticket prices
The Franklin Drive Thru Safari Texas has a pretty straightforward ticket pricing system.
All infants under three years are not charged anything for the ticket.
Everyone else aged three and above can gain access to the safari for US$20.
Franklin Drive Thru Safari tickets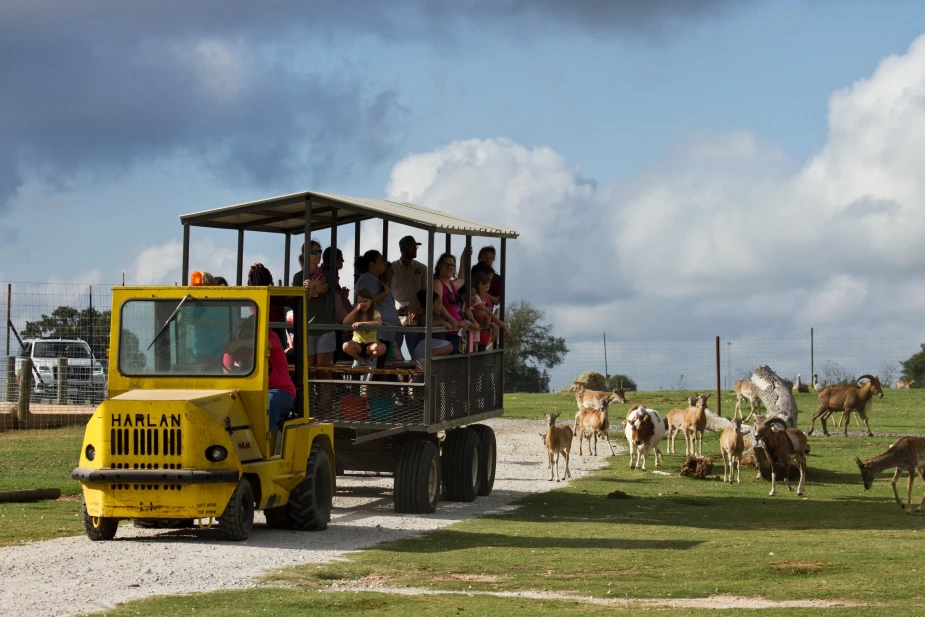 The Franklin Drive-thru safari is a one-of-a-kind animal adventure park in Texas with a unique blend of firsthand wildlife experience and educational insights.
You can drive through the 100-acre sanctuary following the trail in your own vehicle and ask for the sanctuary staff's assistance at any point.
You can feed the animals with your hands, sitting in your car.
The animals at the Franklin Drive Thru Safari near Houston are well taken care of, and thus they do not feel threatened, which is why they are as happy to see you as you are to see them, making for a memorable experience.
Ticket Prices
Adult Ticket (3+ years): US$20
Infant Ticket (up to 2 years): Free
Save time & money! Buy this Las Vegas Pass and save money on more than 35 attractions and experiences in Las Vegas. Enjoy discounted entrance to 35+ Las Vegas attractions for 2, 3, 4, or 5 successive days. In addition to touring world-class exhibits, you may attend top-rated concerts, ride an open-top bus, or take a Grand Canyon adventure.
---
---
How to reach
Franklin Drive Thru Safari requires a huge wilderness space and thus is situated rather away from the hustle-bustle of Texas. The Franklin Safari entrance is on West Highway 79, a major Texas highway.
Address: 4324 W Hwy 79, Franklin, TX 77856, USA. Get Directions.
By Bus
The nearest bus stop is Hearbe Cefco C store, about 10 miles (16 km) away.
By Car
The best way to travel to Franklin Drive Thru safari is by your own vehicle.
If you do not have a car, you can rent one at any car rental enterprise online or in the major cities of Austin or Houston nearby. They are both about a two-hour drive away.
Put your starting point here for driving directions to the Franklin Drive Thru Safari in Franklin, Robertson County, Texas.
Car Parking
There are plenty of hotels, restaurants, and shops for vehicle upkeep within a five-mile radius in Franklin, Robertson County.
The Franklin Drive Thru Safari also facilitates private tours if you want to avoid driving your car. Parking can be easily found in that case.
Franklin Drive Thru Safari timings
The Franklin Drive Thru Safari, 130 miles (209 km) away from Houston, Texas, and 100 miles (160 km) from the Texas state capital Austin, is open seven days a week.
The operating times are from 9 am to 5 pm throughout the week.
However, it is important to note that since the park is open wilderness, visitation can be closed during extreme weather conditions such as storms.
Best time to visit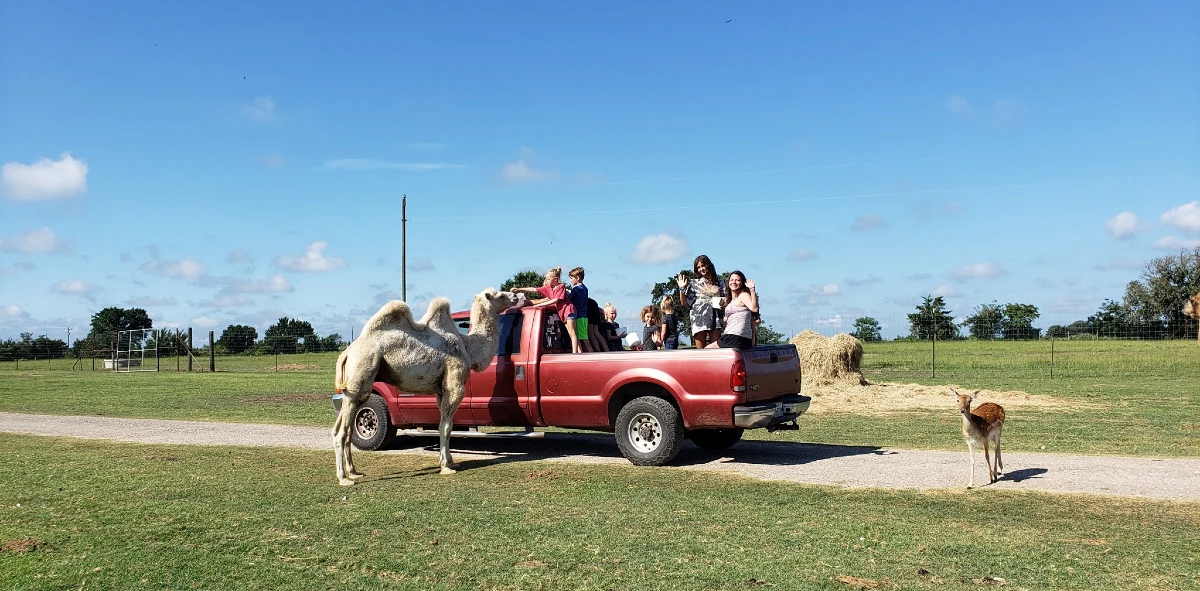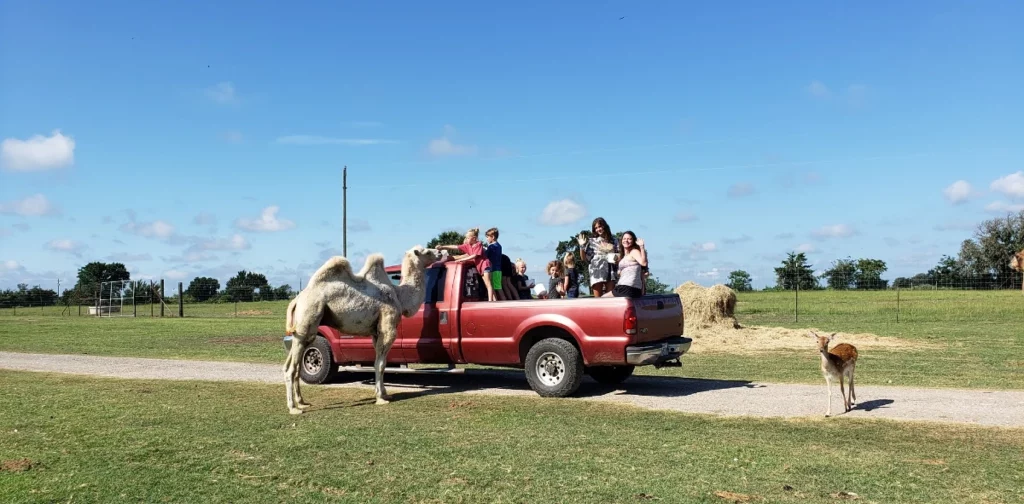 The best time to visit the Franklin Animal Safari is right about the time when the park opens at 9 am.
The animals are hungry and will come to your car for the animal feed you carry.
The animal feed can be bought inside the park, around the entrance.
Since it is an open-air park, we strongly recommend you look up the weather forecasts for your planned visit and book your tickets online, picking a day with pleasant weather, as it can get hot in Texas.
How long does the safari take
The Franklin Drive Thru Safari tour in Texas can take as long as you like. Usually, the trail can be traversed in about fifty minutes.
However, between animals poking their head into your car, visits to the baby animal petting zoo, and a trip to the reptile house, we recommend taking out at least two hours to enjoy the safari to its full extent.
---
---
Franklin Drive Thru Safari reviews
Take a look at some of the reviews before you plan the safari.
A must-visit
I have been obsessed with going on safaris since I moved to Texas. I just love seeing the animals, feeding them, and petting them. I went to this Safari during the middle of the pandemic.
Since everything with the pandemic was still fairly new, they only allowed you to drive-thru. I really enjoyed the animals. I can't remember what we paid, but we got the feed, and boy, am I so glad we did.
These animals were coming up to the car left and right, and you better hope you had enough feed when they come. I ain't going to lie when that emu came up to the window, I rolled up the window because I was scared.
I was also a little worried when the animals with huge horns came up to my car. If you have not gone on a safari, please do yourself a favor and go. Don't get a carwash until after because your car will need a wash after driving through the safari. Keshia R.
A perfect sight!
I had a blast at this drive thru Safari. My companion and I visited on a Saturday morning in October, and the weather felt perfect for the occasion. We spent about two hours driving around. It wasn't too busy, and there were plenty of animals to watch and feed. Cassandra S.
FAQs
Here are some frequently asked questions about Franklin Drive Thru Safari.
Are pets allowed at the Franklin Drive Thru Safari?
No, pets are expressly prohibited.
Where can I buy tickets for the Franklin Drive Thru Safari?
The tickets for Franklin Drive Thru Safari are available online. 
What if I don't want to drive my own car?
Private and VIP tours are provided by the administration of the Franklin animal safari, so you do not need to worry if you don't want to drive your car.
Are the animals dangerous at Franklin Drive Thru Safari?
The animals are well cared for and are used to humans. They are not hostile toward visitors. 

However, they should be respectful and not be over-friendly or aggressive toward the animals. Their primal instincts can take over if they feel threatened.
Is the safari disability friendly?
Yes. Wheelchair access is available on request.
Sources
# Franklinsafari.com
# Trip.com
# Tripadvisor.com

The travel specialists at TheBetterVacation.com use only high-quality sources while researching & writing their articles. We make every attempt to keep our content current, reliable and trustworthy.
Popular attractions in Las Vegas