Are you looking for a thrilling experience that will leave you breathless and wanting more?
Look no further than the adrenaline-fueled Las Vegas SkyJump, an experience that soars thrill-seekers to a new level.
The SkyJump in Las Vegas, Nevada, offers a controlled freefall experience. It is situated at the renowned Stratosphere Tower.
Imagine yourself on a platform 829 feet (253 meters) above the bustling city of Las Vegas, admiring the stunning skyline that stretches out in front of you.
It's a thrilling adventure that combines the rush of skydiving with the security and controllable landing device that has been specially built.
Get ready to defy gravity and create lifelong memories.
This article covers everything you should know before booking tickets for SkyJump at Las Vegas – tickets, prices, timings and much more!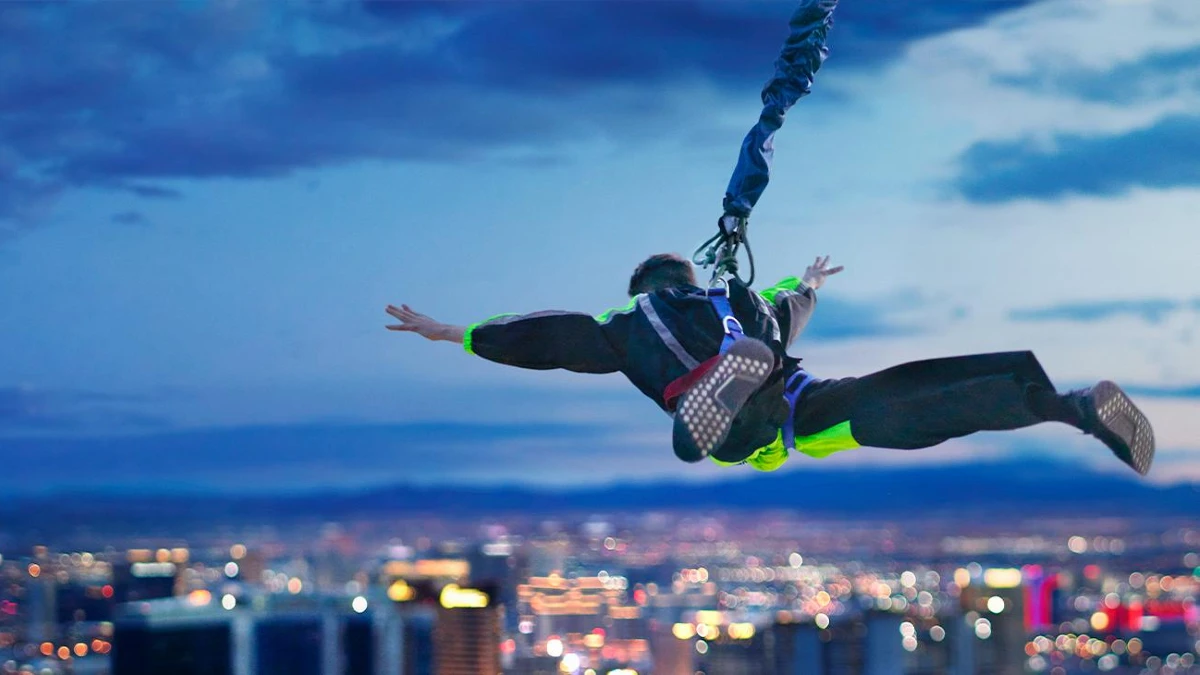 What to expect
You can anticipate a thrilling experience at the Las Vegas SkyJump that blends breathtaking views with an exhilarating freefall.
Prepare to be amazed by the magnificent panorama of the surrounding landscape and Las Vegas Strip as you climb to the highest point of the Stratosphere Tower.
The views of the city are just breathtaking from 829 feet (253 meters) above the ground, providing an interesting perspective.
The skilled experts will walk you through the jump method and safety precautions and ensure you have all the gear you need for a secure experience.
The technology in place gradually decreases the speed of your fall, resulting in a controlled and secure landing.
Be ready for an incredible adventure that will define your daring jump from one of Las Vegas's most recognizable monuments in your memory for the rest of your life.
---
---
Where to book tickets
The Las Vegas SkyJump tickets can be bought at the attraction or online in advance.
We recommend making a reservation in advance because walk-ups aren't that common.
We advise purchasing your tickets online to save both time and money.
Online tickets are cheaper than the ones you buy at the venue.
You can avoid long queues at the venue by making a reservation online.
Additionally, making reservations online helps minimize delays and last-minute disappointment.
How do online tickets work?
Visit the Las Vegas SkyJump booking website, select the date and number of tickets required, and then purchase them immediately.
You will get the tickets in your email after making the payment.
You do not have to bring printouts.
You can get inside the arena by displaying the ticket on your smartphone.
Ticket price
The Las Vegas SkyJump tickets are priced at US$132.
There are age and weight restrictions for the Las Vegas SkyJump.
Participants must be 14 years or older, with a weight limit of around 265 pounds (120 kgs).
SkyJump at Las Vegas tickets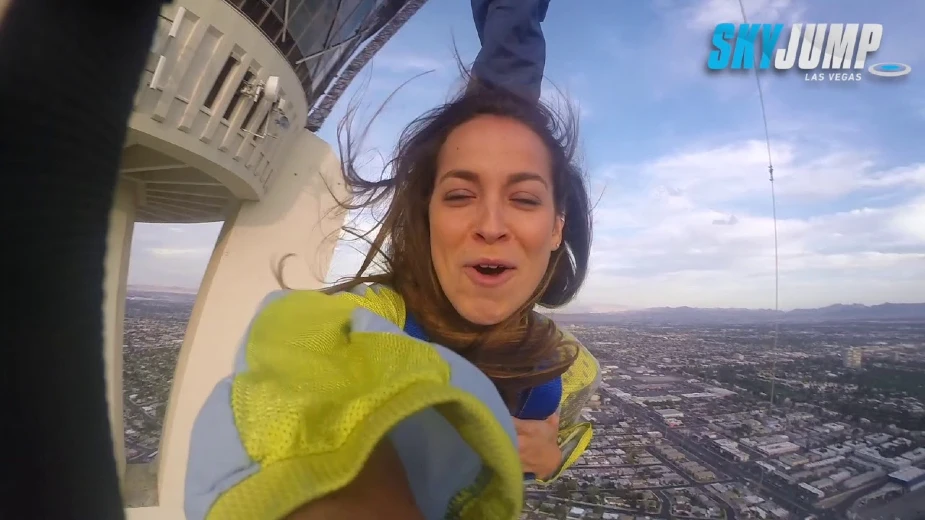 The SkyJump at Las Vegas ticket gets you to experience one of Las Vegas's thrilling attractions.
Skyjump is an open-air, scream-inducing jump that takes place 855 feet (260 meters) above the bright Strip.
Participants jump from 829 feet (253 meters) and fall rapidly toward the ground in a controlled freefall experience.
If you plan to cancel the visit and need a full refund, remember to do so at least 24 hours before the start time of the jump.
Ticket Price
Adult ticket (14+ years): US$132
Save time & money! Buy this Las Vegas Pass and save money on more than 35 attractions and experiences in Las Vegas. Enjoy discounted entrance to 35+ Las Vegas attractions for 2, 3, 4, or 5 successive days.

In addition to touring world-class exhibits, you may attend top-rated concerts, ride an open-top bus, or take a Grand Canyon adventure.
How to reach SkyJump at Las Vegas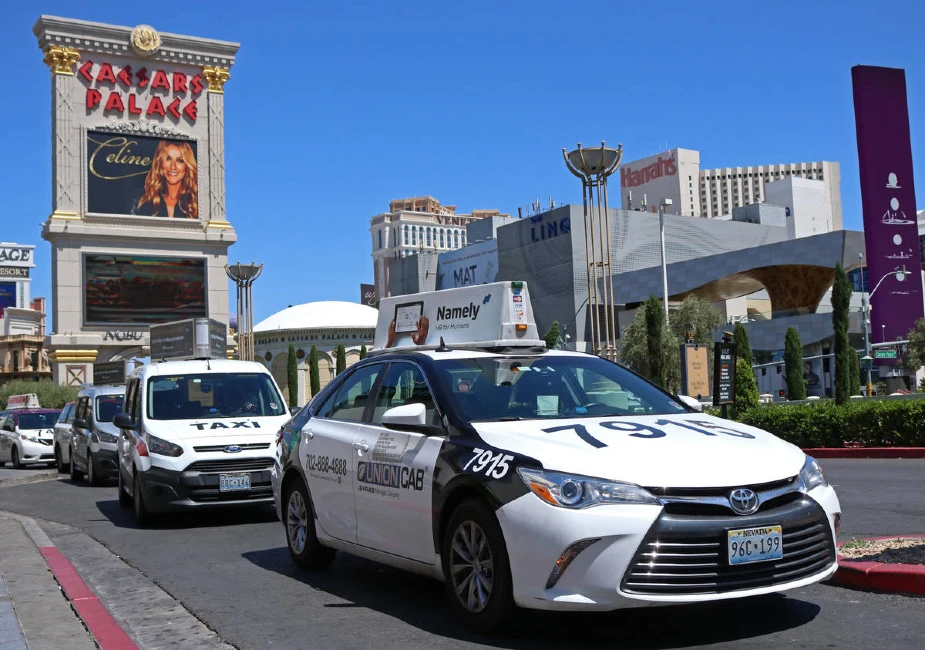 SkyJump Las Vegas is located at the iconic Stratosphere Tower in Las Vegas, Nevada, United States.
Address: 2000 Las Vegas Blvd S, Las Vegas, NV 89104, United States. Get Directions.
By Bus
The SkyJump Las Vegas is only three minutes from The Strat.
Bus: Downtown Loop
The Las Vegas SkyJump is only six minutes from the SB Las Vegas at the Strat.
Bus: Deuce
The SkyJump at Las Vegas is only eight minutes from EB Sahara after South Bridge, Winchester.
Bus: SX
By Car
If you're traveling by car, turn on your Google Maps and get started.
Click here to see the nearby car parking garages around the SkyJump Las Vegas.
---
---
Timings
The Las Vegas SkyJump stays open in the afternoon from 2 pm to 10 pm from Monday to Thursday.
From Friday to Saturday, the venue is open from 12 pm to 10 pm.
On Sunday, the SkyJump in Las Vegas is open from 12 pm to 11.30 pm.
How long does the tour take
The actual freefall SkyJump experience lasts approximately 17 seconds.
However, the complete experience takes an hour from the time you arrive until the completion of the jump.
Best time to visit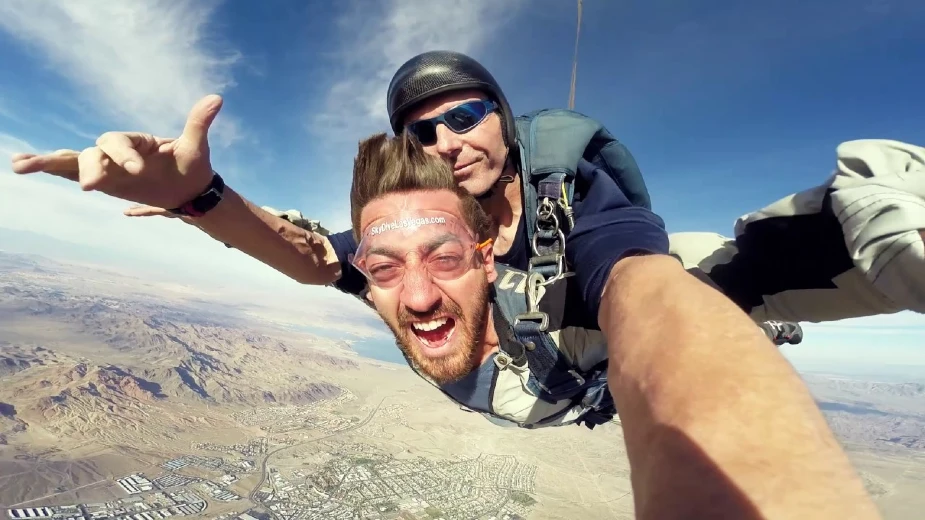 The Las Vegas SkyJump provides amazing views both day and night. If you want to see the cityscape during the day, visit late at 4 pm.
Try jumping in the evening or at night after 7 pm when the city lights up for an even more dynamic and illuminated experience.
If you like to avoid crowds, visit the arena during weekdays.
FAQs
Here are some frequently asked questions about the Las Vegas SkyJump.
How high is the SkyJump in Las Vegas?
SkyJump is an open-air leap from 829 feet (253 meters) above the Neon Strip and holds a Guinness World Record for the highest commercialized decelerator fall facility.
What do I need to bring to SkyJump?
You should bring your ID, a credit card, and any medicines that you take daily.
What are SkyJump's cancellation policies?
Cancellations must be made at least 24 hours in advance to receive a full refund.

If you cancel within 24 hours, you will not be refunded.
Is the Las Vegas SkyJump open all year?
The Las Vegas SkyJump is usually open all year, but it's always a good idea to double-check the operating hours and availability before organizing a trip. 

External factors like weather or scheduled maintenance may occasionally interfere with its operation.
Are there any age or weight restrictions for the Las Vegas SkyJump?
The Las Vegas SkyJump does have age and weight restrictions. Participants must be at least 14 years old, and their weight must not exceed 265 pounds (120 kgs).
Can I purchase tickets for the Las Vegas SkyJump in advance?
Yes, the Las Vegas SkyJump tickets can usually be purchased in advance. 
What are the SkyJump health requirements?
To Skyjump, you must be in generally good health. 

You should not have any heart problems, high blood pressure, or other health conditions that skydiving's physical activity could exacerbate. 

You should also be free from any fear of heights or acrophobia.
What should I wear for SkyJump?
It is recommended to wear comfortable clothing.

You should also wear supportive shoes with a closed toe. 

Skyjump provides you with a jumpsuit, goggles, and other required equipment.
Do I need specific skills or training to participate in the Las Vegas SkyJump?
The Las Vegas SkyJump does not require any specific skills or training.

Participants must, however, meet specific age and weight standards, and be in generally excellent condition. 

It is best to review the attraction's instructions or contact the operator for detailed information.
Is the SkyJump in Las Vegas safe?
The Las Vegas SkyJump is quite safe. 

The attraction follows strict rules and regulations to protect the safety of participants.

The equipment is built and maintained to high standards, and professionals supervise the entire experience.