If you want to add some celebrity glamour to your Las Vegas trip, look no further than Madame Tussauds Las Vegas.
The 200-year-old wax statue-making art and its magical appeal are still intact and make for a memorable experience for visitors of all ages.
Madame Tussauds Las Vegas has some uncannily accurate wax figures and offers fun celeb-spotting, memorable experiences, and selfies.
Madame Tussauds Las Vegas wax museum was the first Madame Tussaud in the United States.
It was started in 1999 with over 100 celebrity wax figures and has since updated to modern icons, including the Hangover Stars, Tupac Shakur, Rihanna, Nicki Minaj, sports superstars, and music icons.
We tell you everything there is to know before purchasing your Madame Tussauds Las Vegas tickets.
Madame Tussauds Las Vegas hours
Madame Tussauds Las Vegas has variable timings. The Museum is open latest by 11 am, but the closing time is different.
It closes at 6 pm or 8 pm, depending on the day's schedule.
It is best to plan your visit between 11 am to 5 pm to avoid any disappointment.
The last entry is 15 minutes before the day's closing time, but it takes about an hour to view the wax museum.
If you reach by 5 pm, you can complete your tour even if the Museum is scheduled for early closure on the day.
---
---
How long does Madame Tussauds Las Vegas take?
It takes approximately 60 to 90 minutes to explore Madame Tussaud Las Vegas wax museum.
Visitors who take more photos and selfies with the "celebrities" tend to take longer than usual.
The tour is self-guided, and there is no time limit for your entry tickets – you can be inside for as long as you want.
---
---
Best time to visit Madame Tussauds Las Vegas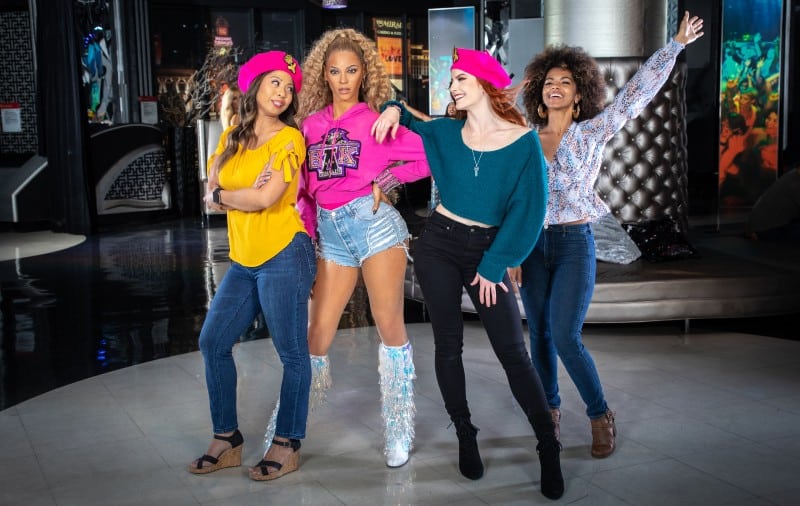 The best time to visit Madame Tussaud Vegas is as soon as they open.
The wax museum tends to be busy around lunchtime and early afternoon.
If you wish to avoid crowds, visit either early in the morning or after 4 pm.
It can also get crowded on weekends and holidays hence plan your visit accordingly.
---
---
Madame Tussauds Las Vegas price
Madame Tussauds Las Vegas ticket costs $34.99 for all visitors.
However, when purchasing the ticket, visitors aged 3 to 11 years must select the 'child ticket' while the others must opt for the 'adult ticket.'
This ticket includes general entry and access to interactive displays for the day of the booking.
Ticket discount
Children below three years can visit Madame Tussauds Vegas for free with a paying adult.
There are several combo tickets and deals that give you a good discount and pack some extra fun.
The Go Las Vegas Explorer Pass is another way to save you up to 60% on entry ticket costs.
The pass provides free entry into 35+ attractions, including Madame Tussauds Las Vegas.
Local discount
Madame Tussauds Las Vegas offers a special discount to the locals.
Nevada residents can save up to 50% when they book their Madame Tussauds tickets.
A reduced ticket offer is only available at the Museum's admission office, and the locals must carry a valid state ID.
---
---
Madame Tussauds Las Vegas tickets
It is advisable to book your Madame Tussauds tickets online so you can avoid queues and plan your day well.
When you make the purchase, the ticket gets emailed to you.
On the day of your visit, you can show it on your smartphone to enter the Madame Tussauds Vegas wax museum.
This ticket includes entrance to the Marvel Superheroes 4D experience.
Cancellation done 24 hours in advance gets a full refund.
Ticket price
Adult ticket (12+ years): $34.99
Child ticket (3 to 11 years): $34.99
---
---
Madame Tussauds combo tickets
Combo tickets give you more for less and are popular among tourists visiting Las Vegas and Madame Tussauds Vegas.
Visitors planning to explore Madame Tussauds Las Vegas must consider Combo tickets for the following reasons:
1. Madame Tussauds Las Vegas tickets at the regular price have no discount, and combo tours are a great way to save up to 20% on your ticket expenses.
2. Madame Tussauds Vegas takes only one to two hours, and you may combine more activities for the same day as there is a lot to see.
3. Madame Tussauds is on the Strip. There are many other attractions nearby which tourists can visit on the same day.
You can choose from several options.
Madame Tussauds tickets + Gondola ride
This Madame Tussauds and Gondola Ride ticket costs $61.90 per person.
It includes one entry to the wax museum and an outdoor Gondola ride at the Venetian.
When you show your smartphone tickets at the Madame Tussauds box office, you will get vouchers for the Gondola ride.
You can make Gondola reservations in person and on the day of your visit.
Madame Tussauds entry + Meal at Hardrock Cafe
This combo ticket includes entry to Madame Tussauds and a meal at Hardrock Cafe.
It comes at a 20% discount and is priced at $57.99 per person.
You need to visit the Museum first and collect your Hard Rock café voucher from the box office.
After you tour Madame Tussauds Las Vegas, you have seven days to redeem this voucher at the Hard Rock Café.
You have VIP front-of-the-line access to the café, and prior reservation is not needed.
Madame Tussauds + Dream Space Museum
With these discounted tickets at $74.99, you can explore two fascinating exhibits – the Museum of Dream and Madame Tussauds in Las Vegas.
Museum of Dream Space is the first Museum devoted to exhibiting digital art.
It is an excellent outing for some immersive, Instagrammable moments where art blends elaborately into reality.
Madame Tussauds admission + Eiffel Tower
This combo comes at a 10% discount, and you get to visit Las Vegas's Eiffel Tower and Madame Tussauds.
This combo costs $51.29 per person and is a popular purchase.
At the Eiffel Tower Experience, you ride in a glass elevator to reach the Tower's top for stunning views of Las Vegas.
Madame Tussauds access + High Roller
For $50.39 at a 10% discount, this combo includes admission to Madame Tussauds Las Vegas and Linq High Roller.
At Linq High Roller, you get fast-track access, so you don't have to waste time waiting in the queue.
---
---
Discount with Go Las Vegas Explorer Pass
If your Las Vegas trip is a week-long or more and you wish to explore the famous sites around, Go Las Vegas Explorer Pass can save you up to 60% on entry tickets.
This pass covers 35+ attractions like museums, including Madame Tussauds Las Vegas and tours.
It is valid for 60 days upon activation and/or the remaining number of attraction choices purchased.
For $55.20, you can gain free entry to 2,3,4,5,6, or 7 attractions.
---
---
What to see at Madame Tussauds Las Vegas?
Superheroes to sports stars, music icons to movie experiences, Madame Tussauds Vegas has something for everyone.
It is perhaps the only place where you need not be a bystander.
You can hug, hold, touch and kiss your favorite stars and celebrities.
The Madame Tussaud Las Vegas wax museum has four zones, two experiences, and a game zone.
The Zones
Club Tussauds: It is like being in a star-studded party. It is the place for selfies with A-listers like Beyonce, Brad Pitt, Leonardo Di Caprio, George Clooney, and Johnny Depp.
Sports Area: Here, you get to be face to face with some sports legends like Muhammad Ali, Andre Agassi, Don King.
Music Icons: Music icons of yesteryears and today, including Nicki Minaj, Katy Perry, Madonna, and Miley Cyrus, are housed here. Be ready with your camera for some glam-packed pictures.
Viva Las Vegas: The legends and celebrities who have contributed to the glitzy scene of Las Vegas can be found in this section, including Elvis, Mayor Oscar Goodman, Celine Dion, and acts like Blue Man Group, the Rat Pack.
The Hangover Bar Experience
It is an immersive experience for all Hangover franchise fans.
The original Wolf Pack figurines, movie-themed cocktails, iconic scenes, and settings, including the tiger, are displayed here.
Some of the exhibits at the Hangover Bar come at an additional cost.
It also has a stunning view of the Strip.
The Marvel Superhero 4D Experience
You can meet and greet the Marvel Universe men, including Captain America, Iron Man, Thor, Hulk, and Spider-Man.
The climax of the experience is a 360º animated 4D cinema attraction, complete with high-impact special effects.
You feel part of the action even as you tackle water, wind, tremors, shakes, etc., from the comfort of your chairs.
The Virtual Room
This interactive zone gives you a chance to be the star, form your squad and save the world.
With the latest virtual reality gear, you can move around, collaborate with your team and manipulate objects in a specially designed play area.
It is a thrilling experience with 2,3,4 players.
Players have to be 12 years and over to participate.
It can be booked only on the same day, in-person, and allotted on a first-come, first-serve basis.
---
---
Getting to Madame Tussauds Las Vegas
Madame Tussauds Las Vegas on the Las Vegas Strip is located at 3377 S. Las Vegas Blvd, Ste. 2001 Las Vegas, NV 89109.
It is in the Grand Canale Shoppes at The Venetian, on the Las Vegas Boulevard, popularly known as The Strip. Get Direction
Since Las Vegas Strip is easily navigable on foot, you may easily find it within walking distance from most hotels across the Mirage and above Sephora.
By Car
If you choose to drive to Madame Tussauds Las Vegas wax museum, it is easily accessible from Interstate 15 from the Flamingo Road or Spring Mountain Road exits.
Valet options are available at The Venetian. You can also self-park in The Venetian Parking.
By Monorail
Madame Tussauds Las Vegas is just a short walk away from Harrah's stop on the Las Vegas Monorail.
Madame Tussauds Vegas is a quick eight minutes walk from the station.
By Bus
RTC's Deuce and SDX Buses operate on The Las Vegas Strip.
The following bus routes will drop you closest to the Madame Tussauds Wax Museum in Las Vegas.
| Route | Direction |
| --- | --- |
| 119 | Simmons/ Koval Southbound |
| 202 | Flamingo Eastbound |
| 203 | Lamb Southbound/Desert Inn & Spring Mtn Westbound |
By Taxi
You can take any taxi and get dropped off at The Venetian Taxi stand.
From there, you need to pass by the hotel reception, under the Ponte Rialto bridge near the Strip, cross the street to the left at The Venetian welcome sign.
Go up the moving walkways, and you will see the Madame Tussauds Wax Museum by the brick bell tower and the fountain.
Madame Tussauds parking
The Venetian has two complimentary parking garages. Valet parking and self-parking are available to all visitors to the hotel and The Palazzo.
If you wish to self-park, The Venetian parking garage is situated behind the hotel.
It is accessible from the Las Vegas Boulevard and Koval Lane entrances.
The Palazzo parking garage is located on Las Vegas Boulevard and Sands Avenue.
The complimentary valet is at the main entrance of both The Venetian and The Palazzo and the Grand Canal Shoppes through The Venetian parking garage.
---
---
Madame Tussauds Las Vegas vs Los Angeles
Tourists who plan to visit both Las Vegas and Los Angeles in a short period usually want to know which is better – the Madame Tussauds in Las Vegas or the one in Los Angeles.
They want to know this so that they can see the better Madame Tussauds museum and skip the other.
Two factors can sway your decision –
The wax figurines on display
How old is the Museum – the newer ones are more updated
Both Madame Tussauds Las Vegas and Madame Tussauds Los Angeles have different figurines.
You can visit their official websites and check out the stars on display.
Madame Tussauds in Las Vegas was the first wax museum to open in the USA in 1999.
Madame Tussauds in Los Angeles was inaugurated more recently – in 2009 – and hence more updated.
Popular attractions in Las Vegas
# Eiffel Tower Las Vegas
# Linq High Roller
# Mob Museum
# SeaQuest Las Vegas
# Fly Linq Zipline
# Natural History Museum in Vegas