If you are interested in celebrities, there is no better place than Madame Tussauds in Hollywood.
The wax figures at Tussauds Hollywood include movie stars, TV show hosts, musicians, sports stars, politicians, superheroes, etc.
It is a fantastic opportunity to click selfies with 100+ famous lifelike wax figures from all walks of life.
In this article, we share everything you must know before buying your tickets to Madame Tussauds Hollywood.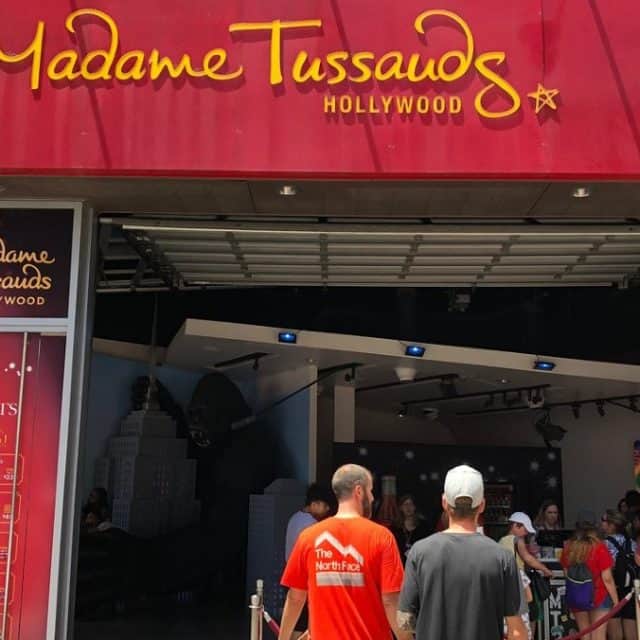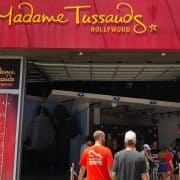 How to reach Madame Tussauds
Madame Tussauds Hollywood is at the corner of Hollywood Boulevard and Orange Drive on the Walk of Fame, next to the famous TCL Chinese Theatre.
Address: 6933, Hollywood Boulevard, Hollywood, CA 90028. Get Directions
By Metro
Hollywood/Highland Station is the closest to Madame Tussauds Museum in Hollywood.
You can board any Red Line train to reach the station, which is three minutes walk (on Hollywood Boulevard) from the wax museum.
Driving to Madame Tussauds
Los Angeles has lots of cars, and traffic can be messy, so we don't recommend driving to the Madame Tussauds.
However, if you must, the easiest way to get there is by using Google Maps.
Car parking
Madame Tussauds' garage is off Orange Drive, and valet service is available for all customers.
From Monday to Saturday the cost of parking a car is $18, while on Sunday it is $20.
Additional parking is available at the Hollywood and Highland Center.
---
---
Madame Tussauds hours
Madame Tussauds in Hollywood opens either at 9 am or 10 am and closes either at 8 pm, 9 pm, or 10 pm, depending on the day's schedule.
That's why the best time to visit the celebrity wax museum is between 10 am and 8 pm.
The last entry is one hour before close.
---
---
How long does Madame Tussauds Hollywood take?
Visitors usually spend 60 to 90 minutes exploring Madame Tussauds Hollywood.
However, since Madame Tussauds tickets have no time limitations, you can be inside the wax museum for as long as you want.
*Tourists who take many selfies and photos with the celebrity wax statues tend to stay inside for longer.
---
---
Madame Tussauds Hollywood tickets
There is only one type of ticket you can purchase to visit Madame Tussauds in Hollywood.
Cancellation policy: The tickets can be canceled up to 24 hours in advance to receive a full refund.
Mobile tickets: The tickets get emailed to you, and on the day of the visit, you can show them on your mobile and walk in. You don't have to take print outs.
Purchasing your Madame Tussauds Hollywood tickets online is a better experience for three reasons:
Online tickets are cheaper than the price you will pay at the entrance. You save at least 20% on the gate price.
You don't wait in the ticket counter queue and waste your time and energy.
Tickets on-site are sold on a 'first come, first served' basis. Booking your tickets online (and in advance) guarantees a ticket.
With these Madame Tussauds tickets, you get to explore everything on display at the wax museum.
There is no set time for this ticket. You may arrive at any time during opening hours.
Ticket price
Adult ticket (13+ years): US$ 29.95
Child ticket (less than 12 years): US$ 23.95
---
---
Madame Tussauds for free
If you are in Los Angeles for more than a week, Go Los Angeles All-Inclusive Pass is a great way to save money.
When you purchase this Pass, you get free entry to more than 40 top attractions in the city, including Madame Tussauds Hollywood.
The Pass is available for 1, 2, 3, 4, 5, or 7 days and when you opt for a 3, 5, or 7-day Pass, you also get a free ticket to Universal Studios Hollywood.
---
---
What to see in Madame Tussauds Hollywood
Madame Tussauds in Los Angeles has lots to offer to its visitors, and its exhibits are divided into Zones and Experiences.
The Zones
The wax exhibits in Madame Tussauds is divided into seven zones.
The Modern Classics zone captures some of the greatest movie moments from contemporary cinema.
At the Spirit of Hollywood zone, you get to feel the romance and grandeur of the golden era of Hollywood movies.
In this section, you will see Marilyn Monroe, Charlie Chaplin, Judy Garland, Ginger Rogers, Fred Astaire, etc.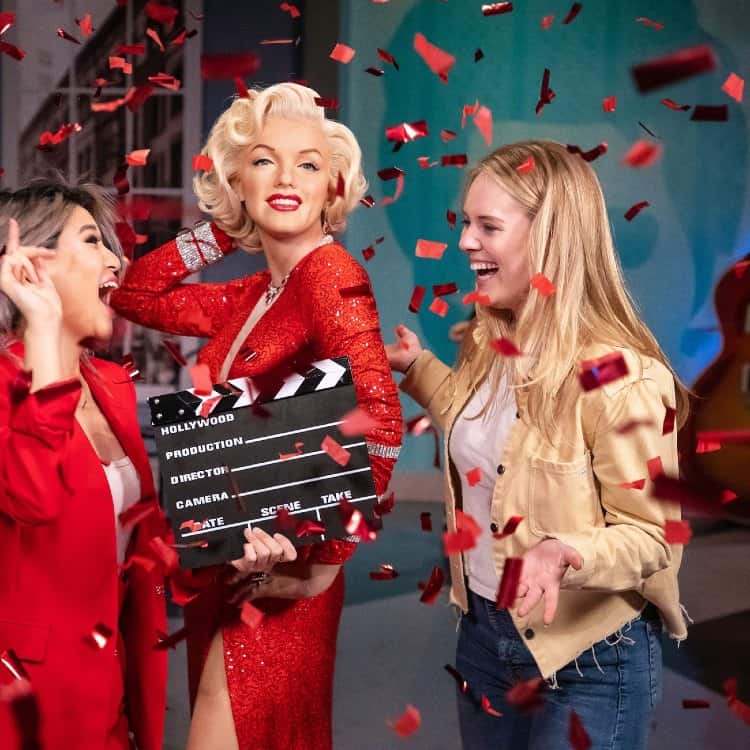 The Pop Icons zone showcases some of the World's most talented singers.
The Country Western zone is a depiction of the Wild, Wild West, and some of its associated faces.
At the MARVEL Experience section, you get to see and take photos with some of the most popular superheroes such as Captain America, Thor, Nick Fury, Iron Man, Spider-man, etc.
The Lights, Camera, Action! zone is like a backstage pass in a popular Hollywood studio. You get to tour around the back lot to see what goes on behind-the-scenes and meet the stars at work.
At the A-List party, you walk the red carpet, strike a pose for the paparazzi, and join celebrities in their fun. This zone is a collection of Hollywood's hottest stars.
Virtual Room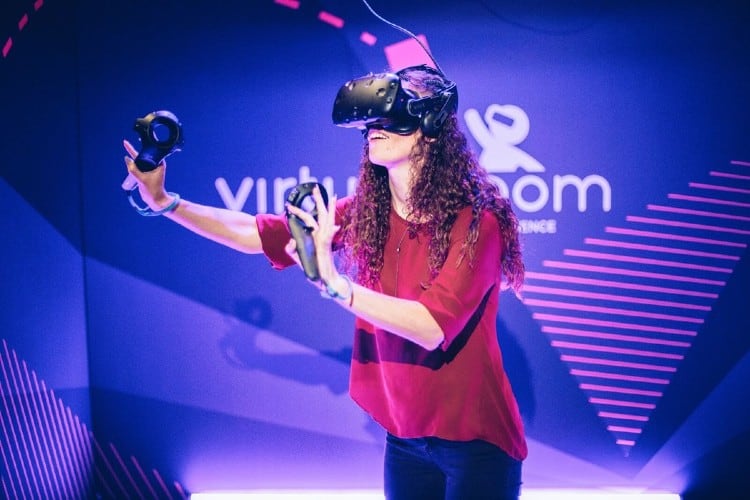 The Virtual Room at Madame Tussauds Hollywood is designed by video game developers, using Virtual Reality technology to offer a never-before adrenalin rush.
Virtual Room is open to visitors 12 years, and above, and groups of 2, 3, or 4 players can participate in one VR game.
Each player wears the latest virtual reality gear (HTC Vive) and collaborates with their fellow team members within the virtual reality framework.
It is a fun experience, which can only be booked at the venue on the day of your visit.
The 90s are here
In this section, everything is from the 1990s. If you are a 1990s kid, it is a great way to relive your childhood. If you were born later, no problem, you get to learn how the 90s kids lived before you arrived.
Do not forget to dive into the 90s-themed ball pit.
MARVEL 4D Film
The MARVEL Super Heroes 4D film is a nice touch to the Madame Tussauds Hollywood visit.
The much-loved heroes are brought to life in a multi-sensory, thrilling 4D adventure film.
Jimmy Kimmel Experience
In this part of Madame Tussauds, you get transported to ''Jimmy Kimmel Live'' and become a part of the action.
You start by capturing a selfie with the award-winning host Jimmy Kimmel.
As you move through the experience, you first participate in a taped ''Pedestrian Question' interview, after which you are on the stage with the host.
You enjoy 15 seconds of fame as your hilarious interview is broadcast on the big screen for all to see.
Illusions of Horror
This section is a fully immersive horror experience bound to send a chill through your spine.
Characters who have scared millions through their portrayal in movies and books are on display in this section.
---
---
Madame Tussauds or Hollywood Wax Museum?
Hollywood has two wax museums – Madame Tussauds and Hollywood Wax Museum, located 300 meters (.2 miles) from each other.
This is why tourists get confused and want to know which one they must visit – Hollywood Wax Museum or Madame Tussauds?
We recommend you opt for Madame Tussauds Hollywood for two reasons –
Madame Tussauds' Tripadvisor rating is 4.5 while Hollywood Wax Museum's rating is only 3.5
Madame Tussauds' wax statues are more lifelike, and thus the experience is better.
---
---
Madame Tussauds Los Angeles or Las Vegas
Tourists who plan to visit both Los Angeles and Las Vegas in a short period usually want to know which is better – the Madame Tussauds in Las Vegas or the one in Los Angeles.
They want to know this so that they can see the better Madame Tussauds museum and skip the other.
Two factors can sway your decision –
The wax figurines on display
How old is the Museum – the newer ones are more updated
Both Madame Tussauds Las Vegas and Madame Tussauds Los Angeles have different figurines.
You can visit their official websites and check out the stars on display.
Madame Tussauds in Las Vegas was the first wax museum to open in the USA in 1999.
Madame Tussauds in Los Angeles was inaugurated more recently – in 2009 – and hence more updated.
Sources

# Madametussauds.com
# Tripadvisor.com
# Ticketlens.com

The travel specialists at TheBetterVacation.com use only high-quality sources while researching & writing their articles. We make every attempt to keep our content current, reliable and trustworthy.
Popular attractions in Los Angeles