Swan Boat rentals are a common pastime in Los Angeles' Echo Park.
Explore the area around Echo Park and enjoy the hidden gem in LA.
The surroundings are breathtaking, with palm trees, fountains, and a stunning perspective of downtown Los Angeles.
This article shares everything you need to know before booking Echo Park Swan Boat tickets.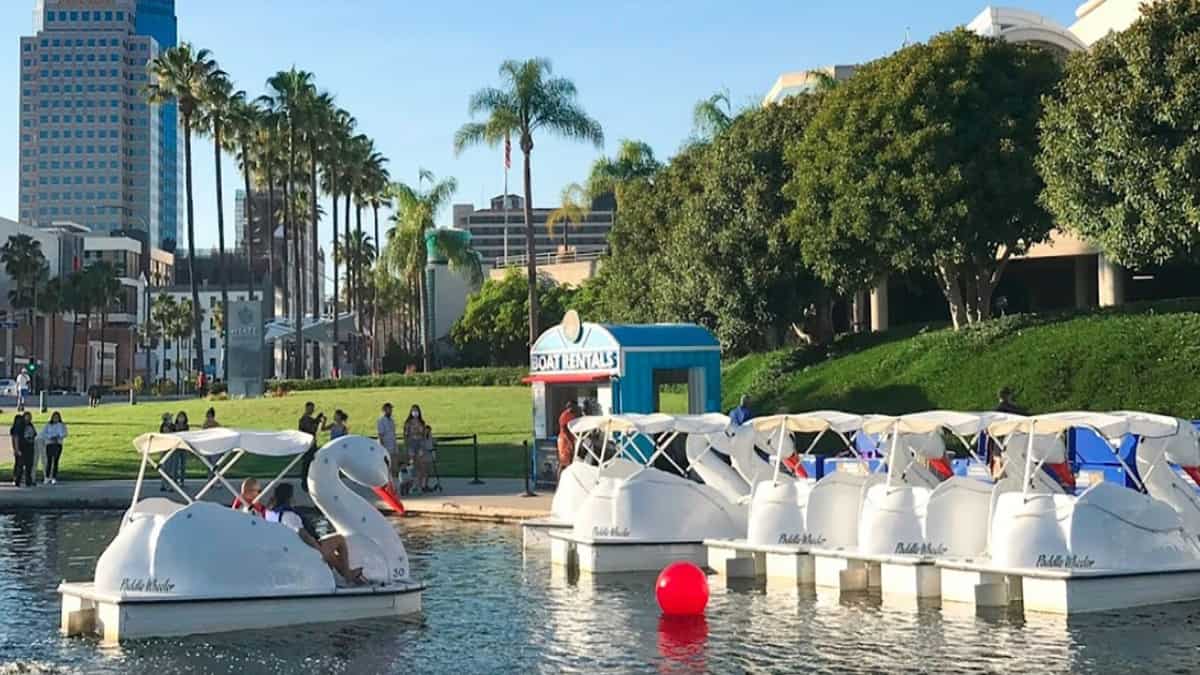 What to expect at Swan Boat rental
Swan Boat rentals in Echo Park entail renting a boat shaped like a swan and traveling around Echo Park Lake.
Due to the boats' capacity for five passengers, renting a Swan Boat is a fantastic activity for couples or families.
You can rent a boat for 30 or 60 minutes, and the rental charge is reasonably cheap.
Swan Boats have a canopy to shield you from the sun and are simple to maneuver.
Ducks, geese, and turtles are just a few of the animals that call Echo Park Lake home.
You can see them up close from your Swan Boat.
---
---
Where to book Swan Boat rental tickets
Swan Boat rental tickets are available both online and at the venue.
However, we advise you to purchase your tickets online to skip the queue and benefit from discounts.
It is recommended to buy tickets online because there is high demand for this experience.
The boat rental tickets sell out in advance, so buying online helps you avoid last-minute disappointment.
How do online tickets work
Select the desired date, preferred time, and number of tickets on the ticket booking page.
You will immediately receive your tickets via email after purchasing and making a reservation.
At the turnstile, scan your smartphone ticket to get started on your enjoyable journey!
Cost of Swan Boat rental tickets
The Echo Park Swan Boats tickets cost US$12 for all visitors above the age of 18 years.
Children up to the age of 17 years can enjoy a discount of US$5 and pay only US$7.
Unfortunately, seniors and students don't get a price reduction at this Los Angeles attraction.
The same prices also apply for the Swan Boat experience at night.
Swan Boat tickets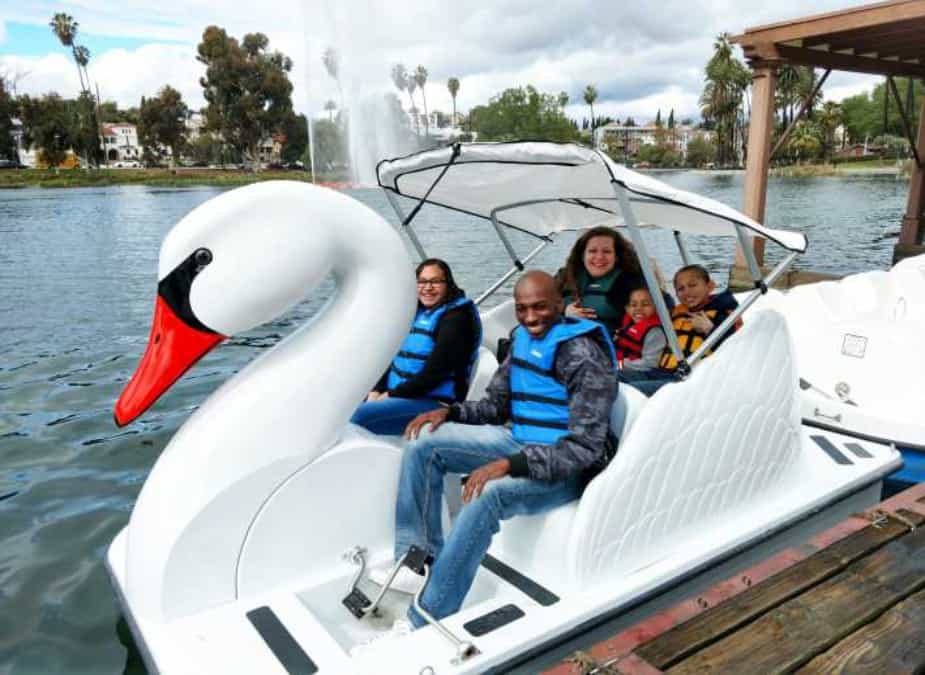 Rent a swan pedal boat on Echo Park Lake in Los Angeles for a peaceful and romantic excursion.
Choose from multiple start times and head to the departure point, where you will be fitted with lifejackets before setting off on the water.
Pedal around Echo Park Lake and enjoy the scenery and skyline views.
This private rental is perfect for couples or small groups exploring Echo Park away from the tourist trail.
The rental includes a Swan Boat and a US Coast Guard-approved life vest.
All boaters receive boating instructions and must wear life vests for safety.
The tour is not wheelchair accessible but stroller accessible, and infants must sit on laps.
Ticket Prices
Adult Ticket (18+ years): US$12
Child Ticket (up to 17 years): US$7
Swan Boat Night Ride at Echo Park Lake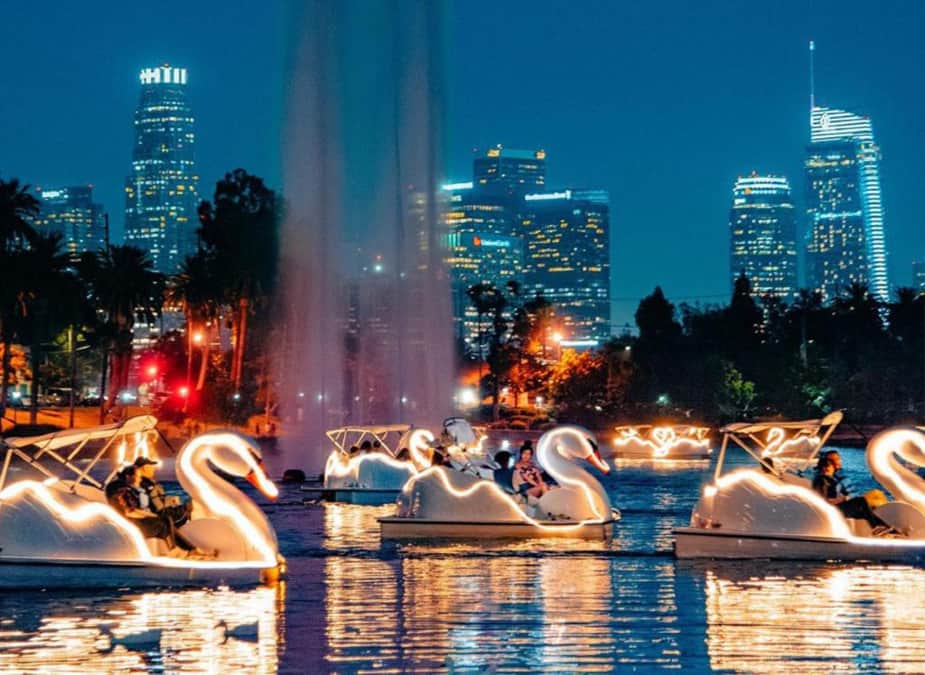 With the night ride tickets, you can take your special someone on a romantic Swan Boat adventure to Echo Park Lake in Los Angeles and watch the sunset while admiring the city's skyline.
It's best to choose a convenient departure time that works for you and pedal around the lake in a Swan Boat decorated with LED lights.
You can also relax in the boat's comfortable back seat or have a picnic on board.
After dark, you can join the night ride to see the illuminated Swan Boats and experience the peacefulness of the water with glittering city views.
This tour is not wheelchair accessible but is stroller accessible, and infants must sit on laps.
Ticket Prices
Adult Ticket (18+ years): $12
Child Ticket (up to 17 years): $7
Save time & money! Buy Los Angeles Pass and explore 40+ attractions in LA. See the Aquarium of the Pacific, Dolby Theatre, Madame Tussauds Hollywood, and even the Los Angeles Zoo among others. Pick from a 1, 2, 3, 4, 5, or a 7-day pass and prepare for an adventurous and entertaining tour of LA.
---
---
How to reach Swan Boat rental
The Swan Boat rentals in Echo Park are located northwest of Downtown LA.
Address: 751 Echo Park Ave, Los Angeles, CA 90026, United States. Get Directions.
You can either take public transport or book a cab.
By Bus
Get on the Bus 10/48 or 10, and get off at Temple / Rampart.
From there, it is a 25-minute walk to the park.
By Car
You can book a cab or take your car to Echo Park.
Don't worry about the parking space, as there are many parking lots around the park.
Swan Boat rental timings
The Swan Boat rentals in Echo Park are open from 9 am to 10 pm.
You can book your tickets for a night ride and have a romantic evening, spend a day with your friends, have games at the park, and relive your childhood.
How long does Swan Boat rentals take
The Swan Boat rental takes about two hours.
If you opt for a picnic at the park with your loved ones, you may need a few more hours.
Save time by purchasing your Swan Boat rental tickets online.
Best time to visit Swan Boat rentals in Echo Park
The best time to visit Swan Boat rentals in Echo Park is when it opens at 9 am, during sunset or at night for a different experience.
The crowd is comparatively smaller early in the morning, and the sun could be brighter.
During sunset and after dark, the ride becomes far more romantic.
Enjoy your evening at Echo Park, and have fun with your family!
FAQs
What is the dress code for Swan Boat rentals in Echo Park?
There is no specific dress code for the Swan Boat tour. Wear comfortable clothes and bring a sweater, as it can get chilly on the boat.
Can you buy tickets offline at the venue?
There are signs with QR codes that you may scan to make an online reservation at the venue. We do, however, strongly advise making a reservation in advance online.
What is the minimum age requirement to rent a Swan Boat? 
One of the two participants needs to be at least 18 years to sign the liability rental waiver.  
The Swan Pedal Boats are open to riders of all ages. Minors under 15 must travel with a parent or legal guardian who is at least 18 years old.
How many people can be seated simultaneously in the Swan Boat?
There are huge swan pedal boats with enough seating for five people. 
The rental staff will assist you with choosing the Swan Boat that will work best for your group once you have checked in on the dock.
What is a Swan Boat's weight limit? 
The Swan Pedal Boats can support up to 1,400 lbs (635 kg) in total weight.
What is the size of the life jackets? 
They provide life jackets in a range of sizes to fit everyone from babies to adults, with chest measurements up to 70 inches.
Are dogs allowed on the Swan Boats? 
Yes, Echo Park Swan Boats is dog friendly.
You can bring your dog's life jacket with you if you like.
Can you bring food and beverages on the Swan Boats? 
Yes, you can bring food and non-alcoholic beverages on board Swan Pedal Boats. It's okay to get a small lap-sized cooler. 
Please be aware that alcohol is not permitted onboard. All tenants must follow this regulation; otherwise, your rental will be canceled without the chance for a return.
Popular attractions in Los Angeles