Petersen Museum is rated the No 1 Automotive museum in the world.
Its vast collection of vehicles, including restored antiques, race cars, and cars from famous movies, entertain both kids and adults alike.
The three main floors and the Vault in the basement are home to 350 unique vehicles.
In this article, we share everything you must know before buying your Petersen Automotive Museum tickets.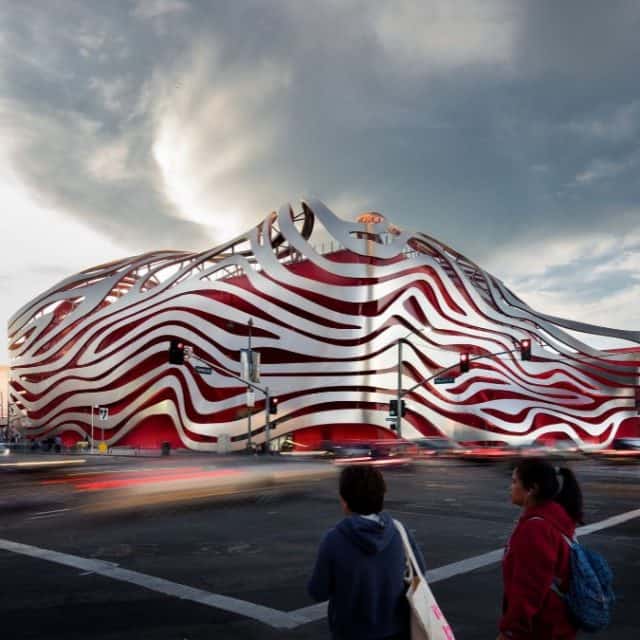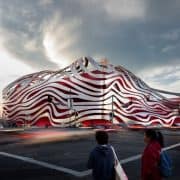 How to reach
Petersen Automotive Museum is at 6060 Wilshire Blvd, along Museum Row in the Miracle Mile neighborhood of Los Angeles. Get Directions
Public Transport
Wilshire / Western Station is the closest subway station to the Petersen Museum of cars.
If you are in Downtown Los Angeles, it is best to board a Purple Line train from the Union Station.
There is a train every 12 minutes, and the journey lasts 13 minutes and seven stops.
Once you get down from the Purple Line train, you must board the local bus line 20 to Wilshire / Spaulding.
Petersen Auto Museum is half a km (.3 miles) from Wilshire / Spaulding bus stop, and you can walk the distance in five minutes.
For more train options, check out LA Metro's website.
Driving to Petersen museum
Los Angeles has lots of cars, with lots of traffic, so we don't recommend driving to the Petersen automotive museum.
However, if you must, the easiest way to get there is by using Google Maps.
Car parking
Petersen automotive museum has its own parking garage, which is free for the first 30 minutes.
The entrance to the parking garage is on Fairfax Ave., just south of Wilshire Blvd.
Cost of parking
| Days | Time | Cost |
| --- | --- | --- |
| Mon to Fri | 6 am to 8 am | $21 |
| Mon to Fri | 8 am to 11 pm | $17 |
| Sat to Sun | 6 am to 11 pm | $17 |
Since the parking doesn't have elevators, it is best for guests with strollers, wheelchairs, disabilities, etc., to be dropped off and picked up on the first floor.
---
---
Opening hours
Petersen Automotive Museum in Los Angeles is open from 10 am to 5 pm, Wednesday to Sunday.
The last entry is one hour before closure.
It remains closed on Monday and Tuesday.
The attraction remains closed on Christmas Day and Thanksgiving Day.
---
---
How long does the Petersen Museum take?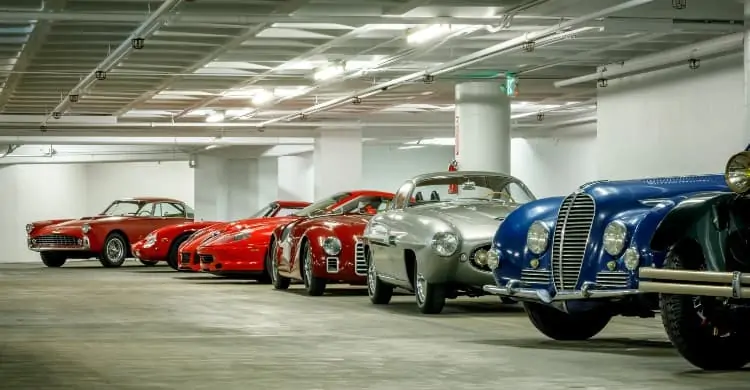 To see all the cars on display, visitors need to spend 90 minutes to two hours on the three floors of Petersen Museum.
This is why for a satisfactory visit you must be at the car museum at least by 3 pm.
Since there is a lot of walking wearing comfortable shoes helps.
The only vehicle visitors can sit in is a 1910 Ford Model T on the third floor.
---
---
Petersen Automotive Museum tickets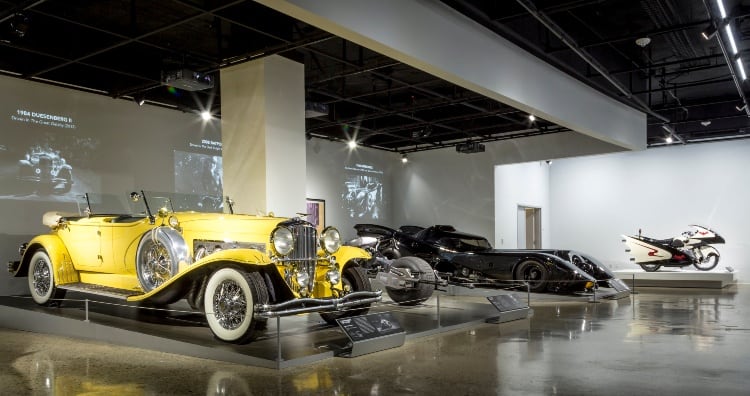 This ticket helps you see and experience everything there is at Petersen Automotive Museum (except the Vault).
You get to understand 120 years of automotive history and culture by exploring 100+ classic cars, trucks, and motorcycles displayed over three floors and 25 galleries.
This Petersen Auto Museum ticket also gets you access to all the interactive exhibits.
It can be canceled up to 24 hours in advance to receive a full refund.
You must select one of the three slots on the ticket booking page – 10 am, 12 noon, 2 pm.
Mobile tickets: The tickets get emailed to you, and on the day of the visit, you can show them on your mobile and walk in. You don't have to take print outs.
Ticket price
Adult ticket (18 to 61 years): US$ 16
Senior ticket (62+ years): US$ 14
Child ticket (4 to 17 years): US$ 11
---
---
Private tour of Petersen Museum
This experience is a 1-hour guided tour of the highlights of the Petersen Museum.
Seasoned car enthusiasts opt for a private tour because the expert guide taking them around narrates stories and anecdotes, which spice up the activity.
After the guided tour is over, you are free to explore the rest of the car museum at your pace.
Tour price: US$ 132 per person
---
---
Cars in Petersen Museum
The Petersen Automotive Museum has 100000 sq ft of exhibits, divided into 25 galleries and over 300 vehicles.
Half of these cars are displayed on three floors for the visitors to see, and the rest are hidden in a vault, which requires special permission to visit.
Both the General Admission ticket and the Private Tour of the Museum get you access to the three floors of cars, trucks, and motorcycles.
The ground floor focuses on automotive artistry, displaying many extravagant automobiles.
The second floor of the museum focuses on automotive engineering—including design, performance, and interactive teaching exhibits.
If you are interested in racing, check out the section on racing, motorcycles, hot rods, and customs on the second floor.
The third floor's theme is the automobile's history, emphasizing the car culture of Southern California.
Here are some of the cars at Petersen Auto Museum, which visitors have particularly loved.
Plymouth XNR
Petersen Museum's XNR is a replica of the original car built by world-famous car designer Virgil Exner.
The one-off Plymouth XNR concept car is a two-seater roadster built on a modified Plymouth Valiant chassis.
Shah of Iran was the last owner of the car, after which it survived the Lebanese Civil War and reached Canada.
Gotham Garage has made the replica that now sits at the car museum in LA.
Mach 5
Mach 5 car, on display on the third floor, is inspired by the animated TV series Speed Racer (1967-1968) and the film Speed Racer (2008).
The high-tech Mach 5 race car can leap short distances and drive underwater in the animated television series.
Since the series is still popular, in 1999, Speed Racer Enterprises built a fully operable interpretation of the cartoon Mach 5.
Delorean from Back to the Future
The DeLorean DMC-12 time machine got famous thanks to the 1985 blockbuster movie called Back to the Future.
The original time machine cum car was loaned to the Petersen Museum by Universal Studios Hollywood.
It is part of the Cars of Film and Television exhibit in the Hollywood Gallery on the third floor.
---
---
Petersen Automotive Museum vault
Half of the car collection at Petersen museum is in its Vault, in the building's basement level.
The cars in this section aren't part of the General Admission ticket and the museum's private tour.
During the Covid lockdown, the museum opened its Vault for a virtual tour.
The highlight of the Petersen museum vault are:
Cadillac made in 1903, equipped with a one-cylinder combustion engine
N600 microcar bearing serial number one, the first Honda to be imported into the USA
Mercedes 600 Landaulet, earlier owned by Saddam Hussein
A Popemobile that never got used
The first armored US Presidential car
Ferrari 308 GTS, stunt car used in numerous movies made by Universal Studios
Rolls-Royce Round Door, with a length of 6 meters (20 feet)
Kaiser Darrin, one of the first production cars with a fiberglass body
Gold-painted Mustang, built by Ford to mark the car's one millionth unit
Jaguar XJ220, an after-hours project which almost became a hit
There are additional restrictions on those visiting the Petersen Museum's Vault –
Backpacks, food, and drink are not allowed
Visitors can't take photographs
No video recording is allowed
Children under ten years are not permitted
Touching the vehicles is not allowed
---
---
Petersen Museum for kids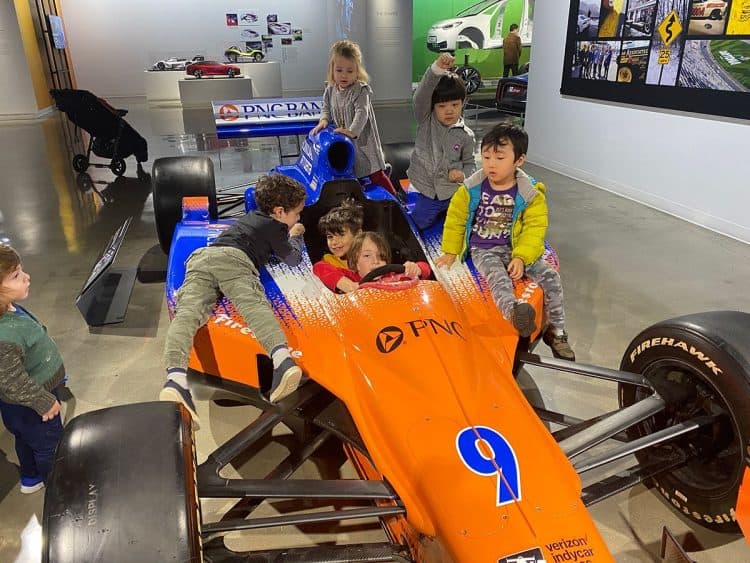 Petersen Auto Museum has something for everybody in the family.
There are numerous interactive exhibits that the family can explore together.
At the Cars Mechanical Institute, which is inspired by an animated film CARS, car characters explain how mechanical systems work.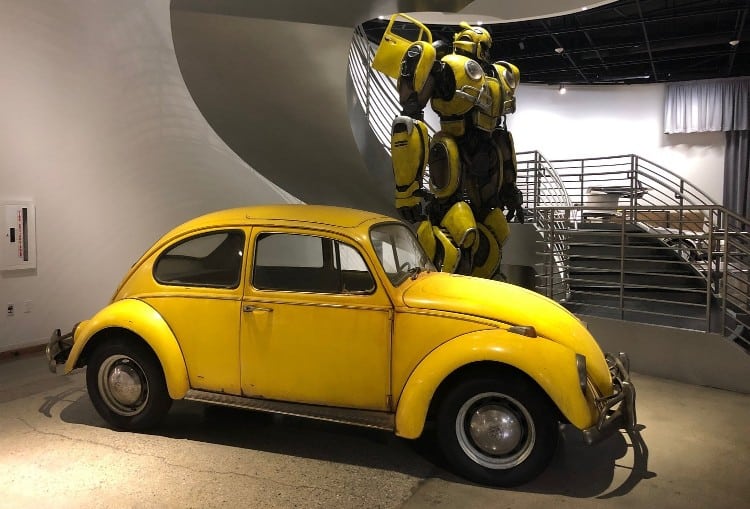 Kids can also paint and personalize virtual cars.
Children can also zoom toy cars around a racetrack.
If your kid loves racing, they will get hooked to the virtual race car with the Forza Motorsports Experience.
They can opt for one of the eight curated experiences and race their heart out.
---
---
Restaurant at Petersen Automotive Museum
Petersen Museum's restaurant Drago Ristorante is on the 1st floor.
It is owned and managed by the Sicilian family that's widely credited for bringing authentic Italian cuisine to Los Angeles.
The restaurant offers housemade pasta, wood-fired pizzas, an innovative assortment of entrees, artisanal bread, pastries, etc.
Sources

# Wikipedia.org
# Tripadvisor.com
# Doublestonesteel.com
# Sothebys.com

The travel specialists at TheBetterVacation.com use only high-quality sources while researching & writing their articles. We make every attempt to keep our content current, reliable and trustworthy.
Popular attractions in Los Angeles