Los Angeles Zoo in LA's Griffith Park is home to 2,200 mammals, birds, amphibians, and reptiles across 270 species.
The 133-acre Los Angeles Zoo and Botanical Gardens gets 1.8 million visitors annually.
In this article, we share everything you must know before buying Los Angeles Zoo tickets.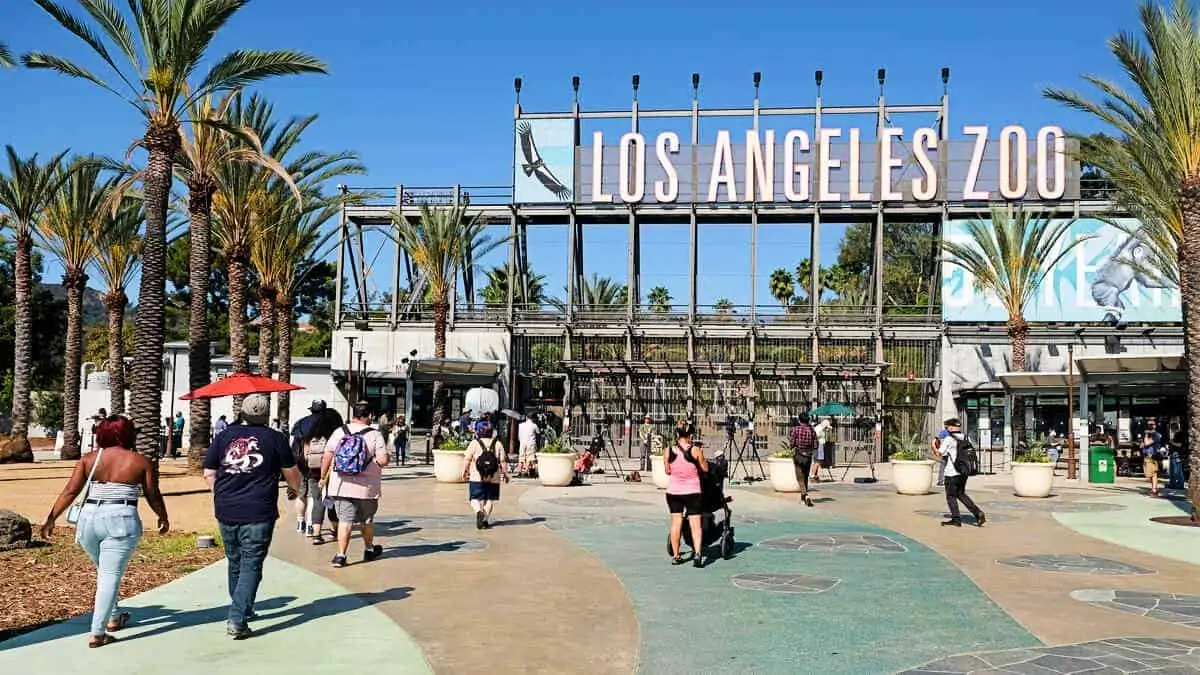 Tickets for Los Angeles Zoo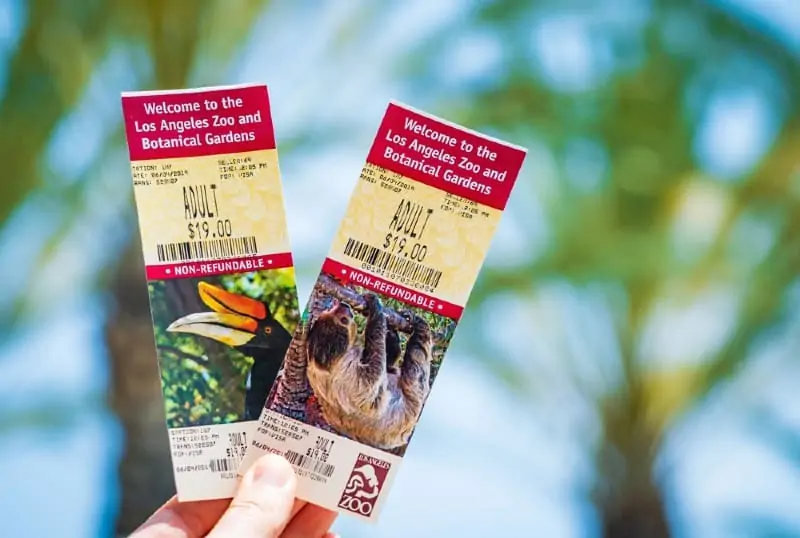 Los Angeles Zoo tickets are timed, which means while booking, you must select the time of your visit.
You can arrive at the zoo entrance up to 30 minutes after the time selected while booking.
Once you book Los Angeles Zoo tickets, they get sent to your email.
On the day of your visit, you can show your mobile ticket and walk in – no need to take a printout.
Ticket prices
Adult ticket (13 to 61 years): $22
Senior ticket (62+ years): $19
Child ticket (2 to 12 years): $17
Infant ticket (0-23 months): Free entry
Visual Story: 13 must-know tips before visiting Los Angeles Zoo
---
---
How to reach Los Angeles Zoo
The Los Angeles Zoo is at the northeast corner of Griffith Park at the junction of the I-5 (Golden State) and the 134 (Ventura) freeways. Get Directions
It is right opposite The Autry Museum of the American West.
Los Angeles Zoo lies along LA Metro bus line 96 route, which originates in Burbank and Downtown Los Angeles.
From Downtown Los Angeles, the zoo is 15 km (9.6 miles).
Bus no 96 takes approximately 40 minutes, while a taxi will drop you at the zoo entrance in 20 minutes.
---
---
Los Angeles Zoo hours
Los Angeles Zoo is open from 10 am to 5 pm, every day of the year.
The last entry is at 3.45 pm, and animals start to go in for the night at by 4 pm.
The zoo remains closed on Thanksgiving Day and December 25.
---
---
Best time to visit Los Angeles Zoo
The best time to visit Los Angeles Zoo is as soon as they open at 10 am.
There are four advantages of starting early – the animals are most active early in the morning, the temperatures are still moderate, the crowd is yet to get in, and you have the whole day to explore.
When you start early, you can participate in giraffe feedings at 11 am and see the World of Birds show scheduled for 12 and 2 pm.
We recommend weekdays for a peaceful visit because it gets crowded on weekends and school holidays.
California State is a wildlife lover's destination. Read about the four best zoos in California.
---
---
How long does Los Angeles Zoo take
If you are visiting with kids, you may need around three hours to explore Los Angeles Zoo.
Children tend to linger longer around their favorite animal enclosures, attend feeding sessions, keeper talks and try out numerous experiences.
Families that break for lunch tend to take more time.
However, if you are a bunch of adults and want to wrap up soon, you can cover most animal exhibits in 90 minutes.
---
---
Animals at Los Angeles Zoo
Los Angeles Zoo is home to more than 2,200 mammals, birds, amphibians, and reptiles, representing more than 270 different species.
Of these, 58 animals are on the endangered list.
All these animals live in enclosures divided into three zones – Elephants of Asia, Rainforest of the Americas, and The Lair.
Elephants of Asia
The Elephants of Asia is a sprawling, 6.56-acre exhibit.
This area has more than three acres of outdoor space, bathing pools, a 20-foot waterfall, sandy hills, and other clever installations that keep the elephants active.
This animal enclosure is so big that it has four viewing areas to find the best vantage point for viewing the animals.
Rainforest of the Americas
The Rainforest of the Americas exhibit brings together all the species that live in rainforests worldwide, cohabiting and competing to maintain a balance.
A two-story Amazonian stilt house serves as the gateway to reach this animal enclosure.
The multi-species exhibit showcases all kinds of birds, mammals, reptiles, amphibians, and fish.
The 2.2-acre exhibit is dotted with lush foliage, intricate sculptures, and other architectural elements to create a memorable experience.
The Lair
The Lair at Los Angeles Zoo houses more than 60 species of Earth's rarest reptiles, amphibians, and invertebrates.
It is divided into six sections – the Damp Forest, Betty's Bite and Squeeze, Care and Conservation, Arroyo Lagarto, Crocodile Swamp, and the Desert LAIR.
The LAIR consists of two distinct buildings and adjacent outdoor spaces, with a total of 49 habitats.
All the habitats are themed with hand-painted murals of damp and misty forests, rainforest canopies, mountain vistas, and dry arid deserts to showcase the natural environments where the species live.
Don't miss the Tomistomas, Painted River Terrapins, and the Indian gharial in the freshwater pools outside.
---
---
What to do at Los Angeles Zoo
The LA Zoo offers many experiences for both kids and adults.
Safari Shuttle
Safari Shuttle is a must-do activity during your Las Vegas Zoo visit.
Safari Shuttle picks up passengers, circles the Zoo once, and returns to the Flamingo exhibit near the entrance.
The zoo shuttle stops at six different places, where guests can get on and get off.
The Safari Shuttle starts at 10 am and continues till 5 pm. The last trip departs at 3:30 pm.
The regular Los Angeles Zoo entry ticket doesn't include access to the shuttle.
Once you reach the zoo, you can book your shuttle trip.
Cost of Safari Shuttle
Adults: $5
Children (2 to 12 years): $2.50
Senior Citizens (60+ years): $2
Physically Disabled: $2
Children under 2: Free entry
World of Birds Theater and Show
The World of Birds Show is almost 40 years old and is one of the oldest running shows at Los Angeles Zoo.
The free-flight show highlights the natural behaviors and exceptional abilities of more than 20 species of birds.
The World of Birds Show happens on weekdays (except Tuesdays) at 12 pm and 2 pm at Angela Collier World of Birds Theater.
The kid-friendly comedic and educational show, starring macaws, parrots, and hawks, lasts 15 minutes.
Daily keeper talks
Zoo Keepers are responsible for the feeding and daily care of the animals.
The keepers know everything about their animals and their behaviors which is why keeper talks are an excellent opportunity to learn more.
All through the day, keeper talks keep happening in different animal habitats.
As soon as you reach the zoo, ask for the day's schedule.
Giraffe Feeding
Kids love feeding the Giraffe, which happens daily at 11 am and 2.30 pm.
To feed the zoo's tallest resident, you must purchase three acacia stems – one of the Giraffe's favorite foods, for $5.
Even as the Giraffes use their 14-inch tongues to snatch the leafy treats right from your hand, a zoo keeper stands nearby to share information about the animal.
Flamingo Mingle
Flamingo Mingle is an excellent opportunity to meet the zoo's most colorful residents in the Flamingo habitat.
During this encounter, up to six guests spend 15 minutes with Greater Flamingos in their enclosure.
You get to hand-feed the birds krill – a tiny, shrimp-like crustacean that gives flamingos their brilliant pink hue.
Flamingo Mingle is over and above the regular Los Angeles Zoo ticket and costs $25 per person.
The experience is available at 11 am and 12 pm, each day except for the second and fourth Wednesday of each month.
Behind-the-Scenes Experiences
The Los Angeles Zoo is home to more than a thousand animals, and the two Behind the Scenes tours are an opportunity to learn about the zoo's support system.
Wild Adventures Behind the Scenes tour costs $75 per person, and Wild Adventures Keys to the Zoo costs $150 per person.
They usually take 90 minutes and focus on the Griffith Park institution's habitat design, food storage systems, medical facilities, conservation efforts, etc.
Neil Papiano Play Park
Los Angeles Zoo's colorful Play Park is surrounded by lush trees and the cries of animals.
Kids get to climb various animal structures such as alligators, gorillas, elephants, etc.
The playground's animal theme design is a hit with the kids, while the colorful shade structures provide relief to the parents.
Los Angeles Zoo Carousel
The Tom Mankiewicz Conservation Carousel at the Los Angeles Zoo features 62 artisan-crafted animal figures and two chariots for kids and adults to sit.
The animal figures are as diverse as a Sumatran tiger, Komodo Dragon, Poison Dart Frog, Dung Beetle, Skunk, Silverback Gorilla, etc.
Access to this endangered animal carousel is included in the regular tickets for Los Angeles Zoo.
California Condor Rescue Zone
At the California Condor Rescue Zone, visitors learn how the program increased the almost extinct bird population.
When the zoo started the program in 1982, California Condors' world population was in the 20s, and the two decades since, it is in the 500s.
Muriel's Ranch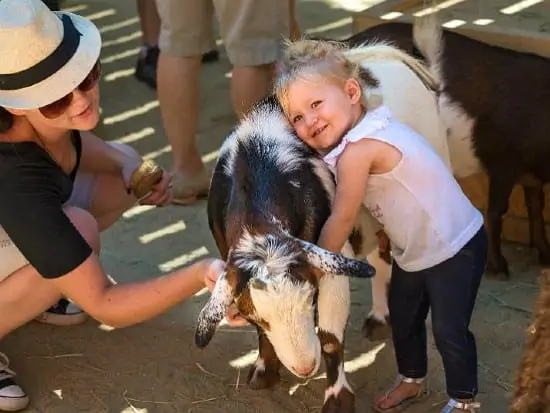 Muriel's Ranch is Los Angeles Zoo's petting zoo.
Kids can get up close and personal with sheep and goats and even use brushes for grooming the animals.
Don't miss the Animal Care Center nearby, where animals who need medical support land up.
Image: Discoverlosangeles.com
---
---
Los Angeles Zoo's map
With more than two thousand animals to see, it is wiser to have a copy of the Los Angeles Zoo's map to navigate the various exhibits.
Besides the animal enclosures, a map also helps you identify visitor services such as restaurants, restrooms, kids parks, souvenir shops, etc.
Carrying the Los Angeles Zoo's layout is highly recommended if you are traveling with kids because you won't waste time finding the various exhibits, and in the process, get exhausted.
You can either download the map (4.4 Mb, pdf) or bookmark this page for later.
---
---
Restaurants in Los Angeles Zoo
The Los Angeles Zoo California has many food and drink sites, which we list below.
Reggie's Bistro is next to the International Marketplace gift shops and the zoo's North American alligator, Reggie. It offers fresh salads, wraps, burgers, sandwiches, and kids' meals.
Sweet Treats is available at two locations – next to Zoo Grill and Mahale Café. They serve ice creams, Icee's, cotton candy, popcorn, and sodas.
Churro Factory serves the zoo's famous hot cinnamon sugar churros. The food outlet's churro sundae with chocolate sauce and whipping cream is also popular with wildlife lovers.
Mahale Cafe has outdoor seating with fantastic views of the giraffe's habitat. Guests can order pizza by the slice, grilled chicken, burger baskets, kids' meals, hot dogs, salads, deli sandwiches, etc. Draft and canned beer are also available.
Zoo Grill offers hot and cold sandwiches, chicken tenders, healthy kids' meals, specialty salads, etc.
The other notable mentions are Fork in the Road, Café Pico, and Gorilla Grill.
Sources

# Traveltriangle.com
# Tripadvisor.com
# Lazoo.org
# Visitcalifornia.com

The travel specialists at TheBetterVacation.com use only high-quality sources while researching & writing their articles. We make every attempt to keep our content current, reliable and trustworthy.
Popular attractions in Los Angeles
Other Zoos in California
# San Diego Zoo
# San Diego Safari Park
# San Francisco Zoo