Tucked away in the heart of the world's entertainment capital, near the Vegas strip, lies an art installation sprawled across 52,000 square feet of space, which is a testament to humankind's capacity for imagination, collaboration, and storytelling.
Meowolf's Omega Mart at Area 15 is a unique retail shop where your shopping attempts can transform into visuals of an ultraviolet dreamscape, where harmless but strange-looking grocery items can trip you into falling through secret portals, and where painstakingly created narratives of worldbuilding can captivate you for hours.
Apart from the sensory feast, Meowolf's Omega Mart also carries a carefully crafted commentary on the nature of consumerism.
Read on to learn everything you need to find out before booking tickets to the Las Vegas Meow Wolf Omega Mart – tickets, prices, timings, what to expect, FAQs and more!
Top Meow Wolf's Omega Mart at AREA15 Tickets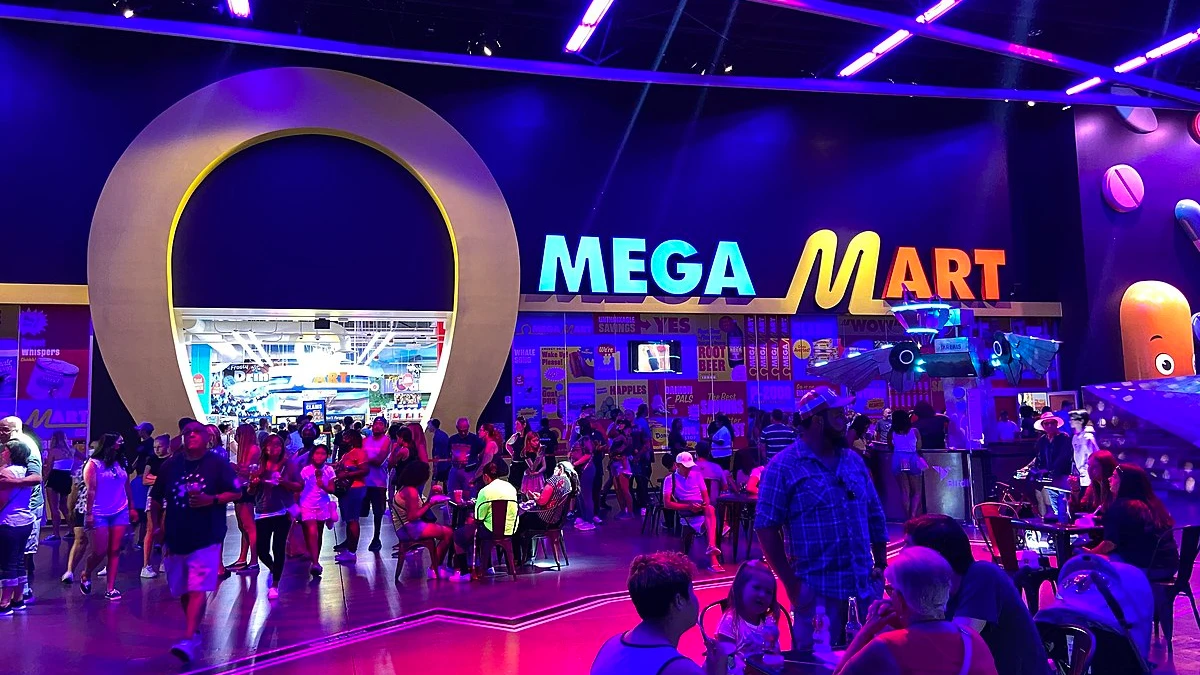 What to expect
Come to Meow Wolf's Omega Mart at Area15 Las Vegas and step into an interdimensional grocery store filled with seemingly familiar but otherworldly products.
Have your mind scrambled by the product descriptions and narrative lores so detailed that people have built online forums to discuss and decode the story elements and look for the clues scattered through every nook and cranny of the grocery store.
Be careful about peeping through a banana shelf or pulling a fruit stalk; you just might glimpse a chamber of parallel cosmic reality. Watch out for the lemons; they have their eyes on you.
If you crave a drink, reach out to the fridge, and fall through a reality distortion secret portal that takes you into a surreal mindscape of trippy visuals and dystopian landscapes.
Ordinary-looking doors and products take on an almost alien significance. Once you start drifting through portals, the truly mind-numbing immersive scale reveals itself, with fantastical environments, storylines, games, and sidequests you can partake in.
The genius blend of visual arts and the story is so interactive it will begin to distort your sense of reality the more you delve into the unfolding story.
Ask the employees in lab coats for directions; they might just give you more than you asked for.
---
---
Where to book tickets
Tickets to Meowolf Omega Mart at Area 51 can be availed through online booking or at the offline kiosk in Area 15.
Omega Mart has quickly become one of the most popular tourist attractions in the world, and the tickets are booked a week out almost always.
The search for kiosk tickets on arrival can end in disappointment.
With online tickets, you can not only avoid disappointment but pick a time-stamped ticket for your visit in advance, which will help you to plan out your travel itinerary in a better way.
Above all, with online tickets, you can take advantage of amazing offers and ticket discounts to make your trip much more cost-effective.
How do online tickets work?
Once you go to the booking site for Meow Wolf's Omega Mart Area 15, you will first select the date and number of tickets you need.
Adult tickets and children's tickets are priced differently.
When the ticket booking is complete, your booked tickets will be mailed to you.
You do not need to carry the ticket printouts with you. The copy on your smartphone is enough.
Make sure you have a valid ID on you!
Meow Wolf's Omega Mart Area 15 in Las Vegas is open seven days a week, though the hours may vary due to weather, demand, and special events.
Ticket price
Meow Wolf's Omega Bar at Area 15 has a two-tiered ticket pricing system.
Tickets for children aged between four to 12 years cost US$59.
People over 12 years of age can gain access to the Omega Mart Area 15 for US$64.
There is no charge for infants under four years of age.
Meow Wolf's Omega Mart at AREA15 tickets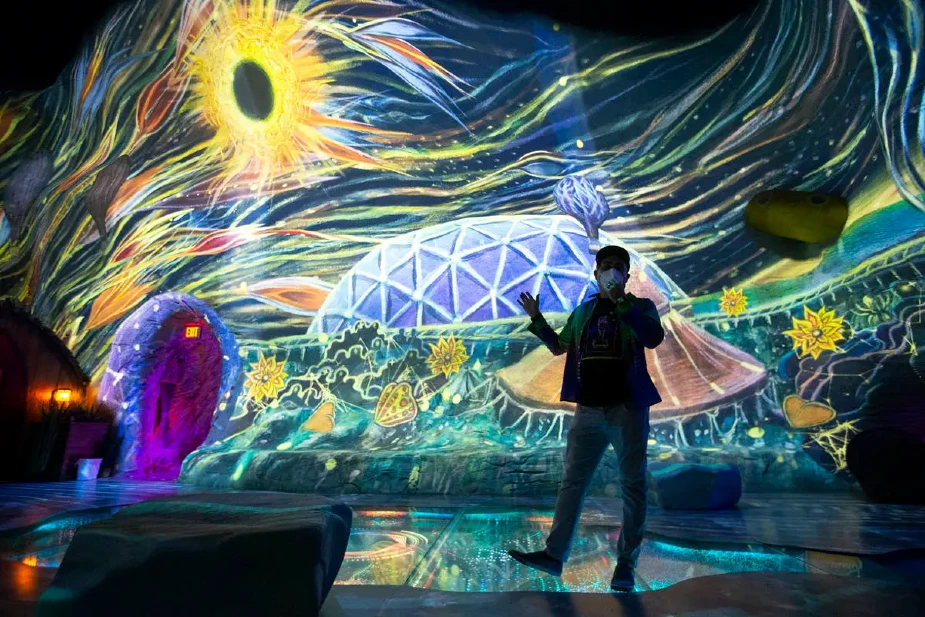 With a ticket to The Meow Wolf's Omega Mart at Area 51 in Las Vegas, you will allow yourself to be a part of a truly futuristic, perspective-altering art experience.
A complex web of narratives, psychedelic visuals, secret passageways, and puzzles will show you the limitless potential of the human imagination.
Be sure to buy the three-dollar Boop pass from the stall inside the Omega Mart, for it will give you interactive access to the many cosmic machines inside the store and help you be a part of many sidequests.
Apart from the sensory delights, you will also become a proud patron of the work of more than 300 artists from diverse backgrounds and their social commentary through objects such as the canned protein chunks of the wooly mammoth-now extinct-make you truly ponder the role of consumerism.
The staff is delightful, and they hype your experience up to push it to the next level.
Ticket Prices
Adult Ticket (13-99 years): US$64
Child Ticket (4-12 years): US$59
Infant Ticket (up to three years): Free
Save time & money! Buy this Las Vegas Pass and save money on more than 35 attractions and experiences in Las Vegas. Enjoy discounted entrance to 35+ Las Vegas attractions for 2, 3, 4, or 5 successive days. In addition to touring world-class exhibits, you may attend top-rated concerts, ride an open-top bus, or take a Grand Canyon adventure.
---
---
How to reach Meow Wolf's Omega Mart at AREA15
The Meow Wolf Las Vegas Omega Mart lies within the premise of Area 15, near the famous Vegas strip, the city's beating heart.
Address: 3215 S Rancho Dr #100, Las Vegas, NV 89102, USA. Get Directions.
Area 51 Omega Mart lies just 10 minutes away from the Las Vegas Strip, 15 minutes from the Las Vegas Convention Centre, and only 25 minutes from the Harry Reid International Airport.
It is well-connected to multiple forms of public transportation.
By Bus
SB Valley View after Pennwood bus stop is a six-minute walk away.
The NB Sammy Davis Jr after fash show dr bus stop is also close by, a nine-minute walk away.
NB valley view after desert inn is also only 0.6 miles (1 km) away, 13 minutes on foot.
Bus lines 104,119, and 203 lie closest to the Omega Mart at Area 15, Las Vegas.
Two special bus services, the Deuce and SDX, make traveling in downtown Vegas easier.
The SDX bus service operates in downtown Vegas and the vegas strip, while the Deuce is a 24-hour bus service that runs exclusively up and down the Vegas Strip.
You can get details about the transit passes for the bus service on the website of the state transit authority, Regional Transport Commission of Southern Nevada (RTC)
By Monorail
The closest monorail station to Meow Wolf's Omega mart at Area 15 is the Westgate Station, three miles away.
By Car
Put your starting point here to start navigating toward Meow Wolf's Omega Mart Las Vegas.
There are also several Ridesharing options in Las Vegas, such as Lyft and Uber, both within the city and to and from the airport.
Car Parking
Area 15 Las Vegas provides parking space, but with the sheer number of tourists and patrons it hosts, it is advisable to look for other parking spaces around the block.
Meow Wolf's Omega Mart Las Vegas timings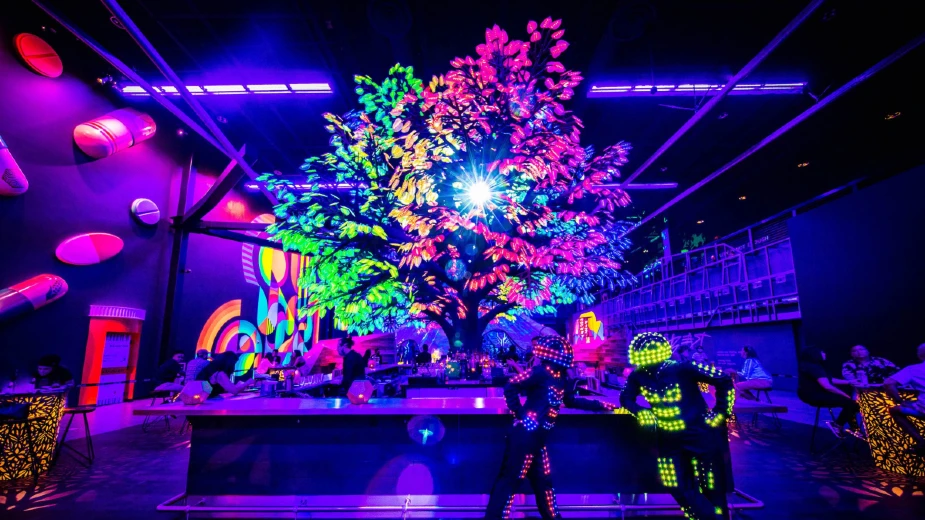 Since it opened its doors in February 2021, Meow Wolf's Omega Mart has rapidly risen in popularity and has quickly become one of the prime tourist hotspots in Vegas.
Its bizarre world has gained endless traction on social media and keeps the "retail store" busy around the clock.
The store is open seven days a week throughout the year.
The Area 15 Omega Mart entry starts at 10 pm, and the store closes at midnight, 12 am.
However, there is a catch, like everything in this beautiful space. Beyond 9 pm, you must be at least 21 years old to linger till midnight.
Timings
All week (Day Mode): 10 am – 9 pm
All week( Night Mode): 9 pm – 12 am
Only ages 21+ are allowed in Night Mode.
Best time to visit
The best time to visit the Meow Wolf Omega Mart at Area 15 Las Vegas is during weekdays and non-public holidays.
The peak hours and holidays get extremely busy, and the crowd might not allow you to take as much time as you need to interact with the installations in Omega Mart.
Early mornings, right around the entry time, and late evenings are the best to take in everything at your leisure.
---
---
How long does the tour take
We strongly recommend putting away at least 2 to 2.5 hours to explore Meow Wolf's Omega Mart at Area 15.
Although you can take a brisk stroll throughout the Omega Mart Area 15 in 35-40 minutes, you will miss out on all the fun.
People who get absorbed in the storylines and quests regularly spend up to four hours and more in Meow Wolf's Omega Mart.
FAQs
Here are some frequently asked questions about Meow Wolf Omega Mart.
Is Meow Wolf's Omega Mart at Area 15 suitable for all ages?
Meow Wolf's Omega Mart is open to all visitors from opening till 9 pm. 

After 9 pm, visitors need an ID showing they are 21 or older to enter.
Is Meow Wolf's Omega Mart disability friendly?
The Omega Mart is fully handicap accessible. 

However, strobe lighting and high-intensity sound are frequent, so people sensitive to it should be careful. 

Earplugs are available on request. Strobe lighting warnings are given in advance.
Should I buy tickets ahead of time for Meow Wolf's Omega Mart in Las Vegas?
Certain prime experiences sell out very quickly or have limited availability as the demand for the Omega Mart experience is very high. 

We strongly recommend you buy your tickets online ahead of time. 
Can I carry my luggage into the Omega Mart at Area 15?
While personal-size bags such as purses and backpacks are welcome, Meow Wolf's Omega Mart does not allow rolling suitcases and duffle bags.

Baggage check and storage locker are not provided.
Is photography allowed at the Omega Mart in Las Vegas?
Personal photography and videography are encouraged. 

However, professional setups such as tripods need access permission from the authorities.  
Can I buy the art at Meow Wolf Omega Mart Area 15?
Yes, a lot of pieces inside the mart are open for purchase.
Sources
# Meowwolf.com
# Area15.com
# Tripadvisor.com

The travel specialists at TheBetterVacation.com use only high-quality sources while researching & writing their articles. We make every attempt to keep our content current, reliable and trustworthy.
Popular attractions in Las Vegas