Mob Museum offers a fascinating overview of the power struggle between organized crime and law enforcement from the birth of Mob crime to today.
Located close to Fremont Street in Downtown Las Vegas, it has interactive exhibits, artifacts, and riveting crime and cop stories.
Built-in 2012, Mob Museum Vegas is in a building that previously served as a post office and courthouse and attracts about 400,000 visitors annually.
It is a good option if you are looking for something unique and away from the Strip and casinos.
What to expect at Mob Museum
---
---
Mob Museum tickets
It is a good idea to buy your Mob Museum Vegas tickets online and choose your desired time slot.
These Skip The Line tickets help you bypass long queues and enter the venue straight away during your designated time.
If you book Mob Museum tickets online, you will get them instantly in your email.
You don't need printouts – just show the tickets on your mobile and walk into the Museum.
Tickets booked online can be canceled one day before the visit for free if you choose the free cancellation option with a nominal extra charge.
Adult ticket (18+ years): $31.95
Child ticket (11 to 17 years): $19.80
---
---
Where is the Mob Museum?
Mob Museum Las Vegas is at 300 Stewart Avenue, Las Vegas, NV 89101.
It is steps away from Fremont Street. Get Directions
Downtown Loop
Downtown Loop is a free shuttle service connecting the main attractions in Downtown Las Vegas and runs six days a week.
It runs Monday through Thursday from 11 am to 6 pm and Friday through Saturday from 3 pm to 10 pm.
Running continuously during these hours, it arrives at each stop every 20-30 minutes.
Downtown Loop's stops
| Attraction | Where to get down |
| --- | --- |
| Bonneville Transit Center | 101 E. Bonneville Avenue |
| The Arts District | Art Way and Boulder Avenue |
| Pawn Plaza | Las Vegas Boulevard, South of Garces Avenue |
| Fremont East Entertainment District | Las Vegas Boulevard, South of Fremont Street |
| The Mob Museum | 300 Stewart Avenue |
| Fremont Street Experience | Main Street, South of Fremont Street |
| Las Vegas Premium Outlets North | South Grand Central Parkway |
Downtown Loop's route map (pdf, 1.4 Mb)
Mob Museum parking
You can find limited parking in the lot next to the Mob Museum in Las Vegas for a $7 fee for the first four hours after that, an additional hourly charge applies.
If the Mob Museum parking lot is full, you can find other parking spaces within short walking distance of the Museum.
These are at nearby casinos like the Downtown Grand, Main Street Station and the El Cortez.
---
---
The Mob Museum hours
From Monday to Friday, Mob Museum Vegas opens at 10 am and closes at 8 pm, and on weekends it opens early at 9 am and closes later at 9 pm.
| Days | Timing |
| --- | --- |
| Monday to Friday | 10 am to 8 pm |
| Saturday & Sunday | 9 am to 9 pm |
The last entry is up to two hours before the Museum's closing time.
Few exhibits and experiences have a different schedule from the regular opening hours.
The Firearm Training Simulator is open from 12 pm to 6.45 pm and runs every 15 minutes.
Crime Lab is accessible from 10.30 am to 7.30 pm and runs every 30 minutes.
Mob Museum Underground's timing
The Mob Museum Underground is accessible to young visitors only until 5 pm. After that, entry is just for visitors who are 21 years and older.
---
---
How long does the Mob Museum take?
Spread over four floors, Mob Museum Vegas has extensive and riveting exhibits, especially if Mob history and trivia fascinate you.
Depending on the individual level of interest, it takes anywhere between one to three hours to cover the Museum.
The other paid experiences may take longer depending on the crowds.
As there is a lot to see, read, watch and interact with, visitors may sometimes have to slow down or wait to see the following sections on tour.
It is best to get in as soon as the Museum opens to avoid crowds.
You can plan to finish seeing other sections before heading to the Mob Museum Underground exhibit and can follow it up with a quick bite and drinks at the Museum Bar.
Weekdays draw lesser crowds than weekends.
The Museum is indoor hence it is good to visit irrespective of the weather conditions.
---
---
Mob Museum price
Mob Museum's ticket price for adults 18 years and above is $31.95.
Child tickets for visitors aged 11 to 17 years cost $19.80.
The ticket includes a single entrance to the Museum, the Underground Speakeasy and Distillery and a souvenir mask.
Access to Firearm Training Stimulator Experience and Crime Lab comes with an additional fee.
The regular tickets do not include guided tours and Underground Distillery Tour and Tasting.
Mob Museum discount
Children under the age of 11 get the best discount at Mob Museum in Las Vegas – they enter for free.
Kids aged 11 to 17 get $12.15 discount on the adult ticket price and pay only $19.80.
---
---
Mob Museum's audio tour
Mob Museum in Las Vegas offers an immersive audio tour covering the exhibits and beyond.
It includes the fascinating stories of the mob history and the interesting facts and observation by former Mob attorney and Las Vegas Mayor Oscar Goodman.
The audio tour can help you keep a check on the time for your viewing at the Mob Museum.
If you choose the highlights only, the tour lasts for 40 minutes.
If you want deeper details on notorious mobsters including Al Capone, it can take over 75 minutes.
Audio tours in English cost $8, and you can get them from the Box office on the first floor of the Museum.
---
---
What to see in Mob Museum?
Mob Museum Vegas has four floors including the Underground.
It is best to start the Museum's tour from level three and work your way down to understand the mob history and its chronology.
The regular Mob Museum ticket gets you access to all the floors.
Third floor – Birth of the Mob
This section tells you how organized crime emerged from the ethnic neighborhoods in big cities and how street hoodlums became the bootlegging billionaires in the Prohibition era.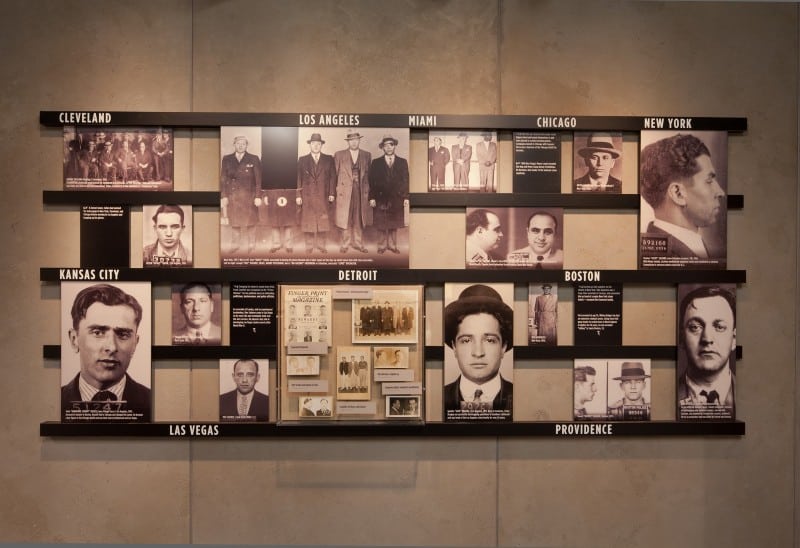 It also exhibits the defining moment in mob history- St Valentine's Day Massacre in 1929 in Chicago – that turned the heat on the Mob and its consequences, including additional powers and access to Law enforcement agencies.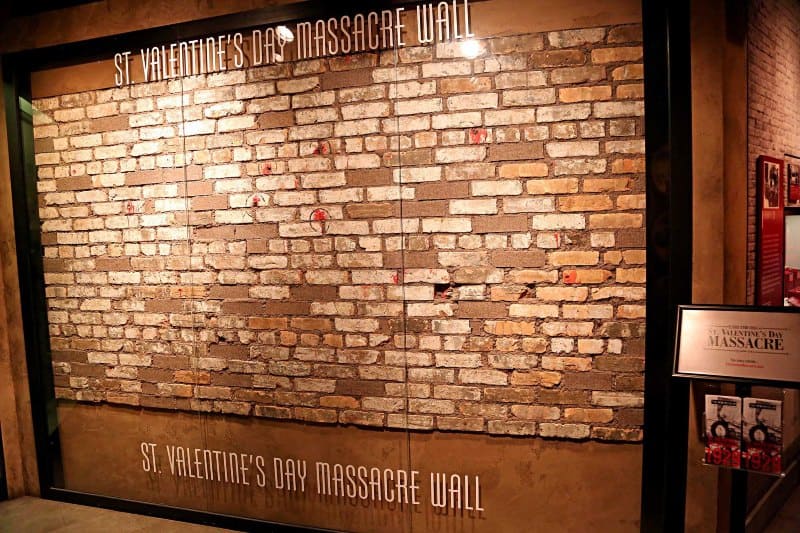 Second floor – Mob on the rise
Here you see how Las Vegas was an open city- not dominated by a single mob.
It depicts how the gangs fueled the city's casino business and pocketed millions of tax-free dollars.
This floor also holds a courtroom where the historical hearing took place as a part of the investigation of organized crime across 14 cities, including Las Vegas during 1950-51.
It also has pictures of the mob violence history, their big 'hits' and Nevada's gas chamber chair.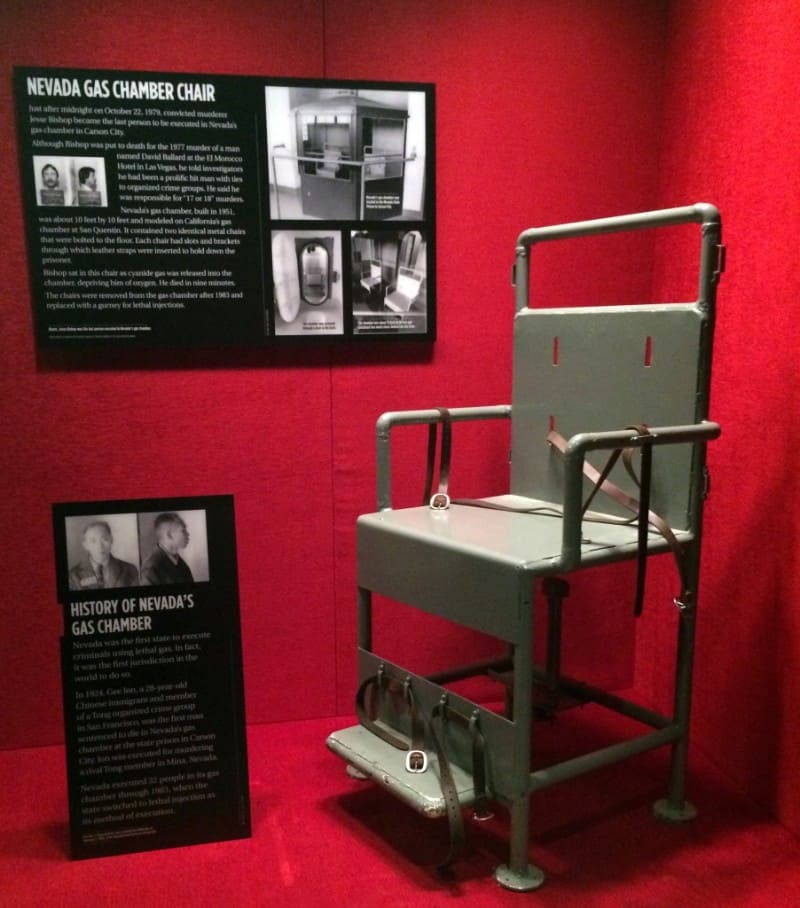 First floor – Mob on the run
This section has the wall of infamy listing the most notorious mobsters from 100 years of Mob history.
It also has interactive displays and artifacts on topics such as drug cartels, human trafficking and cybercrime.
The Firearm Training Simulator and Crime Lab Experience are here as well.
These two experiences are not a part of the regular Mob Museum tickets.
You can buy tickets to access these two experiences as well as your audio tours from the Box Office located on this floor.
Firearm Training Simulator
The Firearm Training Simulator places guests in law enforcement officers' shoes and trains them to handle extreme situations.
Visitors engage in digital and live role-playing scenarios that demonstrate the speed and complexity of use-of-force decisions.
Timing: Daily 12 pm to 6.45 pm, starting every 15 minutes
Restrictions: Visitors have to be 13 years and above to participate. Those aged between 13 and 16 years need to be accompanied by an adult.
Crime Lab Experience
The Crime Lab offers visitors a hands-on experience of the latest forensics techniques.
A Museum guide takes you on an interactive tour where you learn about forensic criminal investigation methods such as crime scene investigation, DNA profiling, fingerprint analysis, firearm examination, etc.
Timing: Daily 10.30 am to 7.30 pm, starting every 30 minutes
Restrictions: Visitors must be 11 years and above.
Basement floor – The Underground
The basement floor of the Museum also known as the Mob Museum Underground, has some exciting stops on the museum tour.
It depicts how alcohol production and consumption went underground during the Prohibition.
The immersive Speakeasy- the Museum's Exhibit and Bar – recreates the dramatic cultural change brought about by the speakeasies or underground bars in the 1920s.
The Distillery Tour and Tasting happen on this level.
This section also has the Distillery, Pot Still, which produces the Museum's own line of spirit, prohibition attire and fashion displays, and the Sunken rum runner exhibit.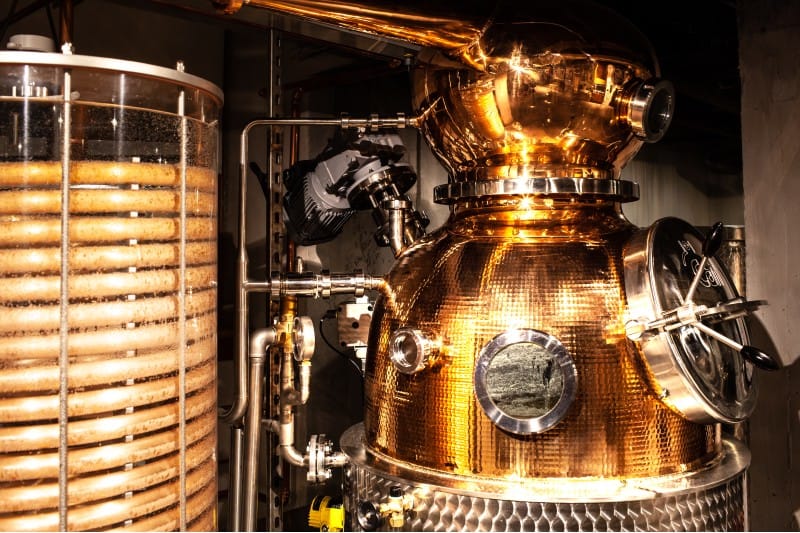 The Underground exhibition space is open to visitors of all ages until 5 pm daily.
After 5 pm., entry is restricted to visitors aged 21 and above.
The age restriction also applies to diners in the Speakeasy.
The distillery also has the same age requirement.
All Distillery Tour and Tasting participants have to be 21 years and over.
Mob Museum's Speakeasy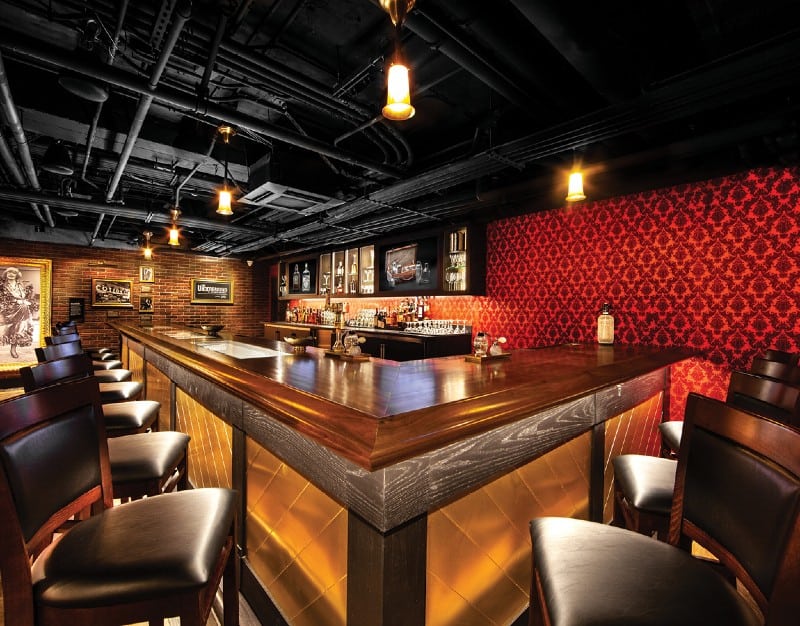 The Mob Museum Bar aptly called Speakeasy, is also an exhibit that takes you back to the Prohibition era with its videos, pictures, and artifacts.
You can have some unique cocktails while viewing it.
The Underground Speakeasy is a throwback to the speakeasies of the 1920s that provided:
Illegal liquor and cultivated jazz music.
Dance trends.
The 'flappers' or young women who embraced bold fashion and attitude.
The Underground Speakeasy and Distillery is open daily from noon to 10 pm.
Getting into Speakeasy
There are two ways to access the Underground Speakeasy at the Mob Museum in Las Vegas.
Mob Museum Ticket
You can access the Speakeasy with the regular entry tickets for the Mob Museum Vegas.
All visitors with valid tickets can access the Speakeasy until 5 pm.
But after 5 pm only those aged 21 and above will be able to visit the Mob Museum Bar.
Get the password
You must visit the Instagram page for Underground@The Mob Museum.
When you click on the 'Password' in the highlights, it will give you the password for the week to secure your entry.
Age restrictions apply and only those who are 21 years and over will be able to enter.
It is advisable to carry a valid identification document for age verification while visiting The Underground Speakeasy at the Mob Museum in Las Vegas.
Those who only wish to see the Mob Museum Bar and skip the exhibits and other Museum areas can use this method to get in.
Sources

# Themobmuseum.org
# Wikipedia.org
# Vegas.com
# Tripadvisor.com

The travel specialists at TheBetterVacation.com use only high-quality sources while researching & writing their articles. We make every attempt to keep our content current, reliable and trustworthy.
Popular attractions in Las Vegas